/
Vital Blog Post Ideas For Beginners To Write Today
*This post may contain affiliate links, which means I may receive a small commission, at no cost to you, if you make a purchase through a link.*
Last Updated on February 6, 2023 by Bert-Jan Schilthuis-Ihrig
The first blog posts that you write will be the first readers see. Choosing which blog post ideas for beginners to run with first will determine your initial blogging momentum. This is an exciting moment! But choose wisely.
Blog Post Ideas For Beginners Intro
Before I dive into the blog post ideas for beginners, I was to first share a few important pieces of advice for any new bloggers.
The first important thing to remember is that blogging can change your life if you let it. Being a beginner blogger, this may feel far away, but you're on the road already. If you let it, blogging will change your life for the better. But, it's going to take some time. That leads me right into the next reminder…
Succeeding at blogging will take time. More bloggers will quit than fail at blogging. Let that sink in! If you're afraid of failing, you should refocus your fears onto being afraid to quit. Maintain an entrepreneurial mindset and remember that this journey is going to take time; it's supposed to.
Lastly, remember to bring your personality to your blog. People who read your blog want to get to know you. They could've gotten similar information from a forum somewhere, but instead, they've arrived at your site. Welcome them into your home on the internet by sharing your insights, jokes and personality with them.
10 Vital Blog Post Ideas For Beginners To Write Today
These blog post titles are all designed to compel viewers to click, educate them and foster connection.
1. The "hiring a [your profession]" blog post
This blog post idea for beginners is perfect for service-based businesses. What does someone need to know before they hire a web designer, social media manager or blogging coach? No one will understand the warning flags, process and necessary expectations better than someone who offers that very service.
This is one of the best blog post ideas for beginners because it so naturally invites potential clients into your online ecosystem and provides free value that is directly tied to your offer.
If you're still unsure about what services to offer, check out my guide on finding your idea here.
Personally, I'm a Pinterest manager, and you can read my hiring a Pinterest manager piece to see exactly what kind of assurance I provide around this topic, without ever being outwardly sales-y.
The goal of all of these blog post ideas for beginners is to build the know-like-trust factor with your readers
I know not every blogger will have services, but think about what other value you could share on this topic. If you're a travel blogger, what should people know before attempting travel blogging themselves?
2. The "is [topic] really worth it?" blog post
This is one of those blog post ideas for beginners that gets right to the point, and it even has a little sass to it. Readers appreciate directness, and simply by posing this question, you imply to readers that you understand their concerns.
Is being vegan really worth it?
Is saving for your 401k really worth it?
Are timeshares really worth it?
Be honest: I bet you don't even have a timeshare, but you'd click on that title.
3. The "dispelling myths about [topic]" blog post
Are there any elephants in the room when it comes to your blogging industry or topic? Address them with an entire dedicated blog post!
Let's talk about a blog post on going vegan, for example. It would take a lot of thought and creativity to provide the most unique benefits of the vegan lifestyle to readers. On the other hand, I know any vegan could quickly rattle off the myths surrounding the lifestyle.
I reckon this is one of the easiest blog post ideas for beginners because you already know the myths or misconceptions around your blogging topic. How gracious of you to set the record straight for your readers!
Dedicate an entire, well-optimized blog post to this topic. The same goes for criticisms of any topic, profession or industry. 
4. The "unfair/untrue criticisms about [topic]" blog post
You know what turns heads? Controversy. ~fire emoji~
Don't go smearing the biggest name in your blogging niche or anything wild, but do take on the criticisms that you hear on a regular basis.
This is actually a very high-value piece because you'll clear up a lot of misunderstanding and confusion around your topic.
5. This "is [topic] really worth it?" blog post
This is one of the absolutely best blog post ideas for beginners because it sucks readers in immediately with the question format and casual tone.
A superpower of this blog post topic is that it uses spoken language. You would rarely find a formal publication using language this conversation, but that's a secret weapon. Spoken language immediately fosters a feeling of friendliness and trustworthiness.
Lean into that in every area of your blog that you can.
This title also borders on clickbait, but if you deliver on the topic, that's not a bad thing.
Remember to be optimizing these blog posts for keywords so that people find them! Feel free to use my SEO checklist to help: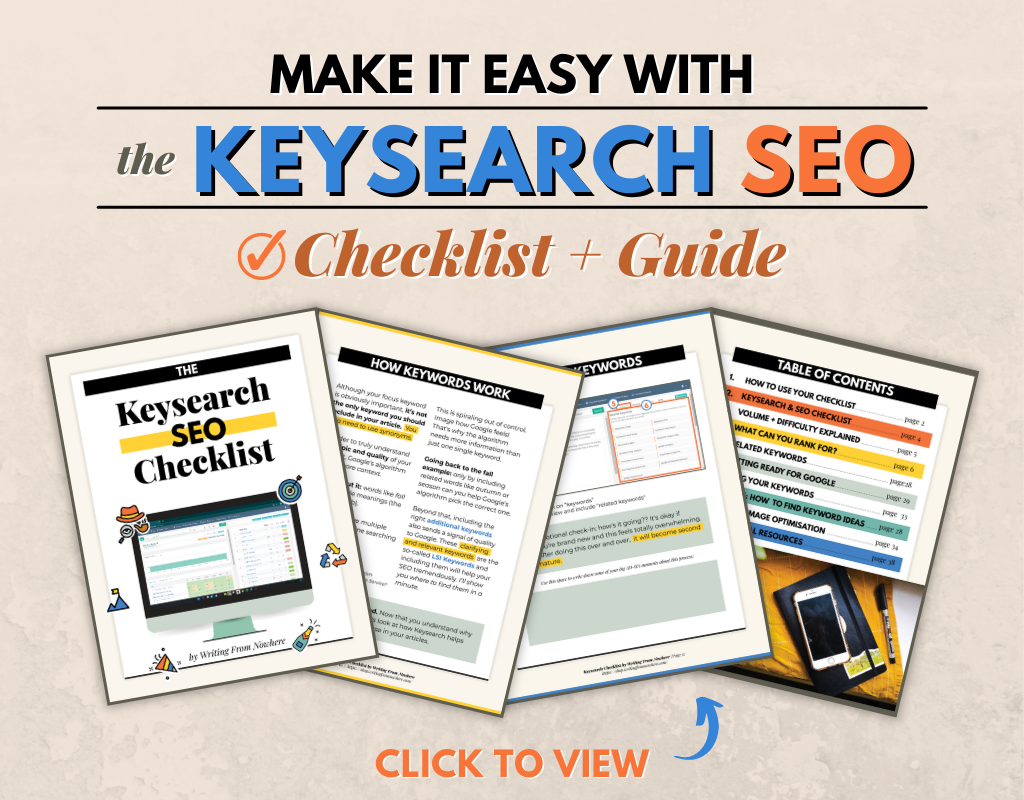 6. The "untold truths" blog post
This blog post idea for beginners almost feels gossipy, and that's what makes it so powerful. You're whispering this into the reader's ear and their jaw is dropping.
Untold truths of being a troubadour
Untold truths of starting your own online business
The many untold truths of being a nanny
This can be honest, funny, surprising – just make sure it's newsworthy and readers walk away with a fun fact that they hadn't known before.
7. The "normal topic with an emotional word" blog post
Sometimes, your blog post topic is fine, but how you present it needs some spice. This is where adding an intentional emotional word can change your click-through rate altogether.
Shocking cat products (right? I bet you want to click even if you don't have a cat)
Shameless parenting tips
Embarrassing travel hacks
My unique eco-friendly gift ideas blog post is still one of my top traffic drivers, and it outperforms my other eco gift guides because of that emotional hook.
Of course, you've gotta follow through on that whatever shock value you've promised. Not every single item needs to be shocking/shameless/etc but make sure at least a few are really noteworthy.
8. The "day in the life" blog post
Reality TV, vloggers and Instagram stories get to the very heart of why this easy blog post idea for beginners is so powerful: people love feeling like they see behind the curtain.
My what do bloggers do blog post is a favorite of mine for this exact reason. It demystifies, educates and builds a strong connection with readers.
Specifically use this blog post idea for beginners to share surprising, unsexy and routine parts of your day. This is not a place to glamorize.
Beyond your normal readership, this blog post type will also attract people who want to do what you do.
9. The "[action item] to do today/this week/etc" blog post
Be honest… I bet you partially clicked on this blog post because it was titled "Vital Blog Post Ideas For Beginners To Write Today," didn't ya?
Offering "today" as a time frame implies that a topic is both urgent enough to care about today and achievable in the next few hours. It inspires action and serves up a little FOMO – by implying that this should be done today, you make readers feel a sense of urgency.
10. The "FAQs about [topic]" blog post
This is one of the easiest and highest-value blog post ideas for beginners. Answer people's questions and you will educate them and help them, which are two of the most powerful side effects of good blogging.
This doesn't have to be overly complicated, and questions should start out at the basic questions that you get from people about your blogging topic.
If there's a question no one's ever actually asked you but you're dying to talk about, this is your moment to take the mic. Pose the question that you're dying to share the answer to. This will be extremely insightful for readers!
Here on Writing From Nowhere, my FAQs about digital entrepreneurship blog post cuts right through to points about the lifestyle that other pieces don't manage to reach. This blog post idea for beginners is a very powerful one.
Vital Blog Post Ideas For Beginners To Write Today Final Thoughts
Which of these blog post ideas for beginners are you going to write first? I'd love to hear in the comments and see links to your published posts!
Blogging, in the beginning, is difficult – it's a long journey up the mountain before you have a consistent readership, constant traffic and the satisfaction that you always wanted. Don't give up. I promise it's worth it.
Work hard, keep sharing value and improving, and don't forget to enjoy the journey along the way.