/
Write For A Digital Nomad Blog in 3 Steps
*This post may contain affiliate links, which means I may receive a small commission, at no cost to you, if you make a purchase through a link.*
Last Updated on February 4, 2023 by Bert-Jan Schilthuis-Ihrig
So, you want to write for a digital nomad blog? This is the perfect place to do that! But before you dive into your pitch, let's first make sure that you're in the right place.
By writing for digital nomads, you can build up your portfolio, gain audience exposure and improve your website's authority.
But, we'll get into all of that. First, let's start with a few FAQs about writing for digital nomads.
A Few Quick Digital Nomad FAQs
Are you sure if you're in the right place? Let me quickly answer the big frequently asked questions about the digital nomad lifestyle to make sure this is the right audience for you.
What are digital nomads?
A digital nomad is a person who works online and therefore is unattached to one specific location. The nomadic roots of this lifestyle often inspire people to travel full-time and drift around the world. 
This is also known as the laptop lifestyle, or the full-time travel lifestyle. If you can make this happen for yourself, it's the most invigorating way to live. 
Why reasons might a person have for being a nomad?
The big 3 reasons that people choose to become digital nomads are the time freedom, location freedom and creative freedom.
Time freedom grants you the ability to work nocturnally if that suits you, or work nonstop for an entire week batching and automating your tasks, and then taking the rest of the month off.
With location freedom, you can work from home, or work from anywhere in the world. Living the travel lifestyle grants you the extreme privilege of seeing far more of the world than you'd ever squeeze into your vacation days. 
Creative freedom is the gift or making money however you please. Have you always loved sneakers? Start and monetize a sneaker website. Do you love commenting on people's Instagram posts? People will pay you $400 a month to do that for them. Go forth and make money in a way that you enjoy.
What are the best jobs for digital nomads?
Some digital nomads will simply negotiate their current job to be done remotely, while others will turn to freelancing and joining completely remote offices. There's no wrong way to make it as a digital nomad, but there is a best way: having your own online business. 
Any skill can be packaged and sold online, from virtual babysitting to virtual doctor's appointments. It takes a lot more fuel to get it off the ground, but there's never been a better time to start an online business. 
Why Write For A Digital Nomad Blog?
Otherwise known as guest posting, bloggers writing for other bloggers may seem mysterious at first.
After all, the point of guest posting is to write an amazing article that will be given away for free to another website. Seems counter-intuitive!
But there are a few tangible payoffs when you write for a digital nomad blog:
The first: you are exposed to an entire audience that's been curated by the blogger. They've likely spent years growing that readership, and now they're handing you the mic. That's huge!
The second: the link to your website is powerful. Otherwise known as backlinks, links from websites with authority.
This is a very large topic about the backend of blogging, but let me try to fit it in a nutshell. Every website has a calculated "authority." This is known as domain authority, or DA. New blogs will have 0 DA, and the highest it goes is 100. You can only raise your DA by getting links from other websites. The higher the DA they have, the more weight it carries for your website.
You can check any website's DA here.
How To Write The Best Guest Post For A Digital Nomad Blog
Are you still researching becoming a digital nomad yourself? Start here. 
Find Your Specific Angle
What specific experience or ideas would you bring if you write for a digital nomad blog? Would your article focus on?
The best angel will be related to your blog. For example, if I were to write for a digital nomad blog, I would make it related to remote work and balance, as that are the topics that my brand centers around. 
Here are a few other examples:
A yoga blog could write for a digital nomad blog on the best stretches and positions for aches and pains generated by long hours on a laptop
Or, a travel health and wellness blog could share their easy meal prepping for a long day at a coworking space
A blog focused on South America could share the best digital nomad destinations on the continent
By tying your brand angle into the piece that you write for a digital nomad blog, you offer readers a very natural way to continue the conversation with you if they're interested in the topic.
Here's what not to do when you write for a digital nomad blog: imagine an attorney writing a guest post about digital nomads applying for visas abroad. The readers love the advice, and go to the attorney's website to learn how to hire her to help with their application. When they reach out, the attorney tells them, "sorry, I only do family law. I can't help you apply for your visa."
How disappointing would that be??
If you're struggling with finding your angle, consider putting your spin on any of these 10 highly effective blog post topics. 
Ask About Personality, Photos And Anecdotes
The most effective blogging has personality to it. Blog posts that are conversational, friendly and personal help foster an immediate connection with readers and really bring a blog post to life. 
That being said, some bloggers will prefer a polished, professional tone. When I'm fielding potential guest posts, I make it very clear that I don't want this style. Writing From Nowhere has zero corporate monotone, and that's very intentional. Guest posters need to understand this as well before they start writing.
It's best to ask this in advance so that the owner of the website doesn't ask for a rewrite or have to do serious amounts of editing. Likewise, if an audience is used to a specific style, they keep coming back expecting that style. A big style change won't go down well with all readers.
Avoid any extra work or confusion by asking about style in advance, along with personal stories and photos.
Make It A Really Quality Piece
It may feel tempting to half-do a guest post because it won't live on your site, but that's a big mistake. Remember that these blogs didn't come to you asking for free labor: you asked to write for a digital nomad blog because you wanted the exposure, the backlink and the portfolio piece.
Give the blog's readers an *amazing* impression of your brand. These pieces should really be some of your best writing, your most creative ideas and your most compelling storytelling. You never know how many readers will be exposed to your piece and be introduced to your brand. 
Likewise, save the host some time by SEO optimizing your article. You're a guest, act as such.
Remember: this is the moment when someone has handed you the mic. Make it worthwhile!
The better the blog post that you write is, the more the blogger will market it across their brand platforms. One of my all-time favorite pieces on Writing From Nowhere is actually a collaborative guest post that I wrote with a start-up owner on career fulfillment (most guest posts won't be collaborative, but this one happened to be; we each wrote about half of this piece). 
How To Write For A Digital Nomad Blog In 3 Steps
The process of guest posting for digital nomad blogs may seem intimidating, but you can let me break it down.
Step 1: Find the digital nomad blog that you want to write for and come up with ideas.
The best place to find digital nomad sites to pitch will be on Pinterest. Look at their content and find opportunities where you can contribute.
Pinterest is where I spend most of my time online. I'd love to connect with you there! 
Get the blogger's name, email address or contact page on their website and your ideas, then it's time to pitch!
Step 2: Write And Send Your Pitch
Be specific in your guest post suggestions. Talk about what you can bring to their audience that's not already covered thoroughly on their site, and make it clear that this conversation is centered around them.
Pitches that are centered around you will go right to trash. These bloggers likely get guest post submissions every single day, and your pitch will need to instantly come across as a winner.
Introduce yourself, talk about what you enjoy about their site content and brand, and ask if they're interested in a guest post. Offer at least 3 ideas, ideally more like 5 to show them that you've really thought about this, and then ask them if they're interested in those pieces or if they have an idea in mind.
Make it clear that you're open to a collaboration and whatever will suit their content best.
Then, send! You probably won't hear back right away. After 2 weeks, if you haven't heard back, try politely following up and asking if your email reached the right person or if they had any questions that you could answer.
Step 3: Writing The Post
If you're accepted, celebrate! That's exciting, because you will have more rejections (or rather, crickets with no response) than accepted guest posts. That's par for the course, and whatever you do, don't let this discourage you.
Keep improving your pitches and build the muscle so you're able to pitch easily and frequently.
But, back to the successes: ask if there's a deadline for the guest post, and if there is, adhere to it. If they don't offer a deadline, let them know when they can expect it from you.
Then, when your guest post is published, thank them for the opportunity and share it across all of your channels.
Don't forget to optimize your guest post for Google. If you're unfamiliar with this process, use my checklist: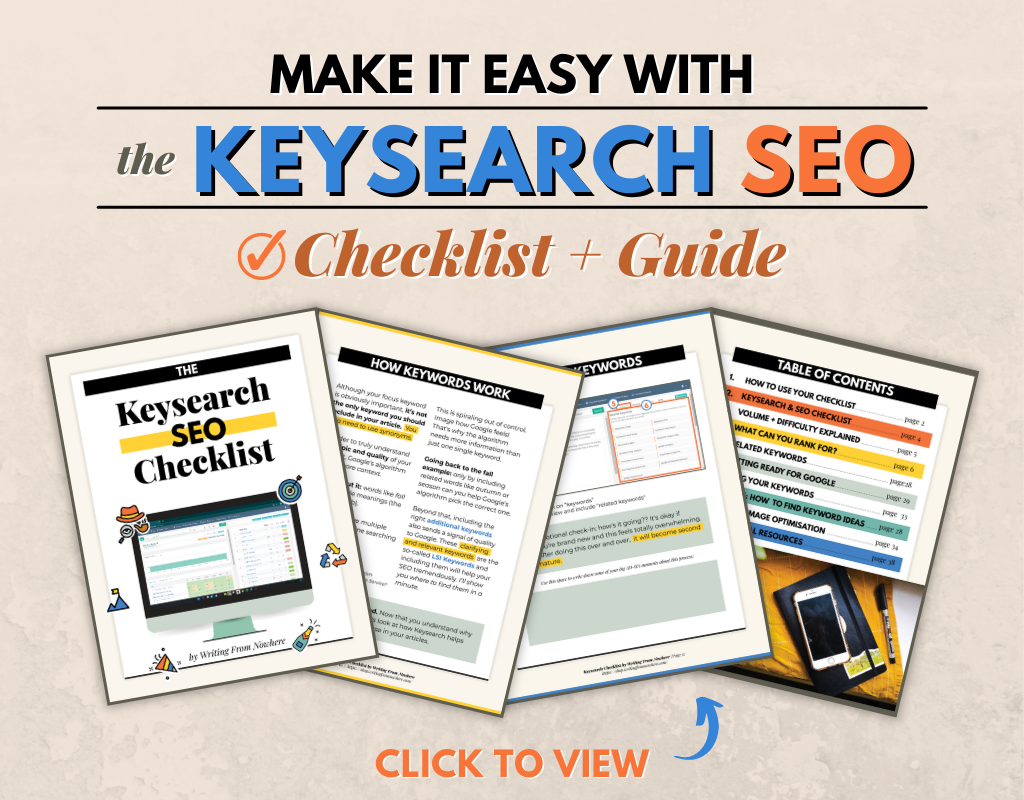 Final Thoughts On How To Write For A Digital Nomad Blog
I hope this blog post helps you find clarity around your guest posting ambitions, and helps you put your best foot forward when trying to write for a digital nomad blog.
Which blogs will you pitch first??
If you'd like to write for Writing From Nowhere, send your ideas on over right here and I'll let you know if it's the right fit.