/
Is Amateur Blogging Worthwhile? It Could Be Life-Changing
*This post may contain affiliate links, which means I may receive a small commission, at no cost to you, if you make a purchase through a link.*
Last Updated on April 6, 2022 by Kayla
We're all familiar with the promises of professional blogging. Earn 10k a month! Make money while you sleep! Double finger guns! At least 1 Facebook ad is coming to mind, I reckon. But what about amateur blogging?
Amateur blogging is less focused on money, more focused on growth, enjoyment and sharing what you enjoy with other people.
Really, amateur blogging is not unlike any other hobby: it can start for fun and blossom into just about anything.
Amateur blogging might even change your life in one of these 6 ways.
Intro To "Is Amateur Blogging Worthwhile?"
There's no exact definition of "amateur blogging," but I assume that most people pursue amateur blogging without the mission of turning their blog into their full-time income.
Sure, your amateur blog generating some income would be great (heck, that's point 3), but you're not setting out with the intent to quit your day job.
So, how to tell if amateur blogging is for you?
Maybe you side-eye other people creating their own brands and platforms.
Or, there's a topic that you love but it doesn't fit into your career. Perhaps you daydream of moving fields but don't have any experience or industry clout.
Do any of these feelings sound familiar? Do you just have this vague itch and you think amateur blogging could be for you?
There are a million reasons to start amateur blogging, but the biggest reason I can give you today is that it can completely change your life.
Prefer to watch?
6 Ways Amateur Blogging Can Change Your Life
….and 3 ways that it won't (we'll get to that in a minute).
1. It's A Sea Of Self Discovery
Do you still struggle with answering the question "what do you want to do with your life?" I did, too.
I used to say that I just wanted to create: I wanted to write, take photos, design things – and I said this while I wasn't *doing* any of these things.
What do you say you'd like to be? Do you have an answer?
Writing, and creativity in general, serve as a fantastic beltway to deliver you to your destination. Create your own space to explore, learn and pursue your interests. At the heart of amateur blogging is the opportunity to create freely and use your creativity as a compass.
On a personal note: I know I would've never discovered an answer to the question "what do you want to be when you grow up" without this blog. Truth be told, I could've found an answer a lot sooner if I'd acted on my idea of starting amateur blogging.
After I started amateur blogging, I realized that I loved SEO and Pinterest. I even started working as a Pinterest manager for other creators, which I love doing and would've *never* found without this blog.
Amateur blogging is just another form of creativity. Use it as a vehicle. Where will it take you?
2. Transitioning Into A New Industry
Fun fact: travel blogger Nomadic Matt started his now-famous travel blog as a portfolio piece for freelance writing gigs!
If you're lacking career fulfillment and looking to make a move into a new industry, amateur blogging may be a great avenue for your transition. Develop a blog as a portfolio piece and use it to stand out in your current field or to break into a new industry.
Given what we just discussed in point number 1, I don't encourage everyone to go forth making a blog that is strictly career-oriented. Amateur blogging doesn't always have to be productive or career-focused, but it certainly can be if you want it to.
This sits at the crux of what blogging, even amateur blogging, offers: you can make anything that you want. Build this structure and use it to advance your career, start a new career, start a side hustle, find your purpose in life.
It's all at your fingertips.
…if anyone reads your blog. You need to learn basic SEO in order for people to find and read most blog posts. You're welcome to use my checklist: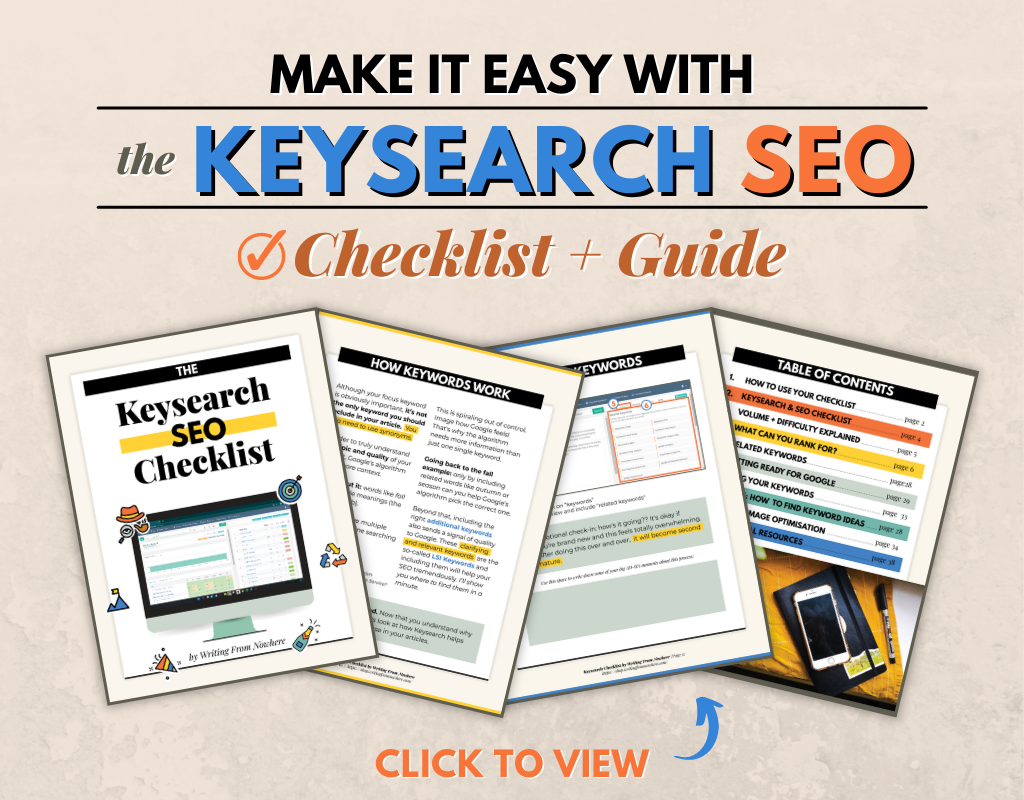 3. Amateur Blogging For Extra Income
Cue Nickels And Dimes by Dolly Parton
The rumors are true: a blog can be extremely profitable. Not convinced? Here's a breakdown of how one blogger averages $2k a day from his blog.
Now to be clear, that is a professional blogger (meaning he does it full-time for his living), which is a deeper investment It's *very much* not the norm, but I include it to show that it is entirely doable.
You'll encounter a lot of people who say that it's impossible to make that much money from blogging, but there are many examples proving that it's simply not true.
Any side hustle, whether it be teaching English online, starting an Etsy shop or starting a blog can bring in money that will change your life. And, you don't need to make $2k a day for money to be life-changing.
Now, I won't tell you that it's super easy to make steady money amateur blogging. Personally, I'm still on a journey to make $1k a month passively from this website (a journey I document on Instagram at @kayla_ih, if you'd like to follow along).
And (this is very important), wanting to make money is not a good enough reason alone to start amateur blogging. Blogs by themselves do bring in some money, but there's usually something else attached. Such as a service, product being sold, etc. For my blog, I sell digital products and am a Pinterest manager.
I do make some passive money from affiliate links, and soon I'll add ads. But income from a blog doesn't just happen. You need to pick which income streams you'd like to pursue, learn and implement. This will likely take months or years, which is why it's not the right source of inspiration for your to start amateur blogging.
4. Find Community
This is the OG blogging goal! To connect with people around a shared subject.
Amateur blogging can be a gateway to an entire community of people with similar passions. A way to reverse engineer this is to ask yourself: what group of people would you love to hang out with?
This blog, Writing From Nowhere, actually started as an eco-lifestyle blog (which I still write about in the "my lifestyle" section from time to time). But, as my blog grew and my interests shifted, I realized that I really had a void in my life for people who wanted to work online and pursue other avenues of intentional living.
Thus, Writing From Nowhere pivoted and I now write about working online, the life-changing effects of having your own online business and living consciously.
That's the beauty of blogging: you can create the community that you want to see. Host the party that you'd love to be invited to!
To develop community from your amateur blog, write about something that you genuinely care about (more on this in point 6) that attracts a group you'd like to be a part of.
Share value, show your personality and be inviting. Your blog is like a digital home – welcome people in! Visit other people's "homes" too (other blogs). Read content, leave comments and give the engagement that you wish to receive.
5. Skill Development
Running a blog long-term takes loads of skills: writing, website management, SEO to name a few. You can read the long list of what I do for this blog here, if you're interested – just promise me you won't get scared away by the length! It takes gumption to get started, and the rest can be learned.
You'll pick up these skills via other blogs, YouTube, webinars and podcasts over the course of months and years.
What a *massive* opportunity to learn, grow and foster new skills! Repeating the process over and over of A) not knowing how to do something, B) problem solving and self-teaching, C) failing and trying again, and D) persisting and figuring it out is life-changing.
That muscle may be very difficult to exercise, but if you want to persist and amateur blogging, it'll strengthen. It has to. This journey requires it, and the positive effects will bleed far beyond your website into every other area of your life.
The technical skills you'll learn while building and growing a blog can be skills that you want to incorporate into your day job, or use to pivot your career, or just scratching a creative itch.
6. Self-Made Satisfaction
Build your own opportunity and offer yourself your dream job. Build something you own, control and can grow endlessly.
This point is personal for me: I started my blog in 2018 after I moved to the Netherlands for love and couldn't get hired for anything. I had never been to the Netherlands, or even heard the Dutch language before. I was unqualified to scrub floors without speaking the language, but I couldn't afford to take language classes.
It was reminiscent of graduating from university in 2015 and reading that every entry-level position required at least 1-3 years of experience already. I wholeheartedly encourage college students to start amateur blogging.
Having doors slammed in your face wears down the human spirit. Rejection hurts, and thankfully I was encouraged via other blogs online to try to create my own opportunity. That was the single most life-changing decision I've ever made, and I'm here to offer you that same encouragement.
This gets to the very heart of this final point: offer yourself the opportunity that you'd like to take. Build your own seat at the table. Heck, build your own table.
Create something from scratch that you own, you grow and you benefit from. It's pure bliss to create something and see it succeed.
But, real talk:
Amateur Blogging *WON'T* Change Your Life If…
If you only write 1 blog post a month but tell everyone that it's impossible to breakthrough. *No* new endeavor will change your life with almost no effort, and amateur blogging is no different.
And, amateur blogging is very writing-dependent, so if you don't like writing, I'm not sure this is the right creative endeavor for you. You have to enjoy the process, which leads right into the next point.
Amateur blogging won't change your life if you don't enjoy what you're blogging about. Picking a seemingly profitable or popular topic to blog about won't lead to anything significant or life-changing.
Aside from all morally-objectionable topics, there's no wrong subject to blog about. That also means that there's no right one. If you're really unsure what you want.
If you're unsure of where to start blogging, pick a broad blog name and then it can pivot and grow with you.
Lastly, amateur blogging won't change your life if you're blogging as a part of a get-rich-quick plan. We already established that blogging *can* make you rich. But, most people will not end up with more money than they can spend as a result of their blogging endeavors. This is especially true for amateur blogging.
Amateur blogging alone is not a revenue stream or a business model. Instead, focus on building a brand and an audience, and then if you want to take it pro and make a living, you can launch products, services, memberships, and so on from there.
Final Thoughts: Is Amateur Blogging Worth It?
A podcast interview hit me like a slap in the face one day: The interviewee said that they lived in LA, where every person on the street was an aspiring X, Y, Z. And this person said:
"If you tell me that you want to be a writer, but you're not writing, then I don't believe you. If you tell me that you want to be a painter, but you're not painting, then I don't believe you. If you wanted to be, then you would be doing it"
If you want to be a blogger, please start blogging. No one will send you an invitation in the mail to start amateur blogging. *This* is your invitation. You have to decide the work is worth the reward, and offer yourself a seat at the table.
Serious results take serious effort. Some full-time bloggers publish a new post every single day (#perspective).
There are no hard rules, but it is hard work if you're going to make something substantial that could actually change your life.
How could amateur blogging change your life?
Please email me with your answer! I'd love to hear from you: [email protected]