/
Hiring A Pinterest Manager? Here's What You Need To Know
*This post may contain affiliate links, which means I may receive a small commission, at no cost to you, if you make a purchase through a link.*
Last Updated on May 17, 2023 by Bert-Jan Schilthuis-Ihrig
Congratulations – hiring a Pinterest manager means that business must be booming! You are about to make a *very* wise investment.
Many biz owners would reach instead for a social media manager, but enlisting in Pinterest management services will bring in more leads, generate more brand reach and do work that will continue reaching people for years.
Needing to outsource is a good problem to have, yet I bet the process is still leaving you stressed. The growing pains are all valid, but with this insight on hiring a Pinterest manager, you will be able to move with certainty and feel confident scaling on Pinterest.
A Quick Intro
Who could possibly share insight into the hiring process of a Pinterest manager??
….a Pinterest manager!
But this blog post is not an advertisement for you to hire me as your Pinterest manager. Of course, if you'd like to discuss that, I'd *love* to hear about your business and see if it's a good fit, but this post is about more than that.
This is just friendly advice from someone who provides this service every day to creators to present a little context around this hiring decision for your brand.
Before we dive into what you need to know about hiring a Pinterest manager, there are a few vitally important bullet points about Pinterest in 2023 that will help you choose a Pinterest manager will more context.
Hiring a Pinterest manager? Read this first #Pinterest #Pinterestmarketing
Click To Tweet
A Summarized Explanation Of Pinterest In 2023
The curveballs of 2020 just kept coming: Pinterest made major algorithmic changes and feature updates that antiquated successful strategies and demanded something entirely new of creators on Pinterest.
In October, they even went as far as to describe these changes as "the start of a new Pinterest" at their first-ever Pinterest Creators Festival in October 2020.
You may also like: How To Repurpose Instagram Content Onto Pinterest
These constant Pinterest changes could be enough to make you want to quit Pinterest altogether. But there's hope!
I'll break down what changes in strategy you need to make, but let's start with the 3 big headlines. 
If now's not the right time to hire help but you still want to refresh your Pinterest game, get a Pinterest audit instead: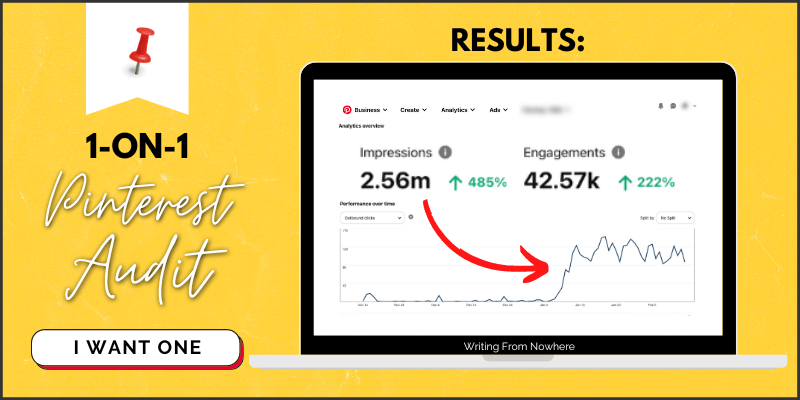 1. It's all about "fresh content"
In February of 2020, the concept of fresh content on Pinterest echoed through the Pinterest chambers, via a Facebook live on Tailwind's Facebook page.
Fresh content is a new image/URL combination that Pinterest has never seen before.
Continually uploading fresh content is favored above all else; even above repinning your own content. Pinterest says this in their boilerplate help email, in response to creators reporting low pin impressions:
"I further checked the back-end and found out that there are a comparatively high number of repins on your account. Please know that ultimately, we make changes to our algorithm to improve the user experience, which means more quality traffic (people who are interested in your business content and will more likely convert).
"Pinterest encourages creators to publish new, original content on a regular basis as the best way to build an audience on Pinterest. We encourage new publishing over saving others' or your own already-pinned content. Pinners come to our platform to find new ideas, and as we continue to update our service, we'll prioritize new original content published by creators over saves."
Which, as you can probably tell, leads right into the next point.
2. Repinning other creators' content is a thing of the past
Pinterest has said that repinning other creators' content doesn't help your account. In some cases, it can actually really hurt your account. The simple days of queuing up Tailwind with content your ideal client would love are long gone.
If you are to repin another creator's content, you must first check the link to ensure it's not spam.
Every creator I know on Pinterest sees their pins stolen and turned into spam. People who accidentally save these stolen pins are sometimes suspended for sharing spam content, even if they were unaware it was stolen. 
You may also like: 8 Places To SHARE Your Pinterest Account For More Exposure
Now, a positive side effect of this change is that now every single impression is meaningful. While the old practice of sharing other creators' content generated a more supportive, creative beehive on the platform, the reach you received from it was hollow. Monthly viewers was purely a vanity metric and it wasn't indicative of your actual brand reach.
Now, every single impression is a person exposed to your brand. It becomes much more significant. You will see lower numbers, of course, but a high monthly viewership inflated by other creators' content didn't help you, anyway.
A Pinterest manager who has their own online business and uses Pinterest for themselves will know this better than anyone. It's a huge perk of hiring someone who also uses Pinterest to drive traffic; they haven't just taken courses and learned about the platform in theory.
You may also like: How To Troubleshoot Pinterest
It's not enough to get a manager who knows the simple steps of switching your account to a Pinterest business account, joining group boards, giving monthly Pinterest analytics updates or looking at your Google analytics. The best support is someone who's also a business owner, themselves.
That doesn't mean that you shouldn't hire someone who doesn't have their own brand. But it behooves you to understand a few basics about Pinterest for yourself before you hire just anyone who calls themselves a "Pinterest manager."
You may also like: How To Correctly Set Up A Pinterest Business Account
3 Important Expectations For Hiring A Pinterest Manager
Now that we've covered what to expect from Pinterest, let's set some healthy expectations for your Pinterest manager search.
1. There are different approaches to Pinterest, just like anything else
When you begin looking for a Pinterest manager, you'll probably be looking for the exact cocktail recipe or the silver bullet strategy.
Just like anything else in life, there are different styles, approaches and topics that have Pinterest managers divided.
For example, there are a few issues that Pinterest managers regularly debate over:
Video pins. Some Pinterest managers love video pins because they get good reach and create them for their clients. However, many people see video pins get way fewer clicks (therefore generating less traffic) so they don't use them.
Pinning frequency. Every account has a different content ecosystem and therefore can sustain posting 1, 5, 10 fresh pins daily for a different amount of time. Some Pinterest managers will gun it and go for the highest quality possible. Others will be more conservative. There's no "right" answer, but you do need to ask the right questions to find the right solution for your content ecosystem (more on the questions to ask a potential Pinterest manager below)
Idea pins. Pinterest's latest feature offers HUGE potential for brands. However, it comes with a trade-off: no traffic. There is no link, and the feature solely builds your audience on Pinterest. Story pins can also be difficult to build without templates, but with the brand reach so good… you can see the point of contention.
Now, there are a few very important details that all Pinterest managers should be in agreement on, but we'll get to those in a minute.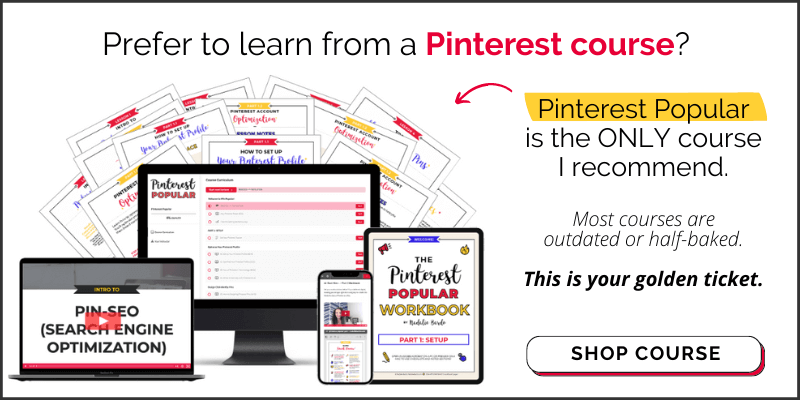 2. Your content will set the stage
If you've been on Pinterest for a while, you probably remember the days of filling up a Tailwind queue with 20 or 30 pins (from other creators) a day and Tailwind pinned like mad for you on autopilot.
Sadly, it's not enough to simply fill a Tailwind queue anymore. Frankly, I hardly use Tailwind anymore for my own Pinterest account, and I don't recommend it to clients.
By the way, if you'd like to peek at what a Pinterest manager's own account looks like, you can see my account here.
This means that your content must be able to stand on its own legs, and there must be enough of it.
A few reflective questions to ask about your content is:
How many potential readers exist for my audience?
Every product, service and content ecosystem has a specific bay of potential viewers. Every bay is a different size.
Let me give you an example: a general parenting blog has a massive potential audience (every parent). A mommy blog has half of the potential audience size. A mommy blog about twins has 1/250th the potential audience size (given that 1 out of every 250 pregnancies are twins).
I bet when you started your biz, every marketer, influencer and blogger probably told you through a megaphone that you had to niche down. I'd bet you 3 beers (let's just make a night of it, shall we?) that at least one of them told that "the riches are in the niches!"
If you followed that advice and niched down, like the example of the blog for twin moms, it's important to remember that your potential audience size is smaller than the umbrella industry.
There is an audience for *everything* on Pinterest, so there are no worries about "your people" not being on the platform. It's just going to help you set healthy expectations to remember that your audience size might be small (but mighty, of course!).
You may also like: How To Do Keyword Research On Pinterest
How much quality content do I have? Content that is ready right now for readers to view?
For example, even years-old blog posts can still perform well on Pinterest if your make a new pin cover and they're still relevant. Opposingly, content that isn't old but is already dated or is out of season probably isn't ready to be marketed on Pinterest right now.
My personal strategy for my own account and all my clients is to upload 1 fresh pin a day. That being said, a new account, or a young hobby website that only has a dozen or so blog posts, can't sustain this rate and probably isn't ready for this investment.
Do I have at least 90 URLs (not blog posts: URLs) to share right now with Pinterest?
This could be blog content or content from any of your claimed accounts on Pinterest: your Etsy shop, YouTube channel, your Instagram if you focus on growth there.
I say 90 intentionally: I don't recommend that you pursue hiring a Pinterest manager for less than 3 months. It takes so long for an account to grow and for content to be indexed.
That leads us right into the third important expectation.
You may also like: How To Upload Multiple Pins For The Same Blog Post
3. It's a slow build, over the course of months
Pinterest is a search engine. It's not a social media platform, and that's a good thing. Pins optimized and published on Pinterest will reach more people and continue doing so for years.
Did you know that the first 15 minutes in an Instagram post's life determine how many people the algorithm will show it to? Just typing that gives me a headache. You put so much into creating high-value content. It deserves more than 15 minutes. It deserves Pinterest.
This is a graph of a client's account. This account was new, from scratch, and I was uploading 1 fresh pin a day for months. My strategy didn't change, however you can see a steady increase in impressions.
This is the pay-off for sticking with it, and knowing that you have a Pinterest manager that you can trust.
Honestly, you shouldn't emotionally invest in the numbers at first. This is a long-term game with long-term gains for those who don't quit. Don't quit. Hire a Pinterest manager and trust the process.
How Much Does A Pinterest Manager Cost?
A Pinterest manager can cost anywhere between $50 and $1k+ a month.
But, is the old adage "you get what you pay for" true? To examine that, let's look at the factors that influence the cost of a Pinterest manager:
Experience and testimonials – experience as a Pinterest manager isn't essential: it's nice to give newbies their chance to get started in the industry. However, they need to know Pinterest.
Niche / industry – if a Pinterest manager is specialized in your niche, they'll likely charge more. This isn't always important, but in some sensitive industries, such as health and wellness, this is important. You have to tread lightly and understand Pinterest's policies well to succeed as a Pinterest manager
Location – many outsourced digital positions such as this are commonly performed by people across the world. Currency strength variations will mean that some Pinterest managers will charge in US dollars but will live in, for example, the Philippines, where they deal in the Philippine peso. The Us dollar is stronger than the Philippine peso some people will charge much less
Pin generation – will your Pinterest manager also generate personalized on-brand pins? Or will they use templates? This will influence the amount of time they spend on your account in a week greatly
Daily pin count – there's a huge workload difference between uploading 1 pin a day and uploading 5. Like I said earlier, every Pinterest manager's approach is different, but more isn't always better
Personally, I charge $450 a month for complete account management. The factors that influence my price are my experience, testimonials and custom pin design.
Where To Find A Pinterest Manager
The generic answers apply here: naturally Fiverr, Upwork contain pages of Pinterest managers.
As I mentioned earlier, as a Pinterest manager myself, I would love to hear about your business and see if it's a good fit between us.
Another popular place to find a Pinterest manager is in Facebook groups. Consider posting in any industry-specific groups that you're in. There may be a niched-down Pinterest manager in there, or someone else in your industry who has a recommendation to share.
You may also like: How You Can Become A Pinterest Manager
Questions To Ask A Potential Pinterest Manager
Here are just a few questions that you can consider proposing to a potential Pinterest manager:
Is this Pinterest manager familiar with your industry? This is only essential (in my opinion) if you are in the health niche.
Will this Pinterest manager create on-brand pins for you, or will they just upload and

optimize

?
And if so, what type of content will they create – just static pins or also video pins and idea pins?
How does this Pinterest manager stay up-to-date on Pinterest's changing landscape, trends and algorithm changes? Where do they do that? Through podcasts, Facebook groups, watching all the accounts they manage for trends and insights?
Does this Pinterest manager use spammy techniques? Do they create an excessive amount of pins for one blog post?
Do they have any testimonials or recommendations? Can you look at accounts that they currently manage?
Will they implement all of the suggested marketing strategy themselves, or will you have to take on parts?
Pinterest Manager Final Thoughts
I mean what I said at the beginning of this piece: congratulations. I bet there was a point in your business where you felt like you would never be able to bring on more help.
You've made it this far based on your merit and hard work; now bring on a Pinterest manager who's done the same and does good work for other creators.
I wish you luck and ease in your search for the right Pinterest manager for your brand!
If you'd like to chat about potentially hiring me as your Pinterest manager, I'd love to chat with you over here.