/
Blogging Mistakes For Beginners That Plague Sites
*This post may contain affiliate links, which means I may receive a small commission, at no cost to you, if you make a purchase through a link.*
Last Updated on May 17, 2023 by Bert-Jan Schilthuis-Ihrig
The early days of blogging are surreal: starting your own blog is thrilling, so difficult, full of constant troubleshooting. No matter how much research you do before you begin (and I know you've done a lot), I bet you'll still make at least one of these blogging mistakes for beginners.
There's no shame or stress, because you can correct most of these blogging mistakes for beginners today, and get started mending the rest immediately. So, what's lingering on your blog that needs tending to?
10 Common Blogging Mistakes To Avoid Like The Plague
Are you making any of these blogging mistakes for beginners right now on your site? Save this post for later so you can finish cleaning your blog up!
1. Having Big Expectations And No Follow-Through
If I had a nickel for every person on Facebook groups saying "I want to be a blogger more than anything" but they've only been at it for 2 months and are already thinking about quitting… It's okay to feel that way sometimes,
I have a little tough love, because this is make-or-break:
Writing 20 blog posts isn't an honest shot at blogging.
Quitting after less than a year isn't an honest shot at blogging.
If you just want to be a hobby blogger, then it's fine to just have fun and not strategize! No shame there. But if you're hoping that your blog could become your career or change your life, then you owe it to yourself to have realistic expectations. 
It's going to take a lot of time, an entrepreneurial mindset, a lot of work but the results are 100% worth it. 
2. Investing In Instagram For Traffic And Brand Reach
Instagram will not reliably drive website traffic. That's the whole mistake: believing that it will, and pouring yourself into Instagram for traffic, then not seeing results and chalking it up to "blogging must be dead."
Even if you have the swipe-up feature on your stories, or even if you constantly rotate the links in the LinkTree in your bio, or even if… Instagram was never intended to be a traffic-driver, and it won't work reliably as one.
It's partially an algorithm game and partially physiological. In 2021, people open Instagram to watch stories more than anything. Instagram can drive brand awareness, but even still, it's not nearly as powerful for bloggers as Pinterest.
People open Pinterest wanting to save, visit websites and be exposed to new ideas. This is because Pinterest is a search engine, not social media. They don't see pictures of their aunt's dog, get bored and switch platforms.
Plus, Pinterest's algorithm gives you much higher reach right away. Create a story pin and you'll reach thousands of people within the first hour, even without followers. And over time, instead of gathering dust on your feed and being recycled into throwbacks on your stories, your oldest pins on Pinterest will drive the most traffic. 
Blogging is not dead, but Instagram might be in the next decade. It's speculated that Instagram is on an "irreversible negative-growth trajectory," and while that doesn't mean that you should quit altogether, it's just another arrow pointing away from investing on the platform when you have a blog. 
If you have an Instagram account and monetize it for brand collabs, power to you. Make your money from Instagram, but don't soley build your empire there. Even if it works well (for now), you don't own it and can't take those followers with you anywhere.
Start learning Pinterest marketing today and you'll be reaping the benefits for years to come. 
3. Not Learning SEO
In the beginning of your blogging journey, there will be countless things that you have to learn. Your Facebook feed will begin to fill with ads offering you solutions to all of your newbie problems. There are two investments that will be worth learning, and learning as early as possible: Pinterest and Google.
I've already hit on Pinterest, but Google will also be a massively important factor in long-term blogging success.
Both of these platforms are designed to drive website traffic, and bloggers who learn how SEO in the first year rather than the third are going to have it impact their success and longevity as a blogger immediately. 
You won't be able to learn how to optimize perfectly for Google overnight, but let me give you a few big bullet points where there's normally confusion:
Google likes long content. For example, I don't publish any articles here that are less than 1,000 words long. Short blog posts aren't likely to rank on Google
Updates are good! Updating and editing content you've already published on your blog is excellent for SEO. It's actually a very

routine task for bloggers

 
It takes a long time for content to rank well (make the first page of Google), even for SEO professionals.
Links are good. From my coaching clients, I often hear sentiments like "I was afraid to link to my other blog post or write too much." Keep it coming! Adding internal website links is a positive thing because it positions you as an authority. You can

even use plugins

to help you do this automatically
Do you need to talk some of this out to explain? Maybe blogging and SEO coaching would help you. 
Acquaint yourself with the SEO basics so you can outrank your competitors in the very beginning of your blogging journey. 
Would a checklist help you when writing your blog posts? Use mine: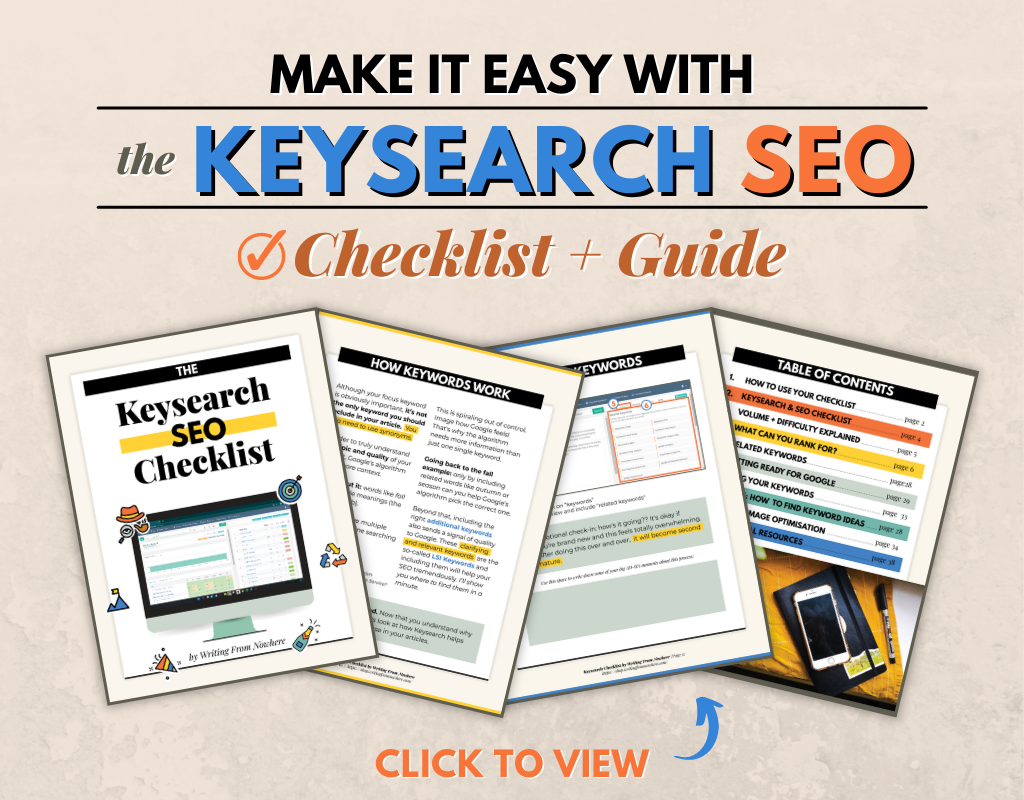 4. Writing Content No One Wants To Read
Personal stories and diary-like entries have a place on the internet, but they won't amass much traffic or position you as an authority in any industry. You have to teach people sometime. Answer people's questions. Provide value and quality content (the golden rule of blogging).
If you're not sure what to write, start with these 10 value-driven blog post ideas.
This blogging mistake for beginners can also be chalked up to "writing content that no one is searching for."
This gets to the heart of a deeper SEO topic, known as keyword research. Learning how to identify what keywords (AKA, what people type into Google or Pinterest). 
For example, to find this blog post, you probably typed "blogging mistakes for beginners." But what if I had titled this blog post "my blogging regrets" instead? You should've never found it, because you would've never searched for it.
Indeed, these all are blogging regrets that I have! And I know the severity of it. My first blog failed because I made a bunch of mistakes (namely #1, I put in almost no effort and then told everyone that blogging was "so saturated, bigley competitive" and quit).
It took me a year to start blogging again, this time for real. I had the dream of blogging as a career and never having a typical job again, so I got back up on the horse and started Writing From Nowhere.
A lot of people don't try again, and I really pity them. All of the opportunity and success that you hear about bloggers online is real, and you have access to it! But it's going to take some
Okay, pep talk over. What blogging mistake for beginners were we on?
I take you step-by-step through the process of finding and using keywords in my SEO checklist.
5. Leaving The Date In Your Blog Post URLs
This is a technical error and it's so easy to miss.
This is a really common blogging mistake for beginners that can go unnoticed for years if you're not careful! That's what happened to me. I didn't realize that the URL of every blog post had the date inserted, so instead of

"www.writingfromnowhere.com/sustainable-travel-packing-list" it would read

"www.writingfromnwohere.com/04/02/2020-sustainable-travel-packing-list."
If you've made this blogging mistake for beginners and you're using WordPress, you're not alone and you can fix all of your URLs by following these steps. 
6. Not Making Your Website Accessible
I think that this blogging mistake for beginners truly comes from a place of not knowing what to do. But, there's a point on everyone's journey where they realize what alt text is for, or see other sites with an accessibility icon and decide to worry about it later.
Making your website as accessible as possible is the right thing to do, and it's not that hard.
Now, for anyone who is still insistent on saving this for the "down the road," let me point out that you benefit from having a website that's accessible to other people.
It means that you're opening yourself up to more traffic, a wider audience and are perceived as more professional.
According to the CDC, 26% of adults in the US live with some type of disability. 
If your website isn't already accessible, don't keep making this blogging mistake for beginners. Add an accessibility plugin to your website, such as the One Click Accessibility plugin. This is a free plugin that displays an accessibility icon on every page of your website, and is a good place to start (combined with alt image descriptions).
A more advanced route for websites with a budget is using the AudioEye accessibility plugin and your website receiving the AudioEye Trusted Certification. 
Harvard explains how to offer the best digital accessibility in regards to writing alt text for images, and the Audio Eye WordPress plugin explains the legal implications of not making your website (a public space) reasonably accessible. 
7. Installing A Plugin For Everything
This gets to a deeper blogging mistake for beginners: focusing on appearance over substance. A beautiful blog doesn't do anything if it's empty, or only has a few blog posts.
This one's personal for me. I remember nitpicking my blog appearance because I felt unsatisfied with my blog. I downloaded a dozen plugins to help tweak the appearance, but the real issue was that I hadn't figured out my niche yet. That was my source of frustration, but instead, I dumped handfuls of plugins that slowed down my site.
Don't be like me. Don't impulse-shop plugins, and be critical about your downloads. You could very well be destroying your site speed otherwise, which is an easy blogging mistakes for beginners to avoid.
Just be self-aware enough to know if you actually need a plugin, or if you just need to keep developing your skills.
8. Hosting With Bluehost
Bluehost is recommended by so many big-time bloggers because it has a huge affiliate payout. In 2021, a referring blogger can earn up to $130 if you sign up for Bluehost, and they're not responsible for walking you through any of the headaches.
My personal experience with Bluehost: my site crashed when they migrated it, then again 3 months later, and then again 7 months into my 3-year membership. Yep, I got suckered into paying for 3 years of Bluehost, only to learn that they are rubbish and then switching.
Now, I have GreenGeeks, and I absolutely love them. They have impeccable customer service, have a mission rooted in sustainability, are fast (your website host affects your website speed!) and are really affordable. 
9. Not Prioritizing Personality
There are 7,500,000 blog posts published per day. Yes, you read that correctly. 
And your voice is still needed. You still have value to add. The internet will still benefit from what you have to say.
But, you'll need to stand out. You don't need to do anything drastic, just show us who you are. Show personality. Talk to me like you're talking to a friend.
I've received the feedback that Writing From Nowhere sounds "unprofessional" in ways. I take that as a compliment! I never want to be misconstrued as a corporate website. I'm Kayla, not a company. One of the great joys of blogging is that you can show up exactly as you are, and not have to stuff yourself into a bland, masculine, professional box.
Brand personality is easier to execute when you hone in on your target audience.
Hone in on your voice and brand personality and you will connect better with your audience and start building something, instead of just having readers. 
10. Guest Posting For Websites Without Good Domain Authority
Domain authority, or DA, is a metric of strength of your website. It is solely based on backlinks, or other websites that link to your website. The more quality websites that link to a domain, the higher the DA is.
A way to raise your DA is to guest post on other websites. In a nutshell, you write a piece of great content and give it away to them for free because they'll give you links to your website, and it's good for your DA. 
For example, getting a feature in CNN would be massive for your DA because they're such an authoritative website. But a common beginning blogger mistake is guest posting for websites without a good DA. Then, you're just giving away content. It's a bit of a waste.
"Publicity" alone isn't powerful enough, because you don't even know how much traffic that website gets. How much publicity are you actually getting?? Nah, get a more measurable return on investment by only guest posting for sites with established DA.
If you have a new website, your DA will likely be 0. That's okay – we all started there! I won't go deep into domain authority here because it's a big subject, but just don't write for other websites that have low DA, too.
To find the DA of any given website, search in Ahrefs: 
Blogging Mistakes For Beginners Final Thoughts
I didn't share these blogging mistakes for beginners to scare you away from blogging. I hope this has the opposite effect: I hope you're leaving Writing From Nowhere today more inspired and empowered to spend your blogging efforts wisely.
Writing blog posts before anyone is reading, wondering if anything will sprout from the seeds you're writing is hard, and I give you a lot of credit for doing it. Keep sowing the fields. Keep working until the growth comes. It's out there.