/
Unique Eco-Friendly Gifts This Year
*This post may contain affiliate links, which means I may receive a small commission, at no cost to you, if you make a purchase through a link.*
I'm proud of you: you know that your purchases and daily choices have an impact on the environment, and you want to make better purchasing decisions. This eco-friendly gifts list is just the place for you.
There's a massive uptick in waste during the holiday season. An estimated 25 percent more waste occurs in American households between Thanksgiving and New Years.
These eco-friendly gifts go above and beyond the gesture of gift-giving – they'll help the recipients reduce waste for the whole year to come.
Pause now and pin so you can find this later!
Eco-Friendly Gifts For Around The Home
1. Sugru, the world's first mouldable glue
Sugru can fix practically anything. Sort of like a glue-version of Play Dough, Sugru is soft and gets moulded into whatever shape the job demands.
Once cured, it still remains flexible. It also becomes weather proof, hot and cold proof, and electrically insulated (for small things, like charging cords) while still remaining flexible and durable.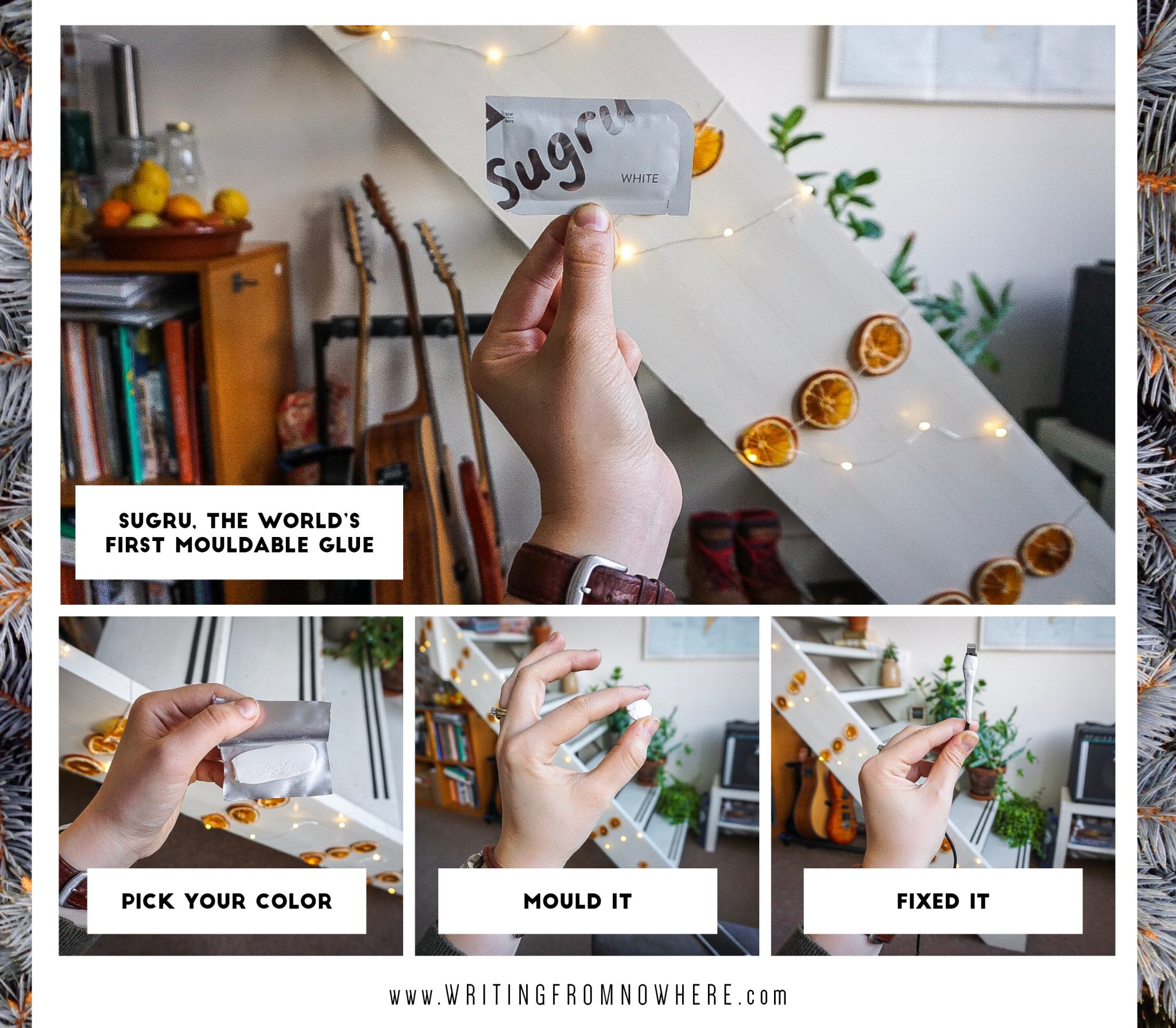 Sugru can bond things together, create a seal, plug a hole. Improve existent designs, or create something new altogether (they have some super creative examples on their website).
You may be wondering how glue fits into this eco-friendly gifts list. Well, Sugru says it best themselves: "Repairing and adapting your stuff is a sustainable choice."
By doubling the life of your stuff, you half the amount going to the landfill.
Repairing and mending was a typical skill for older generations, and it's a great way skill to hone and pass on the children as well. There is even a special Sugru for kids! Is there any better sustainable gift than the skill of repairing?
Perfect for: the person who's handy, or who tries to be handy. See also: the person who refuses to throw things way, no matter how truly gone the items are.
---
Eco-Friendly Gifts For The Kitchen
7. Compact at-home fermentation kit
Fermenting is a typical homemaking skill that many of our grandparents practiced. Instead of buying fermented foods in disposable packaging, join in the tradition and learn to make your own at home!
In addition to being a fun traditional skill, fermentation also has an abundance of health benefits. According to BBC, fermented foods increase the health of your digestive system and enhance your immune system.
Sign me up, amiright?!
This simple, compact fermentation kit is great for beginners or anyone who lives in an apartment.
Perfect for: the person in your life who dreams of having a big garden or homestead, but still lives in a small space.
---
8. Mini food processor
"Homemade is better than store bought" is a universal truth that I think we can all agree on, even in these divisive times.
In addition to tasting better, making things from scratch is also usually cheaper, less wasteful and healthier.
A food process is a must-have tool for making things from scratch. This processor is great because it's a convenient size and won't crowd your countertop.
A few ideas to get your gears (or stomach) churning:
Salsa
Nut butters
Hummus
Ice cream
Pesto
Cauliflower rice
It's less tasty, but you can also use your food processor to make soap and laundry detergent. A food processor is a gift that will keep on giving for the entire year to come.
Perfect for: the person in your life who could probably make anything from scratch.
---
---
---
---
13. Travel plant-based cookbook
Is this a cookbook, or a travel guide? Chugging right along on the plant-based track is this vegan cookbook from Elsa's Wholesome Life.
This beauty is filled with plant-based recipes that vegans and non-vegans alike will enjoy.
I discovered Elsa's Wholesome Life via the author's Instagram, where she shares mouth-watering and beautiful plant-based recipes, and I was instantly hooked (and hungry).
These recipes are so creative that they can be enjoyed/ravenously consumed, whether the person you're shopping for is completely plant-based on not.
Perfect for: the not-necessarily-vegan but adventurous foodie in your life.
---
14. Set of biodegradable cleaning tools
Want to hear a weird thought? Every toilet brush you've ever used still exists somewhere.
I know it's super gross, but unless you used a degradable brush, it's true!
These beautiful cleaning brushes are biodegradable, so after they've done their job they won't hang, you know, forever.
Cleaning may not be everyone's favorite Christmas-morning topic, but I bet you can think of at least one person in your life that finds joy in cleaning. With this eco-friendly gift idea, their cleaning cabinet will be Instagram worthy.
Perfect for: the person who likes everything to be beautiful, even their cleaning brushes.
---
15. Zero waste dish washing block
Now that you've found the beautiful biodegradable brushes, let's complete this eco-friendly gift idea with block dish washing soap.
This dish washing block from No Tox Life is vegan, free of dyes, perfumes, palm oil, plastic free – basically free of guilt.
The company advertises that this single block will replace 3 bottles of liquid soap. I've been using a block dish washing soap for about a year now, and I can't count the exact number of bottles it's voided, but I've been super impressed with how slowly the block wears.
Perfect for: the cleaning enthusiast in your life.
---
Eco-Friendly Gifts For On The Go
---
18. Stasher miracle bags
Okay, the technical name for this product isn't "miracle bag," but I had to add it in because, whelp, it's just true.
If you've been hanging around Writing From Nowhere for awhlie now, then you may be sick of hearing me talk about Stasher. I'll spare you all and keep it brief:
Stasher bags are like Ziplock bags, but 1,000% better (yes, that much better). It's actually almost not even fair to compare Ziplock bags to Stasher, because Stasher bags do infinitely more and are immeasurably better:
Stasher bags are leakproof
They're made with silicone and are safe to be frozen or boiled
Stasher works better than Ziplocks in every way, and can be washed in the dishwasher, making life easier
Once you have a Stasher bag, you'll wonder how you ever lived without one.
Perfect for: everyone, ever.
---
19. Collapsible silicone travel mug
Typically, I look right past obscure or kitschy coffee accessories on gift guides. As an avid coffee drinker, my needs are met. My system is cemented in place. This is not my first rodeo.
But.. this travel mug is different. It is the definition of convenience: it's there when you need it, and it practically disappears when you don't. This is a fantastic gift for the at-home coffee connoisseur who sometimes buys coffee out.
Perfect for: the person in your life who moves so fast they're practically a blur, yet always seem to have have it all together.
---
20. Cute heavy-duty waxed-canvas grocery tote
Sure, it's true that most people have a grocery tote by now. But sometimes shopping bags walk off, get holes, or are otherwise out of service. An extra shopping tote is always handy to have.
Perfect for: the long-haul eco-conscious person, who's been at the game awhile (and whose reusable bags have SEEN things).
---
---
22. Natural and plastic-free deodorant stone
Deodorant may be a funny gift idea, but this deodorant is an awesome eco-friendly gift idea.
This deodorant stone is a disposable-free alternative to traditional deodorants. You wet the stone, rub it under your armpits and then you're ready to go! I've been using this deodorant stone since 2016 and don't see myself ever looking back.
And to answer the elephant-in-the-room question, YES, it really works! I wore this deodorant while I was backpacking in Mexico, which was the most extreme humidity and heat I've ever experienced. I trust it with my life.
Perfect for: the person who seems like they already have every eco-friendly gift covered.
Thai Deodorant Stone on Amazon
---
23. Thrifted gifts
Most of these eco-friendly gifts focus on reducing waste, but if you can also make a sustainable purchase while shopping second hand.
Shopping second hand is fourth on the Buyerachy of Needs by Sarah Lazarovic, and is more sustainable than buying items new.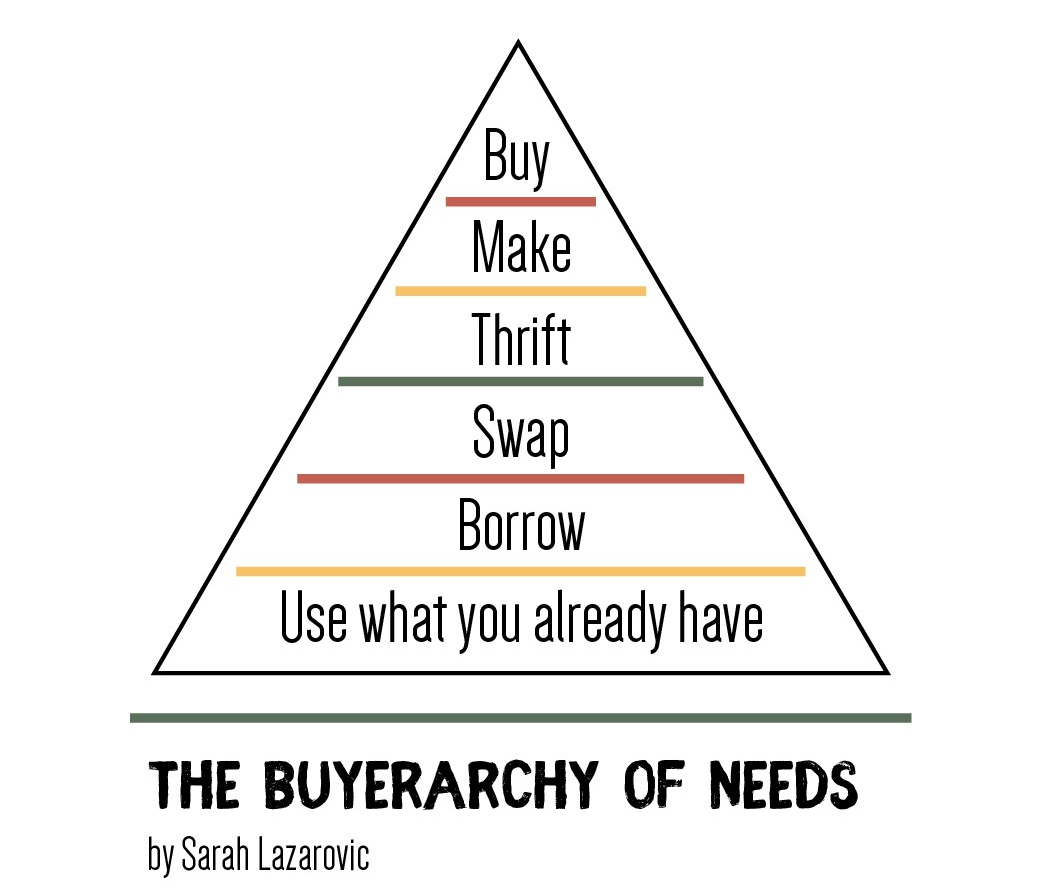 Addie at Old World New is a thrifting genius and has some ideas to get you started brainstorming thrifted holiday gifts: Thrifted Gift Ideas For Christmas.
Unique Eco-Friendly Gifts Summary
How do you like these eco-friendly gifts? See anything that you'll put on your own list this year?? Let me know in the comments or come say hi on Instagram! @kayla_ih Happy eco-friendly holidays friends!