/
Unique Eco-Friendly Gifts This Year
*This post may contain affiliate links, which means I may receive a small commission, at no cost to you, if you make a purchase through a link.*
Last Updated on November 8, 2022 by Kayla
I'm proud of you: you know that your purchases and daily choices have an impact on the environment, and you want to make better purchasing decisions. This eco-friendly gifts list is just the place for you.
There's a massive uptick in waste during the holiday season. An estimated 25 percent more waste occurs in American households between Thanksgiving and New Years.
These eco-friendly gifts go above and beyond the gesture of gift-giving – they'll help the recipients reduce waste for the whole year to come.
Pause now and pin so you can find this later!
Eco-Friendly Gifts For Around The Home
1. Sugru, the world's first mouldable glue
Sugru can fix practically anything. Sort of like a glue-version of Play Dough, Sugru is soft and gets moulded into whatever shape the job demands.
Once cured, it still remains flexible. It also becomes weather proof, hot and cold proof, and electrically insulated (for small things, like charging cords) while still remaining flexible and durable.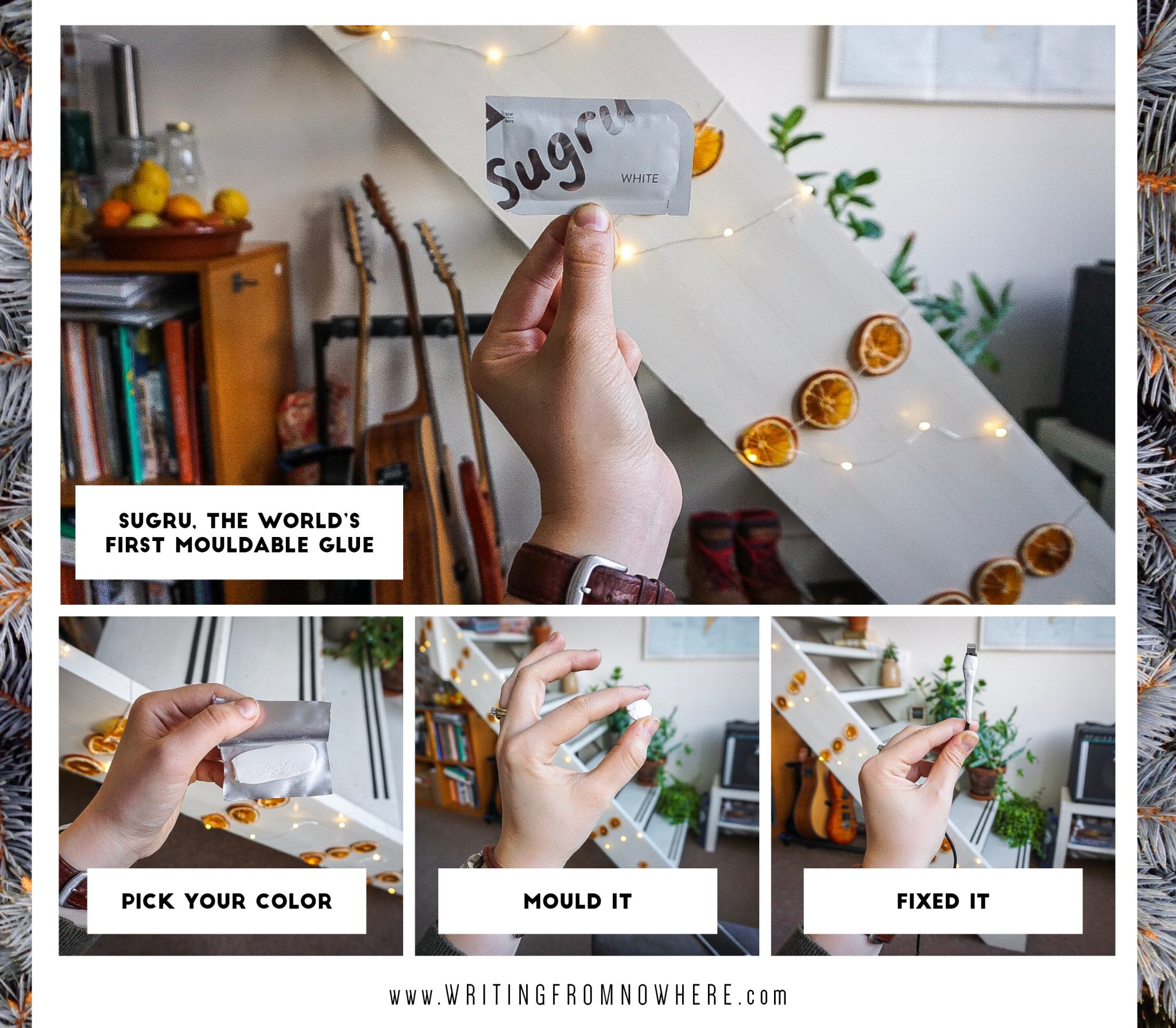 Sugru can bond things together, create a seal, plug a hole. Improve existent designs, or create something new altogether (they have some super creative examples on their website).
You may be wondering how glue fits into this eco-friendly gifts list. Well, Sugru says it best themselves: "Repairing and adapting your stuff is a sustainable choice."
By doubling the life of your stuff, you half the amount going to the landfill.
Repairing and mending was a typical skill for older generations, and it's a great way skill to hone and pass on the children as well. There is even a special Sugru for kids! Is there any better sustainable gift than the skill of repairing?
Perfect for: the person who's handy, or who tries to be handy. See also: the person who refuses to throw things way, no matter how truly gone the items are.
Sugru All-Purpose Adhesive on Amazon
---
2. The EcoEgg
If this isn't your first rodeo and you read my gift guide from last year, you may notice that this is a repeat. I think the EcoEgg is just that good that it deserves a spot again this year.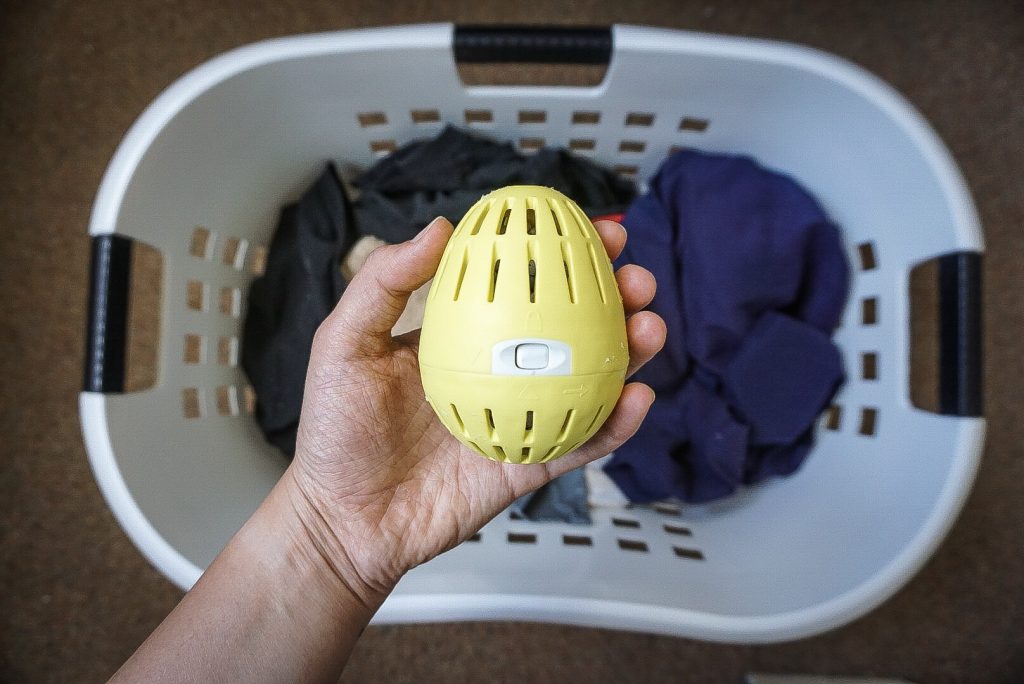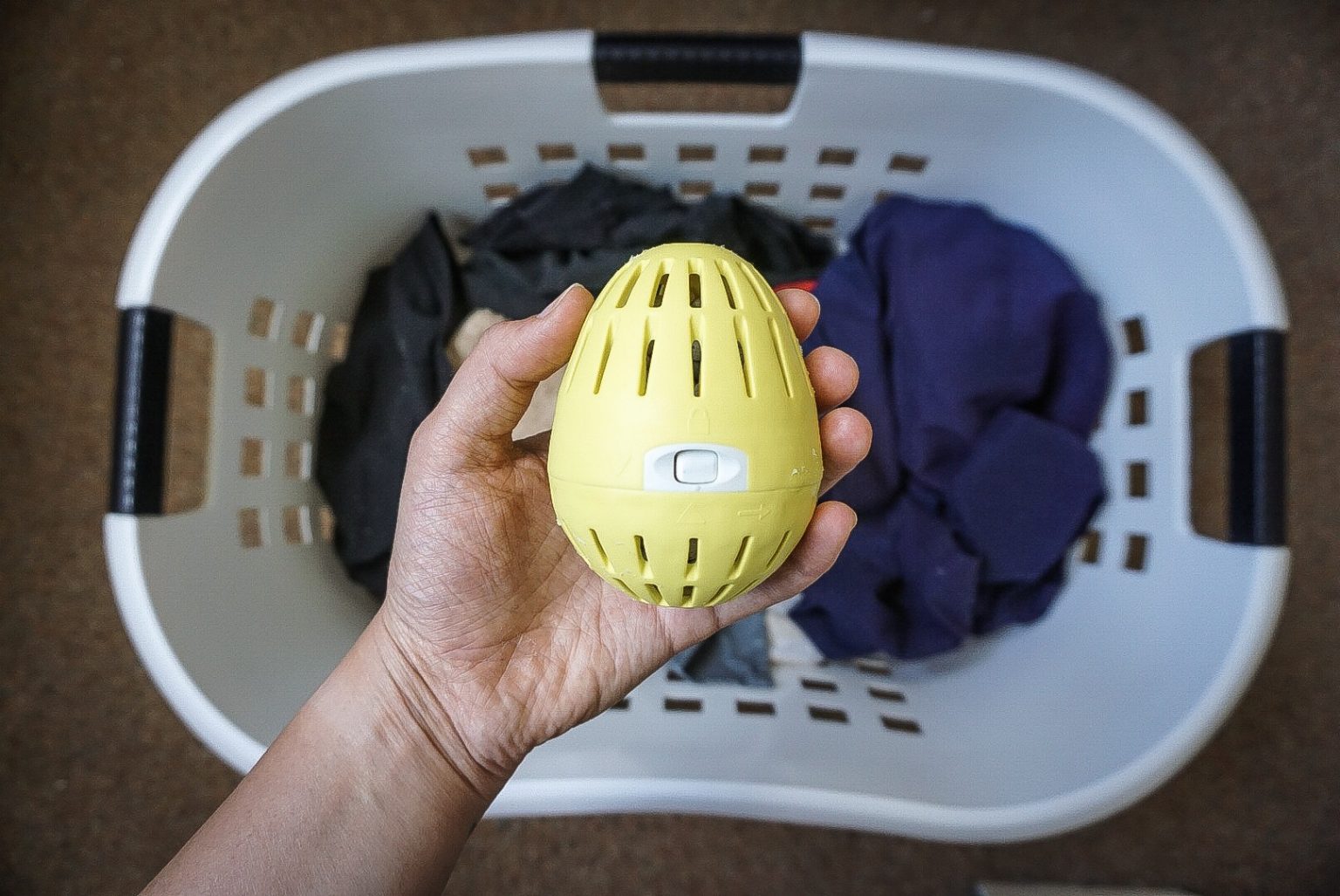 The EcoEgg is a laundry product that is all natural, cuts waste, saves a ton of money and makes your life easier.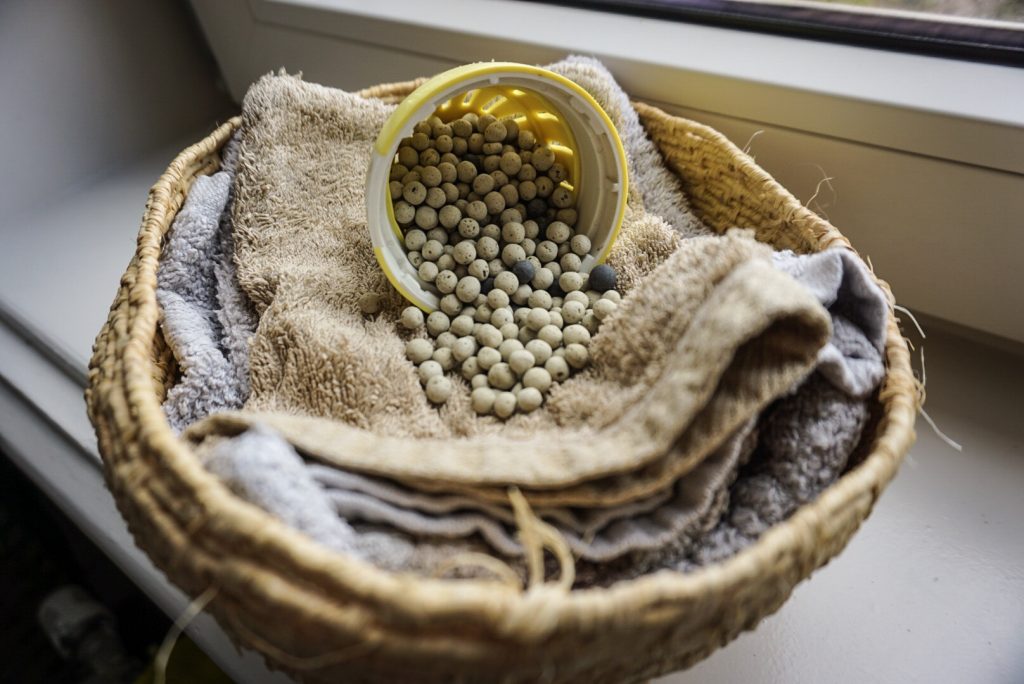 That's a big claim, and it's ALL true. I have an entire blog post dedicated solely to the EcoEgg where can you read more about it.
Perfect for: the person in your life who does laundry. You're probably thinking, "that's everyone." Exactly!
---
3. Plug-in power saver
This little power saver gets plugged into an electrical socket and reduces the amount of electricity that's normally wasted.
Some reviewers found that this reduces their electricity bill by hundreds of dollars over the course of a year – what a gift that is!
Perfect for: the practical person in your life (and probably your dad).
---
4. A bidet
Well I DID say these eco-friendly gifts were unique, didn't I!
It may get some laughs on Christmas morning, but bidets are actually more hygienic than toilet paper. It's the norm in many cultures, and it's also a growing trend in the US.
Refinery 29 even has a bidet-positive article that will have you wondering why more people aren't already on the bidet train.
Now, I won't get into all of the details, but if you need any more convincing: check out this bidet with 4.5 stars out of 9,000+ reviews.
Perfect for: the curious-as-a-cat low-waster in your life.
Luxe Bidet Neo 120 – Self Cleaning Nozzle – Fresh Water Non-Electric Mechanical Bidet Toilet Attachment on Amazon
Here's a lower-key travel bidet for anyone who wants to see dabble without taking the full dive on in (I couldn't get through this eco-friendly gift idea without at least one pun!).
This portable bidet set even comes with 2 completely separate packages, so you can give one as a gift and try one for yourself.
You KNOW you're curious!
---
5. The Wonderwash
A standard washing machine uses electricity, water, and is expensive to be repaired. The Wonderwash, on the other hand, is simple.
You put your clothes, water and soap in, and then turn. It takes 2 minutes to clean your clothes, and pays for itself within a few months.
In addition to saving water and electricity, the Wonderwash is also a sustainable choice because your clothes won't degrade as quickly as they do in an electric washer.
Perfect for: the person in your life who talks about living off grid, in a van, or anywhere else that might not come equipped with a standard washing machine.
---
6. The Cora Ball
While we're on the topic of laundry, I'd be remiss to not address perhaps the most dire environmental factor of laundry: microfibers.
Microfibers are fibers from our clothing that are so small that we can't see, or filter, them. And we eat and drink thousands of them a year. (source)
In walks the Cora Ball.
Inspired by the design and function of coral, the Cora Ball goes in the washing machine and collects microfibers.
All you have to do is throw the Cora Ball in your washing machine and it does everything for you.
The company estimates that if only 10% of American homes used a Cora Ball, we could spare our waterways an estimated 30 million water bottles worth of plastic every year.
If you pair it with the EcoEgg, think of how much plastic your laundry routine could remove from our landfills and waterways.
---
Eco-Friendly Gifts For The Kitchen
7. Compact at-home fermentation kit
Fermenting is a typical homemaking skill that many of our grandparents practiced. Instead of buying fermented foods in disposable packaging, join in the tradition and learn to make your own at home!
In addition to being a fun traditional skill, fermentation also has an abundance of health benefits. According to BBC, fermented foods increase the health of your digestive system and enhance your immune system.
Sign me up, amiright?!
This simple, compact fermentation kit is great for beginners or anyone who lives in an apartment.
Perfect for: the person in your life who dreams of having a big garden or homestead, but still lives in a small space.
---
8. Mini food processor
"Homemade is better than store bought" is a universal truth that I think we can all agree on, even in these divisive times.
In addition to tasting better, making things from scratch is also usually cheaper, less wasteful and healthier.
A food process is a must-have tool for making things from scratch. This processor is great because it's a convenient size and won't crowd your countertop.
A few ideas to get your gears (or stomach) churning:
Salsa
Nut butters
Hummus
Ice cream
Pesto
Cauliflower rice
It's less tasty, but you can also use your food processor to make soap and laundry detergent. A food processor is a gift that will keep on giving for the entire year to come.
Perfect for: the person in your life who could probably make anything from scratch.
---
9. At-home vegan milk maker
Make vegan milk at home from any nut, grain or seed with a Vegan Milker from Chufamix.
If you normally hit "next" when you hear vegan, hear me out – avoiding dairy and meat products is the "single biggest way" to reduce your impact on the planet (source).
Plus by making your own products from scratch, you can minimize your footprint even FURTHER by decreasing or eliminating packaging that goes in the landfill.
This vegan milker makes one liter of vegan milk in one minute. As if that's not impressive enough, it claim to pay for itself in 15 uses and make milk that's FIVE TIMES more nutritious than its store-bought counterpart (click to link below to read directly from them and see sources).
When you buy the milker, you also get an e-cookbook with recipes for the milk AND the leftover pulp. Yum!
Perfect for: the person in your life who loves a great deal and saving money.
Premium Vegan Milk Maker: 1 Liter in 1 Minute on Amazon
---
10. Set of six sturdy suction seal silicone lids, universal fit
These silicone lids save foil, plastic wrap, money, food, time and landfill contribution (how many wins is that? one, two, three, four, five, SIX wins).
Ripped foil, pain-in-the-butt plastic wrap, food that's gone stale – those are all pains (and wastes) of the past.
These silicone lids work better than all of the disposable counterparts:
They suction seal, keeping your food as fresh as possible
These won't rip, get all globbed-up together like plastic wrap does (you know what I mean – what a headache)
You'll never run out and be caught in a pinch
Perfect for: the person who's always trying something new in the kitchen.
Set of 6 Sturdy Suction Seal Universal Fit Silicone Lids on Amazon
---
11. Silicone, Bacteria-Resistant Spatula Set
This item on this year's eco-friendly gifts list is almost more of a frugal living gift than eco-friendly, but thankfully those two things usually go hand-in-hand.
These aren't only sleek, beautiful and great for cooking. A set of multi-sized spatulas can also help you get every last ounce of food and products out of their containers.
You know, like when the peanut butter jar is mostly empty, or a jar of face cream is pretty much finished. You can extend the use of every liquid or cream product by scraping the jar with a spatula. The results will shock you!
Using every last drop of a product means that we didn't waste the resources, labor and money that went into buying it. This is a humbling habit to exercise in life.
---
12. Blue Apples, making produce last longer and saving you money
Most of these eco-friendly gifts focus on avoiding plastic, but this plastic product is worth the read. These Blue Apples are hollow, plastic apples that sit in your refrigerator and extend the life of your produce.
Inside the apples are packets that absorb ethylene, the gas that fruits and veggies release that speeds up decomposition.
By absorbing ethylene, your produce decomposes more slowly. Blue Apple says that they extend the life of your fruit 2-3 times as long.
I've been a fan of Blue Apples for years: I even brought them with me when I moved abroad, which is really saying something because I could fit so little in my suitcase!
The cherry on top: as if helping you reduce your food waste isn't exciting enough, this eco-friendly gift idea comes with refills. Buy the plastic apples once, and replace indefinitely.
Perfect for: the ain't-nobody-got-time-for-that low-waster.
---
13. Travel plant-based cookbook
Is this a cookbook, or a travel guide? Chugging right along on the plant-based track is this vegan cookbook from Elsa's Wholesome Life.
This beauty is filled with plant-based recipes that vegans and non-vegans alike will enjoy.
I discovered Elsa's Wholesome Life via the author's Instagram, where she shares mouth-watering and beautiful plant-based recipes, and I was instantly hooked (and hungry).
These recipes are so creative that they can be enjoyed/ravenously consumed, whether the person you're shopping for is completely plant-based on not.
Perfect for: the not-necessarily-vegan but adventurous foodie in your life.
---
14. Set of biodegradable cleaning tools
Want to hear a weird thought? Every toilet brush you've ever used still exists somewhere.
I know it's super gross, but unless you used a degradable brush, it's true!
These beautiful cleaning brushes are biodegradable, so after they've done their job they won't hang, you know, forever.
Cleaning may not be everyone's favorite Christmas-morning topic, but I bet you can think of at least one person in your life that finds joy in cleaning. With this eco-friendly gift idea, their cleaning cabinet will be Instagram worthy.
Perfect for: the person who likes everything to be beautiful, even their cleaning brushes.
---
15. Zero waste dish washing block
Now that you've found the beautiful biodegradable brushes, let's complete this eco-friendly gift idea with block dish washing soap.
This dish washing block from No Tox Life is vegan, free of dyes, perfumes, palm oil, plastic free – basically free of guilt.
The company advertises that this single block will replace 3 bottles of liquid soap. I've been using a block dish washing soap for about a year now, and I can't count the exact number of bottles it's voided, but I've been super impressed with how slowly the block wears.
Perfect for: the cleaning enthusiast in your life.
---
Eco-Friendly Gifts For On The Go
16. Square Stainless Steel Tiffin
Food packaging is one of the (if not the) biggest offender of landfill waste for most people. By making food prep a part of your routine, you seize the opportunity to reduce your landfill contribution drastically.
The best way I've discovered to make food prep easy (and actually favorable, instead of just a hassle!) is to have a variety of tools on hand. My stainless steel tiffin is one of the best weapons I have against food packaging.
By being prepared and packing food, you'll buy fewer snacks or lunches when out. This usually inevitably results in saving money and eating healthier too. A triple win! If food packaging is one of your pet peeves, I have a blog post for you on how to avoid wasteful packaging, eat healthier and save money.
Perfect for: the person in your life who always seems to be in motion, off on another adventure or just always snacking.
---
17. Cool insulated, waterproof lunchbox
We've established that being prepared with food is a huge win for the environment and for you. Another tool for your arsenal: a lunchbox.
This lunchbox is insulated, waterproof and will outlast the ole brown bag (without ever having the risk of the bottom getting damp and giving out).
Perfect for: the person in your life who's never not hungry.
---
18. Stasher miracle bags
Okay, the technical name for this product isn't "miracle bag," but I had to add it in because, whelp, it's just true.
If you've been hanging around Writing From Nowhere for awhlie now, then you may be sick of hearing me talk about Stasher. I'll spare you all and keep it brief:
Stasher bags are like Ziplock bags, but 1,000% better (yes, that much better). It's actually almost not even fair to compare Ziplock bags to Stasher, because Stasher bags do infinitely more and are immeasurably better:
Stasher bags are leakproof
They're made with silicone and are safe to be frozen or boiled
Stasher works better than Ziplocks in every way, and can be washed in the dishwasher, making life easier
Once you have a Stasher bag, you'll wonder how you ever lived without one.
Perfect for: everyone, ever.
---
19. Collapsible silicone travel mug
Typically, I look right past obscure or kitschy coffee accessories on gift guides. As an avid coffee drinker, my needs are met. My system is cemented in place. This is not my first rodeo.
But.. this travel mug is different. It is the definition of convenience: it's there when you need it, and it practically disappears when you don't. This is a fantastic gift for the at-home coffee connoisseur who sometimes buys coffee out.
Perfect for: the person in your life who moves so fast they're practically a blur, yet always seem to have have it all together.
---
20. Cute heavy-duty waxed-canvas grocery tote
Sure, it's true that most people have a grocery tote by now. But sometimes shopping bags walk off, get holes, or are otherwise out of service. An extra shopping tote is always handy to have.
Perfect for: the long-haul eco-conscious person, who's been at the game awhile (and whose reusable bags have SEEN things).
---
Eco-Friendly Gift Ideas For You
Many of these eco-friendly gifts focus on reducing waste, but experiences also make great sustainable gifts!
And what better an experience than an opportunity to explore any hobby or interest with Skillshare?
Skillshare is an online learning platform, where teachers create mini-classes on the their subject of expertise and then students go through the classes at their own pace.
Skillshare is one of the best investments I've made in myself – I seriously can't recommend it enough. And one of the best things about this gift is that it's perfect for anyone, because you can pick whatever topic you want to learn about.
Any of these courses sound interesting?
Learn How to Motivate Yourself: Master Self-Discipline and Get Things Done
Modern Money Habits: 5 Steps to Build the Life You Want
Going Viral: Write, Film & Make Content People Share
Any of those sound interesting? After I finish this blog post I'm going to go check out the modern money habits course..
Are you curious about Skillshare for yourself? I can gift all my readers a free trial 🙂
Perfect for: the person in your life who is overflowing with interests and hobbies; an eternal student with a passionate soul.
---
22. Natural and plastic-free deodorant stone
Deodorant may be a funny gift idea, but this deodorant is an awesome eco-friendly gift idea.
This deodorant stone is a disposable-free alternative to traditional deodorants. You wet the stone, rub it under your armpits and then you're ready to go! I've been using this deodorant stone since 2016 and don't see myself ever looking back.
And to answer the elephant-in-the-room question, YES, it really works! I wore this deodorant while I was backpacking in Mexico, which was the most extreme humidity and heat I've ever experienced. I trust it with my life.
Perfect for: the person who seems like they already have every eco-friendly gift covered.
Thai Deodorant Stone on Amazon
---
23. Thrifted gifts
Most of these eco-friendly gifts focus on reducing waste, but if you can also make a sustainable purchase while shopping second hand.
Shopping second hand is fourth on the Buyerachy of Needs by Sarah Lazarovic, and is more sustainable than buying items new.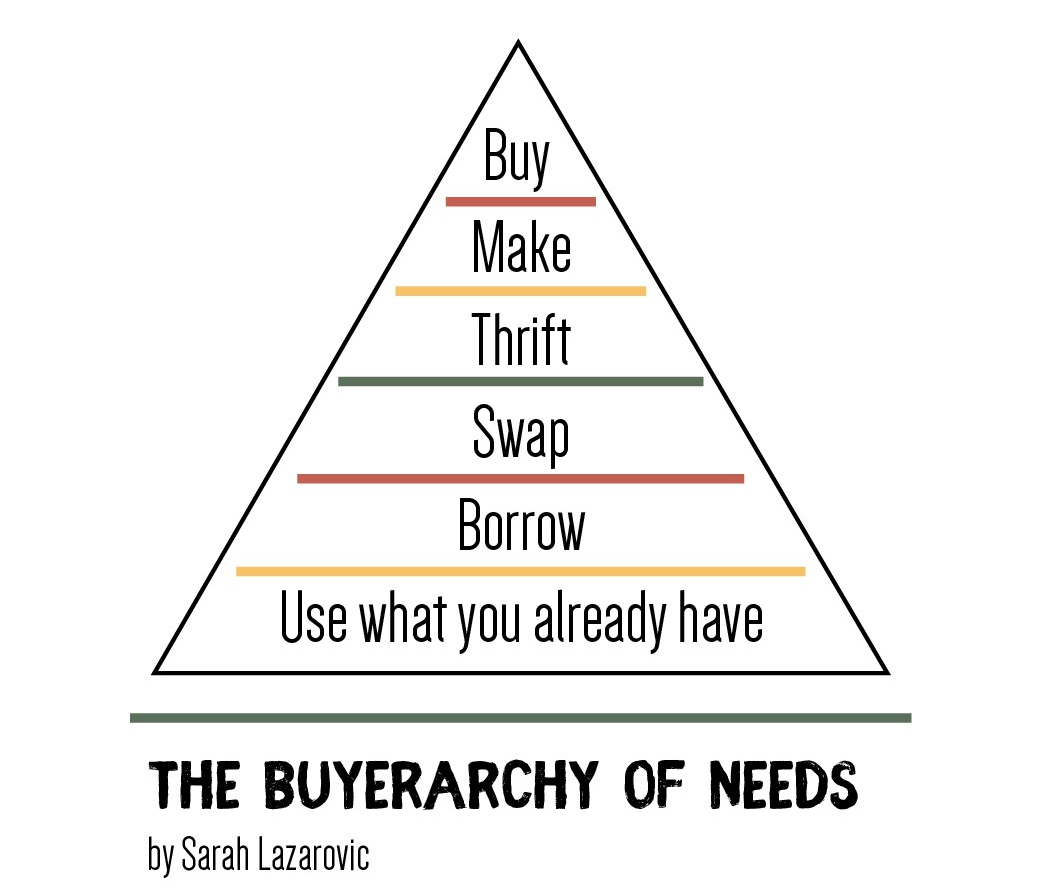 Addie at Old World New is a thrifting genius and has some ideas to get you started brainstorming thrifted holiday gifts: Thrifted Gift Ideas For Christmas.
Unique Eco-Friendly Gifts Summary
How do you like these eco-friendly gifts? See anything that you'll put on your own list this year?? Let me know in the comments or come say hi on Instagram! @kayla_ih Happy eco-friendly holidays friends!