/
How To Write SEO-Friendly Blog Posts
*This post may contain affiliate links, which means I may receive a small commission, at no cost to you, if you make a purchase through a link.*
Why are we here? Where did we come from? Will we end up in the same place as our cats when we go? And, how does SEO *really* work? For many online business owners, the inner workings of SEO truly belong in that category of questions that science is yet unable to answer. Yet, learning how to write SEO-friendly blog posts is one of those essential lessons you need to learn if you want to blog successfully.
SEO, or search engine optimization, is a collection of signals that you give to Google to make your content show up in search results. This process is still surrounded in mystery because Google keeps their factors for determining rankings a closely guarded secret. Anything that is known is based on trial and error.
You may be overwhelmed and tempted to add "learn SEO" to your future to-dos list, but some simple statistics show why getting good at SEO is so incredibly important. According to the SEO gurus, the first page of Google gets around 95% of all traffic. That means that only 5% of people ever click to page two.
Even more extreme: most of that traffic goes to the first three results on page one.
Intro To Writing SEO-Friendly Blog Posts
For bloggers, the sheer amount of SEO information that is out there can be overwhelming. When learning, we quickly tend to pick a favorite guru and blindly trust what they have to say.
Personally, I've worked my way through countless articles that have gone something like: "I made this one change on my website and it has increased my traffic by 256%!" While I fully believe that the information is both correct and helpful, it doesn't really help someone who is trying to learn and might still feel confused by SEO.
The problem lies within the fact that so much of this information is written with beginners in mind. So in this blog post let's do just that: let's look at some basic, practical steps you can take in order to make your content more SEO-friendly.
How To Write SEO-Friendly Blog Posts: 6 Tips
Use these easy tips to start improving your SEO right away.
1. Research Keywords Before You Start Writing
Picking a keyword is really the act of deciding what the focus of your article will be. This is not the same as researching your keywords.
The process of researching keywords helps you find out if anyone is interested in an article with that particular focus.
In the process of researching keywords, you also find out whether or not you can compete with the people already ranking. After all, you might have incredible insights on what to do in Beijing, but people will probably check out what Tripadvisor has to say.
This doesn't mean that writing blog posts on popular topics is out of bounds; it just means that you have to research and choose.
Example: if this blog post was targeting the keywords "SEO tips," it would never stand a chance against all of the SEO giants and marketing companies on Google's first page. Instead, this piece is about "how to write SEO-friendly blog posts," which is much less competitive.
The best way to research keywords is by using a keyword research tool. You may be shocked by the price tag attached to some of the more popular ones. That's why I use Keysearch, an amazing tool that costs about a quarter of some of the more well-known ones.
With it, you can not only research your chosen keyword but also find any related keywords that you can also rank for. Figuring out how to do keyword research is your first step towards more SEO-friendly content.
Want a walk-through of how to use Keysearch and a checklist for optimizing your posts?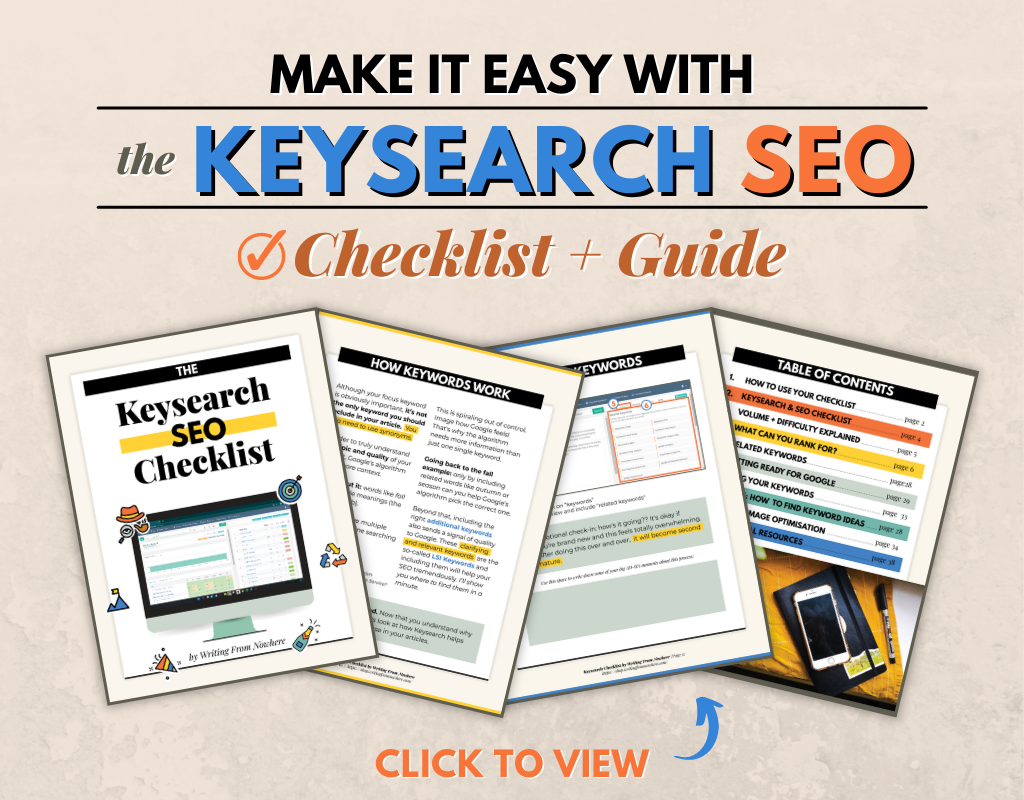 Not sure what kinds of blog posts to write? Try these 10 essential blog post ideas for beginners.
2. Don't Overuse Your Keywords
Let's say you find a nice keyword or keyphrase that you want to write about and that you have a chance to rank for. Instead of cramming it into your text as many times as you can, you want to use it sparingly. The SEO sages at Moz recommend using your focus keyword as little as 5 times can be enough as long as you put them in the right places.
It's okay if you use synonyms instead of the original keyword so you don't have to use the exact phrase over and over again. Use your keywords strategically and put them in places that Google thinks are important:
the URL
your title
the first paragraph
your metadescription
your images (more on naming images later)
Finally, sprinkle a few throughout your article. A light touch is good enough for Google, and usually provides a better experience for the reader, too. Whatever you do, avoid keyword stuffing.
3. Use Headings Correctly
Many people don't read every line in a blog post. Instead, they just scan the headings to determine whether a text is worth reading in its entirety. Unsurprisingly, Google has picked up on this. According to the people behind the Yoast plugin, Google uses text structure as an important factor when it comes to determining rankings. This is where headings come in.
Headings provide structure and enable people, as well as Google, to quickly determine what your text is about. When you write your blog posts in WordPress, don't just use a larger font but remember to use actual headings. Only the title should be H1, and each subsequent heading should be either H2 or H3.
Make sure you put your keyword in your title (which is heading 1, or H1). Google uses something called semantic closeness as a ranking signal. When you include your main keyword in your H1 heading, Google creates a link between your main keyword and any H2 subheadings. It recognizes your subheadings as subtopics and uses them to get an idea of what the article is about.
When using headings, don't make them overly creative. Instead, approach them as an opportunity to steer Google's interpretation of your article in the direction you want.
After all, Google is trying to understand what your post is about so you want to make sure they pick up on the right things. Whatever you do, avoid confusion at all times.
It's a good SEO practice to start every article with a clear title (H1 heading) and then use H2 and even H3 headings for all subsequent points. Include your focus keyword in the main title and other relevant keywords in your H2/H3 headings.
4. Pay Attention To Readability
I think we can all agree that any text that is badly written is simply off-putting. Whether it's poor grammar, confusing writing or just rambling, a blog post that is badly written will cause readers to stop reading. Rather than spending time on your confusing article, they just leave your site and click on the next search result.
Content that's confusing affects your rankings. Google uses the time that people spend on your site as an indication of quality and therefore as a ranking signal. Furthermore, just like real people, Google tries to scan the content of your blog post in order to determine where to put it in search results. Content that is well organized has a higher chance of showing up in search results.
Readability is more than just working on your grammar and spelling. It's about using transition words to break up long sentences and about writing paragraphs that are succinct and to the point. Although good readability may not be a direct ranking signal, it does have an effect on SEO.
Easy Readability Trick #1: Shorter Sentences
In order to shorten those overly long sentences, use linking words to break them up. Keep in mind, just because certain ideas are related doesn't mean they belong in the same sentence. For example, take a look at these two sentences:
Although short sentences are often preferable, writing long sentences in itself is not a bad thing but having only long sentences may cause some problems with readability.
Although short sentences are often preferable, writing long sentences in itself is not a bad thing. However, having only long sentences may cause some problems with readability.
Yoast recommends a maximum of 20 words per sentence and this one has 27. However, by simply inserting a linking word, this one can be brought back to a reasonable length. Writing short sentences is not hard, you just have to be aware of it.
Easy Readability Trick #2: Shorter Paragraphs
In general, people read blogs because they want to learn something new. They find your article because they want you to answer their question. Moreover, people want the shortest possible version of your answer. If they can't find what they're looking for quickly, they will leave. This shows why clear and concise paragraphs are so important.
Each paragraph should deal with just one idea that you explain in only a few sentences. In fact, the ideal length of a paragraph on a blog post is just 3 to 5 lines. Of course, you can have the odd one that is a bit longer, just don't make them the norm.
Ideally, every paragraph should have the same basic structure. Start out with the core sentence and use the sentences in the middle to support it. Add a concluding sentence to wrap it up nicely. Finally, use linking words to connect your paragraphs and give your article that natural flow.
5. Include Internal Links
Having a large number of links is an important factor when it comes to showing up in rankings. After all, it is a clear signal to Google that your content is high quality and is share-worthy. As a result, your content is more likely to show up in search engine results.
When it comes to link building, there are two kinds of links: backlinks and internal links. A backlink is when someone else shares a link to your domain. If you have quality content, backlinks should happen organically over time. An internal link is when you place a link connecting one of your posts to another. Unlike acquiring backlinks, placing internal links is completely within your control.
Think of your domain as a farmer's field. Backlinks provide the necessary water but internal links function as the equally important irrigation system. A backlink can provide authority to a single page on your site. If this page has internal links to other posts on your site, it spreads some of that authority to your other posts. Going back to the field, you need both internal and external links if you want any crops to grow.
Building internal links also makes people more likely to stay on your site longer. After all, your visitors are already interested and by offering them related content they will click around more. Anything that makes people hang around longer is generally a sign of quality that Google is guaranteed to pick up on.
Although internal links are powerful, you don't want to overdo it. Google is too smart to be fooled by adding hundreds of links to every single article. Only include links when they are relevant.
You can even insert them manually with the internal linking plugin Link Whisper. Did you see how smooth and relevant that internal link was?!
6. Make Sure To Optimize Your Images
Given the amount of stimulation that a person can access at the click of any app on their phone, it's fair to say that no blog post is complete without multimedia.
It makes your content more engaging and it can help you explain complex content more easily. This may sound counterintuitive but adding images is not just a matter of adding images. They need optimization just like the rest of your blog post. The good news is that it doesn't take that long to do it as there are only two main things you need to do.
The most important thing when it comes to optimizing images is reducing their size. Though your high-quality image might be 3000 x 4000 pixels in its original, it is likely to be displayed in a format that is a lot smaller. Even though the image is displayed in a smaller size, the large original image still needs to be loaded which takes a long time. Of course, you can choose to upload smaller images but that's not all.
There are two main things that go into reducing the size of images; compressing the image and resizing the image by lowering the length and width. A free plugin that can do it all for you is Imsanity, but there are many alternatives out there. A quick Google search should give you plenty of free tools to use.
Besides reducing the size of images, you should also make sure you name them correctly. A good rule of thumb is to give your images a name that tells Google how the image contributes to the value of your article. So instead of keeping the random unnamed.jpg try to give it a more meaningful name. You could even choose to include your focus keyword in there if you are feeling uninspired.
Remember the search engine crawlers that try to understand the content of your article? Well, they also try to understand your images. By naming your images correctly, you can give them some more clarity!
Finally, you also qualify for the chance to be shown in Google image search.
This is just one tip for optimizing images. Find even more steps in my SEO checklist.
Final Thoughts On Writing SEO-friendly Content
Are you still confused by SEO? Rest assured, you're not alone. Writing a well-optimized blog post can be difficult when you first start out as a blogger.
Follow these practical tips for every new blog post and you'll see your rankings improve!
As always, I am here rooting for you.