/
Where To Share Your Pinterest Account (= More Exposure!)
*This post may contain affiliate links, which means I may receive a small commission, at no cost to you, if you make a purchase through a link.*
Last Updated on November 8, 2022 by Kayla
There are a million blog posts on optimizing your Pinterest account, doing keyword research, and avoiding pitfalls like the spam blocker (dun-dun-DUN).
…yet the off-Pinterest Pinterest tasks are often totally overlooked.
We've all been guilty of this, but now it's finally time to dust off these basic Pinterest to-dos that have been sitting on your to-do list!
Whether you're brand new to Pinterest, just re-igniting your strategy, or you're finally checking some long-overlooked boxes, these easy steps are going to rake in more Pinterest exposure for your brand.
Have you shared your Pinterest account in these 8 places? Check these boxes to give your account an easy boost #pinterestmarketing #bloggingtips
Click To Tweet
1. Add Pinterest To Your Website
Everyone has the Instagram icons plastered on their website, right? Well Pinterest is 1000x more powerful than Instagram in this sense: if someone from your website follows you on Pinterest, they're going to be shown your pins and continually funneled back into your website.
This is a self-fulfilling prophecy of traffic. Cue the confetti cannon!
You may also like: How To Get More Pinterest Followers On Autopilot
Add your Pinterest account to a few key real estate areas on your website and you'll be naturally funneling every visitor through the Pinterest pipeline.
Add your Pinterest account icons in these places:
Your about page
Your contact page
The social icons on your sidebar
Your footer
Now with that structure built into your website, you need to take it a step further.
You may also like: 30 Easy Pinterest Marketing Tips
When it comes to getting more bang for your buck with Pinterest, more than ANYTHING, you want website visitors to save your blog posts when they're on your website.
That's because when someone saves something to Pinterest from your website, it's even MORE powerful than saving on Pinterest itself (to the Pinterest algorithm).
Remind website readers *constantly* to save by adding a pin-it button ON your images, at the TOP of your blog posts, and the SIDE.
Blogging life hack: Speaking of social shares, did you know that you can get automatic social shares every single time you publish a blog post? I had major FOMO when I discovered this. Set this up today (it's free!).
Bonus points if your share buttons show a count of how many times a piece of content has been saved! That adds a little special sauce of social validation. If loads of people are loving your content and sharing it, it must be good, huh?!
My personal record is a blog post that (to date) has been shared more than 400,000 times (mostly on Pinterest).
The secret to this super-high reshare count? Viral topic + many pins for the same URL.
3. Invite Your Instagram Followers Via Stories
Instagram used to only allow accounts with 10,000+ followers include a link in their stories, but since this feature was opened up to all accounts, this is a huge opportunity!
Instagram itself will almost never be a real traffic driver to your blog. BUT, if you can capture people's attention long enough to get them to follow you on Pinterest, you tap into a real opportunity for them to see and engage with your pins.
Try something like this:
Who here's on Pinterest?! I just re-launched my Pinterest account and will be sharing unique content there. Would love to connect with you [link]
Here's an example from my own Instagram account. When I was close to 15,000 Pinterest followers, I invited my Instagram followers to follow.
Even with a small Instagram following (just over 2,000), I got a wave of new people on Pinterest.
Remember: people WANT to support you. Let them know how easy it can be!
You may also like: Pinterest 2022 Beginner's Guide
There are 8 places to share your Pinterest account for more exposure. How many have you covered? https://writingfromnowhere.com/where-to-share-your-pinterest-account-more-exposure/ #pinterestmarketing #pinterest via @kaylaihrig
Click To Tweet
LinkedIn is a great place to invite your community into your Pinterest ecosystem and spark a conversation with other brand owners.
It's not the place for "come follow me" posts, so try something more conversational like this:
Feel free to copy and paste directly and use:
What's your favorite marketing platform for growing your audience/business? When I first began [brand name], I focused mostly on [X platform] for growth but now I'm launching a Pinterest strategy. I'd love to connect with you there and hear your favorite platform for growth [your Pinterest account link]
You may also like: How To Avoid Being Suspended On Pinterest
I'm talking your personal AND your business page (if you have a page for your brand).
Your friends are probably already on Pinterest, and they'd be happy to support your brand there. They're also more likely to interact and engage with your pins when they see them ("hey, isn't that from so-and-so?!"), which will create a snowball effect within the algorithm.
Remember: the more people engage with your content on Pinterest, the more Pinterest will show it to people. This is why it's so important to take these steps to invite your existing audience into your Pinterest ecosystem!
Try this text:
Pinterest is more than just recipes and tattoos nowadays… It's also where you'll be seeing some of my own blog content! Are you on Pinterest? Could you take a minute to support me by hitting follow? It's small but it's SO impactful for me [link]
Want to make sure your Pinterest account is perfect before inviting your network to follow? Get a Pinterest audit!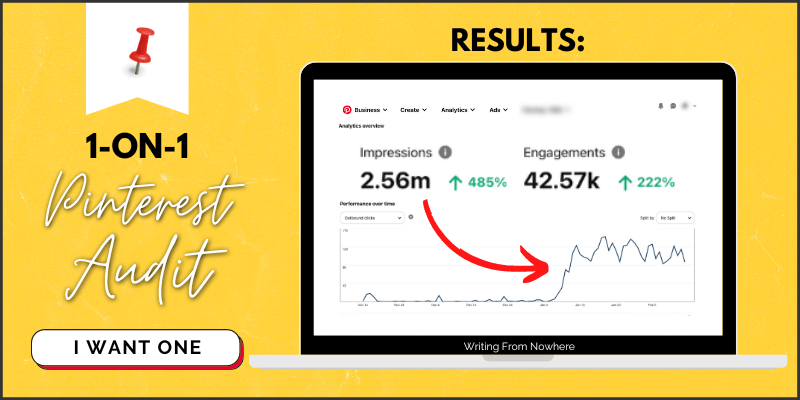 6. Add Pinterest To Your Automated Emails
Does your email service provider have a footer with social links in it? Most do, and this is a perfect place to drop your Pinterest account link.
After all, your emails are automated and sent on 24/7 autopilot. Building your Pinterest following should be just as effortless.
Need help keeping your email list going? I use the Happy Subscriber email templates as the foundation for my emails and 100% recommend it. These email templates have saved me SO much time.
You may also like: How To Repurpose Instagram Content On Pinterest
Your normal email (the ones that AREN'T sent out via an email service provider and just go out via Gmail) can nurture just the same.
If you use Gmail, you can follow these steps to add a footer automatically to every email.
You may also like: Complete Guide To Idea Pins On Pinterest
8. Drop That Link Into Any Group Chats…
Do you have a group chat of blogging comrades? Family? Maybe just old friends that keep in touch and share life updates with each other?
Tap into your support system by asking them to follow you on Pinterest and encouraging them to engage with your content when they see it.
You can use this script:
This may sound random, but you know I've been blogging and trying to get traffic to my website. A big part of that is growing on Pinterest, and I'd be really thrilled if you would follow my account and click around / save a pin here or there when you see it! It's small but it's SO impactful and would mean the world! [link]
How many of these steps have you completed already?! And what's helped you grow your Pinterest account the most? I'd love to hear in the comments!
Do you like Pinterest enough to become a Pinterest manager yourself? Maybe it's your dream job!
And if you're looking to hire a Pinterest manager, read this advice first.
You may also like: