/
Sustainable Travel Packing List: 27 Things To Pack
*This post may contain affiliate links, which means I may receive a small commission, at no cost to you, if you make a purchase through a link.*
Last Updated on November 8, 2022 by Kayla
My personal motto is "enjoy the world, and be nice to it." This sustainable travel packing list will help you do just that! Pack these 27 items to minimize your landfill contribution as much as possible as you're exploring.
Since not every trip will be the same, there's no one-size-fits-all sustainable travel packing list. These packing items are clustered under two different umbrellas: short-term travel and long-term travel.
Short-Term Sustainable Travel Packing List
These sustainable travel products ms will be relevant for every trip, whether it's just a weekend away or a 6-month backpacking trip. Let's start with the most problematic products in your pack…
Toiletries
Standard toiletries are one of the biggest waste offenders, so there's a massive opportunity to reduce your landfill contribution.
1. Nuud deodorant
If you've been a reader of Writing From Nowhere for any length of time, then you know I've tried practically every natural deo option there is! Homemade, baking soda-based, popular drugstore brands, and my (previous) favorite – the Thai deodorant stone.
May we have a moment of silence for the three deo stones that I dropped in the shower. They shattered like glass, and it was time for something unbreakable.
I'm relieved to say that there IS a perfect deo product – it's called nuud. It's plastic-free, vegan, fragrance-free, not tested on animals and it works so well.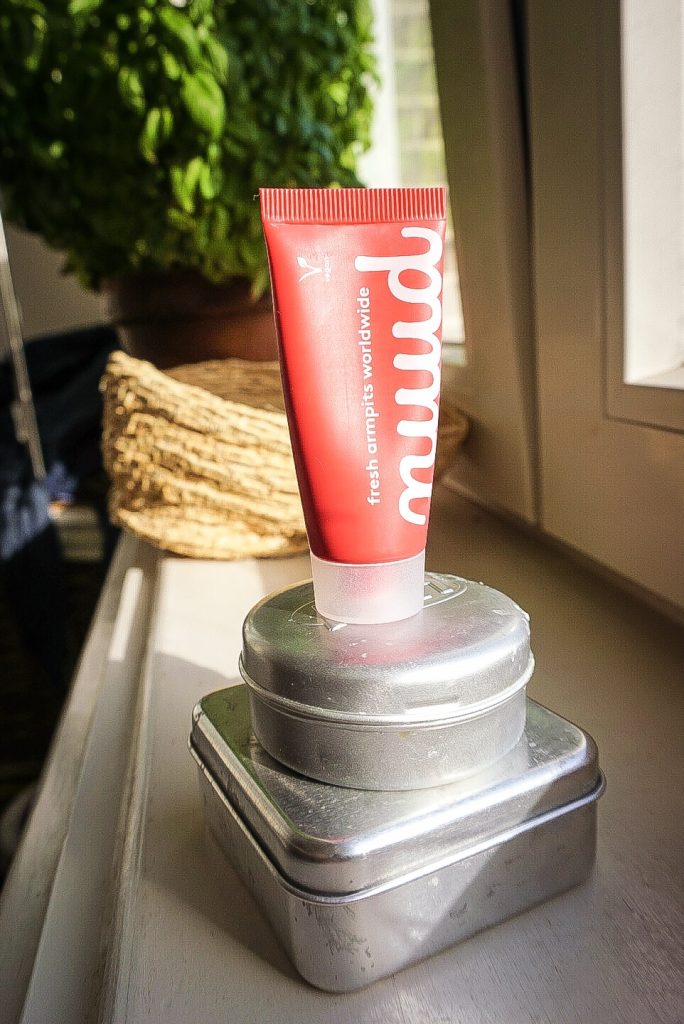 Nuud comes in a concentrated paste, and a smear can last you multiple days (nuud advertises 3-7 days). It's also travel-sized, so no need to buy overpriced carry-on sizes. Minimalists will also love the compact packaging design.
2. Reef-safe sunscreen
Did you know that normal sunscreen contains chemicals that are directly linked to destruction of marine life, particularly coral?
The 4 common sunscreen chemicals that directly linked to coral reef bleaching are oxybenzone, octyl methoxycinnamate, butylparaben and enzacamene. (source)
Check the sunscreen you already have to see if these chemicals are included, and next time you purchase sunscreen, make sure it's marine safe.
This is a sustainable travel must, even if you're not swimming in the ocean. Do you remember in Finding Nemo, "all drains lead to the ocean?" The same is true of water tributaries. The world is 70% water, and it's all connected.
It makes me sick that I used this normal sunscreen for so many years before I became aware of the damage it causes.
Fellow eco-blogger Dr. Stephanie Schuttler shares more on reef-safe sunscreen on her blog, Fancy Scientist.
3. Bamboo toothbrush
After trying a few different bamboo toothbrushes, these are my favorite. The bristles don't fall out over time and it's not overly clunky in your mouth.
4. Solid toothpaste
Tooth tabs
–> small, lightweight
Tooth powder
–> bulkier, powders can be problematic at airports
Paste in a glass jar
–> heavier than tabs, breakable
DIY toothpaste
–> can be problematic at airports
And yes, there is a story to the "problematic at airports" warning. In 2017, TSA called in the explosives team to analyze everything I had in my bag because of the ingredients in some homemade soap. The real kicker – I didn't even pack the soap! It had just left traces of a "red flag" substance on all of my stuff. I still don't know which ingredient was the trigger.
5. Solid soaps
When it comes to your sustainable travel packing list, bar soaps are a traveler's best friend. Here are 5 reasons bar soap trumps liquid:
If you're flying, there's no limit on how much soap you can take, like there is for liquids
Solids don't pose the risk of leaking and causing a huge (and potentially expensive) mess in your bag
Bar soaps are generally cheaper than liquid products
Solid soaps are lighter, which is important if there's a weight limit on your luggage or if you'll be carrying your bag long ways (who wants a heavier pack than necessary?)
Bar soaps have a smaller footprint than their bottled, liquid counterparts: they generally last longer, you are less likely to use more than you need, they don't come in plastic packaging and can be made with simpler and more natural ingredients
The Lush Naked line makes package-free bar soaps of all kinds. It's been recommended to me many times and I can't find anything that comes close to the variety in their products.
Lush is also vegetarian and doesn't test on animals. You can find a Lush near you here.
6. Quick-dry towel
Buying a "travel towel" may sound silly at first, but you'll quickly learn to appreciate having one during busy travel.
The difference between a quick-day towel and a normal towel? A normal bath towel is thick and holds more moisture than a quick-dry towel. Moist towels start to get mildew-y faster and need washed more often. More laundry means more electricity, water, resources and so on.
And with a little bad luck, a moist towel can also mean an entire smelly bag *cringes*
My backpack was overcome with mildew in El Salvador in 2017. I had laundry done at a lavandera and they returned all of the clothes back wet. We were moving that day and didn't have any time to let the clothes dry. In only a matter of hours, my entire pack smelled *so* bad. Mildew is a truly sinister thing. Avoid it at all costs.
The Wise Owl travel towel is super absorbent and thin, reducing the likelihood of mildew. Plus, it has a snap-on it which will save your towel from blowing out an open window, or use it for camping!
If you're more of a DIYer, fellow blogger Queenie shares her tips on her blog: How to make homemade eco-friendly toiletries for long-term travel.
Food Items
When it comes to minimizing waste around food, packaging is the biggest hurdle.
When packing for travel, focus on minimizing the amount of prepared and processed food that you buy. This results in eating better, saving money and throwing less in the landfill.
7. Collapsible Stojo cup
This is a sustainable travel packing list item is crazy handy, even if you're not a big coffee drinker. The Stojo collapses into a pocket-size coffee cup, and also comes with a straw.
You'll see a lot of collapsible cups touted online that are individually made for smoothies, coffee, etc., but the Stojo can replace them all.
8. Produce bags
Secondly, they double as a strainer, making it super easy for you to wash your food!
9. Cutlery
My travel cutlery set is made from bamboo, so that I can take it with me when I fly. Metal cutlery is sometimes (but, oddly enough, not always!) confiscated by the TSA.
Bamboo utensils aren't essential for day-to-day use, but are an important item on a sustainable travel packing list.
10. Shopping bag
A reusable shopping bag is immensely handy, even if you don't think you'll be doing much grocery shopping during your travels. Always carry one with you in your backpack, car, bike, sailboat, etc.
I even have a secret on how to use a shopping bag to help you avoid theft!!
Use what you already have, or if you're going to buy a new one, choose responsibly. While any bag will do the job, I recommend a packable cotton bag. These pack into convenient carrying units, and are made from cotton. Most reusable bags are made from polyester, which is considered to be the least sustainable fabric and is made from oil. (source)
11. Reusable bottle
Save a mountain of bottles from being wasted and also a mountain of money by using a reusable bottle. If access to clean drinking water is an issue where you're traveling, scroll down further to see the Steripen.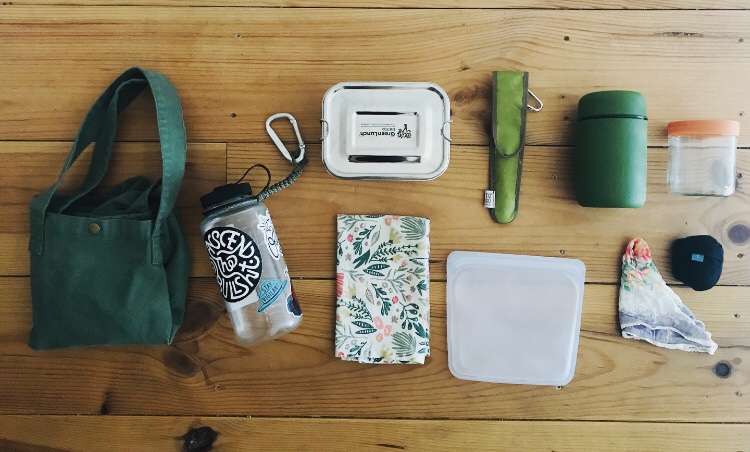 Any bottle will do the trick! Use what you have or buy second hand, and buy new as a last resort. My bottle is a clear 1L Nalgene, covered in stickers (#basic).
12. Straw
Everyone is probably sick of hearing about straws, so I won't linger here. Remember to always keep it in your bag so you're not caught without it! Make your life easier by just storing with your bamboo cutlery.
Long-Term Sustainable Travel Packing List
When you're backpacking or traveling full-time, you have more opportunities to reduce your waste and make your life easier on the road.
Do you *wish* you could travel full-time? Consider becoming a digital nomad.
Toiletries
Right back where we're started, but with a few additions!
13. Menstrual cup and washable pads
Menstruating adds up, financially and packing the physical supplies. Having to carry even one month's supply of products takes up a lot of precious space in your backpack.
Another challenge is that buying menstrual products can be difficult depending on where you're traveling.
Avoid all of this hassle by using reusable period products. It's a one-time cost that saves a massive amount of money and waste. Personally, I invested in a Diva Cup when I started traveling so I didn't have to sacrifice the space in my bag. The sustainable travel element was just a side perk, and now I'll never go back.
There are a plethora of menstrual cup options. I chose the standard Diva Cup with these washable panty liners made from bamboo by Wegreeco.
14. Vitamins
Taking care of your health and being proactive about minimizing illness also minimizes waste.
When I was traveling through Central America, I got sick and was desperately trying different drugstore products (with labels I couldn't understand) trying to get better. I don't know how many products I bought looking for relief.
It was expensive, stressful and wasteful.
Take a multivitamin. Take good care of yourself. And take some travel wellness items as well. For specific instructions, you should consult your doctor. Which I am not (*internet disclaimer*).
My routine: I take a generic One A Day Multivitamin for Women. You can buy generic versions even cheaper from Target or Walgreens.
If you have allergies, you're going to want to prepare for those as well. You never know what allergens you're going to run into on the road! You can buy an entire year's supply for less than $20, and it hardly takes up any room in your pack.
15. Steripod
A Steripod is a small plastic toothbrush cover that helps prevent bacteria growth on toothbrush bristles. It clips over the bristles, and has a small tablet inside that releases a vapor that's similar to mouthwash.
Some low-wasters would avoid this because it's plastic, but I find this important for the same reason as vitamins. Nothing wastes our time, money and spirit like illness while traveling.
Food Items
After toiletries, food will have the biggest impact on your landfill contribution. But, just like with toiltires, there's a lot that can be done!
View this post on Instagram
16. Kitchen Knife
Depending on where you are in the world, fresh food isn't always easy to come by so when you see it you want to be able to prepare it.
I found my knife at TJ Maxx for a few dollars, and I wouldn't recommend spending more than that on one in case you ever forget it's in your bag and the TSA confiscates it.
17. Thermos
A thermos is particularly handy for low-budget travelers. Take a hot meal like soup, curry or pasta to-go for a long bus ride or flight. Or, protect yogurt, tuna or a salad from the heat.
My original termos was only a few bucks from the supermarket, but I accidentally left it in the side pocket of my pack when I checked it on a flight and it disappeared.
This Mira thermos was a birthday gift and it's just perfect: it's the perfect size for meals, and keeps food hot for hours. I also love the color options.
18. SteriPen
If you're traveling to a country that doesn't have drinkable tap water, water sanitation is vital to avoid buying bottled water.
There are many different products for this, but Steripen is a long-time favorite for many travelers. It uses UV light to sterilize the water. It's small, lightweight and effective. The SteriPen Ultra is also USB chargeable which is another sustainable selling point: no batteries.
After trying other products, such as a bottle filter and pump filter, and being discontent with them, I finally invested in a SteriPen Ultra and it's such a relief to have a straightforward, reliable product in my pack.
The world of water sanitation is an ever-changing tapestry, but I'd reckon the next-most popular water sanitation method right now is probably the Grayl Bottle. The advantage of the Grayl over the Steripen is that it filters instead of just sanitizing.
Deep down, I knew I couldn't be bothered to to carry another whole bottle with me, so that's why I opted for the Steripen.
But like all aspects of travel, it's all about finding what works best for you!
Important: if you won't have access to clean water, always pack TWO SYSTEMS in case one breaks. You don't need two fancy systems, simple tablets will be enough of a plan B.
19. Liquid IV
Pack this brilliant little product in your pack and you'll be able to stay more hydrated while drinking less water. Hallo 25-hour bus rides, long-haul flights and backcountry trips.
Staying hydrated plays a massive role in how you feel while traveling. Sometimes, despite your best hydration efforts, you'll still feel wilted. Turn it right around by carrying some Liquid IV. It's a hydration multiplier, which is a fancy way of saying that you can drink one bottle but have the physical effects of drinking 2-3 bottles, plus electrolytes and vitamins.
This may seem specific to adventure travelers, but truthfully, staying hydrated while simply living the digital nomad lifestyle is absolutely vital. It's not exactly hiking to the Everest Base Camp, but being dehydrated efforts your focus, mood and leads to headaches while is really disruptive to finishing your work ASAP so you can go explore the town.
Laundry
Chemical soap, electricity, hot water – oh my!
20. Scrubba Bag
Sometimes things come back shrunken, or soaking wet and smelling like mildew, or the person who we gave our clothes to gets sick so the shop is closed (for days) and you play the waiting game to get our underwear back.
The Scrubba Bag makes you more self-sufficient, which leads to waste and cost aversion.
The Scrubba Bag reduces water usage, electricity usage and wear-and-tear on clothing. It also gives you the beautiful gift of being able to wash your own socks.
See it in action:
21. Laundry Soap
Normal laundry soap isn't travel-friendly, so take a soap concentrate. But if you're still in the market for normally laundry detergent, check out the EcoEgg! I couldn't pass up an opportunity to mention my favorite laundry detergent… Okay, back to the sustainable travel packing list.
The Sea to Summit Wilderness Wash is perfect for your sustainable travels, if you can forgive the plastic packaging. It's safe to use outdoors and is carry-on friendly.
Taking Care of What You Have
In a truly low-waste world, buying new products would be a last resort. It should be when traveling, too.
If you're in a foreign country and the strap on your backpack snaps, or the zipper on your only jacket breaks, you have an immediate need to go replace those items.
As a result, you're at the mercy of whatever is available: whether or not it's the right fit, size or if it's just plain ole junk. Avoiding new purchases on the road minimizes waste, stress and travel costs.
22. Rain covers for your bags
Water-damaged electronics, wet clothes that all need re-washed, soggy books – getting caught unprepared in a storm is not a pretty picture.
Carry a water-proof pack cover for all of your bags: backpack, day bag and otherwise.
Rocking my construction-orange rain cover on the Appalachian Trail in 2018. I chose orange because in the event that I've ever lost or hurt in the woods and people are searching for me, orange is very easy to spot. You should also always carry a whistle while hiking for this same reason!
23. Ziplock bags
This may seem counter-intuitive to being low waste, but Ziplock bags can serve a tremendous purpose for protecting gear.
Instead of buying an expensive water-proof laptop sleeve or camera case, just throw your gear in a Ziplock bag and zip it up.
They're essentially weightless, take up no space and are waterproof. Just don't throw them away!
Extra Large Ziplock Bags on Amazon
23. Glue
It's smart to carry some glue: something that could maybe repair a broken buckle on your pack, or reattach the bottom of your shoe or seal a broken water bottle. This is one of those just in case travel items that you should never leave without.
You should pack Sugru: it's flexible, mouldable and waterproof. It's kind of like a glue version of Play Dough.
You can bond things together, create a seal, plug holes. Sugru also comes in small pouches that's TSA safe.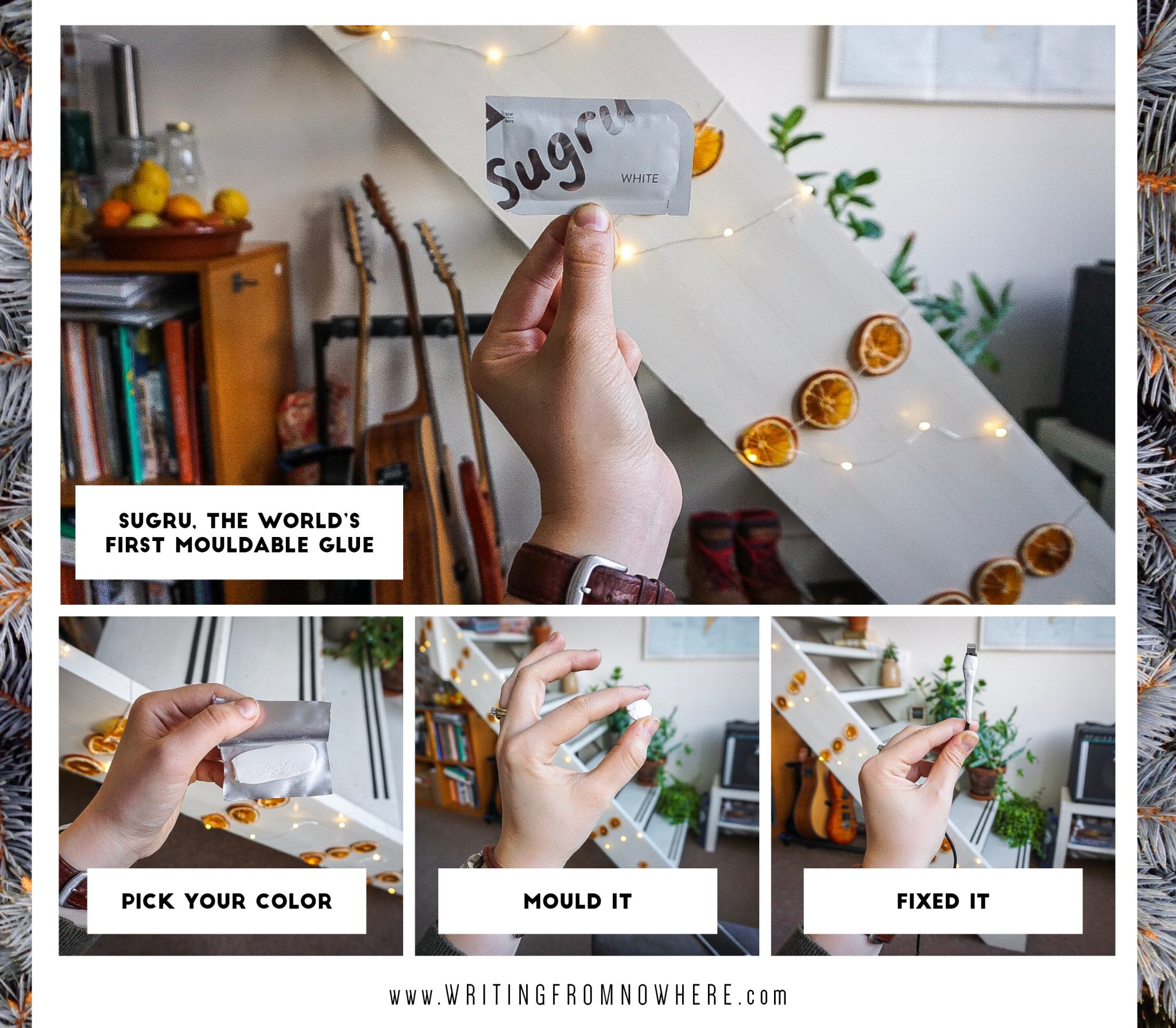 If you're packing liquid glue, make sure it's in a Ziplock bag so if it breaks it doesn't damage anything.
24. Sewing kit
Being able to stretch the life of your clothes is a win, whether you're at home or the other side of the world.
Personally, I always like the clothes that I take traveling. You'll meet some people who only take clothes they don't care about in case they're destroyed, but that doesn't work for me. I bring things I enjoy wearing, and try my darnest to keep them alive.
If you do have to buy new clothes, remember that second-hand stores are always a less expensive and more sustainable alternative to buying items new.
Miscellaneous Items
25. E-reader
Your travels may take you to places where getting books in your language is difficult. Book swapping at hostels is always fun, but there are no guarantees on finding something new to read that you enjoy.
Depending on your public library, you may even be able to borrow e-books online and download through WiFi onto my Kindle Paperwhite. That's about as convenient as it gets!
You can get a Kindle Paperwhite on Amazon, but I wouldn't recommend buying a new one. I got a great deal buying one used, and used it always more sustainable!
26. Sleeping Bag
Even if you're not camping, it may be a good idea to take a sleeping bag with you. Personally, it gives me that "my bed" feeling that you lose when you're away from home.
It's improved many a cold night, and many a why-would-a-bus-EVER-be-this-cold bus ride. If you can cover up instead of turning up the heat, you'll save electricity and be more comfortable.
A sleeping bag has also saved the day when I've the hotel bed was less than desirably clean (read: not clean at all).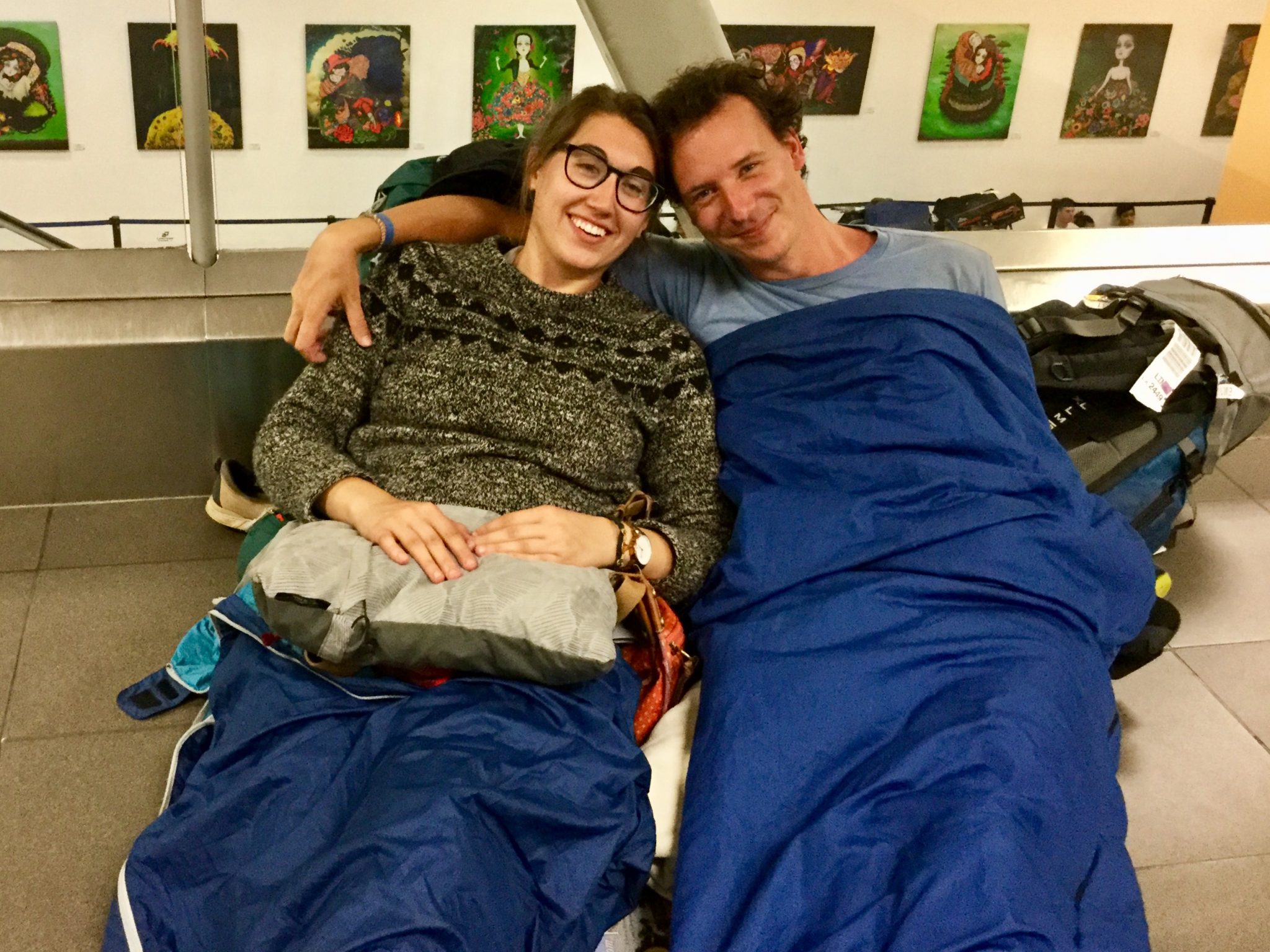 Putting It All Together
27. The right bag
When you're going on a long trip, it's important to take a suitable pack. Ideally, your gear is sturdy, fits you well and does the job efficiently. This helps avoid injuries and dissatisfaction with gear, ultimately leading to more purchases.
I wholeheartedly recommend that you purchase your bags at REI. The people there are fantastic at finding the right pack and adjusting it to fit your body. REI also has a return policy where you can bring anything back within one year and they'll give you and exchange or your money back.
This was immensely helpful for me the first time I went traveling. I read dozens of bag reviews and blog posts about finding the bag. Alas, my bag was not the right fit for me. Thankfully I was able to return it and get my perfect bag, the Osprey Aura 65.
When you're comfortable and all of your needs are met, you're less likely to have to buy replacement gear.
Sustainable Travel Packing List Final Thoughts
Which of these sustainable travel products are you most excited to try? Your carbon footprint will be reduced by packing these products, but I reckon you'll have a better journey as well.
You can take your efforts even further by trying to offset the carbon of your travels. Fellow blogger My Green Closet has a great piece on carbon offsetting that you can learn from.
After all, who doesn't want to have healthier, cleaner travels?! Happy green trails, my friend.