/
Sustainable Money-Saving Items Index
*This post may contain affiliate links, which means I may receive a small commission, at no cost to you, if you make a purchase through a link.*
Last Updated on February 24, 2023 by Bert-Jan Schilthuis-Ihrig
These sustainable money-saving items will reduce waste in your home and spend less. There's a misconception that sustainable living is expensive, and these 60+ items are here to debunk that belief and help make positive change accessible to you. 
You may also like: 30 Inspirational Wallpapers For Your Phone
Having a more sustainable home won't just reduce your carbon footprint and save you money – I really believe that your life will be better in the process! It's my hope for everyone reading that these swaps will help you on your journey to reducing waste and being more financially free.
Wanna jump right in? Find what you're looking for with the Table of Contents.
How to use this index
Buying every single item on this list won't complete your sustainable living journey. This is not a shopping list – it's a resource full of ideas. Some ideas will work for your home, and others won't be. Some will be seamless transitions, and others will be too far out of your comfort zone at first (I'm looking at you, washable toilet paper).
Many of these items replace a disposable counterpart (disposable paper towels, disposable foil, disposable Q-tips, etc.). If you already have rolls of disposable paper towels in your home, the most sustainable (and the cheapest) process is to wait until that product runs out. Then, replace with the low-waste alternative.
And as always, the cheapest and most sustainable way to buy things is to shop second hand.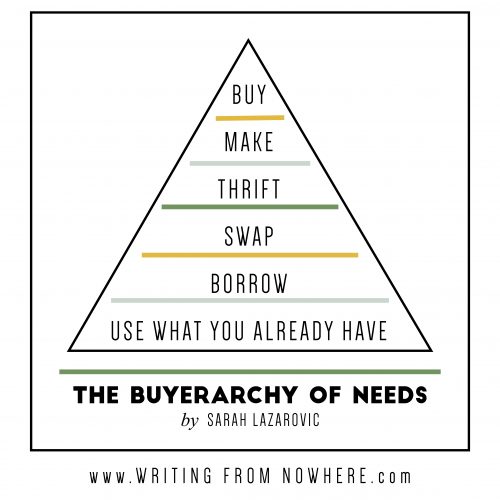 Sustainable Money-Saving Items Index
A
Attic stair insulator
A number of these money-saving sustainable products help with insulation. Insulating your attic helps you save money and reduce wasted resources all year long. In the winter, you save money by not losing heat to the outdoors. In the summer, you keep your home cooler by insulating your home from the hot air.
Attic Stairs Insulation Cover for Pull Down Stair on Amazon
B
Baby food station
By making your own baby food from scratch, you waste less, save money and know exactly what you're feeding your baby. Plus, by having total control over ingredients, you can pick your baby's favorites and actually increase the odds of sneaking some vegetables in there!
Infantino Squeeze Station Baby Food Maker on Amazon
Baking sheet
You can remove the need for foil in your oven with reusable baking sheets. In addition to being reusable, these are also non-stick and therefore remove the need for non-stick spray.
Non-Toxic, BPA Free Non-Stick Reusable Silicone Baking Mats on Amazon
Batteries
Easily charged via a wall outlet, these rechargeable batteries are the last batteries you ever buy. In addition to reducing packaging, the expense of traveling to buy, transport and disposal of batteries, you're also sparing the landfill some corrosive chemicals by never throwing a battery away again.
Rechargeable Batteries (8-Pack) and Battery Charger with USB Port Set on Amazon
Bicycle
Cycling instead of driving your car reduces your gas costs, and all of the wear-and-tear expenses on your vehicle (oil changes, tire replacements, you know the inspection list). If cycling for transportation is an option where you live yet you still find yourself taking the car, a collapsible bike may make it more accessible for you. Just think – if you cycle even just one day a week, you could also forgo expensive workout classes and get your exercise in on the road, cutting costs even further.
Folding 6-Speed City Bicycle on Amazon
Bidet
Bidets are the norm in many cultures, and are a growing trend in the US. A lot of people assume they're gross, but cleaning with water is more sanitary than paper, and makes toilet paper less necessary. Partnered with reusable toilet paper, you could put an end to flushing money down the toilet. (Did reusable toilet paper catch your attention? Just wait until you get to the Ts!)
Luxe Bidet Neo 120 – Self Cleaning Nozzle – Fresh Water Non-Electric Mechanical Bidet Toilet Attachment on Amazon
Bidet (travel)
If you're not ready to take the plunge on a bidet toilet attachment just yet, this convenient travel bidet may be a good way to dabble. Plus if you order this pack of travel bidets, you get 2! Spread that alternative toilet hygiene around, friend.
2 Pack Travel Bidet Bottle – Personal Cleansing Toilet Bidet Sprayer with Storage Bag on Amazon
Blue Apples
Blue Apples are plastic hollow apples that sit in the refrigerator and extend the life of produce. Inside the apples are packets that absorb ethylene (ethylene is the gas that produces releases that aids in decomposition). Blue Apples advertises that it can extend the life of your produce 2-3 times. I've been a fan of Blue Apples for years: I even brought them with me when I moved abroad, which is really saying something because I could fit so little in my suitcase!
Blue Apples Food Savers on Amazon
C
Coffee filter
It's estimated that the world's coffee habit costs about 1.5 million trees a year, JUST to produce the coffee filters. (source) Buy the last coffee filter you'll ever need with this organic hemp filter. For Keurig users, look further down the list to the Ks. 
Organic Hemp Cone Reusable Coffee Filter on Amazon
Compost (kitchen)
How much do you pay for trash removal? Whether you pay directly to the sanitation company, or it's included in your rent – it's not free. It's possible to reduce the need for these services altogether (AKA going zero waste), or make pick-ups less frequent. One of the most important steps for that to happen is composting. Instead of sending organic scraps to the landfill, where they're unable to decompose properly, let nature take it's course right where you live. Collect organic scraps in a kitchen bin such as this (and no, it doesn't smell bad!) and then empty them in your outdoor composting unit (see below).
Stainless Steel Compost Bin for Kitchen Counter Top with Charcoal Filter on Amazon
Compost (outdoors)
Once you've collected your food scraps, you need a place for them to go. A basic composter bin such as this is simple and does a job well done. I recommend this bin because it's discrete, aerates on its own and doesn't require any mixing. You put the food scraps in the top, and then with time, out comes rich and healthy soil.
Large Garden Compost Bin Made From Recycled Plastic on Amazon
Cotton rounds
These cotton rounds are reusable makeup removing wipes that can just be thrown in the wash. The company says that these cotton rounds replace 10,000 cotton balls. According to my calculations, 10,000 organic cotton balls (generic Target brand) would cost you $239.50. And can you picture 10,000 cotton balls in your bathroom garbage can?
Reusable Organic Cotton Pads for Face Wipes, with Laundry Bag on Amazon
D
Deodorant
How often do you buy new deodorant? Maybe 2-3 times a year? This Thai deodorant stone will be the only deodorant you buy for the year, and maybe even the next 2 or 3 to come. Unlike chemical deodorants, this Thai deo stone has one ingredient: mineral salts. You wet the stone under the faucet (or use it after your shower) and rub. And yes, it really works! I've been using this exact stone for years. If you try it, I recommend reading this Instagram post for tips on best use.
Thai Deodorant Stone on Amazon
Diapers
A brave parent tracked every single disposable diaper they used in the first year of their child's life, and it cost upwards of $500. (source) And, coincidentally, a disposable diaper takes about 500 years to decompose. (source) Constantly emptying a diaper genie, constantly buying new diapers, constantly exposing your baby's more sensitive parts to chemicals: switching to cloth diapers is a win on so many levels for families.
Adjustable Cloth Diapers on Amazon
Dish soap
The company, No Tox Life, estimates that one single dishwashing block will last for 3 months for a person without a dishwasher who washes all of their dishes by hand. I've been using block dish soap for about a year now. I can't say the exact number of bottles it's spared the environment, but I've been very impressed with how slowly the block disappears. For hand soap, scroll down to the Ss for some surprising information on what's in normal soaps. You'll be baffled.
Zero Waste, Vegan Dish Washing Block Soap on Amazon
Door draft stopper
Cold air leaking into your warm home (or crisp, fresh air-conditioned air leaking out) costs money and wastes resources. Manage loose door seals and windows with a door draft stopper. This stopper is filled with ceramic beads, and weighs 3.5 pounds (1.6 kg). Place it along the seam of doors and windows to stabilize temperatures, and even add a layer of soundproofing to a space. This is particularly handy for older homes, which might not be as well insulated as newer structures.
Heavy Duty Energy-Saving Door Draft Stopper on Amazon
Drying rack
Clothes dryers are expensive: they're expensive to initially buy, they cost electricity to run, are costly to repair and shorten the life of your clothes while in use. Air dry your clothes instead to save on all of these costs, wastes and inconveniences. This collapsible rack is convenient and versatile enough for any space, even for tiny livers (like me!)
Heavy Duty Gullwing Drying Rack on Amazon
Dryer vent outdoor seal
If you're a homeowner and do still use a clothes dryer, sealing your outdoor dryer vent can prevent cold air from entering your home. Similar to the door stopper, protecting your home from the loss of warm air will reduce your electricity bill and cut the footprint of your home.
Natural Energy Saving Outdoor Dryer Vent Closure on Amazon
Dusting cloth
Dusting is one of those tasks that I used to hate to do, and therefore, hardly ever did it. Now, I dust my home once a week with a microfiber dusting cloth. You may have already heard me mention that I live in a tiny home (follow me on Instagram if you want to hear more talk about tiny living @kayla_ih). Even in a small space without any pets or kids, my weekly dusting routine turns up tons of dirt. By using a cloth instead of paper towels and spray dust cleaner, I'm not only reducing waste and saving money, I'm also reducing my exposure to chemicals and I now have a more natural home.
Super Absorbent Dusting and Buffing Cloths on Amazon
E
E-Cloth
E-Cloths are chemical and plastic-free home cleaning cloths. Instead of buying chemical cleaners that specifically clean each part of your home (like tub cleaner, kitchen cleaner, etc), you get a set of E-Cloths for the whole home and each cloth services a specific area. This sustainable money-saving product reduces waste by removing the need for bottled chemical cleaner and paper towels, and they can be washed repeatedly and reused forever.
E-Cloth Microfiber Home Cleaning Set for Chemical-Free Cleaning with Just Water on Amazon
F
Faucet attachment (budget)
Nothing like sending money and resources literally down the drain. That's what faucets without any flow attachments do. A faucet attachment is one of the easiest sustainable money-saving investments because it's passive. You screw it on, sit back, relax and watch your home's water bill and waste go down. The Niagara Conservation nozzle is labeled the "budget" nozzle attachment because it's at a price that everyone can afford. If you really think about it, you can't afford not to reduce your water waste. Clean water is a gift that shouldn't be wasted, and this Niagara nozzle makes it so easy because it will pay for itself. It's less design-oriented than the "design" nozzle I talk about next, but it's not unattractive. It's likely guests visiting your home won't even notice it's there. If you want something more design-oriented to fit into your home, the following attachment might float your boat (water puns).
Water Conserving Faucet Attachment with 3 Flow Settings on Amazon
Faucet attachment (design)
In my bathroom, I use The Altered Nozzle. It's a more expensive investment than the budget faucet attachment and has fewer settings, but it also looks sharper and saves more water. The Altered Nozzle turns the water flow into a mist and reduces water usage by 98%. I have an entire review dedicated to The Altered Nozzle that you can read here if you want to read more.
The Altered Nozzle from The Altered Company
G
Garden beds (outdoor)
If you do a trash audit in your home, I reckon you'll find that most of your waste comes from food packaging. By growing your own food, you eliminate potential packing, pesticides and inhumane agriculture conditions. Gardening is also extremely satisfying and makes a great hobby! Some studies even suggest that gardening is related to lower stress levels and better sleep. (source) Dig in!
Garden Bed With Grow Grid on Amazon
Garden beds (indoor)
A container garden might not be as fruitful (pun intended) as yard gardening, but in a few ways it's more sustainable. A container garden requires less water than an outdoor garden, and you won't lose any of your harvest to snacking critters, frost, etc. Herbs, garlic, tomatoes, carrots, peppers and avocados are just a few plants that you can grow indoors. (source) I live in a one-room tiny home and I manage to still grow herbs and cherry tomatoes in pots. In addition to reducing waste and saving money, plants also improve indoor air quality!
You can learn everything you need to know about indoor vegetable gardening with this amazing resource from fellow blogger Rachel at City Homesteads: A Compressive Guide To Indoor Vegetable Gardening.
Easy Grow 31.7 Gallon Raised Garden Bed with Self Watering Planter Box and Drainage Plug on Amazon
H
Hot water tank insulator
This sustainable money-saving item is primarily for our homeowners in the house. This reflective foil advertises that it stops 97% of heat loss. The manufacturer estimates that, on average, homeowners see payback in 6-12 months. Heating water is energy-intensive. For example, 90% of a washing machine's energy used in a cycle is spent heating the water. (source) It's not the sexiest product, but still noteworthy!
Hot Water Tank Insulating Jacket on Amazon
I
Insulated curtains
These black-out curtains go further than just blocking out sunlight: they also conserve money on heating and cooling. In the summer, they block out the hot sun, and in the winter they add additional insulation to windows.
Energy Saving Thermal Insulated Solid Grommet Blackout Draperies on Amazon
K
K-cup
The inventor of the K-Cup has said that he regrets his invention, saying he "is absolutely mystified" by its popularity. (source) It's undeniable that the little plastic K-Cups are wasteful, I mean, billions go to the landfill every year. But you can actually save money and reduce waste in the long-run if you use your Keurig in the way the inventor intended: to replace visits to the coffee shop. Using a refillable K-Cup means no plastic waste, and additionally, you'd cut the transportation costs and carbon footprint of the trip, i.e. the drive to the coffee shop.
K-Cup Pod Coffee Filter, Compatible with All 2.0 Keurig K-Cup Pod Coffee Makers on Amazon
Kitchen sponges
How long do your disposable kitchen sponges actually last? Mine never lasted that long when I used them. And if we're being honest here, they never worked that well either. They get torn apart by any intimidating food remainders. Then, if you try to wash them, they fall apart and send micoplastics down the drain. These washable kitchen sponges are better on all fronts. I've been using these exact sponges for years, and love them. Like everything else, they discolor slightly over time (I mean, look at the job they have to do) but they're a long-term investment.
Starfiber Microfiber Kitchen Scrubbies on Amazon
L
Laundry detergent: The EcoEgg
If you make one change in your life to reduce waste and save money, it should be the EcoEgg. The EcoEgg is a sustainable money-saving laundry product that is all-natural, cuts waste and makes your life easier. If you've been hanging around Writing From Nowhere for a while now, then this is probably not your first time hearing about the EcoEgg. I've gotten so many questions about it, that I've written an entire in-depth review that will tell you everything you need to know (you can read my review here).
LED light bulbs
LED light bulbs aren't exactly brand new technology, but it's still noteworthy when you look back at the numbers. Versus incandescent light bulbs, LEDs use 5x less energy, last 25x times as long and cost a 6th of the price. (source) Those are ~illuminating~ statistics! (How many puns are too many? Asking for a friend). LED light bulbs are a very simple and profitable sustainable money-saving swap.
You can also convert fluorescent light bulbs to LEDs! You can learn about it here, from the LED lighting supply: 5 Cost-Effective Ways To Convert Fluorescents to LED.
Energy Saving LED Light Bulbs on Amazon
Lid covers
Trade foil and plastic wrap in for silicone lid covers. These silicone lids work better far than their disposable counterparts. They suction seal, keeping food as fresh as possible and you'll never run out.
Set of 6 Sturdy Suction Seal Universal Fit Silicone Lids on Amazon
Lighter (travel)
Disposable lighters are one of the top 20 most commonly littered objects. (source) And they're also filled with lighter fluid, AKA butane, which is a fossil fuel. Make an electric lighter the last you ever buy. This electric lighter is windproof, which makes it practical for smokers as well as outdoors enthusiasts.
USB Rechargeable Electric Pocket Lighter on Amazon
Lighter (household)
All of the savageries of travel lighters apply to household lighters. Some jobs, such as lighting candles or grills, call for a lighter with a longer neck for safety reasons. This lighter has a convenient bendable neck and is charged via USB.
USB-Chargeable Lighter with Long, Flexible Neck for Candle, Camping, Grilling on Amazon
Lint roller
Pet fur is annoying, but it's a lot less annoying when you have the right tools to remove it from your clothes and furniture. The typical sticky-paper lint roller is a lot like the disposable paper towel. Sure, it does the job, but it may use up half a roll in the process. These wooden lint rollers remove fur, fluff, pilling and lint. Pilling makes clothes look old, and eventually washes down the drain in the washing machine. We ultimately end up drinking these fly-away fibers from our clothes in water, because they're too small to be filtered out (AKA microplastics). By removing stray fibers with a lint roller and throwing them away in the garbage, you also reduce your microplastic footprint.
Wooden Lint and Pet Hair Remover, 2 Pack on Amazon
M
Mason jars
Food storage, taking away leftovers from a restaurant, collecting bulk food package free, an impromptu coffee cup or taking home food scraps to compost are just a few handy uses for mason jars. They may be the most versatile low-waste item you can have in your home. You don't need name brand mason jars to reap all the benefits. Any jar will do, and the lowest-waste way to get jars is to just upcycle from products like honey or peanut butter (that's where most of my jars come from). The next-lowest-waste option is buying second hand (the Buyerachy of Needs). But if you want to buy something in bulk, I recommend purchasing mason jars like these ones without shoulders. These are the most convenient for freezing and cleaning.
Ball Mason Jar Pint Wide Mouth Clear Glass W/Lids and Bands, 16-Ounces on Amazon
Menstrual cup
Menstruating is expensive. If you're a person who menstruates, you can reduce save thousands of dollars over the course of your menstruating years by investing in reusable period products. I bought a menstrual cup when I was going traveling, because I couldn't afford the space in my pack for enough pads. Little did I know, a menstrual cup was the best period investment I'd ever make. The cup goes up, similar to a tampon, collects everything and then you remove it and empty it out. Ingeniously simple!
Diva Cup Menstrual Cup on Amazon
Menstrual pads
If a cup is too daring, or you have problems with your pelvic floor, menstrual pads are another excellent solution. The reusable pads have snaps on the wings, and snap around your underwear. After use, you fold it up and the snaps secure it shut in a sanitary little bundle. Then you through it in the wash with your normal laundry! In addition to saving money and reducing waste, opting for reusable menstrual products also protects your most sensitive bits from chemicals and bleach that are in disposable products.
Cloth Washable Menstrual Pads on Amazon
N
Napkins
It's true that disposable napkins are small and aren't made of plastic, so technically it's not that big of a waste to use. But disposable napkins are pitifully ineffective at actually cleaning up messes. If anything is spills, you have to employ a whole handful to do the job. Oftentimes when eating out, we even take a handful of disposable napkins to the table and just throw them away after the meal whether they're dirty or not. A cloth napkin is an opportunity to rise above throw-away culture, and use a product that really works. Cloth napkins are also endless handy. Once you carry one, I guarantee you'll be using it all the time. Make sure to choose cotton, hemp, bamboo or any other natural fiber instead of polyester, which derives from oil.
Cotton Cloth Napkins on Amazon
P
Paper towels
What's there to say about a product with such a poor performance? If disposable paper towels were an employee, they would've been fired long ago. Yet, you probably have disposable paper towels in your home because you grew up with them. Let's break the generational domino effect of using thin, practically-useless-for-cleaning-up-an-actual-mess disposable paper for washable paper towels. These paper towels are made from bamboo, are more durable and absorb more than disposable paper towels. They can be machine washed used approximately 50-80 times. I don't know about you, but in my home, that would last me for years.
Machine-Washable Bamboo Paper Towels on Amazon
Plug-in power saver
This plug-in power saver may be the most curious item on this index. You plug this power saver into an outlet in your home, and let it do its thing lowering your electricity bill. It balances the electric current, therefore reducing unnecessary electricity waste. None of your electrical outlets have decreased efficiency (and it's surge protected, so no worries there). It sounds a bit weird, but some reviewers said their electricity bill was lowered by up to $100 a month!
Plug-In Energy Saver Saving Device on Amazon
Q
Q-tip
A lot of these sustainable money-saving tips are old fashioned (manually washing clothes, washable paper towels), but this one is a new wrinkle as my grandfather would say. Instead of a giant bags of disposable Q-tips, this silicone swab has versatile ends and can be used for cleaning, makeup and first aid. It washes clean with soap and water, and then stores in a convenient carrying case.
2-Pack Reusable Silicone "Q-Tip" Swab with Dust-proof Case on Amazon
R
Rain barrel
Instead of paying for water to come from an outdoor tap, harness the water that's already raining down (ba-dum-tss). For those living in a wet climate, this would cut your water bill and make you a little more self reliant. You can make your own barrel system, or buy one that connects directly to the gutters on your home and then use the water at your disposal via a faucet at the bottom.
50-Gallon Rain Water Collection Barrel with Brass Spigot on Amazon
Razor
Now, I don't shave. Yes, I'm saying that, out loud, on the internet. The audacity. I don't think it's weird – the social necessity of female hairless is dying, and becoming an optional personal preference such as painting your nails. Nevertheless, a safety razor is hailed and giving amazingly close shaves and reducing bumps. You pay for the handle once, and then just replace the small blade. (If you stop shaving your legs, the hair basically stops growing. Just saying)
Long Handle Butterfly Open Double Edge Safety Razor on Amazon
S
Shopping bags
Shopping bags, like disposable coffee cups, were never free. The cost of the disposable product was just factored into the purchase. It's a growing trend to put that cost back on the consumer, i.e. charging 10 cents for a disposable shopping bag or coffee cup. While any bag will do the job, I recommend a packable cotton bag. The best bag is the one that you remember to take with you. These pack into convenient carrying units, and are made from cotton. Most reusable bags are made from polyester, which is considered to be the least sustainable fabric and is made from oil. (source) 
Large Biodegradable Polyester Free Packable Cotton Grocery Bags on Amazon
Shower head low-flow adapter
This low-flow showerhead reduces that amount of water that comes rainin' down, while still meeting all of your needs. It provides a consistent water flow and is still powerful enough to give you a regular shower experience. Translation: you don't have to compromise to reduce your waste here.
Energy & Water Saving Handheld Shower head on Amazon
Shower head automatic stop adapter
No one likes standing under a cold shower waiting for the water to heat up. If you start running your shower then walk away to give the water time to heat up, this is for you. This adapter automatically stops the water flow when the water is hot, so that you don't waste any more water than necessary.
Evolve Water-Saving Shower-Head Adapter on Amazon
Shower timer
Easily limit your shower time with this 5-minute suction-cup timer for your shower. This is particularly handy if you're in a wildfire, drought of water-restricted area.
5 Minute Shower Coach By Niagara
Spatula set
Every frugal lover (frugaler? is there a term for this?) needs a spatula set to help them get every last ounce of a product before calling it quits. You know, like the peanut butter, face cream or honey that's mostly empty. The varied sizes helps you to not waste any product. If the resources were already spent to produce a product, it's a waste, and disservice to the hands that harvested the food, to let it go to waste.
Seamless, Stain and Bacteria Resistant, BPA-Free Spatula Set on Amazon
Soap
Liquid soaps come in plastic packaging, don't last as long as bar soaps, and are not as kind to your skin as they seem. Did you know that many body products contain alcohol to dry your skin and require the purchase of MORE products? It's a snowball effect of wasting money and resources. I can't say this for sure about your soap, because I don't know what's in the soap you use. And, I bet you don't either. Becoming more selective with the soap you use will be better for your body, the environment and your bank account. Buy bar soap that comes without plastic packaging, and read the ingredient label. Don't buy soaps with alcohol or palm oil. The harvest of palm oil directly contributes to the deforestation of the rain forest. (source)
Alcohol Free, Palm Oil Free, Antibacterial, Antifungal Vegan Coconut Oil Soap on Amazon
Solar power starter kit
Solar power may sound intimidating, but this solar starter kit is specifically designed to be simple enough for beginners. This kit alone will not power your entire home, but it could power a hobby – like a trailer, camper, boat, or so on. Solar panel, cables, mounting bracket and converted included – you just bring the sun! This is a great budget option to start dabbling in solar.
Renogy 100 Watts 12 Volts Monocrystalline Solar Starter Kit on Amazon
Stapeless stapler
You can't run out of staples if you don't use staples. This stapleless stapler doesn't have any ongoing costs, and can save you additional money if you often mail papers that are stapled together. You pay for the weight of each staple in bulky envelopes! It's also more convenient for shredding paper, saving you the step of having to move every staple before shredding and recycling documents.
PAPER CLINCH Compact Heavy Duty, Light, Staple Free Stapler on Amazon
Swiffer dusters
Opting for a lower-waste home doesn't mean throwing your favorite tools out the window. If you like to clean with a Swiffer, then buy your last Swiffer pads ever and wash them. I don't have a Swiffer so I can't say for certain, but if this follows the same pattern as most products, they'll work significantly better than their disposable counterparts.
Washable Swiffer Dusters on Amazon
Microfiber Mop Pads Compatible with Swiffer WetJet on Amazon
T
Toilet paper
A single roll of disposable toilet paper requires 37 gallons of water and 1.5 pounds of wood to be produced. (source) Disposable toilet paper may be the norm in our culture, but it isn't sensible. There's a growing movement of people opting to save money and reduce their waste with washable toilet paper. I'm one of them! I won't go into the details here, but feel free to comment or message me on Instagram (@kayla_ih) if you want to hear more.
Reusable Flannel Wipes on Amazon
Toilet tank bank
Have you ever heard of the ole brick-in-the-toilet trick? You put a brick in your toilet, and then less water is used in each flush. This toilet tank bank does the same thing. Not all toilets fit bricks, so this is more adaptable. The bank gets filled with 0.8 gallons (3 liters) of water, placed in the toilet tank, and then every single flush uses that much less water. This is great for everyday use, and really valuable during droughts, wildfires or any government-mandated other water restriction.
Water Saving Toilet Tank Bank on Amazon
Travel coffee mug
Maybe this is a little repetitive, but I think it's important for society to reframe "free" things that last a lifetime (well, many lifetimes: a styrofoam coffee cup will take ~500 years to decompose). Disposable coffee cups were never free. The cost of the disposable product was just factored into the cost of the coffee. Many establishments are putting that cost back on the consumer, i.e. charging 10 cents for a disposable coffee cup. Or maybe even more! The last time I took my collapsible coffee cup to Starbucks, they gave me a 30 cent discount.
Stojo Biggie 16oz Collapsible Coffee Cup With Straw on Amazon
V
Vacuum cleaner
With an electricity-free vacuum, there are no perpetual costs or required resources (such as electricity, vacuum bags or repairs). It's also smaller, quieter, convenient to use and store. Great for daily easy home upkeep and reducing this frequency of deep cleaning in your home. Also, without the airflow of the electric vacuums, dead skin cells and bacteria aren't being re-suspended into the air and recirculated through your home. (source) As a bonus, this vacuum is made from recycled plastic.
Bissell Natural Sweep, Electricity-Free Carpet and Floor Sweeper on Amazon
Vegan milk maker
If you normally glaze over when you heard "vegan," hear me out: avoiding dairy and meat is the "single biggest way" to reduce your impact on the planet (source). Plus by making products from scratch, you can cut waste even further by eliminating  or decreasing packaging that goes to landfill. This vegan milker makes one liter of vegan milk in one minute. As if that's not impressive enough, it claims to pay for itself in 15 uses and make milk that's FIVE TIMES more nutritious than its store-bought counterpart. In addition to the milker, you also get a free e-cookbook with recipes for the leftover pulp. Yum!
Premium Vegan Milk Maker: 1 Liter in 1 Minute on Amazon
W
Water bottles
It's no secret that you don't need any fancy water bottles to replace disposable bottles. You already have cups in your home, and I'd guess a reusable water bottle too. But a complaint I've heard from some people who are trying to weed out water bottles from their routine is that they miss the convenience of having a grab-n-go bottle. If that's true for you, maybe a supply of grab-n-go glass water bottles in your fridge will fill the convenience void that disposable bottles left in your life.
Glass Bottle with Airtight Stopper Caps on Amazon
The Wonderwash
The Wonderwash is an electricity-free washing machine. It's designed to clean your clothes with only 1-2 minutes of hand cranking, and the company estimates that it pays for itself in 2 months of saved resource costs. This may sound like too much work, but hear me out: electric washing machines are expensive to buy initially, repair, and run (water and electrical costs). They also erode your clothes faster than hand washing. I have a Wonderwash, and will be writing a review when I'm finished testing it and determining tips for best results!
The Wonderwash, A Portable, Electricity-Free Washing Machine on Amazon
Wood burning stove
This sustainable money-saving idea isn' for everyone, and it's not as simple as just switching to cloth menstrual pads either.  Wood burning stoves are not the most eco-friendly way to heat your home, but it is greener than fossil fuels, and if you source the wood locally then they can be carbon neutral. (source) And it's also compatible with off-grid living. 
Wool dryer balls
I don't recommend using a clothes dryer. It's expensive to run, repair, and shortens the life of your clothes by shrinking and loosening fabric fibers. But if you do still use one, then you should also be using wool dryer balls. As your dryer spins, these wool dryer balls get in between articles and separate items of clothing and help fluff the fabrics. The dryer runs a shorter cycle, are naturally static-free (translation: no dryer sheets needed) and clothes dry faster. Bahh! (that's sheep for what an amazing sustainable money-saving hack!)
Wool Dryer Balls – Natural Fabric Softener, Reusable, Reduces Clothing Wrinkles and Saves Drying Time on Amazon
Z
"Ziplock" bags
Stasher bags are the same concept as Ziplock bags, but radically improved. They're water proof, dishwasher safe, boil and freeze proof, and can be used indefinitely. I could write a description of the Stasher bags that would give my wedding vows a run for their money, but I'll leave it at this: you will save money, reduce your waste, and wonder how you ever lived without one.
Stasher Reusable Silicone Food Bag on Amazon
The Sustainable Money-Saving Index has been a long-coming project on Writing From Nowhere, and I hope it provides a lot of value to you as you aim to reduce waste and save money. I update this list regularly as I continue to research, learn and discover new alternatives. Save The Sustainable Money-Saving Index on Pinterest for later.