/
Host A Sustainable Cookout: 13 Ways To Waste Less
*This post may contain affiliate links, which means I may receive a small commission, at no cost to you, if you make a purchase through a link.*
Last Updated on November 8, 2022 by Kayla
Sweet, sweet summertime! Time to fire up the grill, gather round the firepit and enjoy a sustainable cookout.
Are you ATTENDING a cookout instead of hosting one? This blog post is for you: how to reduce your waste attending a cookout.
Having a more sustainable cookout is simple (and cheap!) with these 12 tips. The motto you need to take your cookout from ocean-polluting to eco-friendly: just do it.
If you need inspiration for your gathering, just remember that having a sustainable cookout also saves you money. Plus, you're not throwing that disposable stuff "away."
Sustainable Cookout Supplies: 12 Ways To Cute Waste
---
1. Forgo the disposable tablecloth for a real table

cloth
What would your grandma do if she were hosting this cookout? She probably wouldn't go buy a dollar store disposable table cloth. She'd pull out a real one and wash it afterwards, then use it again and again.
If you don't have a tablecloth on hand, here are some lower-waste alternatives:
Use what you already have. Bed sheets are an easy alternative, and guests can't tell the difference.
Borrow one
Buy one secondhand
Buy new as a last resort, and be sure to buy a natural fiber. Many cheap fabrics are made from polyester, which is made from oil
---
2. Use real cutlery instead of disposable
I know dishwashing isn't anyone's favorite task, but let's be honest: hand washing utensils doesn't take that long, and if you have a dish washer than the work is done for you.
If you don't have enough cutlery for your number of guests, just pick some up at a thrift store (usually just cents per piece), or ask to borrow some from a friend or family member.
You don't need to feel weird making this request of your friends. What do people always ask when you invite them over? "What can I bring!" Here's what to say:
Hey, random question! Could you bring some cutlery to the cookout on Saturday? I don't have enough for everyone, and I'm not buying disposable because it's so wasteful. Could you bring "X" forks and knives?
I've done this before on the holidays and when people understand the mission of reducing waste, they're always happy to help. The same goes for the next item on the list.
If for some reason, you can only use disposable cutlery, take the plunge and get compostable cutlery.
When planning my wedding reception, we had complications that made using real cutlery and plates difficult. So, we splurged and bought compostable everything (you can read more about my low-waste wedding here if you're interested!).
Not only did it solve our problems ethically, the bamboo plates were a HUGE hit! They might have received more compliments than my dress did.
---
3. Real plates
If you don't have enough plates for you guests, it's a little bit more of an investment to keep a stack of thrift store plates around given they take up more space than cutlery.
It's still a very easy fix, but if you live in a tiny space (I live in a tiny home so I know the struggle), borrowing may be the best option for you.
If you absolutely cannot get real plates to use, make a better choice when purchasing:
no styrofoam
no plastic coating
uncoated paper is okay
compostable is best. Beware, these are not cheap. It's cheaper to use what you have, borrow or buy real plates second hand.
---
4. No plastic cups
How many cups are living in your cabinets? I think most people could only guess. I bet between the random coffee mugs, miscellaneous beer glasses and freebie company cups, you have enough for guests to use.
Don't feel like everything has to match to be "company quality." Any party, and especially a summer party, should relaxed, comfortable and just meant to be enjoyed. Different is charming.
If you don't have enough cups for all your guests, you can pick up cups second hand for very little money; or you can make it a part of the party: BYOC.
Bring Your Own Cup (BYOC): ask attendees to bring their own drinking vessel! This is fun and quirky, and most guests arriving by car probably already have a bottle or cup rolling around in their backseat.
---
5. No disposable decorations
This chiefly applies to the b-word…
Balloons.
In terms of cookouts, this probably only applies to the Fourth of July, where some people might be tempted to pick up a bag of red, white and blue balloons.
I urge you to reconsider. Balloons are wasteful, disposable and the balloon industry itself is a danger to marine life.
According to wildlife non-profit Balloons Blow, "The Balloon Council, and other balloon industry entities, spend millions of dollars lobbying to keep balloon releases legal."
Instead, buy a banner! A banner is a one-time purchase that can be used for parties for years to come. I bought my banner years ago, and have been using it to celebrate everything.
Burlap Pennant Banner on Amazon
---
Food and Beverages
6. Serve less meat
Don't storm off! No one's saying that you should skip the grilling – but you could serve less meat and still enjoy all the burgers and hot dogs you want.
Avoiding meat and dairy is the ˜single biggest way to reduce your impact on the Earth." A sustainable cookout cannot be without vegetarian and vegan options.
Besides the main entrees, meat is frequently added into side dishes where it's unnecessary. Here are just a few examples of side dishes that can easily be meatless, but frequently aren't:
Pasta salad – often with salami pieces mixed in

Brussels sprouts – often with bacon chunks on top
Baked beans – often with ham included
You can have a smorgasbord of mouth-watering cookout sides without adding meat. It's likely no one will even notice the absence of meat, as long as there are still hot dogs and burgers on the grill.
Beya Made made this list of vegetarian cookout ideas that will steal the show at your next BBQ.
---
7. Skip the bottled water
If you have potable water in your home, then bottled water is a downgrade:
Bottled water is less regulated then tap water
You're buying something you already pay for

You

pay for inconvenience

with bottled water – what could be more convenient then having drinking water coming out of the tap in your home?

The footprint of water is much higher than just the bottle. Water is heavy and bulky to transport, giving it a high carbon footprint as it travels from the packaging to your local grocery store and then to your home
Set up a big jug with lots of ice for guests instead of putting out bottles – you'll save money and waste.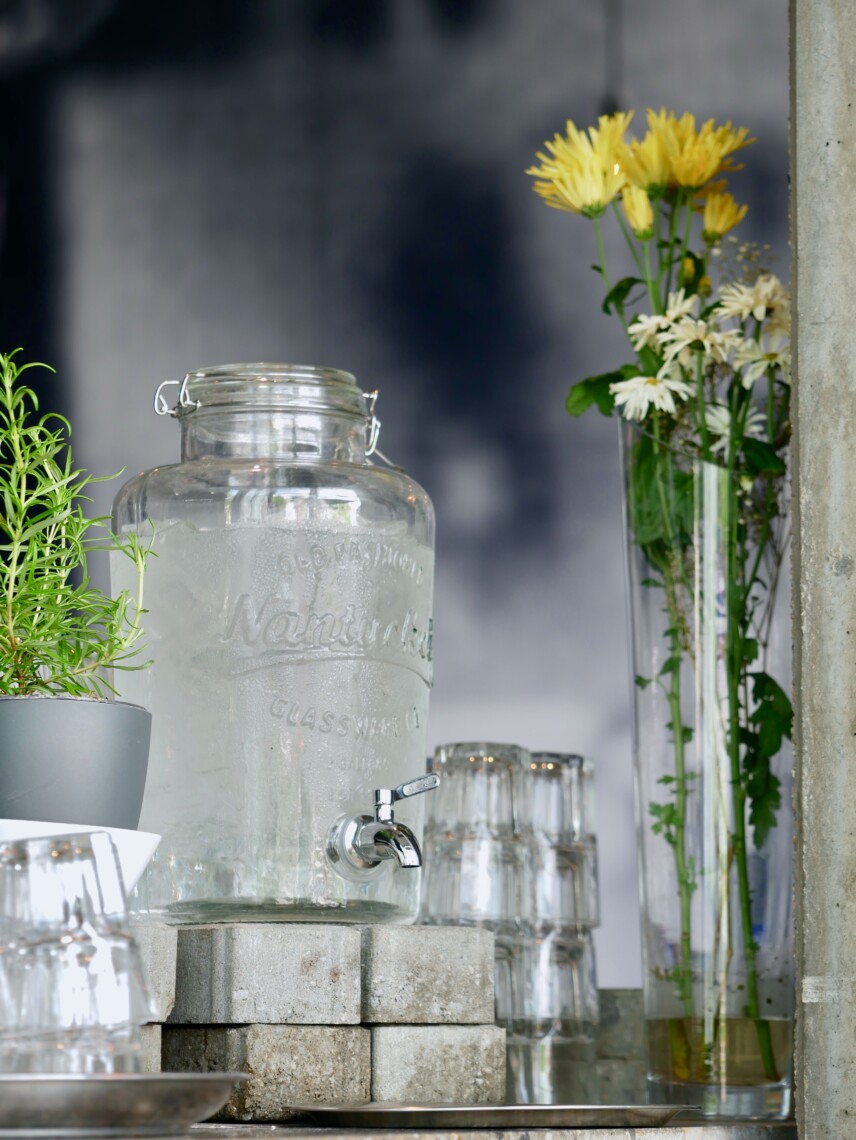 ---
8. Choose cases of soda cans instead of bottles
When it comes to buying soda, you have two chances to make a more informed purchase:
A. Buy cans over bottles. Cans are recyclable, and while bottles are too, they're not the same.
According to National Geographic, only 9% of all plastic ever made has been recycled. So the ole plastic defense of "at least it's recyclable" is not really a valid argument.
More than 90% of plastic doesn't end up being made into something new, and and it has higher odds of ending up in a waterway.
Aluminum is much more valuable when recycled versus plastic, is is less toxic to the marine life if if does end up in the waterways.
Buy cans, or even better for a frequent soda consumer: buy a soda stream and then you'll never need to buy soda again.
B. Buy soda cans in cases and not 6-packs. Cases come in paper, which can potentially be recycled depending on the policies where you live. Six-pack rings are not recyclable and will not decompose.
---
9. Avoid food packaging (and save money) by making things from scratch
Did you know that mustard is super easy to make from scratch? Not to mention cheap as well. Many items can be made from scratch and potentially save waste and cost:
Mustard, ketchup
Bread, tortillas, sandwich buns
Marshmallows for s'mores
Food for thought (pun intended). In my home, we frequently make pasta, tortillas and bread from scratch. It always tastes better than store bought! It's also surprisingly easily and fun.
This summer, I'm most excited about making marshmallows from scratch.
This isn't just a good tip for a sustainable cookout, but for a sustainable home as well. Making things from scratch makes it possible to spend less money on groceries, and it can stretch your party or cookout budget much further too!
---
10. Find food locally
If you have a local option, you're lucky! And you should use it.
The most fun item to pick out locally: wine and beer! Go do a tasting of local wineries and breweries and make a day of it. A sustainable cookout is still a fun cookout.
---
Putting Your Sustainable Cookout Together
11. Use what you already have
Being creative and buying something new as a last resort will take you (and your budget) far.
---
12. Signage
Signage is important in making sure your guests don't mistakenly send everything to landfill (the thought!). If you have a compost-recycle-landfill system, make sure it's very clearly identified.
If you're providing drinks in bottles or cans (choose cans!), designate a specific bin for recycling and make sure there's signage so it's clear.
Depending on where you live, throwing away cans might actually be throwing away money. You can check the state department's website for your state's recycling laws here.
If your state doesn't have a policy for money back on high-valued recyclables, you can write to your representative by telling them you think a bottle deposit would increase recycling rates and be good for the environment and community. You can find your state's representatives' names and contact information here.
You can always make paper signs and recycle them, but if you host often I can't recommend a letterboard enough. They're incredible handy for parties and events, and also a great piece of seasonal decor that can be used year-round for all holidays.
---
13. Cleaning up
With more dishes and cups than usual, you may find yourself out of sink space. You can accommodate this by putting out a tote, bin, bushel basket, clothes hamper, tote, etc. out for guests to place dishes in.
It's handy to keep the kitchen cleared during the party, and makes cleaning up easier. If you have a hose, you can even gather dishes in a clothes basket and give them a quick spritz outside before washing them!
---
Sustainable cookout summary
Tell me.. Which of these sustainable cookout tips are new to you, and which are seasoned tricks of the trade??
Please tag me in your sustainable cookout pictures if you share them on Instagram @kayla_ih! I LOVE seeing what you share!
May your cookout season be filled with good food, good people and less waste! Cheers to you, friends