/
Quotes By Strong Women To Inspire Your Best Life
*This post may contain affiliate links, which means I may receive a small commission, at no cost to you, if you make a purchase through a link.*
Last Updated on March 7, 2023 by Bert-Jan Schilthuis-Ihrig
Step right up for a little wind your sales! These quotes by strong women will give you a boost as your stare down the barrel of making big changes in your life.
This is a bit different from the normal remote work, digital nomad and online business content I share here on Writing From Nowhere, but it reiterates a vital reminder:
Mindset is the most powerful asset you have as you try to change your life.
You may also like: 30 Inspirational Phone Wallpapers
These quotes by strong women will help you maintain the correct mindset the pursue the life you really want.
23 Quotes By Strong Women To Help You Live Your Best Life
Want a little boost every time you check your phone? These are formatted to fit your phone as gorgeous phone wallpapers. On mobile, just hold down on the image, save to camera roll and set one of these quotes by strong women as your phone wallpaper.
1. "What people have the capacity to choose, they have the ability to change." —Madeleine Albright
Madeleine Albright was the first female Secretary of State. At that time of her appointment, she was the highest-ranking woman in the history of the U.S. government. (source and read more about Madeleine Albright)
2. "I would like to be remembered as someone who was not afraid to do what she wanted to do, & as someone who took risks along the way in order to achieve her goals." —Sally Ride
Sally Ride responded to a newspaper ad listing by NASA, which ultimately led to her becoming the first woman to visit space. She was also the first acknowledged gay astronaut, and was honored by Obama with a Presidential Medal of Freedom after her death. (source and read more about Sally Ride)
3. "Don't settle for average. Bring your best to the moment. Then, whether it fails or succeeds, at least you know you gave all you had. We need to live the best that's in us." —Angela Bassett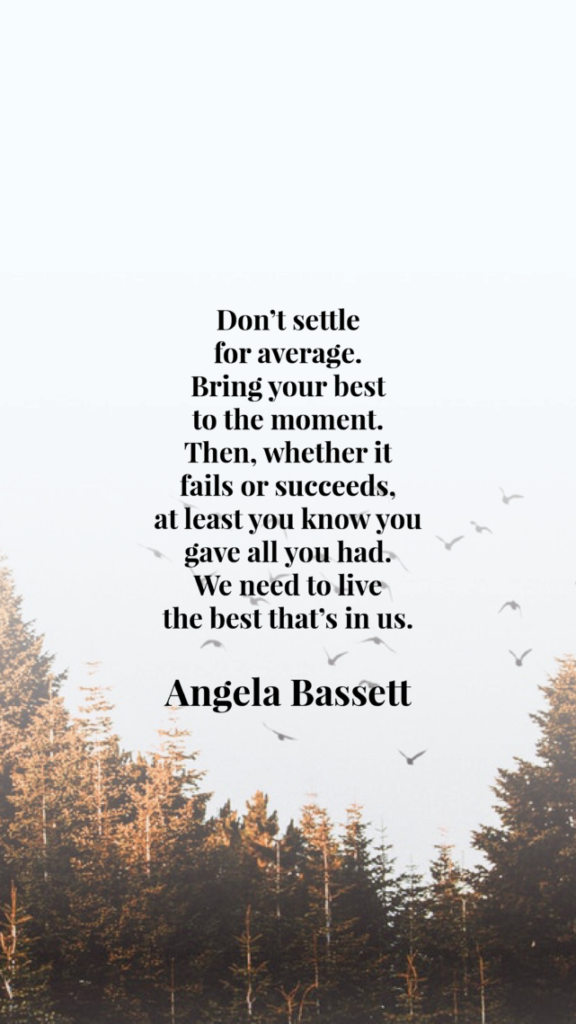 Angela Bassett is an award-winning actress and activist for several social causes. She's a UNICEF ambassador and has been vocal in her encouragement to Black youth. (source one and two, and read more about Angela Bassett)
4. "I'm not going to change the world overnight. It's one person at a time." —Gabrielle Union
Gabrielle Union is an actress and activist, as well as a powerful force working to "fix Hollywood's representation problem." She was named one of TIME's "Most Influential People Of The Year" this year. (source and read more about Gabrielle Union)
5. "I am not lucky. You know what I am? I am smart, I am talented, I take advantage of the opportunities that come my way & I work really, really hard. Don't call me lucky. Call me a badass." —Shonda Rhimes
Shonda Rhimes is the mind behind hit tv shows "Grey's Anatomy," "Scandal" and "How To Get Away With Murder," which are all celebrated for their writing and diversity. She is also a New York Times bestselling author and the recipient of many awards and accolades. (source and read more about Shonda Rhimes)
6. "I have standards I don't plan on lowering for anybody… including myself." —Zendaya
Zendaya got her break acting on the Disney channel, and has made waves in the industry. At age 24, she has made history as the youngest female to win an Emmy for best actress in a drama series. (source and read more about Zendaya)
7. "I'd rather regret the risks that didn't work out than the chances I didn't take at all." —Simone Biles
Simone Biles is an Olympic gymnast who has been dubbed "the most talented gymnast of all-time." In 2017, TIME included her on the "Most Influential People in the World" list. (source and read more about Simone Biles)
8. "I realized that I don't have to be perfect. All I have to do is show up & enjoy the messy, imperfect, & beautiful journey of my life." —Kerry Washington
Kerry Washington is an actress best known for her role in the series "Scandal." In her role as Olivia Pope, she was the first Black female lead in a network drama in nearly 40 years. (source and read more about Kerry Washington)
9. "Don't let anyone rob you of your imagination, your creativity, or your curiosity. It's your place in the world; it's your life. Go on & do all you can with it, & make it the life you want to live." —Mae Jemison
Mae Jemison is an engineer, doctor and astronaut who has received countless awards and accolades. She is most famously known for being the first Black woman to travel to space, and has been inducted to the International Space Hall of Fame and National Women's Hall of Fame. (source and read more about Mae Jemison)
10. "What you do makes a difference, & you have to decide what kind of difference you want to make." —Jane Goodall
Jane Goodall is a conservationist and scientist whose discoveries are acknowledged as some of the greatest achievements of 20th-century scholarship. (source and read more about Jane Goodall)
11. "Adventure is worthwhile in itself."— Amelia Earhart
Amelia Earhart is famously known as the first female pilot to cross the Atlantic Ocean. She was also the first person, regardless of gender, to fly across both the Atlantic and Pacific ocean. (source and read more about Amelia Earhart)
12. "Nothing will work unless you do." —Maya Angelou
Maya Angelou was a well of creativity, known for her singing, dancing, novels and poetry. She was also an activist and scholar, internationally-recognized for her contributions to literature. (source and read more about Maya Angelou)
13. "The most effective way to do it, is to do it." —Amelia Earhart
14. "I work very hard, & I play very hard. I'm grateful for life. & I live it – I believe life loves the liver of it. I live it."— Maya Angelou
15. "It isn't what we say or think that defines us, but what we do." —Jane Austen
Despite being born in the 1700s, Jane Austen still remains a household name and is considered to be one of the greatest writers in English history. (source and read more about Jane Austen)
16. "Just don't give up trying to do what you really want to do. Where there is love & inspiration, I don't think you can go wrong." —Ella Fitzgerald
Ella Fitzgerald was discovered during an amateur night when her name was pulled out of a hat and she was invited to perform on stage. She was only 17, and it put her on the path to becoming the legendary jazz singer that she is remembered as today. (source and read more about Ella Fitzgerald)
17. "I didn't fear failure. I expected failure." —Amy Tan
Amy Tan is a Chinese American writer, best known for her New York Times-bestselling novel "The Joy Luck Club." Before becoming an acclaimed novelist, she was a freelance business writer. (source and read more about Amy Tan)
18. "I think that little by little I'll be able to solve my problems & survive." —Frida Kahlo
Frida Kahlo is a painter who is hailed as an icon of female creativity. Despite severe health complications, being bedridden at times and dozens of surgeries, she is remembered as one of Mexico's most celebrated artists. (source and read more about Frida Kahlo)
19. "You can't be hesitant about who you are." —Viola Davis
Viola Davis was the first Black actress to achieve the "Triple Crown Of Acting," having won a Tony Award, Emmy Award and an Academy Award. She was also named one of TIME's "100 most influential people in the world" in both 2012 and 2017. (source and read about Viola Davis)
20. "If they don't give you a seat at the table, bring a folding chair." —Shirley Chisholm
Shirley Chisholm was the first Black woman to serve in Congress, in addition to being the first woman or Black American to run for president. She served seven terms in the House Of Representatives. (source and learn more about Shirley Chisholm)
21. "Technique & ability alone do not get you to the top; it is the willpower that is most important." —Junko Tabei
Junko Tabei was the first woman to ever summit Mount Everest, and also the first woman to complete the Seven Summits: hiking the highest peak on every continent. There is a mountain range on Pluto named after her. (source and read more about Junko Tabei)
22. "Age is… wisdom, if one has lived" one's life properly." —Miriam Makeba
Miriam Makeba was a singer-songwriter from South African as well as an activist. In addition to being a Grammy-winning artist, she was also a UN goodwill ambassador and a prominent anti-apartheid voice. (source and read more about Miriam Makeba)
23. "I'm not going to continue knocking that old door that doesn't open for me. I'm going to create my own door & walk through that." —Ava DuVernay
Ava DuVernay didn't pick up a camera until she was 32 years old, but has become a wildly successful film director. She has been the first black woman to hold many accolades in the film industry, in addition to being the highest-grossing female Black director in box office history. (source and learn more about Ava DuVernay)
Summary
What helps you keep your mindset on track?