/
Having Pinterest Problems? Here's How To Troubleshoot
*This post may contain affiliate links, which means I may receive a small commission, at no cost to you, if you make a purchase through a link.*
Last Updated on August 18, 2023 by Kayla
Mo' pins, mo' problems, amiright? As a fellow creator, I'm here to commiserate with you. And as a Pinterest manager, I'm here to give you my Pinterest troubleshooting playbook.
Why is pinterest not working? Why can't I join pinterest? Why does my Pinterest keep glitching? Or my personal favorite, what is wrong with pinterest lately?
Pinterest has a lot of hiccups for a digital dinosaur. The platform is more than 10 years old, but widespread glitches and bugs happen every few months.
…not to mention the invisible forces at play like the Pinterest spam block which is a totally silent shadow ban that makes your content basically invisible on the platform.
Let's start with the big picture and then drill down to exact error messages, problems and solutions to help you troubleshoot Pinterest like a pro.
P.s. This guide is for Pinterest CREATORS who are troubleshooting Pinterest problems. If you're a Pinterest user, these steps won't be helpful to you (sorry!).
What's The Big Problem With Pinterest In 2023? 
Both users and Pinterest creators are frustrated with Pinterest in 2023. Pinterest creators are disappointed that spam and stolen pins are more prevalent than ever. Users are sick of idea pins and the fact that their Smart Feed is looking more like TikTok every day. 
Does that mean that we're done with Pinterest? No way.
But your Pinterest marketing strategy does need to be as up-to-date as possible to deter you from encountering problems. 
And if you do it ALL right along the way and follow all the community guidelines, will you steer clear of Pinterest problems altogether?
Probably not. But here's how to lower your odds of encountering problems.
You may also like: 30 Pinterest Marketing Ideas
How To Avoid Pinterest Problems
We'll get into specific Pinterest troubleshooting in a minute, but I wouldn't be a good guide without trying to keep you OUT of the hot seat in the first place.
I'd be an even better guide if I could give you this advice over a drink (or 3), but since I can't teleport you some tequila you'll have to handle that part yourself.
Not all, but many Pinterest headaches are avoidable. That doesn't mean that you should beat yourself up when you encounter problems, but you should take active steps to avoid them.
Thorough Pinterest troubleshooting checklist! #bloggingtips #Pinterestmarketing
Click To Tweet
A little preventative action will save you a lot of problems. Starting with…
Follow Pinterest Best Practices
The most important piece of advice is to follow Pinterest's current best practices.
And (warning) this isn't as simple as looking around the room to see what other people are doing.
Just because you see something on Pinterest and it's doing well DOESN'T mean it's following current best practices.
Lightbulb moment: most pins on Pinterest are years old.
This is because Pinterest is a search engine, not a social media platform. This is an important part of understanding how to use Pinterest as a beginner.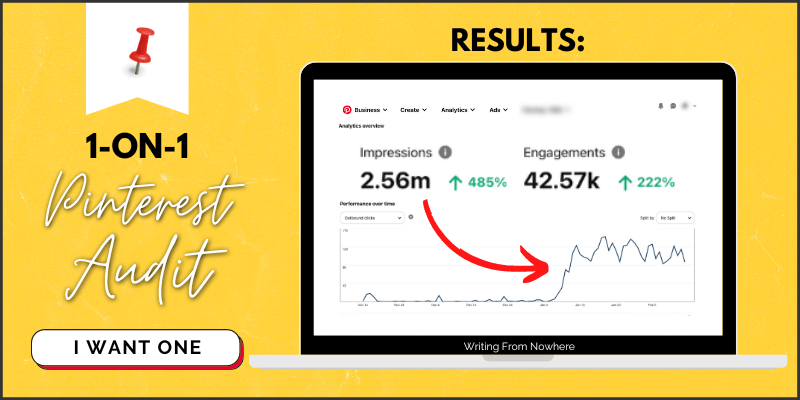 You may also like: Share Content From Instagram To Pinterest
You may still see high-ranking pins with tons of saves that have descriptions like "keyword | keyword | keyword #keyword #keyword" but that pin is years old.
Keyword stuffing (robotically adding your keywords all in a row instead of writing sentences like a human) and hashtags are old news on Pinterest.
To find the best performing keywords on Pinterest, consider investing in a keyword research tool such as Pin Inspector.
Pinterest's current best practices are found on the Pinterest website here:
You can learn from the best practices yourself, or buy Pinterest SEO templates and get straight down to business publishing effective pins: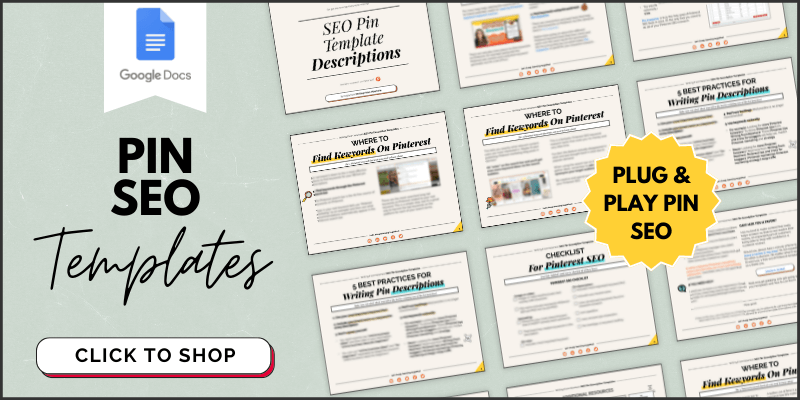 Don't play fast and loose with the best practices, or you'll find yourself needing Pinterest troubleshooting help more and more.
You may also like: Disadvantages Of Pinterest
Don't Take Advice From Just Anyone
Taking Pinterest advice from just any blog or TikTok account is a one-way ticket to Pinterest problems.
Bad advice will take any content form online, even paid courses. Usually, this manifests as creators sharing advice that is outdated, offering incomplete information or "hacks" that break best practices.
So, let me show you the money on my own Pinterest expertise. I've been a content creator on Pinterest since 2018 and now I sell Pinterest templates and write about Pinterest marketing for publications like GoDaddy.
I stay current by constantly publishing my own content, as well as content for clients. I'm a Pinterest manager and publish dozens of pins per week.
Pinterest itself has even repinned some of my content (fangirl moment) and my Pinterest account's also gone viral, but truth be told that's not all it's cracked up to be.
Before you implement any Pinterest marketing advice, do a little digging and look at the account of the person giving you advice. Make sure that they're active and have the impressions to back up their expertise.
As for a Pinterest course, the only one that I recommend is Pinterest Popular by Nadalie Bardo: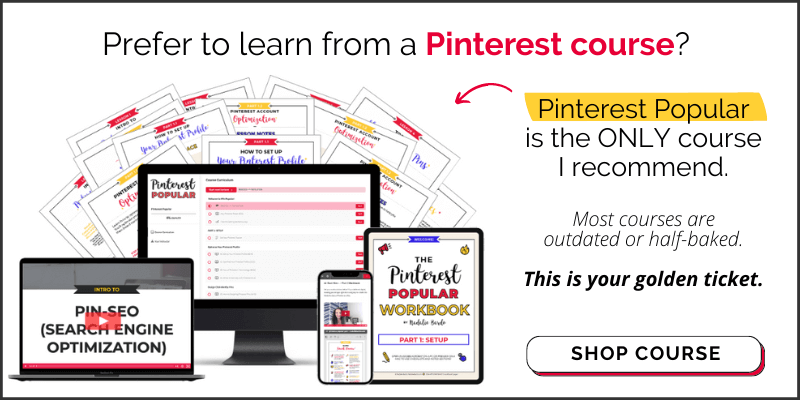 The last way to avoid Pinterest problems is only for a specific group of creators, but it can make a huge difference.
You may also like: Ways To Get More Pinterest Followers
Use A VPN If You're Abroad
A VPN is a virtual privacy network and (in very non-techy terms) it protects your connection and can make it look like your computer is located somewhere else. It can benefit anyone who's living or traveling abroad.
You can choose the location where your computer connects, and you should make your connection match the location of your account.
How can you tell the location of your account:
Open Pinterest, either the Pinterest page or the Pinterest app
Go to the right-hand corner and select settings
Select personal information
See what country or region your account belongs to
I actually heard in a Facebook group once that using a VPN was against Pinterest's best practices, so I didn't use one for years. Then I learned that using a VPN is actually a best practice for Pinterest managers.
In my experience as a Pinterest manager, accounts experience more problems when the location of the account doesn't match the location of the computer that's publishing content.
Enough beating around the bush. Time to look this beast in the eye and identify your exact problems and solutions.
You may also like: Pinterest Keyword Research Demystified
Pinterest Crashed And Won't Load
When Pinterest just won't load, you need to find out if the issue is with your account or it's widespread.
Follow these steps:
Check Pinterest on both desktop and the mobile app. Are you able to access and use your account on one of these? If so, you haven't been put in Pinterest jail; there is a widespread issue
If Pinterest is down on both the mobile app and desktop, you still might be caught in a big bug. Go to DownDetector.com/Status/Pinterest. Report your outage and see if others are reporting as well.
Put in

a help ticket

and let Pinterest know that you can't access your account.
Refresh, give it some time and try back and see if the issue is resolved.
Pinterest crashes are almost always fixed quickly. If your problem persists, a help ticket is your solution.
You may also like: Where To SHARE Your Pinterest Account
Can't Publish Pins On Pinterest
Sometimes when you're trying to publish a pin, you'll receive a Pinterest error message like this:
This is a Pinterest glitch. It's most common on idea pins, and goes away on its own. Click "retry" and typically the upload will advance a little bit more every time and will eventually complete the upload.
It may take several attempts and upwards of 10 minutes to publish your pin.
Not being able to publish an idea pin at ALL is a rarity (I've only seen this happen once out of hundreds of idea pins), but in that event, put in a help ticket and try again in a few hours.
You may also like: How To Make Multiple Pins For The Same URL
Can't Publish/Schedule Pins In Manual Scheduler
When you try to schedule pins within the manual scheduler, sometimes the first pin for a URL buffers. That looks like this:
This Pinterest error is common. I'd say I experience it about 50% of the time I schedule pins via the manual scheduler.
This is a technical error on Pinterest's end, and isn't a bug specific to your account.
Create another pin (without refreshing the page) and copy/paste all of the same information in and try to schedule again.
99% of the time, creating a second pin solves this problem. It's a very rare occurrence that scheduling twice doesn't resolve this.
If you're not able to schedule at all, come back in a few hours and try again. Also put in a help ticket in case the problems persist when you try again.
You may also like: How To Set Up Your Pinterest Account
Local Rate Limited on Pinterest
Sometimes when you open Pinterest, instead of seeing your normal business hub you'll see a message that reads local_rate_limited. It looks like this:
This message is often a bug on Pinterest's end, but in some cases, it means that you're doing certain activities too much within a timeframe. This is what Pinterest says about the local rate limited warning:
"A rate limit block is a nonpermanent block that might automatically be put on an account if we notice that you've done the same action repeatedly too many times in a brief period of time. This action is intended to prevent spam and to keep Pins working correctly."
To troubleshoot the local rate limited problem:
Hit refresh (this often fixes it)
Hit refresh again in 10 minutes
Clear the cache on your browser
Refresh again
If it's still not working, put in a help ticket
You may also like: Beginner's Guide To Pinterest Idea Pins
Lost Pinterest Impressions Or Traffic
This is frustrating to no end – you open up your Pinterest account and find out that your impressions are flatlining.
There are a couple of different culprits for this, and before you can start with Pinterest troubleshooting, you have to diagnose.
Let's start with the Kraken… the spam blocker.
Pinterest Spam Blocker
The most common cause of lost impressions is the spam blocker, AKA a shadowban on Pinterest.
Ths spam blocker is silent. There won't be a notification, message or email letting you know that you've been caught.
It acts as a silent alarm, and your content virtually disappears from Pinterest users' smart feeds and search results overnight.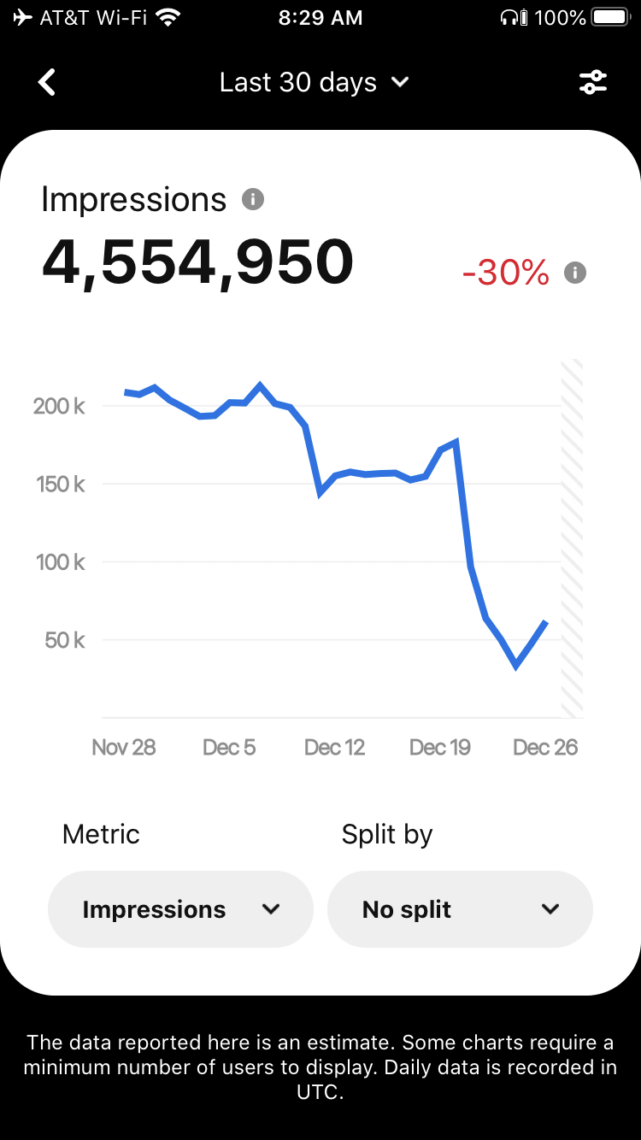 The Pinterest spam blocker has flagged countless healthy accounts as spam since its rise to infamy in 2020, and it's entirely possible that your account was caught incorrectly.
This is important: an account CANNOT recover from the spam block until an employee manually removes the flag on your account from the inside of their system.
How to tell if you've been flagged (short version):
You disappear from searches
You must manually search for a term that you used to rank for and see if your pin is gone
Traffic drops dramatically
Monthly views drop dramatically
This is such a huge problem on Pinterest that I have a deep-dive spam block guide that will help you further with diagnosis and Pinterest troubleshooting.
Your Pinterest troubleshooting solution for the spam blocker lies within Pinterest recognizing that you've been caught and marking your account as safe. Follow the instructions in my guide (above) to make this happen as quickly as possible.
The spam blocker is a popular topic, and if you'd like to learn more you can watch my spam blocker interview on Nadalie Bardo's YouTube channel:
Seasonal Content
There are natural times when your account stats will decline and the blame is not with the Pinterest spam blocker.
A few of those scenarios are:
After viral content. What goes up must come down! Viral content will naturally balance out eventually and come down from orbit.
After seasonal content has died down. Very similar to viral content is seasonal content. These are those "ebbs and flows" that Pinterest sometimes mentions in their help emails. It's natural and predictable. Use the

Pinterest Trends tool

to see these stats change.
Pro tip: Track your stats weekly to understand your audience and see growth/problems.
This is particularly powerful after doing so for 1 year – offering you the perspective of year-over-year (YoY) comparison for seasonal trends.
Additionally, tracking your YoY stats will show you whether you're beating last year's performance. This gives you insights into whether or not your growth strategies are proving effective or need to be revisited.
By anticipating these drops, you can minimize stress and even plan high-reach content into your content calendar to help balance out the ebbs and flows.
If you don't have YoY stats, use the Pinterest Trends tool to see if you're being affected by any big seasonal trends.
You may also like: Pinterest SEO Checklist
Outdated Strategy
No platform stays the same forever. If you haven't educated yourself and stayed current on how to actually use the platform *now* then an outdated strategy can wreak havoc.
This is the change that one of my Pinterest account audit clients saw after updating her strategy:
If you need to start from scratch with your Pinterest strategy, then I recommend a Pinterest course. If you need a refresher, update yourself on Pinterest's current best practices or get an account and strategy audit.
There are a number of ways that using an outdated Pinterest strategy can hurt your account, but zoom in on one specific aspect that Pinterest itself calls out…
Repinning Too Often
Gone are the days on Pinterest when you'd fill up your Tailwind queue with 50 daily pins.
Now, Pinterest wants you to focus on publishing original content instead of repinning. They've said this explicitly in their help emails when I reached out about a decline in my account's impressions:
If you've been repinning instead of publishing fresh content (which Pinterest describes as a new image and URL combination), then it's time to up the publishing of new pins.
Website Is Unclaimed
Your website can randomly be unclaimed even if you USED to have a claimed website on Pinterest.
Having an unclaimed website hurts your impressions because pins that lead back to a website that you own receive wider distribution on Pinterest.
To see if your website is still claimed, follow these steps:
Go to account settings
Select "claimed accounts"
Look to see if your website is listed as claimed
Do you see it there? If your website is missing, put in a help ticket with Pinterest and ask them to help you reclaim it.
Starting A New Pinterest Account
When all other Pinterest troubleshooting falls short, you can start an entirely new account. I've never personally done this, but this is what I know about the process:
This is an absolute last resort, as you can't transfer anything from your current account to your new account
You MUST unclaim your website from your current account in order for this to be effective
Then you can start an account or business account
Note that this does NOT work if your Pinterest account has been suspended. There are different Pinterest troubleshooting steps for that.
You may also like: Google Versus Pinterest
Pinterest Account Suspended
If your Pinterest account is suspended, you'll receive an email from Pinterest letting you know.
It looks like this: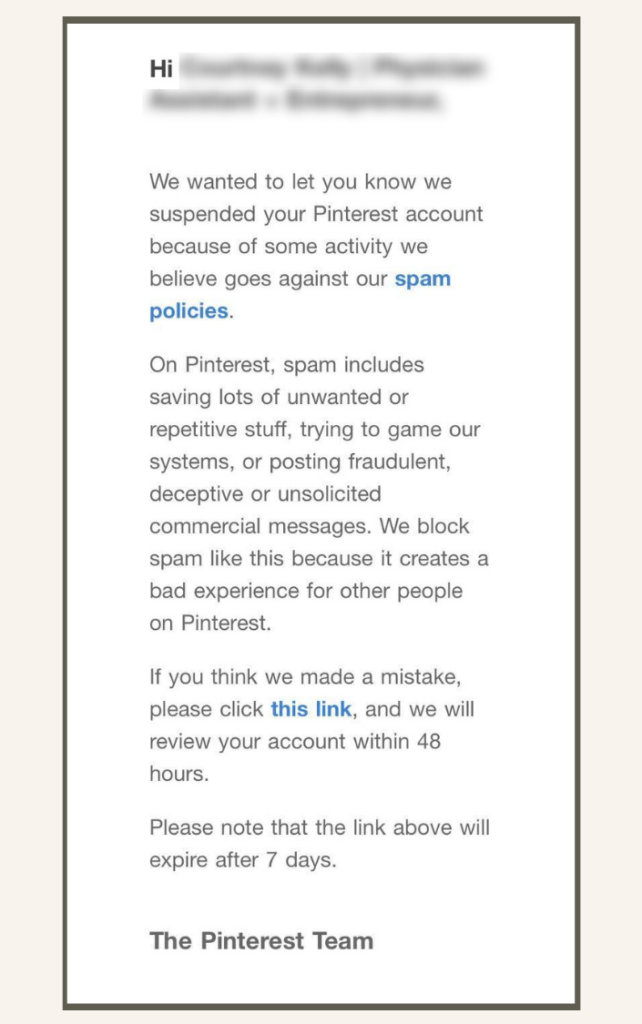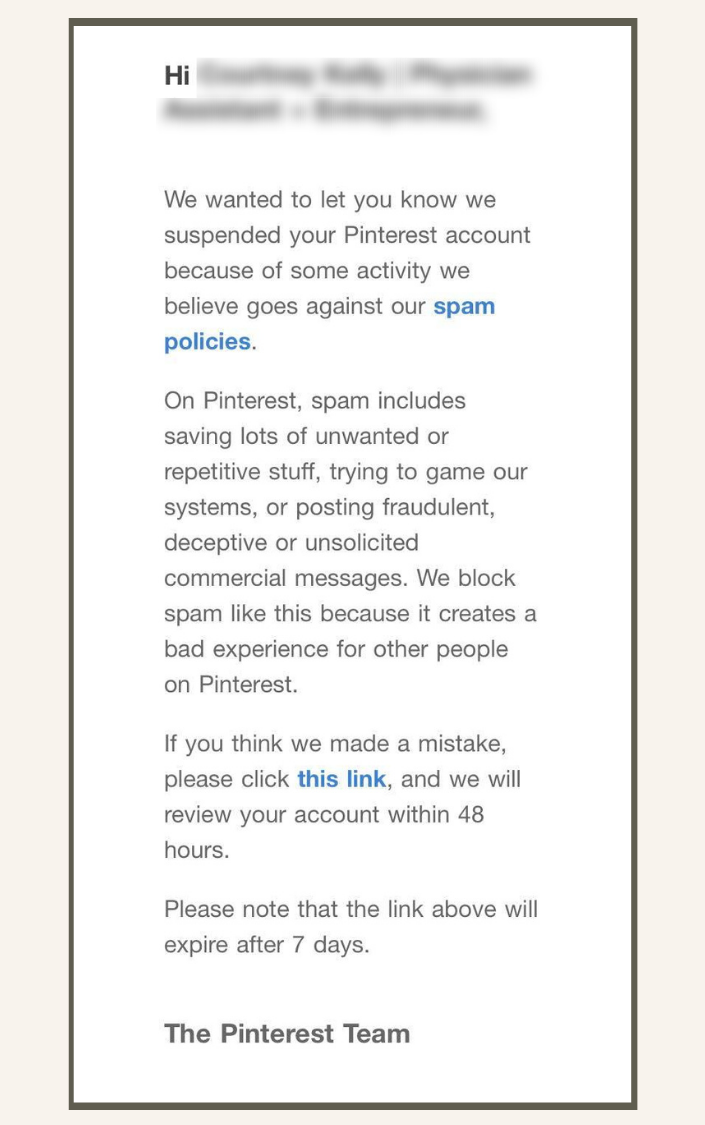 A Pinterest account suspension results in the closure of your account, and bars you from re-joining the platform with the same website. It's the most devastating thing that can happen to a creator on Pinterest, but you're not powerless.
If you're unlucky and have a suspended Pinterest account, submit a help message every single day asking someone from Pinterest to address it. It may take months.
Pinterest often suspends accounts accidentally and then ignores appeals to have the account reinstated.
They may never contact you, and simply turn your account back on one day without a single email or a "sorry (too much to ask?).
I have an entire deep-dive article with copy-paste scripts to help you with Pinterest account suspension.
This is simply a bug on their end and it's happened to many, many genuine creators who followed the rules.
And if you DID accidentally commit spam, be honest. Admit that you made an honest mistake (more on this in my guide) and there still may be hope for your account being reinstated.
Pins Have Disappeared
There are a few instances when pins disappear, and it's important to diagnose your problem.
The spam blocker (diagnose with the above help)
Your pins have just lost their rankings in searches, which just happens sometimes (no concrete way to track)
Your pins have been removed by Pinterest on purpose
Pinterest's official page on missing pins is here, but it's pretty brief.
How to tell if your pins have been removed on purpose:
Did you get an email saying that your pin had been removed?
If you search the pins within your own account, can you find them?
Pinterest claims in their help emails that they don't remove any pins without letting you know, but I've heard from users who say otherwise.
One creator specifically saw all of her pins removed from Pinterest searches, and she couldn't even search and search on her OWN Pinterest boards and discover the pins (she could only find her pins when she scrolled through her boards).
Pinterest cited that her pins were mistakenly removed in a global sweep. If you're suspicious that your pins have also been mistakenly removed, follow these steps:
Put in a help ticket specifically describing your issue
Copy and paste this message somewhere, because (next step…)
You should put this help ticket in every day until you get a response
Pinterest not responding to help tickets is a really common problem, which deserves its entire own heading.
Pinterest Help Won't Reply
It's not you, it's them. And I'm not just a friend comforting you after a date ghosted you, this is the truth.
Pinterest support OFTEN doesn't reply to help emails.
Here are your go-tos responses:
Go to the help center: link
Follow the steps in the contact form to put in a help ticket
Copy your message and save it somewhere on your computer because you may need to put in the help ticket over and over again
I have an entire Pinterest contact blog post where I expand more on each of these points and offer more pointers on getting into contact.
Stolen Content On Pinterest
Stolen content is EVERYWHERE on Pinterest. Here are some troubleshooting tips for avoiding and reacting appropriately to it.
Add Your Name To Pins
One of the biggest draws of Pinterest for creators is the explosive brand reach. For content creators, it's unparalleled. Use this exposure to improve brand recognition by including your brand name on every piece of content.
This is also one of Pinterest's creative best practices.
In addition to improving brand visibility, adding your website name to every graphic will reduce the odds of your content being stolen on Pinterest.
This will not deter every spammer, but it reduces your odds of being a target. It also makes proving the stolen content is your property easier. This will even encourage pinners to flag a stolen pin as spam, when they can see that they've been deceived.
Report Stolen Content Correctly
Stolen content on Pinterest is a huge headache. It's an even bigger headache when you accidentally sabotage your own account by reporting it incorrectly.
Follow the steps in the images to report your spammed content correctly and not damage your own rankings in the process.
Follow these steps:
Step 1: Click the 3 dots in the right-hand corner of a stolen pin
Step 2: Click "report pin" and select "my intellectual property"
Step 3: Select "this infringes my copyright"
You will have to fill out some information about your ownership to the pin between steps 3 and 4
Step 4: Select "strike"
WARNING: If you select "remove all," Pinterest will also remove YOUR pin
Final Thoughts
Pinterest can be a big headache! But I hope it hurts a little less with these Pinterest troubleshooting pointers. This covered all of the most common Pinterest problems that I encounter on the job as a Pinterest manager.
I'm curious: what problems have you encountered? Did I miss anything on this list? Feel free to ask questions in the comments and I'll see if I can help!
Do you still love Pinterest, despite the speedbumps? Maybe you should consider becoming a Pinterest manager.