/
Pinterest SEO Checklist (From A Pinterest Manager)
*This post may contain affiliate links, which means I may receive a small commission, at no cost to you, if you make a purchase through a link.*
Last Updated on September 24, 2022 by Kayla
SEO for Pinterest isn't as mysterious as it sounds. Truth be told, it's actually a lot friendlier than SEO for Google, but many accounts miss the mark completely whenever it comes to the basics of Pinterest SEO.
Then, they waste their time publishing pins that stand no chance of reaching the masses in search results and driving hoards of website traffic. *sad violin plays, screen fades to black and white*
Record scratch: that funeral march ends here! You're 2 seconds away from a complete mastery of Pinterest search engine optimization, PLUS a checklist, to boot.
But (pleaaase don't tune out) we need to get solid on some of the fundamentals first before you can master SEO for Pinterest 2022 to dominate search results.
Like, what IS Pinterest, anyway? Yes, I'm serious.
Is Pinterest a search engine?
Yes, Pinterest is a search engine! Pinterest is often mistaken for a social media platform (I know, because it's so cool), but in reality, it has much more in common with Google than Instagram.
The pins that you share on Pinterest don't last 24 hours or a few days; they will be shown to viewers for YEARS to come.
You don't need to focus on being hyper-trendy or using cute copywriting. On social media, your writing aims to be chatty and engaging, but that's actually a problem on search engines.
You may also like: How To Share Old Instagram Content On Pinterest
Your writing on Pinterest needs to be direct, to the point and full of keywords. These are sometimes referred to as "annotations" by the Pinterest engineering team.
Let's say you're doing Pinterest SEO for a blog post on how to knit. Here are some keywords you would use:
How to knit (on the nose, which is GOOD)

Knitting for beginners
Learn knitting
Using cutesy or coded language may be to your advantage on Instagram, but it's to your detriment on Pinterest and all search engines due to nature of search algorithms.
Changing your perspective from seeing Pinterest as a social media channel to a search engine is fundamental in your approach to your Pinterest SEO strategy.
You may also like: Differences And Opportunities Between Google And Pinterest
What a simple Pinterest SEO checklist for bloggers! #pinterestmarketing #bloggingtips
Click To Tweet
Don't use hashtags anywhere in your Pinterest marketing anymore. Hashtags used to be recommended, but the best practices have changed.
What's the WRONG way to do SEO for Pinterest?
There are toooons of articles out there giving outdated advice on SEO for Pinterest. This really dills my pickle because I get emails (at least 1 a week) from someone who followed bad advice and got their account caught in the spam blocker.
So here's a quick no-go list for your Pinterest SEO strategy. Don't…
Use hashtags
Keyword stuff
This is what keyword stuffing looks like: guided search | traffic | SEO-friendly
Just stuffing the right keywords into the description box like this won't actually help you show up in search.
Instead, you need to write full (HUMAN) sentences: If you want to get traffic to your website from guided search, write SEO-friendly descriptions.
Human. *gong* where were we?
Use the same word keyword over and over again in your description in hopes that the repetition will make it jump to #1
Copy/paste identical descriptions for all of your pins
You can reuse descriptions but you have to tweak them. Here's a guide to making many pins for the same URL.
It's healthy to consume your Pinterest advice with a tiny bit of skepticism, so just to back up my advice let me show you the money:
My Pinterest profile reaches about 3,000,000 users a month, and I write about Pinterest marketing for publications like GoDaddy. I'm also a Pinterest manager.
These Pinterest SEO tips aren't being shared after I got lucky with a couple of viral pins. I've been using the platform actively to drive traffic to my blog posts since 2018, and I've been working as a Pinterest manager since 2020.
These Pinterest SEO tips are founded in years of research and experience. Sorry for getting all *muscle-flex* on you, but I help a lot of people who've had their Pinterest account suspended after following bad advice online, so I get a little soap box-y about this topic.
You may also like: 30 Easy Pinterest Marketing Ideas
How do I set up SEO on Pinterest?
No Pinterest SEO tips will help your account reach its potential if your Pinterest profile is set up incorrectly. This starts with your business account. Converting to a business account gives you access to Pinterest analytics, and is essential for using Pinterest to drive traffic.
Then, you must claim your website using the Pinterest tag and set up rich pins. Once the technical steps on your account are complete, it's time to optimize your profile itself.
An optimized Pinterest account includes keywords in the account description (AKA bio), in the board names, and the board descriptions. Accounts that are COMPLETE will see their pins receive wider distribution, more rankings in search and will get more traffic.
Complete your Pinterest business account setup with my checklist: Pinterest account checklist.
After your Pinterest profile is set up correctly, you have to start publishing pins that utilize SEO.
Are there Pinterest SEO Templates?
Yes, you can get pre-written Pinterest SEO templates in my shop. The pin SEO templates come in a Google Doc and include a PDF guide and checklist.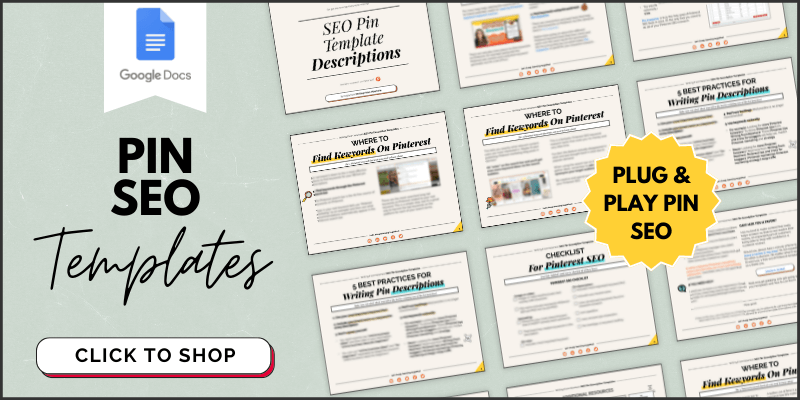 How To SEO A Pin On Pinterest
The tofu and potatoes of Pinterest SEO and website traffic comes down to learning how to optimize your pins.
Where To Find Your Keywords
There's a long list of nooks and crannies where keywords are hiding on Pinterest, but there are 2 prominent places that will give you everything you need.
The Pinterest Search Bar
The Pinterest search bar is the #1 free source of keywords on Pinterest.
Type in your root keyword (let's use "Pinterest marketing" as an example) and then see what recommendations automatically appear in the Pinterest search bar.
These are the most-searched long-tail keywords on Pinterest related to your root keyword. This is a simple step, but it's a great way to harvest the top keywords on the platform for each of your search terms.
This is also a great place to get new ideas for future blog posts. It tells you exactly what relevant content users are most interested in. Maybe I'll start publishing Pinterest marketing blog posts in German.
Hit "enter" on the search bar and you'll get even more keyword ideas via the search bubbles. This is a fantastic Pinterest SEO tip that costs you no money and very little time.
This feature actually disappeared in 2020 and was brought back in 2022 due to popular demand.
When using the search bar on the platform to gather ideas, remember to ask yourself what synonyms your target audience would use.
Be creative and spend some time on this step of your Pinterest SEO.
For more help help utilizing the search bar to its fullest potential, read or watch my Pinterest keyword research tutorial:
There are actually more places to find keywords on Pinterest, for example going into the Pinterest ads section and using their keyword generator, but it's a lot of fuss. A better use of time is just using a paid keyword research tool (it'll make your life SO much easier).
Pinterest Keyword Research Tool
There are several free and paid tools that help you find keywords on Pinterest, but the absolute best is Pin Inspector.
Rather than going on about the different Pinterest keyword tools that have come and gone over the years (quite the graveyard), let me just quickly lay out what makes Pin Inspector so great for your keyword research:
It's a one-time cost of $67 (but get $20 off with

this link

and the code PIN20)
It gives you more than just a list of popular Pinterest keywords – it gives you HEAPS of data on what's ranking in searches
The interface is a tad intimidating, but it's extremely easy and quick to use after a few tries
Pin Inspector is truly the holy grail of Pinterest SEO tools in 2022. It's the only tool you need to do all of your Pinterest SEO research.
With your keywords in hand, it's time to place them in all of the right places.
You may also like: 8 Places You Need To SHARE Your Pinterest Account
Where To Put Your Keywords For Pinterest SEO
Now that you have keywords to use, it's time to start putting them in the right places. Let's start at the top with your Pinterest board SEO.
Pinterest Account Description
Your account optimization starts with including your most important keywords in your account description.
You should include keywords naturally. Consider these tips when writing your optimized account description:
Intrdouce yourself. Say hi and tell users your name!
Tell users what you can help them with. You can even start with the words "I help…"
Remember to say what you offer, not what you are. For example, I tell people that I share "Pinterest marketing tips," I don't say "I'm a Pinterest manager." Likewise you'd always say "social media marketing tips" over "social media marketer." People want to know how you can help them, they're not going to be searching for your job title.
Follow these steps to edit your account description:
Pinterest Board SEO
Let's play a game of THIS or THAT with Pinterest board titles:
| | |
| --- | --- |
| *g*e*t*t*i*n*g h*i*t*c*h*e*d* | Wedding Planning Tips |
| I Double Dog Dare You | Bucket List Ideas |
| S A N T A T I M E | Christmas Planning |
The left board names are the work of a deranged lunatic. They do nothing for your Pinterest SEO strategy, and leave a lot of money on the table in terms of optimization.
Pinterest boards need to be named with keywords. They should be clear. Ask yourself: what words will my target audience use in their search? How would my target audience describe this content?
They should also have descriptions that include (whaaaat?!?) more keywords.
It might seem like an unnecessary step, but your SEO efforts are thwarted whenever you leave your board descriptions blank instead of putting in a thoughtful description.
Here's an example of a board title and description that's been optimized for search (keywords are bolded):
Title: Pinterest Marketing Strategy
Description: Looking for the best Pinterest strategy tips to improve your marketing efforts? You've found them! These ideas from Writing From Nowhere will help you whether you're a blogger, entrepreneur or small business. Pinterest, like Google, is a search engine, not a social media platform. Invest your time wisely and you'll be seeing returns for YEARS to come.
You can steal this as a copy/paste template to create your own board descriptions:
Looking for the best TOPIC tips to improve your TOPIC efforts? You've found them! These ideas from YOUR BRAND will help you whether you're a AUDIENCE, AUDIENCE or AUDIENCE. TOPIC is a ADJECTIVE, not a SIMILAR TOPIC. CALL TO ACTION
Optimizing your Pinterest profile and your boards are important steps to help your pins rank in search.
You may also like: 18 Ways To Get More Pinterest Followers
Optimizing Your Images
The images (static pins) or videos (video pins) that you upload on Pinterest contain 2 opportunities for Pinterest SEO.
The first is the text on the image or video itself.
The second is in the image file name.
Name files names like this:
scenic-viewpoints-in-Lisbon.PNG
Never like this:
Use keywords in both of these places, as well as in the text accompanying the pin upload (next step), to optimize your pin uploads.
You may also like: How To Use Pinterest (For Newbies)
Optimize Your Pins When You Upload
This is the moment to shine with your Pinterest SEO. Everything else (Pinterest boards, images, profile set-up) matters, but WITHOUT the right SEO on your pins, you still won't rank in relevant searches.
You've laid the SEO foundation; now you need to build the house.
Here's your checklist to optimize your pins. Include keywords in your:
Pin title (max 100 characters)
Pin description (max 500 characters)
Yeah, that's it! It's not a very long list, but you can't skim over this step or you see the traffic from Pinterest that you're aiming for.
Here's an example of how to optimize your pin descriptions. If I was going to make an optimized pin description for this blog post on Pinterest SEO, it would look like this (keywords are bolded):
Are you trying to learn how to do Pinterest SEO? SEO for Pinterest is an extremely important part of your marketing strategy. If you want users to find your blog post when they search on Pinterest, include relevant keywords in your pins and boards. Use these tips from Writing From Nowhere to make it easy.
I found all of these bolded keywords using Pin Inspector:
This is referred to as a keyword-rich description.
Take note of the way this is written: full, complete sentences that make perfect sense to a human reader. This isn't a place to be cute and playful; quality pin descriptions and thorough and well-researched, not witty or fun. Use my pin SEO templates to make it easy.
Start with your main keyword, then use synonyms and all related relevant keywords that come up in your keyword research (either via the search bar or Pin Inspector).
Tags On Video Pins And

Idea Pins
The Pinterest tag selections are extremely limited for many niches, so be patient searching for relevant keywords. The quality of the tag selection leaves a lot to be desired, and if you can't find more than 1 or 2 relevant tags for your pin, then don't sweat it.
It's better to use fewer relevant tags than to start misrepresenting your content and confusing the algorithm as to what your content is actually about (it might feel tempting but it degrades the quality of your SEO).
How do you rank higher on Pinterest?
The foundation of ranking high in Pinterest search results is creating quality original content that's optimized with keywords in the title, description and pin file name (example: banana-split-recipe.png instead of my-picture.png).
Content that is clicked on and saved will rank even higher, as engagement is a positive sign for the algorithm.
The reality of high search rankings on Pinterest: the accounts that are going to see the highest number of ranking pins are the accounts that are going to be the accounts that are MOST active.
This isn't a hard rule; it's not like whoever publishes the most wins the #1 spot in every search, but getting pins to rank higher in search is a numbers game.
If you publish 100 pins for 100 blog posts, this is what's going to happen:
Some will totally flop
Others will get traction from the home feed but won't rank in searches
Some will rank in search right away
Others will flatline initially and then pick up months from now
All of the best Pinterest SEO tips won't make a difference if you only publish 20 pins on the platform. Whoever keeps publishing quality content is going to get the biggest slice of the cake (cake = traffic from search results).
Feel like you need caught up to speed on all things Pinterest? The best Pinterest course on the market is Pinterest Popular by Nadalie Bardo. After taking many different Pinterest courses, both free and paid, this is the only course that I recommend for learning Pinterest from the beginner level, to advanced Pinterest SEO, to building a strategy that can help you scale your blog.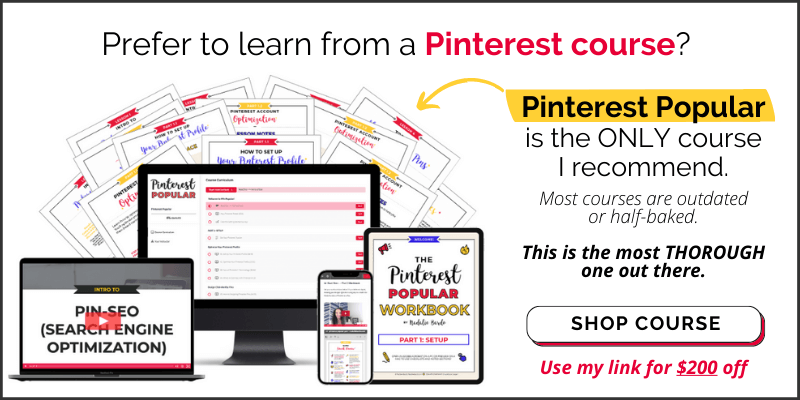 Pinterest SEO Checklist
Your Pinterest account is optimized when it includes keywords in these places:
Account description (AKA bio)
Pinterest boards – names
Pinterest boards – descriptions
Additionally, these points matter…
And did you optimize your pins? Do you have SEO keywords in these places?
Pin title
Pin description
Image file name
On the pin images themselves
Tags (if you're uploading video or idea pins)
Final Thoughts
Some people will reach for Pinterest ads when they don't see enough traffic from Pinterest. Pinterest ads aren't a good shortcut if you've failed to optimize your Pinterest account, create quality content and speak to your target audience.
There's no skipping these Pinterest SEO steps.
Dig deep into the fundamentals of quality content marketing, perfect your pin descriptions and learn to master Pinterest SEO and you won't need Pinterest ads to get the traffic that you seek.
Pinterest SEO isn't just another fluffy piece of your social media marketing plan. Like Google, Pinterest is an absolute powerhouse for driving traffic to your shop, blog post, service-based business, or whatever you're sharing with the world.
Pinterest's search results are highly coveted real estate.
Hundreds of millions of users turn to Pinterest to find new ideas and discover quality content. Treat Pinterest with as much attention and care as Google and you'll see it drive traffic to your website in your sleep.