/
How Should You Do Pinterest Keyword Research In 2022?
*This post may contain affiliate links, which means I may receive a small commission, at no cost to you, if you make a purchase through a link.*
Anyone in the world can upload their content on Pinterest and have it be enjoyed by pinners all over the world. How incredible is that?! You have the power to reach and impact an infinite number of lives. Just make sure that you do the right Pinterest keyword research so that your pins can be found by the masses.
Without keyword research, though, it will be thrown into the ocean of content on Pinterest and sink to the depths, never to be seen again.
*grim silence*
Before you dive into your Pinterest keyword research, let's dispel the most common misstep that creators take: treating it the same as Google keyword research.
General Keyword Research vs Pinterest Keyword Research
There are many keyword research tools for organic traffic (my personal favorite being Keysearch), but most of them are aimed at Google.
Using those keyword research tools for Pinterest won't give you the right information, and may even lead you astray. There are three main differences that you need to be aware of.
3 Differences To Take Into Account
Google and Pinterest have vital differences and therefore offer unique opportunities. When it comes to research, these differences are most notable:
1. Users don't search the same keywords on Pinterest as they do on Google
Pinterest users reach for the Pinterest app to plan, learn, and be inspired.
And Google users are searching, well, everything.
Google is full of timely searches, or purely information-based queries, like the news, whether or not the thrift store is open on Sunday, or the dates for Rosh Hashanah this year.
Now, of course, people are searching for MUCH more on Google than just those examples, but you get how those searches wouldn't be fruitful on Pinterest?
Likewise, a post on ramen noodle sandwiches, trendy Halloween costumes, or vegan high tea wouldn't necessarily be a sought-after search term on Google.
What performs well on Google and what performs well on Pinterest don't necessarily have anything in common.
You may be waiting a long time for someone to Google "ramen noodle sandwich," but publish that recipe on Pinterest and it will be shown to your followers and appear in the smart feed. This actually leads us right into point #2.
Do you need some clarity around keywords in general? I can demystify for you with my SEO checklist and guide.
2. Pinterest suggests content without users having to search
You don't need to wait for the day that somebody searches for the exact topic of your article on Pinterest. Users are introduced to content without even having to search for it.
Content is shown to (1) your followers, (2) the smart feed, and (3) under the Today tab without having to be searched.
Create content that is quirky, creative, getting great engagement, trending, and your content is more likely to be shown organically this way.
Want an extra boost? Tell Pinterest if you're a part of an underrepresented group and you may be seeing even more organic discovery.
They rolled this out very quietly, and I reckon you haven't even noticed this feature in your account settings. People of color, LGBTQA+ individuals, disabled creators, and female-identifying individuals can all self-identify to their benefit.
The boost to underrepresented groups on Pinterest is new. Here's what Pinterest says about it in account settings:
"When you state your community information in your account settings, creators and businesses that are owned at least 51% by underrepresented groups may be presented in places such as the Today tab."
3. Pinterest doesn't use domain authority
Domain authority, or DA for short, is a metric that Google uses to gauge the influence of a domain (your website).
You can kind of think of this as an "oomf" metric. How much heavy does your website have to throw around?
Google rankings rely heavily on DA, but Pinterest doesn't use that metric.
Pinterest doesn't measure standard domain authority, so using keyword research tools aimed at Google may mistakenly convince you that you CAN'T rank for certain keywords, when in reality you can.
How To Do Pinterest Keyword Research In 2 Steps
Now that you've cast aside your standard keyword research tools, it's time to dive into the correct way to do this on Pinterest.
Get an even greater sense of what this looks like in this video. If you find video content helpful, give it a like or a subscribe and I'll keep making more!
Step 1: Common Sense Keywords
Pinterest keyword research is the process of thinking about what words people will type in and search that should lead them to your content.
Keywords are not the place to be cute. Don't describe a frozen virgin margarita as a grandma-approved frozen marg recipe. No one will type that into the search bar, which means it's not an effective keyword.
More likely keywords are:
virgin frozen margarita recipe
non-alcoholic frozen margarita recipe
healthy raspberry mocktail
This example is a recipe for one of my Pinterest management clients, and the pin description I went with is:
You will love this virgin frozen margarita recipe. Choosing a non-alcoholic frozen margarita recipe is brilliant because everyone can enjoy it, from kids to individuals who live a sober lifestyle. This is a healthy raspberry mocktail recipe that everyone will love!
Don't move on from this step in your Pinterest keyword research without asking yourself: what would I search if I wanted to find this?
Remember To Find Keyword Synonyms
I can't stress the importance of finding synonyms for your keywords.
Let's look at another example. One of my Pinterest management clients writes about the digital nomad lifestyle. They have a blog post on "the things no one tells you about the digital nomad lifestyle."
The pins are optimized for all search terms related to digital nomad lifestyle – tips, ideas, etc. In addition to the term "digital nomad lifestyle," what are synonyms that a person might use?
Laptop lifestyle
Work from anywhere
Nomad lifestyle
A pin description needs to cover all of these bases. And if you search "laptop lifestyle tips," the very first pin is theirs! Even though it wasn't the blog post's keyword.
Do keywords, in general, have you stumped? I have a guide and checklist that will make it *all* clear: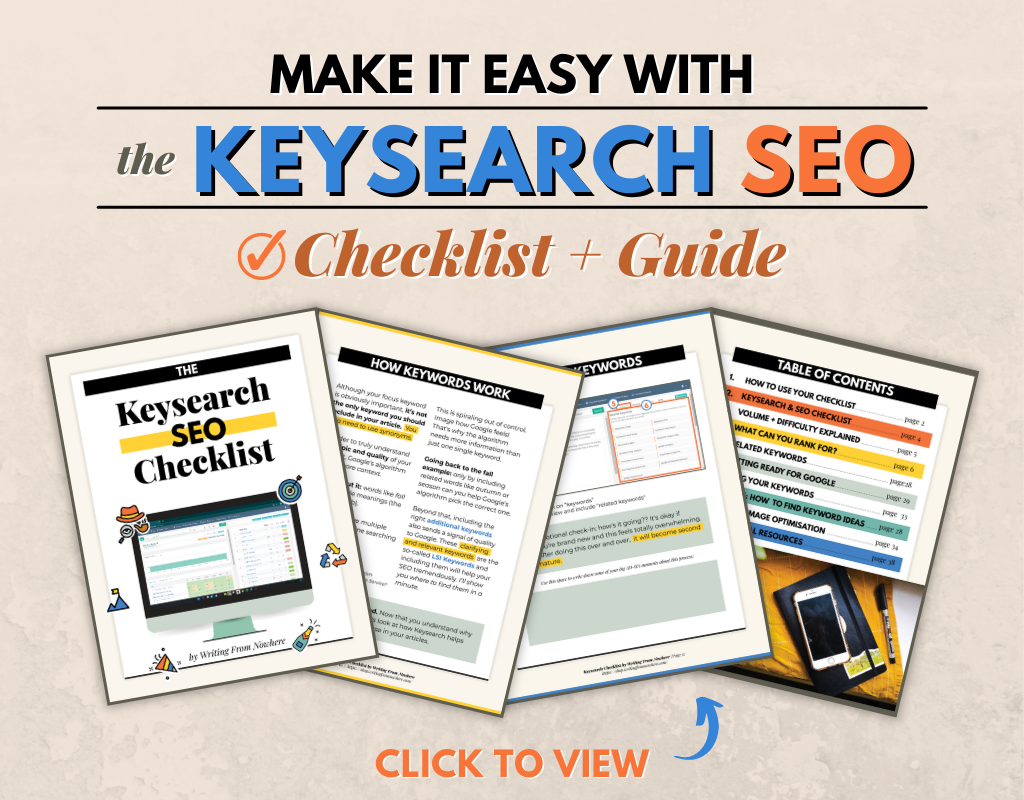 Step 2: Umbrella Terms
Umbrella terms are broader search terms that don't explicitly relate to your pin, but for which your pin still makes sense.
Wait – did THAT make sense?
Let's talk through some examples.
| | |
| --- | --- |
| Blog Post | Umbrella Term |
| Strawberry alcohol-free champagne recipe | Girl baby shower beverage ideas |
| How to sail the world for free | Cheap flight-free travel alternatives |
| How to do Pinterest keyword research | Pinterest marketing tips for beginners |
See how those blog posts all deliver on the umbrella terms? Don't focus your pin optimization on umbrella terms, but do include them!
Umbrella terms are only effective when they directly relate to the pin. No clickbait here!
Things To Remember When Doing Your Keyword Research
Like all keyword research, there are a few important things to remember.
1. It's called keyword RESEARCH for a reason, my friend. Don't do this off of the top of your head! You risk getting pin descriptions like these:
2. Specific is good. The shorter the keyword, generally speaking, the more competitive it is. Think of the difficulty to rank for the search term "dinner recipes," versus "easy vegan dinner recipes."
3. It takes time to rank. An account that's optimized correctly will help your content be shown to pinners more quickly, but ranking will just take time.
4. Don't upload multiple pins targeting the same keywords. Uploading multiple pins pointing to the same keywords is a waste. Upload each pin this way so you can reach your traffic potential.
Pinterest Keyword Research Final Thoughts
Is this different from the Pinterest keyword research that you normally do? I'd love to hear your technique in the comments!
There are tools, Chrome extensions, spreadsheets, etc. that you'll see thrown around in Pinterest keyword research forums. They might have something interesting to say, but the most valuable Pinterest keyword research tool you have is common sense.
Think of your pin from the pinner perspective and help. them. find. your. content!!
Rooting for you always. Hugs,
Kayla