/
Audit Your Pinterest Account And Strategy Like A Pro
*This post may contain affiliate links, which means I may receive a small commission, at no cost to you, if you make a purchase through a link.*
Last Updated on February 4, 2023 by Bert-Jan Schilthuis-Ihrig
If you're using Pinterest for marketing, then it's probably time for a Pinterest audit.
How can I be so sure? Because Pinterest changes constantly.
You just wake up one day and there's a new setting or profile section and your account is suddenly out of date. womp-womp
It even happens to me – a Pinterest marketer, Pinterest manager (for other brands) and writer (for publications like GoDaddy).
That's because Pinterest updates don't arrive with trumpets and fanfare.
They're usually quiet tweaks to business account settings or best practices.
Translation: it's not your fault when your account gets outdated.
But it is the responsibility of everyone pursuing Pinterest marketing to audit their account and strategy to avoid wasting their time and energy.
Time to ditch the skinny jeans (metaphorically – they'll have to pull my skinnies from my cold dead feet) and bring your account into the year 2023.
So what exactly are you looking to do?
What is a Pinterest audit?
A Pinterest audit is a decisive look at your Pinterest profile AND strategy. You can complete an audit yourself, or it can be done for you by a Pinterest marketing pro.
Effective Pinterest audits answer questions like…
Have I completed all account settings (including new options)?
Are my pin designs current, relevant and effective?
Is my profile complete and optimized?
Am I missing any opportunities?
Is my strategy current?
I'll share the exact steps to audit your own Pinterest account shortly, but first you have to decide if you need one right now.
Do you need a Pinterest audit?
Answer these questions to see if you need a Pinterest account audit:
Q: Are you confident that your Pinterest strategy is up to date?
If the answer isn't a confident yes, then you need a Pinterest audit.
One of my one-on-one audit clients felt that her strategy was stale and no longer working well. I audited her account and strategy and she sent me this screenshot of her Pinterest analysis after implementation:
Q: Have you NOT updated your strategy and account settings since 2020?
If your account and strategy haven't been updated since 2020, then you need a Pinterest audit. Pinterest went through MASSIVE changes in 2020 (Pinterest themselves described it as "the start of a new Pinterest" at their 2020 creator festival) and every account that hasn't been updated will have some holes.
Q: Do you feel confused about how Pinterest works for marketing?
If you're unsure about Pinterest marketing in general and have a lot of questions, an audit is not for you. A Pinterest audit will likely cause more confusion than clarity, and a Pinterest course that takes you from zero to effectively executing a strategy is going to be a much better investment. I recommend Pinterest Popular by Nadalie Bardo.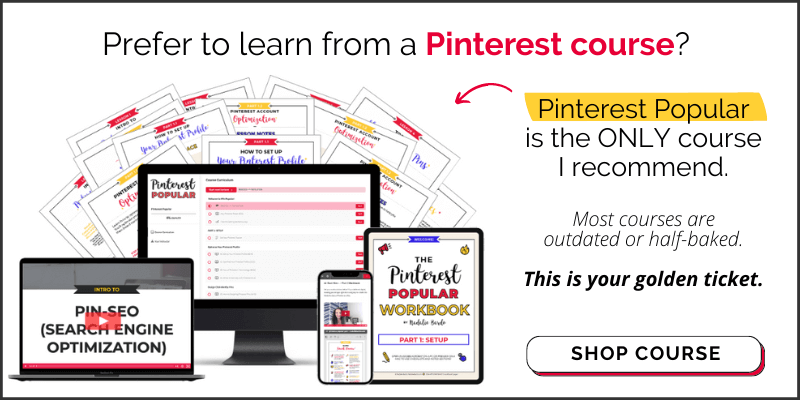 Once you've decided if an account audit is right for you, it's time to decide whether you need a free or paid one (and how to know what to choose).
You may also like: 30 Pinterest Marketing Ideas
Should you do a SELF Pinterest account audit or hire a pro?
There is no shortage of Pinterest account audits online, but how can you tell what level of help is right for you?
DIY Pinterest Audit
A DIY Pinterest audit is best for you if the following apply:
You feel like you understand Pinterest and just need a refresher on what's current
There's already a Pinterest marketing professional working for your brand
Your Pinterest account is performing well and you're just looking for missed opportunities
Does a self-audit feel right for you? You and I will walk through all of the steps in a minute.
Simple Pinterest audit process! #Pinterestmarketing #blogging
Click To Tweet
Do you want someone who eats, sleeps and breathes Pinterest to complete an audit for you? *raises hand*
An expert Pinterest account audit is best for you if these apply:
You've done everything you can think of and still can't get traction
Your account did work well but now it's flatlining and needs to be resuscitated
Whoever set up your account (yourself, a previous marketing team member) wasn't specialized in Pinterest
You hired a random VA to do some Pinterest work for you and you don't know if it's done correctly (very common)
Your Pinterest account is a fixer-upper covered in rust and dust (no judgment)
I'm dying to audit your Pinterest account and strategy. *cracks knuckles*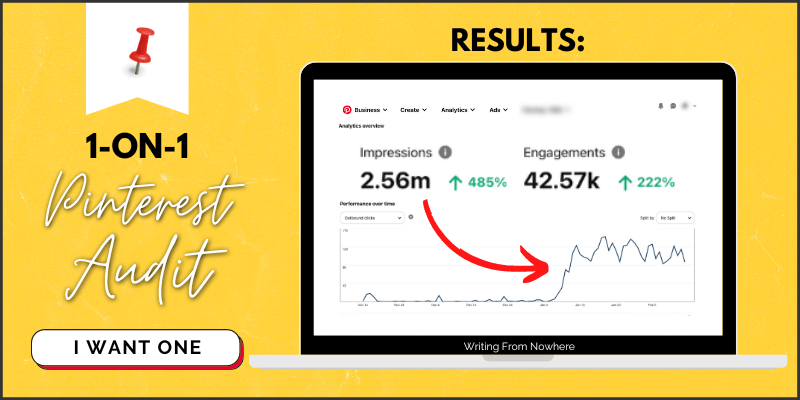 Whatever you choose, a quick word of warning as you pursue Pinterest marketing enlightenment…
You may also like: How To Use Pinterest
Beware Of Pinterest "Hacks"
Whether it's paid OR free, never follow a Pinterest account audit without checking the account of the person who's offering it. Is their account still active? Have they published a lot of pins? Is the strategy that they're preaching working for their own account?
Real talk: there's a LOT of bad Pinterest advice online. And it's not just free advice either. The bad advice ranges from TikTok tips that violate Pinterest's terms all the way to paid courses that are so thin or out of date that they don't amount to anything.
I've been a creator on Pinterest since 2018. On top of my own account, I'm a Pinterest manager and manage accounts for clients across niches.
It wouldn't be fair to tell you to check people out without showing you my money, either.
All of the Pinterest advice I share is backed up. From account setup to Pinterest SEO to getting Pinterest followers, I only share advice that keeps your account in good standing with Pinterest.
There are a lot of marketing "hacks" and quick fixes that do more harm than good, and risk getting your Pinterest account suspended or flagged as spam.
Okay enough soft stuff, time for the rubber to hit the road – let's go!
How To Get Your Pinterest Keywords
Get an entire keyword bank made for you in a Pinterest audit.
Auditing your Pinterest account all starts with using the right keywords.
Keywords are the terms that people search for, like "travel inspiration," "vegetarian dinner ideas" and "short haircuts." Using keywords on Pinterest helps your profile and pins get discovered by users.
Keywords get used in places like your…
Account bio
Board names
Board descriptions
Pin descriptions
To make your Pinterest marketing as quick and effective as possible, every Pinterest creator should have a bank of keywords to pull from.
Fun fact: these keywords change, because users' interests change! New trends and search terms arise. You should update your keyword bank every 6 months.
Find your keywords in these places:
Pin Inspector is a paid Pinterest keyword research software that scrapes keywords from Pinterest for you. Not only is the work done for you, it also pulls WAY more keywords than you get using the search bar.
You may also like: How To Get In Touch With Pinterest Support
How to harvest keywords:
Choose a root keyword, and then enter it into the Pinterest search bar, ads selector or

Pin Inspector

In the beginning, stick to umbrella keywords. What's the big picture of your brand? What do you help with? Here are some examples:

Blogging for beginners
Vegan living
Alcohol-free lifestyle
Travel more
Study abroad tips
Here's an example from the search "dog" on Pin Inspector. I've entered the main keyword into Pin Inspector, and now you see all of the populated long-tail keywords:
Now, you should copy and paste every single keyword that applies to your brand.
Store these in a Google Sheet and use them to optimize your account today AND optimize your pins every time that you publish.
Not ready to make a paid investment in your Pinterest marketing? Here's a rundown of how to do free Pinterest keyword research:
Action item: Complete these steps for 10 search terms. This will give you a robust keyword bank, and we'll use these keywords throughout the rest of your account audit.
Dive deeper into this process in my Pinterest keyword research guide.
Audit Your Pinterest Profile
When I say "Pinterest account," I'm referring to your profile page on Pinterest. It's located at Pinterest(.)com/YourHandle, and you can navigate there by clicking your profile picture in the upper right-hand corner of Pinterest.
How your Pinterest account is set up, to an extent, determines how widely your pins are distributed on Pinterest.
For example, if you don't have a claimed website on Pinterest, your pins won't get as many impressions. And if you're missing keywords, then you won't show up in as many searches.
Here's your checklist to audit your Pinterest account:
You may also like: How To Share Content From Instagram To Pinterest
Claimed Website
If you're publishing pins leading back to your website (which 95% of users are)*. It's important to have a claimed website.
*An exception to this is people only publishing idea pins, who might not have a website at all.
A claimed website proves to Pinterest that you own the site and have access.
Important note: Sometimes Pinterest glitches unclaim a previously claimed website, without you even noticing. Everyone needs to check this step, even if you're positive that you claimed it in the past.
I expand on this more in my Pinterest troubleshooting guide.
You can tell if your website is claimed by looking for the icon on your profile:
If this icon is missing, your website is unclaimed. Follow Pinterest's guide to getting it claimed.
Pinterest audit FAQ: What about claiming social media accounts? Pinterest took away the ability to claim social media accounts in 2021 and 2022. You can no longer claim Instagram, YouTube or Etsy accounts on your Pinterest profile.
Action item: Check that your website is claimed on Pinterest.
Account Cover Photo
Your account cover should welcome users to your brand and make it clear what you have to offer.
Important update: Pinterest no longer supports a collage of your pins (this was the norm for many years) or video covers. If you had one of these as your account cover, then your cover is now blank and you need to upload an image.
Consider these ideas for your Pinterest cover image:
Display a freebie you offer
Share a version of your "I help" statement
Include your brand name and your primary keyword
Action item: Ensure that your account cover helps users understand what content you offer. Test on both mobile and desktop to make sure it's readable.
Account Profile Picture
The profile picture that you select on Pinterest will be displayed all over the app. It should help users feel connected to you and increase the odds of them following your content.
Pinterest is a search engine, but most people assume it's a social media platform. Lean into that by being sociable with your profile picture.
If possible for your brand, avoid profile pictures like:
Full-body photos where users can't see your face
Group photos
Logo
Connect with users more by letting them see your face.
Action item: Select a profile picture that helps users connect with you.
Account Name
Exact recommendations included in a Pinterest audit.
The name section of your Pinterest account isn't actually for YOUR name, it's for your brand name.
Important update: As of 2022, you can no longer add keywords in your account name. If you currently have keywords in your name section then they can stay, but if you try to edit them you'll get the message "this section is only for your name" and you can't update it.
What should your brand name include then?
Whatever name people are most likely to search for. For example, no one would ever search for my full name "Kayla Schilthuis-Ihrig" on Pinterest. No one can spell that, so anyone looking for my content is more likely to search my brand name "Writing From Nowhere."
Use your best judgment to select what you think most people will search for.
Action item: Check that your account name is your primary name.
Profile Description
I'll write this for you in your Pinterest audit.
Remember your keyword bank? Pull it out – you're going to need it for your account description.
Your account description should welcome users to your brand and make it clear what you have to offer them.
It's ALSO a place to include keywords to let the Pinterest algorithm know what your content is about.
Important update: As of 2022, you can now add up to 500 characters in your about section. Use this space to add more keywords!
Here's an example from my account (keywords are bolded).
Hi, I'm Kayla! I help bloggers and marketers get more website traffic from Google and Pinterest. Follow for blogging tips for beginners, SEO tips and Pinterest marketing help. Together let's make blog traffic easy.
You can use this as a template:
Hi, I'm YOUR NAME! I help TARGET AUDIENCE [achieve] RESULT. Follow for KEYWORD, KEYWORD and KEYWORD. CALL TO ACTION.
Action item: Write a description that introduces yourself, shares your offer and includes keywords.
Pinterest Boards
You get 10 optimized board names and descriptions written for you in a Pinterest audit.
Did you know that your Pinterest boards are a part of your Pinterest SEO?!
Here's how it works:
Every time you (or a user) saves a pin to a certain board, Pinterest learns more about it based on board name and description
Imagine you publish a mashed potato recipe. By saving it to the board's side dishes, autumn recipes and Thanksgiving planning, the algorithm is learning when this pin is applicable.
That means that effective boards need:
Clear names. Names should always be a keyword and to the point
Board descriptions. Board descriptions should be a few sentences using related keywords to your root keyword.
Here's an example using the board "biking Europe:"
Make sure that your boards are:
On-brand. If you have any boards that are only for your personal use, toggle them to "secret" so that users don't get distracted by your tattoo ideas or dinner recipes vault.
In order of relevance. Order your boards from most important to least important. Users will use your boards to help decide if your content can help them or not. Make it easy for them to say yes.
Action item: Check that your boards are all currently on-brand, have keywords in the name and have SEOed descriptions.
Audit Your Pin Descriptions
You get exact feedback on your pin SEO plus my pin description templates ($27) in a Pinterest audit.
Pin descriptions are the meat and potatoes of Pinterest SEO. Without effective pin descriptions, your pins won't be shown in searches, and they may very well cause your account to be flagged as spam.
Here's what NOT to do with your pin descriptions.
You may also like: Where To SHARE Your Pinterest Account
What Not To Do
Over the years, some old description practices included:
Keyword stuffing. Instead of writing sentences, you could just list all of your keywords (example: Pinterest marketing | Pinterest business account | Pinterest tips)
Hashtags. Hashtags are old news. For a few years now, creators have been speculating that hashtags were being phased out, and Pinterest made it official in 2022 in their creative best practices
Repeating identical pin descriptions. It's okay (recommended, actually) to

publish multiple pins for the same URL

, but you have to tweak your pin description and title slightly so it's not an identical copy-paste
Note that all of these used to be okay on Pinterest. This is why it's so important to audit your Pinterest strategy regularly (*cough* save this post for later).
If you've been using these old practices, you don't have to delete your old pins but you do need to stop right away and start using the best practices.
For easy pin SEO, use my plug-and-play Pinterest SEO templates: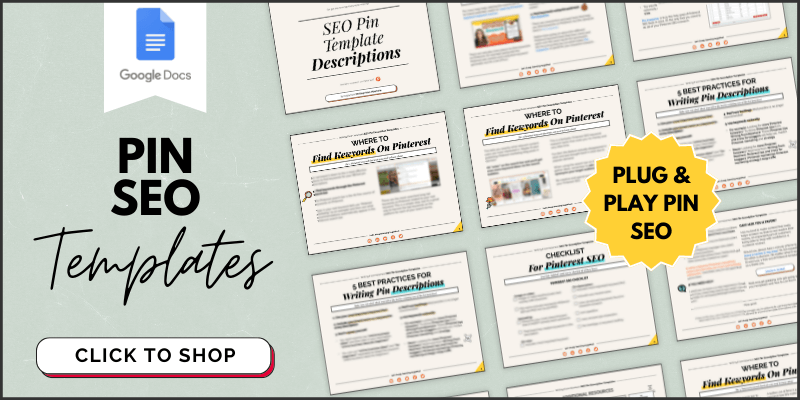 Current Pin SEO Best Practices
The golden rules for pin descriptions include:
Only use full sentences. Use human sentences like: These TOPIC tips and tricks for AUDIENCE will help you master TOPIC and TOPIC.
Use at least 250 characters. This is half of the allowed characters. Don't just fill your descriptions with fluff.
Don't use hashtags. Instead, work your keywords into your sentences naturally
Include your brand name. When someone searches your brand on Pinterest, they should be presented with all of your pins! This is how you make that happen. 
You may also like: How To Write SEO-Friendly Blog Posts
Checking Your Pin Descriptions 
Go to one of your latest pins on Pinterest.
Click to enlarge the pin, and look here to see your pin description:
Review your pin description and make sure that you're meeting current best practices.
I pulled a pin description from a random blogger and am going to audit it with you. I've anomoysed this description so that the blogger can't be identified. No throwing stones here! We're all just trying to learn together.
Original description (keywords are bolded):
I found the absolute best leggings! Read my review and even get a discount code. They are travel-friendly, comfortable, and made from recycled plastic!
This pin description is leaving money on the table in a number of ways. It doesn't include the brand's name. There's only 1 keyword. The language is too vague. It's too short.
Here's my audit of this pin description (keywords are bolded):
Are Lululemon leggings worth it? I've been on a search for the most comfortable leggings and this luxury leggings brand could be the one. Let's dive into this Lululemon leggings review from Brand Name to find out!
Action item: Analyze your 5 most recent pin descriptions. How many keywords were used? Is your brand name included? What keywords are missing?
Audit Your Pinterest Strategy
Get exact feedback tailored to your entire marketing ecosystem in a paid Pinterest audit.
As your audit your Pinterest strategy, keep in mind what Pinterest needs to provide its millions of users to keep them interested: consistent waves of quality new content.
Ask these questions about your Pinterest strategy:
Are you using different types of pins? Static, video and

idea pins

? Accounts should ideally use a combination of different pin types
Are you focused on publishing new content consistently? This should be the priority over re-saving existing pins to new boards.
Do you regularly upload new URLs to Pinterest? Accounts with new content to add to Pinterest will see better results than accounts that are only publishing pins leading back to years-old blog posts
Are you writing NEW descriptions for every single pin? You shouldn't be reusing identical pin descriptions
Audit Your Pin Design
Exact feedback and recommendations are included in a Pinterest audit.
This part of your Pinterest audit is harder than updating your account and pin SEO.
Pin design hasn't changed in black-and-white ways like pin SEO and account settings have. Auditing your pin design is a different beast, but it's just as important.
In order to effectively audit your pin design, you need to have someone else look at it and provide feedback.
Answer these questions:
Is it easy for users to read on both desktop and mobile?
Is the topic immediately clear to the reader?
Are script fonts to a minimum?
Is the most important word bigger than the rest of the text?
Do the images match the content type? (for example, if you're talking about business, including a laptop and not a headshot of you)
To help you achieve the best Pinterest audit results, take these steps:
Ask a few people to look at your pins and give you feedback
Look at what types of pins are ranking in searches and study what they have in common
Examine your past pin designs and audit them
You may also like: Pinterest Versus Google
Final Thoughts
How many points were you missing on your Pinterest account??
Your growth on the platform hinges on your ability to perform routine and successful Pinterest audits. Master these steps and you'll be feeling the rewards for a long time.
Do you love Pinterest marketing? Maybe you should become a Pinterest manager!