/
Pin Inspector Review & Beginner's Guide
*This post may contain affiliate links, which means I may receive a small commission, at no cost to you, if you make a purchase through a link.*
Last Updated on February 24, 2023 by Bert-Jan Schilthuis-Ihrig
Everyone and their mother is recommending Pin Inspector for Pinterest marketing, but is this a tool you'll ACTUALLY use? In this Pin Inspector review and beginner's guide, I'll show you exactly what you get with a purchase of this popular keyword tool so you can decide if it's the right investment for your Pinterest marketing and strategy.
No one wants to waste their time getting attached to another fling. We're looking for the one. And Pin Inspector isn't the first software to toy with our hearts.
Over the years, loads of keyword tools have entered the market making big promises, but were ultimately rendered useless due to algorithm changes.
As a Pinterest manager, I hear wedding bells. Pin Inspector has radically accelerated and improved the results of my Pinterest keyword research (amongst other things that we'll get to in a minute).
So, dearly beloved, let's dive into this Pin Inspector review and look at its most powerful and practical features so you can find out exactly what this keyword tool can offer you.
You can get 20% off of Pin Inspector with the code PIN20. This brings the lifetime cost of this tool down to $47.00.
How Does Pinterest Work?
Despite common misconceptions, Pinterest isn't a social media platform.
Instead, Pinterest is a visual search engine; a place where Pinterest users (called pinners) come and discover new content that's published by creators (you!).
Pinterest And Google
In fact, Pinterest has WAY more in common with Google than it does with Instagram. Like Google, Pinterest is a place where people actively look for specific information.
Creators meet this demand by uploading visual content (pins) with links back to their website. Just as with Google, the aim is to get pinners to click on those links and engage with a specific post or page on your website.
You may also like: Google Versus Pinterest For Website Traffic
Pin SEO
As a result, the process of optimization for Pinterest is very similar to that for other search engines. Pinterest SEO relies on using keywords to explain your content to its algorithm.
Outranking other creators' pins is very much like outranking your competition on Google.
I know I'm beginning to repeat myself here but recognizing Pinterest as a search engine is vitally important in getting your money's worth out of Pin Inspector.
And that's my real goal with this Pin Inspector review. Pin Inspector saves me hours of time, and I want to help you decide if it can do the same for YOU.
Translation: this isn't clickbait for affiliate sales. This is all about helping you get your best Pinterest marketing results.
You may also like: 30 Quick & Easy Pinterest Marketing Ideas
Keyword Research For Pinterest
Pinterest SEO works just like that of Google: it relies on keywords. You can get your pins to rank higher in using them in strategically-chosen places such as your profile, boards, and pin descriptions.
If you're not feeling confident in your SEO game, don't hesitate to get my free optimization guide for Pinterest. 
Just like with Google, the most efficient way of converting an impression into a click is finding the exact words that your audience uses to talk about what they're looking for.
Finding each individual keyword is a time-consuming process though, and it's of the UTMOST importance that you do it correctly every. single. time.
Traditionally, the most reliable way to find keywords was to use the search bar on the main page of Pinterest itself.
You may also like: 18 Ways Get More Pinterest Followers
Finding A Keyword On Pinterest
Let's look at an example of how you can use Pinterest to find keywords. Here's what happens when I use the Pinterest website to type in my thoughts for tonight's dinner, vegetarian chili.
After typing in my main keyword, also known as a seed keyword, Pinterest suggests a list of additional keywords:
They are the related keywords you use to provide further context to Pinterest so it knows when to display your content.
Unfortunately, the best way to use them in your pin descriptions is to manually copy them into a spreadsheet one by one.
But what if I wanted to look for vegan chili? Or maybe, a vegetarian chili recipe? Maybe easy vegetarian chili? Would I have to do that every time?
Sadly, the answer is yes. It's simply a matter of rinse and repeat for every… single… pin.
Want to see this process in action? I made a keyword research tutorial BEFORE Pin Inspector hit the market. You can learn that process here:
If you're a Pinterest manager like myself, it's an even more time-consuming process since I have to create pin descriptions and board descriptions for many Pinterest accounts!
Enter Pin Inspector.
Not sure what to do with your keywords once you've found them? Use my pin SEO templates for plug-and-play Pinterest SEO: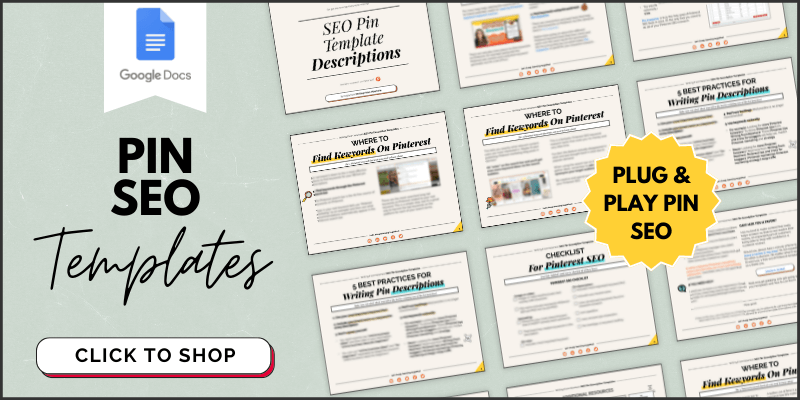 What Is Pin Inspector?
As the name suggests, Pin Inspector is a paid software that's all about hidden data and how to use it to get more traffic from Pinterest.
With this keyword tool, developed by software developer Dave Guindon, you can look at trending searches on Pinterest, use the Pins Analyzer to look at any pin made by any pinner, inspect Pinterest boards of any niche, and so much more!
Both Windows and Mac users will be delighted to see that you can download this software for both Mac OSX and PC.
While Pin Inspector is amazing for Pinterest managers, it's also incredibly useful to boost the traffic you get from Pinterest to your blog or any page on your business website.
While most Pinterest-related tools have disappeared, Pin Inspector Dave seems to be in it for the long haul. The updates and sustained relevance of the tool are what has cemented it as the best Pinterest tool on the market.
You may also like: How To Set Up Your Pinterest Account Correctly
Doing Bulk Keyword Research
Pin Inspector comes with a built-in keyword generator tool that greatly speeds up the process of finding keywords for your niche.
With the amazing keyword generator included in this software, you can quickly find the best-performing keywords and what's currently trending for any given niche.
And it gets even better!
You may also like: Get More Exposure On Your Pinterest Account
Finding Keywords With Pin Inspector
The old way of finding keywords on Pinterest isn't just slow; it also yields a small number of keywords.
To illustrate this point, let's look at what happens when I type in my earlier keyword, vegetarian chili, in our new keyword tool.
Pin Inspector can generate the exact same keywords that Pinterest does but I also get a lot more of them. Instead of a mere handful of keywords, I now have an amazing total of 222 related keywords to choose from.
Obviously, you don't need every keyword that this software can generate. Simply right-click on the ones you want and then copy selected keywords to copy and paste them into your keyword bank.
With these easy-to-make keyword spreadsheets, life as a Pinterest marketer becomes a lot easier. As a Pinterest account manager, I have to create pin descriptions all the time and this tool easily saves me hours.
Honestly, the keyword generator tool alone has made this software an absolute game-changer for my business.
This is why I believe that this software belongs on the download list of bloggers or any business that takes its Pinterest strategy seriously.
And if you're investing at ALL in Pinterest, you might as well do it as effectively as you can, right?
You may also like: How To Avoid The Pinterest Shadowban
Access To Hidden Data For Pinterest Marketing
Sure, Pinterest can get you the odd keyword for free, but that's about as helpful as it gets. Unlike similar tools for Google, Pinterest doesn't give you any of the additional data that's so valuable for your business.
Browse And Scrape
This is another area where Pin Inspector truly stands out. One of the extra features included in this tool is the Browse and Scrape feature. With it, you can now inspect any of the pins in the feed and understand the exact reasons why certain pins are performing well.
Besides the Browse and Scrape feature, Pin Inspector gives you access to hidden data points that are high-value for marketing your business.
You may also like: Pinterest's Visual Ranking Factors
Volume And Difficulty
Dave has published many tutorial videos that show you how to get the most out of this software and each video is worth watching. Check out this video in which Dave explains how to use the software he designed to get free additional data such as volume and difficulty!
Once you download Pin Inspector, you'll be able to use this free data to make informed decisions on things like ads and your overall Pinterest marketing.
But wait, there's more…
A lot more…
Pin Inspector Tutorial
You wouldn't give the name Pin Inspector to a mere keyword research tool, would you? Well, neither would Dave Guindon, the software engineer who created it.
While the keyword research for Pinterest alone makes this worth the investment, Pin Inspector can do a lot more than that!
You may also like: Lazy Backburner Pinterest Marketing Plan
What Does It do?
Pin Inspector enables you to look at what's currently doing well on Pinterest in terms of traffic and indirectly gives you the tools to successfully compete.
To do so, this software comes with 4 main analyzer tools, or tabs, that are all seriously helpful. With them, you can inspect:
Trends: See what's trending and what can get you the most traffic from Pinterest
Pins: Use the analyzer tool to look at an individual pin and see how it's performing
Boards: Take a step back and analyze the performance of any given board
People: Zoom out even further and analyze the Pinterest account of any pinner
Pin Inspector uses a process of ever-widening circles. Each of these tabs is incredibly helpful for both analyzing existing pins and planning your own.
With these tabs, Pin Inspector enables you to do actual keyword research which is especially valuable if you plan to use Pinterest ads for your marketing or to generate some extra money by selling products.
And selling digital products can even be to your benefit on the platform. Become a Verified Merchant and you get a coveted blue checkmark on your account.
Let's briefly look at each of these features and how they fit into your own Pinterest strategy.
You may also like: Pinterest Troubleshooting Guide
The Trends Tool
When do people start planning their holidays? When do Christmas searches really start? Wouldn't it be great if you had access to all of that data?
Well, my friend, you do!
(I mean, technically you already did… Pinterest Trends and all that…)
With Pin Inspector's Trends Tool, you have access to all of this information within the tool itself.
Once you've selected any keywords that are relevant to the pin you want to publish for your post, right-click and feed them into the Trends Tool to see how they've been performing over the last months.
Pick the steadiest keyword to optimize for so your pin keeps converting impressions into clicks all year round.
With the helpful Trends Tool, it's incredibly easy to make sure you maximize traffic to your ads, your best posts or your best new ideas.
You may also like: How NOT To Get Suspended On Pinterest
The Pins Analyzer
Once you've found the top trending keywords for your niche, it's time to get to work and design the pins themselves.
With the pin analyzer, you can get down to the level of the individual pin. This is where you can scrape online data for small bits of information that can give your content a real edge.
Pin Design
The algorithm has a clear preference when it comes to the type of pins that it shows for a given keyword. As an example, I found this when searching for the term blogging tips.
You'll notice that each image has a similar, slightly off-white, background color and even the details on the pins themselves fall within a specific section of the color spectrum.
Given these results, we can see that this is the preferred format for this keyword. Therefore, it's important to use this information when you create your own content.
This is the visual search factor, and it's a sneaky part of the algorithm that 90% of people never notice.
By clicking on the pins tab, you can quickly get a very clear idea of what Pinterest prefers in terms of colors and format (videos or just images?) for a specific keyword.
Gone are the days where you had to uncover the HTML color code in the backend of the website. With the pin analyzer, you can review the most popular colors without going into the source code of every pin.
You may also like: How To Repurpose Your IG Content On Pinterest
Analyze The Competition
By inspecting the optimization of what's ranking already in results, you can come up with ideas for how to out-optimize them.
The pin analyzer gathers a huge amount of data and presents it in multiple columns.
With one click, you get information on:
Pin descriptions
Method of uploading, (scheduler like Tailwind or manual)
Date of publishing
Number of comments
Type (video, static or

idea pin

)
Whether they're original fresh content or repins, etc
With the Pin Analyzer, you can uncover information that you might use to outrank what's currently ranking. Have the pin descriptions been well-optimized? Colors well chosen? Is there room for anything fresh?
This way you can quickly get numerous ideas for ways to outrank what's there.
You may also like: How To Contact Pinterest Support
Analyze Boards
Beyond analyzing pins and trends, Pin Inspector also lets you analyze entire boards.
Let's see what this looks like by analyzing the keyword vegetarian chili.
Here we have an overview of the titles of the most popular boards that contain my keyword.
You can decide to look at the boards in Pin Inspector or click on any of the links to check them out on Pinterest.
Immediately, you can see several interesting characteristics. At a glance you'll know:
How many followers a board has
Whether their titles have been optimized properly
The number of pins that are in it
How many comments it has
When it was last pinned to
One of my favorite things about Pin Inspector is how you can feed the data from any board and into the pin analyzer to take a closer look.
This way, it's super easy to see the makeup of a board (fresh pin vs re-pin), how it's performing in terms of traffic and impressions and even whether it's a video, static or idea pin that does best.
You may also like: 101 Idea Pin Examples
Analyze People
Do you ever wish for a peek behind the curtain of some of the most successful Pinterest accounts? Ever wish you could see how a super-successful pinner handles pinning and re-pinning?
The analyzer tools in this software allow you to look under the hood of a given account and see its inner workings. It's called the People tab.
Let's see how this works by searching for the most popular accounts when it comes to travel tips.
In fact, let's type in Spain travel tips since I'm currently working from the Costa Brava right now.
Immediately, Pin Inspector presents a lot of columns that show some very interesting characteristics of a given account. Just to name a few, you can now see:
The number of followers, impressions, pins and boards
Verified Merchant status?
Claimed domain?
Once again, Pin Inspector allows you to zoom in on any one of these accounts and examine their pinning behavior. Just send their pins to the pins tab!
You may also like: Should You Try Live Video On Pinterest?
Account Audits
When you analyze an account like this, you get an incredible amount of information. Rather than seeing ranking pins by many different creators, Pin Inspector shows you the posts from a single Pinterest user.
By analyzing the data again, you now have information on important stuff like:
Pinning frequency: how often do they pin?
Kinds of pins: Do they create different kinds of pins such as

idea pins

, video pins, etc?
Method of uploading: Are they uploading manually or using a scheduler such as Tailwind?
Makeup of boards: Do they regularly publish fresh pins? Are they repinning?
Believe me when I say that if you're a Pinterest manager like me, this tab alone makes Pin Inspector worth the money. This is a huge asset for doing Pinterest audits.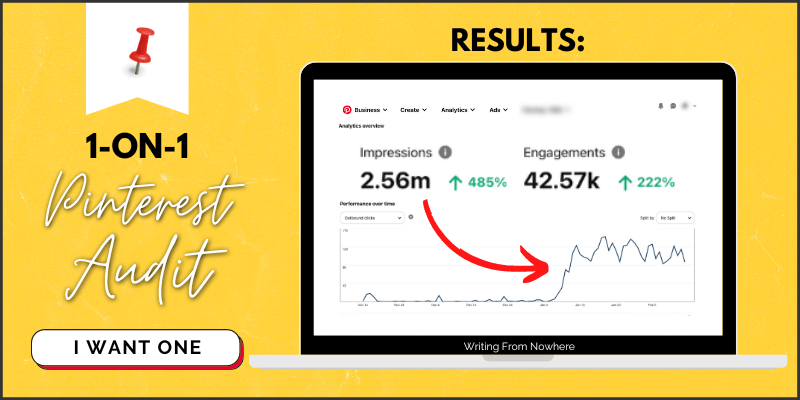 Do your account and strategy need an audit? I can give you feedback, recommendations and a new strategy in 7 days.
Or, use my free audit guide to perform an audit yourself!
Best Pinterest Keyword Tool?
Here we have the question that's really at the heart of this blog post…
Is Pin Inspector worth the money?
You've probably guessed it already but my answer is a resounding YES.
While there are alternative ways to find keywords on Pinterest, Pin Inspector does so much more than that.
This Pinterest keyword tool gives you a clear sense of how you can make your pins rank, allows you to size up your competition which makes it a powerful tool for Pinterest marketing.
If you're interested in increasing your efforts with Pinterest, getting this amazing keyword tool should really be in the no-brainer category.
You may also like: Honest Disadvantages To Pinterest Marketing
Pin Inspector Price
At the time of writing, you can get Pin Inspector for a single payment of $67. This will give you lifelong access to the software.
Are you like me and do you work on multiple devices? Then Pin Inspector has your back. After you purchase it, you can install it 10 times on different laptops or PCs. Great if you're into working while traveling like I am!
Final Thoughts
Is Pin Inspector really as good as people say it is? Given the depth, number of data points, access to Pinterest Trends data and advanced features, YES: Pin Inspector really does live up to the hype.
Nay, even better…
This Pinterest keyword research tool will change the way you're doing Pinterest marketing.