/
My Low-Waste Offbeat Wedding
*This post may contain affiliate links, which means I may receive a small commission, at no cost to you, if you make a purchase through a link.*
Last Updated on November 8, 2022 by Kayla
How To Plan A Low-Waste Offbeat Wedding by Writing From Nowhere
In one week, I say "I do!"
And I keep getting the same questions over and over:

"Arentt you super busy?"
"Is everything done?"
"Are you worried about finishing everything?"
Simply put: nope! There's no big-ticket dress, personalized cocktails or matching shoes. No craziness and (stress) tears. And this isn't because I'm super prepared – it's by design.
When we got engaged, we started asking friends and family about their wedding days. We heard almost the exact same thing over and over:
I hardly remember it.
We picked the best caterer and don't even remember tasting the food.
If we did it all again, we would spend way less money
My partner and I met beside a lake in Guatemala in the shade of volcanoes and coffee trees. We decided to move in together walking through the hills of northern Colombia. He proposed on an airplane between Europe and North America.
None of our big moments were Pinterest-worthy photo opportunities. They were always quiet and surreal. A big expensive wedding feels awkward to us, and out of step with every other piece of our story.
With all of the feedback on people's own wedding experiences in hand, we decided to remove every piece of a standard wedding that we didn't want.
What was left? A unique day that's truly what we want.
What Our Low-Waste Offbeat Wedding HAS
Vows
At sunrise my partner and I are going to the park alone to say our vows.
Family
My family is flying in from the US, and his family lives nearby.
The dress
The dress is my favorite dress I've ever owned. I bought it to wear to a friend's wedding and think it's perfect.
The frosting (hair, makeup and jewelry)
My sister is working her magic with my hair and makeup. I'm wearing my favorite necklace, and borrowing earrings and a brooch from family.
The rings
My engagement and wedding ring were my mother's, and my fiance's ring belonged to his grandfather.
If we hadn't had family rings, we would've found rings thrift shopping.
Good food
We're having a potluck dinner at our home for our immediate families after signing the papers at the courthouse. Our apartment is about 400sf (or 38sm), so dinner will be cozy and intimate.
Extra chairs, plates and cutlery are all being borrowed from family. Champagne glasses were a challenge for us to borrow, so we purchased them second hand (all for about $2!).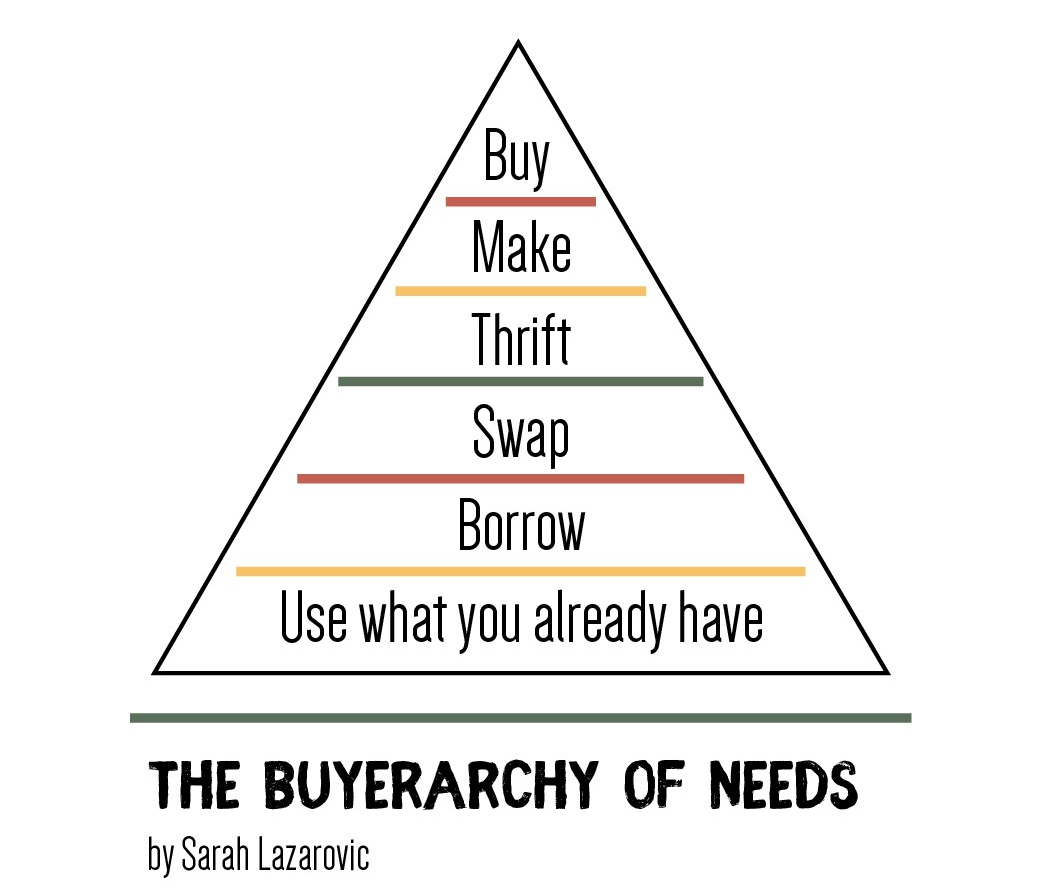 Wedding cake
Our cake will be made by my soon-to-be sister-in-law. She's the cake boss in our family, so we gave her full creative reign and will be totally surprised to see the cake.
A party
After dinner, we've reserved the upstairs at one of our favorite bars where we'll celebrate with friends and extended family.
What our Low-Waste Offbeat Wedding DOESN'T Have
Physical invites
You can design digital invites for free online. I used Paperless Post and downloaded the invite and sent it out via text message.
A professional photographer
My sister has a photogenic eye, and a handful of nice photos is enough for us. We don't need a photo album sitting on the coffee table with pictures of our wedding day.
A rehearsal dinner
There's simply nothing to rehearse! We will surely have a dinner (to be honest, I haven't planned it yet, which I love). If the weather is nice, we will probably make dinner at home and take it to eat outside at the park.
Matching dresses or suits
Everyone is wearing whatever feels right to them. Renting or buying secondhand clothes is more sustainable than buying something new.
Single-use anything
This isn't just a reference to plastic (although it's true that there will be no single-use plastic). There will be no items that are purchased with the sole lifespan of our wedding day.
No personalized napkin rings, no centerpieces that will get tossed at the end of the night.
Our Wedding Day
7:00 a.m. Vowels in the park (just us)
8:00 a.m. Go buy fresh bread and fruit for breakfast at the market for brunch
9:00 a.m. Brunch at our apartment with my family
11:00 a.m. Getting ready
1:00 p.m. Coffee and wedding cake at our apartment with our immediate families
3:00 p.m. Signing the papers at city hall
5:30 p.m. Potluck dinner at our apartment
8:00 p.m. Celebrating with extended family and friends at our favorite bar
Are you planning an offbeat wedding? Is this too unconventional for you?