/
Reducing Waste at Cookouts: Your Low-Waste Cookout Packing List
*This post may contain affiliate links, which means I may receive a small commission, at no cost to you, if you make a purchase through a link.*
Last Updated on November 8, 2022 by Kayla
Hip-hip, hooray! Summer is finally upon us. I can already smell the pool chlorine, soy hot dogs on the grill and sparkler smoke. The missing ingredient to your best summer yet: this low-waste cookout packing list.
These low-waste cookout tips can dramatically reduce your footprint, and even better: they're crazy simple.
For all those cookout hosts, I have another blog post for you on how to reduce waste hosting a cooking.
Read now: How To HOST A Sustainable Cookout
Low-Waste Cookout Packing List
The season of cookouts is upon us! In preparation for Memorial Day, I published a guide last week on how to host a sustainable cookout, but attending a cookout and keeping things low-waste is a different ballgame.
We've all attended cookouts with styrofoam as far as the eye can see. Sadly, despite the low cost of buying second hand plates, utensils and cups, or the alternative of biodegradable disposables, styrofoam is still the norm.
A low-waster's golden rule to reducing waste at a cookout: be prepared and refuse disposables.
Low-Waste Cookout Essentials
1. A reusable cup
My favorite travel mug was a Christmas gift I received years ago, and truth be told, when I unwrapped the present I didn't even like it.
It was a gift from a then-boyfriend's mom, and I saw it as a testament to the fact that she really didn't know me at all.
Over time, that ugly cup grew on my cynical heart and it became my go-to travel mug.
Behold, the cup every girl dreams of totting her Starbucks around in: A Tervis Tumbler
Any ole' cup cup from home will do the job for a cookout. If you're arriving by car, I bet there's already a cup rolling around somewhere in your car.
When you pick a cup to replace all disposables, there are two important things to keep in mind:
See what you already have, and make that work if possible. This was my solution with my Christmas mug, and the most sustainable option is to not buy anything new.
If you do go pick something out, make it your new best friend and commit to using it every time. Make sure it fits your needs and works with your lifestyle – that it's leak proof if need be, fits in your car cup holder, etc.
As your low-waste journey continues, you'll continue to find new solutions that best meet your needs. The reusable cup that meets all of my needs these days in the Stojo. Could this be your new best friend?
---
2. Cloth napkin
Honest question: how well do disposable napkins really work?
A liquid spill can easily require 20 or so napkins to clean-up.
Disposable paper towels aren't that effective either, if you really think about it. I think disposable paper towels are a scam, and I'm a huge advocate for going paperless (I have a going-paperless guide for you here if you're curious!).
Carrying a cloth napkin in every bag is one of my all-time favorite low-waste changes. Once you start to carry one, you'll wonder how you ever lived without one.
View this post on Instagram
A cloth napkin is an opportunity to rise above throw-away culture, and use a product that really works. Plus, with a cloth napkin also comes timeless class and sophistication.
You can upcycle old clothing into cloth napkins or buy some secondhand. If you do choose to buy something new, make sure to choose cotton, hemp, bamboo or any other natural fiber instead of polyester, which derives from oil.
---
3. Reusable cutlery
This low-waste cookout tip can be as simple as bringing a set of silverware from your home. Skip The Bag shared this easy-to-make travel cutlery kit. The best part: you probably already have all of the items in your home.
My travel cutlery set is made from bamboo, so that I can take it with me when I fly. Metal cutlery is sometimes (but, oddly enough, not always) confiscated by the TSA. Does anyone reading work for TSA and know why this is?
Bamboo utensils aren't essential for day-to-day use, but are an important item on a sustainable travel packing list (I have more specifically on sustainable travel packing here if you're interested!).
---
4. A real plate
If you're at a cookout at someone's home and you're comfortable enough, you can just go get a real plate to use from the cabinet. This is what I do when a cookout is at a relative or friend's house.
If you don't know the hosts well enough to help yourself to their cabinets, or if the cookout is at a park, then your best solution is to bring a plate from home.
Another option is to use camping cookware. I go further into that down the page under "collapsible bowl."
---
5. Glass jar
An easy alternative to styrofoam bowls is a humble glass jar. It can also serve as your disposable cup replacement if you're not drinking hot beverages.
---
Low-Waste Cookout ~Bonus~ Items
---
6. Containers for taking leftovers home
Bring along a glass jar, bento box, Stasher Bag, etc. for taking home leftovers or organic scraps to compost.
Cloth napkins and dish towels can be handy in transporting food
(is there anything a cloth napkin can't do?).
I bet you already have takeaway containers at home that can do you job, but I'll share with you my favorites in case you're in the market.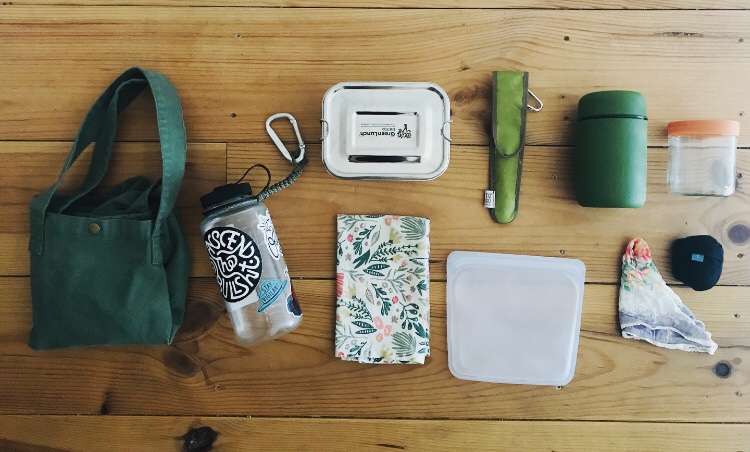 ---
7. Collapsible bowl
If you're a camper, I bet you already have a collapsible bowl on hand in your packing gear that you could take to a cookout.
It's not an essential item, given a glass jar can handle any bowl-like responsibilities, but it's still handy to bring it along if you have one.
The handy thing about a collapsible bowl is that it can also be used as a plate if you don't expand it the whole way.
---
Low-Waste Cookout Summary
I hope these low-waste cookout tips will help you reduce your waste and inspire more conscious consumption as we all enjoy the outdoors this summer! If you share any of your low-waste cookout photos on Instagram, please tag me so I can see! Instagram: @kayla_ih 🙂