/
Low-Waste Cleaning Tools That Cover Your Whole Home
*This post may contain affiliate links, which means I may receive a small commission, at no cost to you, if you make a purchase through a link.*
Last Updated on August 19, 2022 by Kayla
Whether you like it or love it, cleaning is a part of your life. Personally, I love cleaning (don't burn me! I'm not a witch). I think you'll love cleaning a little more too with these low-waste cleaning tools.
What criteria make these low-waste cleaning tools so special?
As a big cleaning fan, but I don't recommend just anything. There's very strict criteria for a cleaning product to become a part of my ride-or-die cleaning squad:
---
A. Minimalist & suited for tiny living
Each of these low-waste cleaning tools has excellent design. You get what you need – no unnecessary bells and useless whistles. No wasted product so that you spend more money on replacements (I'm looking at you, liquid laundry detergent).
I've moved countries once, and will do it again in the future, so when I'm shopping I ask myself a question: will this fit in a suitcase when it's time to move? If I go teach English for a year in Vietnam, will this be able to come with me?
The answer for low-waste cleaning tools is: yes.
---
B. One-time investment (translation: these low-waste cleaning products save you money)
Say you buy a mop that uses disposable mop heads. The upfront cost of that mop may be $30. But if you spend $30 a year on disposable mop head replacements, then the cost of this cleaning investment increases by 100% each year.
Yikes.
The cleaning products that I use have low, or virtually no, upkeep costs. This will save you money, and also shrink your footprint even further.
---
C. Au naturel
Even if we don't come into direct physical contact with chemical cleaners, are bodies are still being affected. I know this because I am plagued with eczema. When I'm in a space that has recently been cleaned with chemicals, I see the skin on the palms of my hands darken. My hands get extra itchy, and it sometimes takes days to go away.
Curious about how safe for the environment and human contact your current cleaners are? See what grade they get from the Environmental Working Group (EWG).
Now onto the [veggie] meat and potatoes..
---
5 Low-Waste Cleaning Tools That Cover Your Whole Home
---
1. For your floors (and beyond): A steam mop
Cleaning doesn't get much more natural than steam. A steam mop gets filled with water, heats up and expels steam out of the head of the mop. The washable mop head cleans the floors, then you take it off and wash it, and repeat.
Steam eliminates 99.9 percent of bacteria and germs. It's safe to use on all sealed hard floors, and requires no hand scrubbing (win!).
A few steam cleaning uses borrowed from The Home Cleaning Lab:
kill weeds naturally
clean tiles and grout
tackle grease and fat around grills and cooking appliances
reach head-to-clean bathroom grime in shower heads, shower doors, faucets, etc.
clean curtains and upholstery
A brief, personal anecdote of my experience with steam cleaning: In 1015, I got scabies. They're similar to bed bugs, but scabies live in both your skin and soft fibers, like beds, couches, etc. Doctors told me to steam my bed every night before I went sleep to kill the scabies and eggs living on the surface of my mattress. That itchy experience sold me on the magic and ease of steam cleaning.
Steam mopping gets an extra gold star in homes with pets or kids: this removes the need for any chemicals on your floors where your human kids and fur kids are crawling.
A multi-function steamer, like this one, can clean:
hard floors
carpets
couches
garments
showers
sinks
countertops
etc.
12 in 1 Steam Mop For Hardwood, Tiles, Vinyl, Carpet & More on Amazon
---
2. For your household surfaces: E-Cloth
E-Cloths are plastic and chemical-free home cleaning cloths. Instead of selecting a cleaner that specifically cleans a part of your home (like sink cleaner, tub cleaner, etc), you get a set of E-Cloths for your whole home and each cloth is made for a specific area.
This low-waste cleaning product reduces waste by removing the need for paper towels bottled chemical cleaner.
The E-Cloth tagline is "perfect cleaning with just water." I am a fan of these cloths and use them to clean my home, but I still think they need a little more than just water.
I use homemade vinegar cleaner with E-cloths (recipe here on Instagram if you're interested in making your own cleaner).
E-Cloth Chemical-Free Home Cleaning Clothes on Amazon
---
3. For your laundry: The EcoEgg
The EcoEgg is the single low-waste living product that I recommend the most. Since I've talked about this so much on Writing From Nowhere, I won't go on too long here.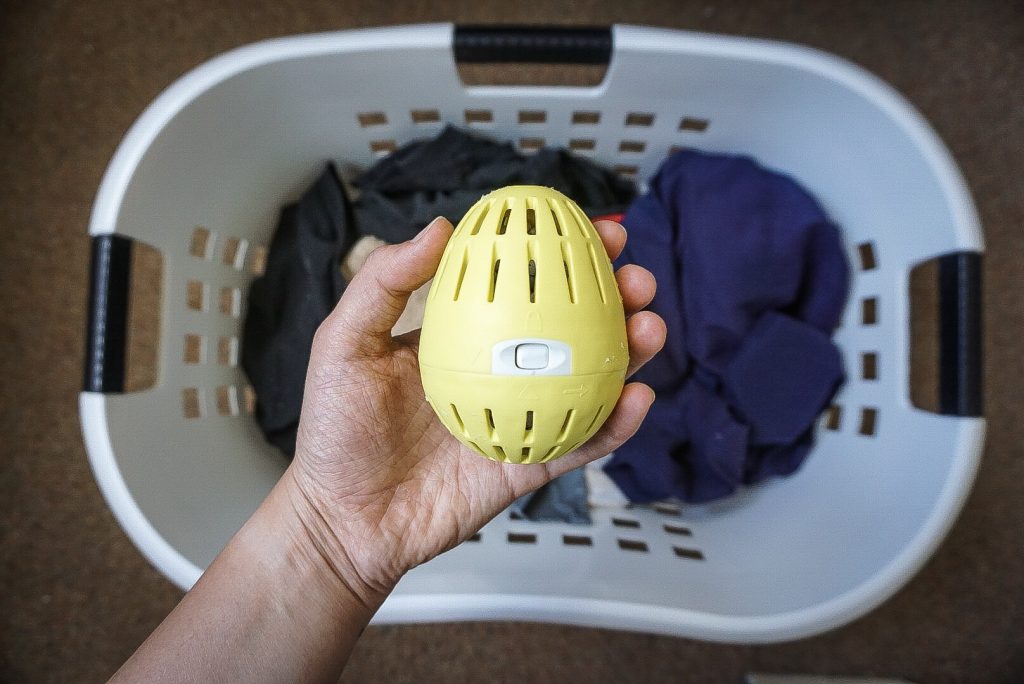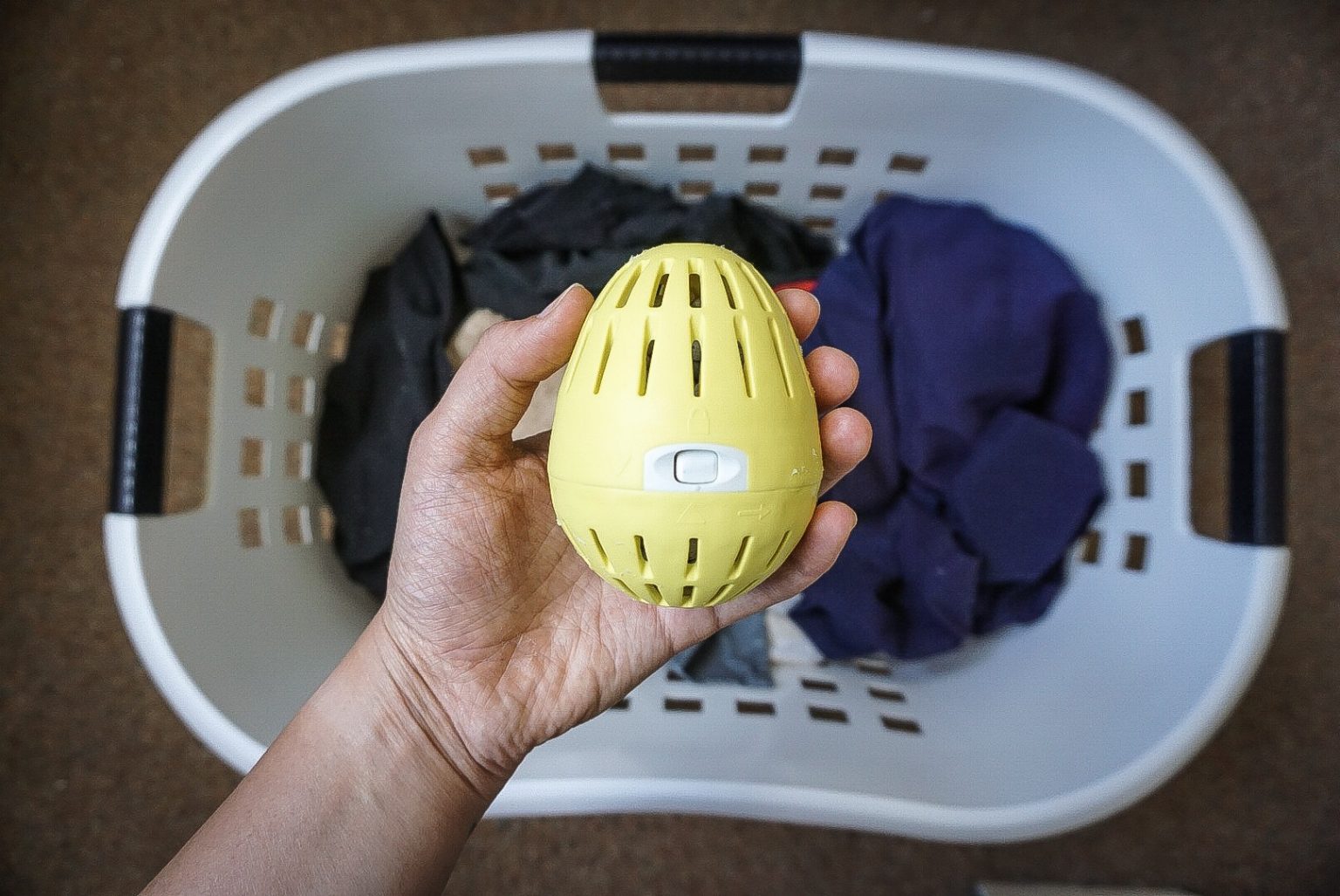 In a nutshell, the EcoEgg is all-natural, low-waste laundry detergent that lasts for years. The hollow egg is filled with mineral pellets that dissolve in the washing machine.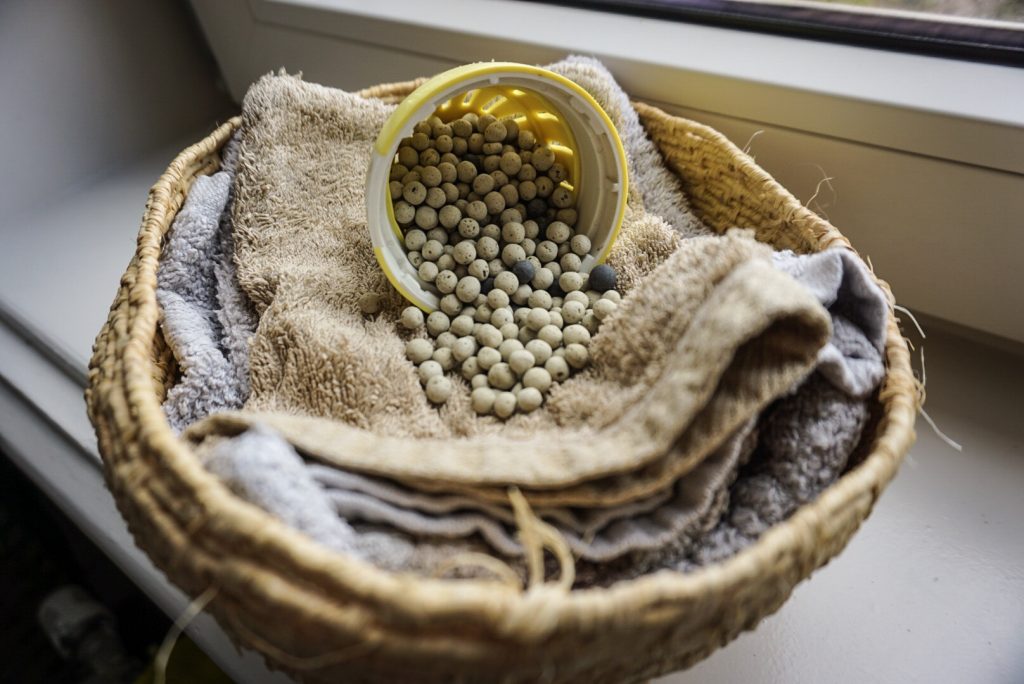 To use, just throw the entire egg into the washing machine. It replaces traditional detergent and fabric softener. For best use, I do recommend pouring vinegar in where you'd usually insert fabric softener. This will get you the best results.
Read entire review here: EcoEgg Review From A Laundry Lover
The EcoEgg is your cleaning friend in every area of your home:
kitchen laundry

: washable paper towels, sponges and napkins

bathroom laundry

: towels and toilet paper (yes, I use washable toilet paper; it's not that weird, I swear 🙃)
typical laundry: your capsule wardrobe (if you're interested in capsule wardrobes, I have a article about capsule wardrobe maintenance here)
---
4. For your too-big-to-wash softs: The sun
I first shared these UV cleaning tips on Instagram and my low-waste spring cleaning blog post. I was overwhelmed with positive messages, and want to reiterate the cleaning power of the sun.
The sun is everyone's handy cleaning assistant. UV cleaning comes with a handful of perks:
free
natural
accessible everywhere
passive (no active work required: just set your stuff out & wait)
UV light fights against dust mites, mold and bacteria, and also freshens fabrics. Translation: your pillows will smell like a blossoming meadow in springtime, or something like that.
---
5. For your whole home: Microfiber dust cloth
Have you ever pondered the question: what is dust? According to Wikipedia, these are just a few substances that dust is comprised of: (source)
human skin cells
pollen
human and animal hairs
minerals from outdoor soil
textile and paper fibers
The existence of dust in your home in unavoidable, but can be simple to manage. My low-waste dusting routine includes going over my entire home once a week with a microfiber dust cloth.
A more common household dusting routine may involve disposable paper towels and a bottle of Pledge furniture spray, but dusting cloths are a more sustainable solution.
Pledge garners a C from the Environmental Working Group (EWG), in reference to health and environmental safety.
A C-rated product is defined as having "some potential for hazards to health or the environment."
Skin is the body's largest organ, and it's porous: absorbs what it comes into contact with. The level or risk associated with chemical cleaners varies, depending on many factors. You can find more information on this from the Center For Disease Control (CDC)
When it comes to my low-waste cleaning tools, I use chemicals as an absolute last resort.
This low-waste dusting routine is faster, chemical free and doesn't have ongoing costs.
Machine Washable Microfiber Cleaning Cloth 5 Pack on Amazon
---
Sustainable Cleaning Summary
Are your favorite low-waste cleaning tools included on this list? Tell me in the comments or on Instagram @kayla_ih – I love hearing from you.