/
Keysearch 101: How To Use Keysearch For Beginners
*This post may contain affiliate links, which means I may receive a small commission, at no cost to you, if you make a purchase through a link.*
Last Updated on February 6, 2023 by Bert-Jan Schilthuis-Ihrig
The early days of starting an online business are spent largely down the Google rabbit hole, desperately trying to get your footing on what needs to be figured out now, what tools need to be paid for and what can wait for later. Rest assured: keyword research is *not* something that can wait for later for an online business, and Keysearch is one of the most important tools you'll purchase.
The side effects of waiting to tackle your SEO really compound. It's not a task that can wait for year 2 of your biz without there being consequences.
In this blog post, you'll learn about your audience's most popular search queries for your niche and what questions they're asking. We will do this by using my favorite keyword research tool: Keysearch.
First, we'll discuss the basics of keyword research, and then we will move onto the advanced features of this incredible research tool.
What Is Keyword Research?
In short, keywords are the words your audience types into search engines. They are also the words that should best describe your content.
Whether you're a blogger or you simply have a website for your online business, it is in your best interest to make sure that your content matches the interest of your audience.
Think of keywords as the bridges that connect your audience's demand to your website. The more keywords, the more bridges built into your site.
Your charge as a creator is to insert these words into strategically-chosen places in your blog post, therefore making your content easier to find. The better you do this, assuming you're providing quality content, the more likely it is for your site to show up on the first page of Google.
So, what should you write about as a new online business?
Being able to anticipate the questions your audience has allows you to provide them with the quality answer they're looking for. This is where keyword research comes in.
What is Keysearch?
Keysearch is both a keyword research and an SEO tool that can help you better optimize your writing and therefore boost your traffic.
The obvious quality that makes Keysearch really stand out is its price. Keysearch will only cost you $17 a month ($13.60 with the discount code KSDISC), which makes it a lot cheaper than its competitors! Like many SEO tools, it offers a one-month free trial.
You can get 20% off of Keysearch and only pay $13.60 per month with the discount code KSDISC.
The Biggest Draws Of This Tool
Keysearch allows you to find out how many people have Googled a particular keyword in the past year. It then displays how this is spread out across the past 12 months.
The timeline is particularly high-value for planning seasonal content. Did you know that gift guides start getting traffic in July? If you want until November for your Christmas content, you're leaving a lot of money on the table.
Additionally, Keysearch indicates how competitive the particular search term is and by implication of how difficult it will be to rank for it. Finding low-competition keywords that at the same time are high-volume is the sweet spot for any beginning blogger.
What You Need To Know Before You Start With Keysearch
Knowing which keywords you have the potential to rank for is vital. If you have to compete with giants like Amazon or Lonely Planet, you probably won't outrank them, no matter how amazing your piece is.
Luckily, Keysearch can give you a clear indication of which keywords you can target. Clicking the explorer button in the top of the screen (and then entering your URL) will take you to the domain analysis page. It gives you heaps of information, but for now, let's just focus on the information in the top left corner: your Domain Strength and the Score To Target.
According to Keysearch, targeting anything with a competition score of 31 or lower is my best bet for ranking on Google. Optimizing for keywords that have a difficulty score far above 31 are not as secure.
The Score To Target is directly tied to your Domain Strength. As you write more, build more links and have more pieces ranking, your Domain Strength will gradually go up, allowing you to compete for the more difficult yet more lucrative keywords.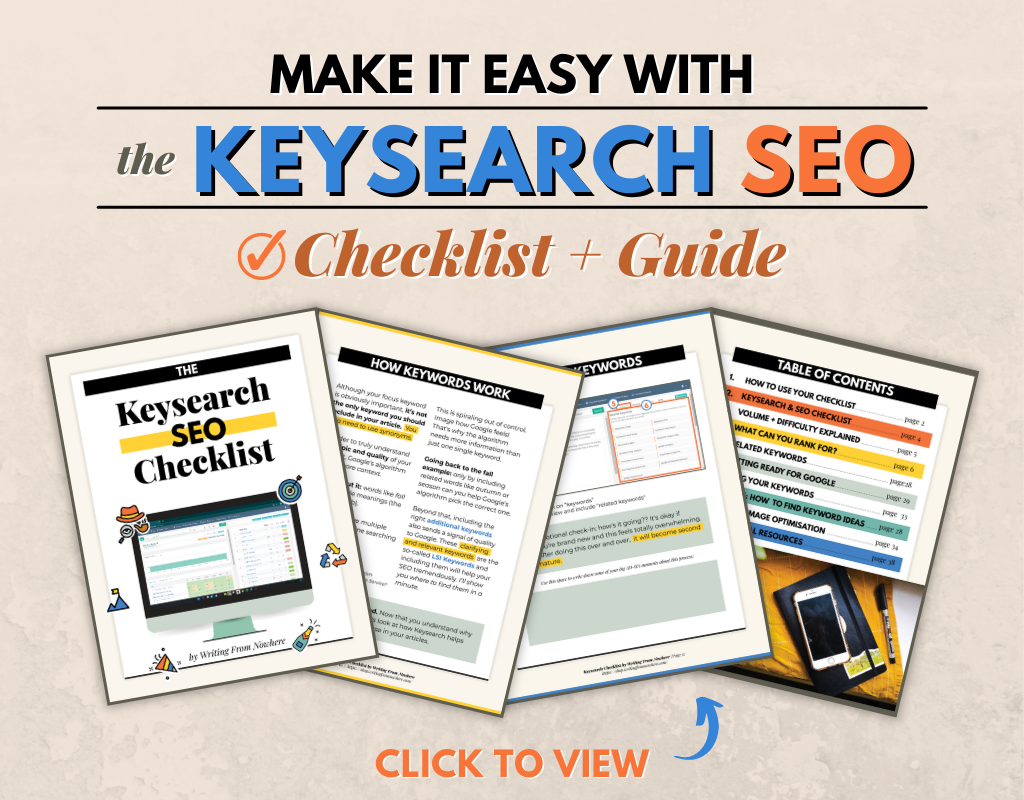 How To Use Keysearch
Now that you know what keyword difficulty score you can rank for, it is time to start thinking about what to write!
When writing and optimizing a blog post, deciding which keywords to target should always be the first step you take. You don't want to write an amazing article only to realize that you can't stack up against the competition and rank for your piece.
If you've already made the mistake of publishing content that you can't rank for, you'll have to drive traffic to that piece through a different source, like Pinterest.
Fewer than 1% of Google searchers will click through to the second page of search results. It is better to be on the first page of Google for low-volume keywords than to be on page 2 for high-volume ones.
Making your keywords longer and more specific allows you to still rank for competitive topics. A steady trickle of traffic to your site for the search "what to do in London in winter with 24 hours" wins out hands-down over a blog post on "things to do in London" that will never rank on google.
Plus, and maybe even most importantly, the traffic you get from ranking for lots of low-volume keywords adds up, my friend.
Finding the right keywords to target can be a time-consuming process. My own method normally consists of a repeating series of 4 steps:
Enter a keyword in Keysearch and check the difficulty*
Check out the Domain Authority of the competition to see if I have any chance of ranking.
Use Google Autocomplete to find the most common extensions to the base keyword.
Feed any result back into Keysearch to find that high volume/low competition sweet spot.
*Keysearch comes with a filter that you can use to set a maximum difficulty. Use it to easily weed out all those terms that have huge volume but are completely out of reach of your brand!
Following these steps will yield a treasure trove of keywords you can write for!
Want to see this in action? Here's my video tutorial:
Once you have decided on a keyword that you can both rank for and write about, it is time to take the next step. This is where Keysearch's Content Assistant will help.
How To Use Keysearch's Content Assistant Feature After You've Chosen Your Keywords
The first important thing that Content Assistant does is to give you a list of recommendations for your content. By analyzing the top results on Google, Keysearch tells you what search engines expect to find in your article.
For example, let's say I wanted to write a blog post on my favorite keyword research tool, 'Keysearch.' A quick analysis of the results has shown me that it falls well within my suggested 31 max difficulty and it has a more than decent search volume.
Looking at the screen, you can see that the average word count on the first page of Google is 2,726. I now know that my post needs to be around 2,700 words in length in order to be competitive.
Another helpful feature can be found in the questions tab (top of the screen). Wouldn't it be great if you knew exactly what people normally want to know when they type in your keywords? Keysearch Content Assistant provides just that!
The question tab at the top of the page gives you an overview of the most popular questions that people have related to your content. As a result, it allows you to provide incredible value to your audience by anticipating their questions and answering them in your blog post.
What Are LSI Keywords And How to Find Them
Google's drive is simple: it's trying to provide searchers with what it deems the best content that is most relevant to their searches. In order to do that, Google seeks to understand the topic of a page by analyzing its content.
Gone are the days where you optimize for a limited number of keywords in order to rank. Nowadays, Google seeks to understand the content of your page by analyzing clusters of words.
Basically, Google crawls the most popular results and comes up with a number of related words that it thinks should occur in similar posts on that particular topic. These related words and phrases are what are known as LSI Keywords.
LSI Keywords are the related phrases that Google expects to find on your page in addition to the ones you chose to optimize for.
The more of them you have on your page, the better your page becomes in the eyes of Google. It is recommended that you try to incorporate as many of these as you can.
In fact, using related keywords is one of the first steps in outranking your competitors on Google.
When you enter something into the Google search box, it offers suggestions in order to make your search more specific. These suggestions are all LSI Keywords
Likewise, you can find a list of LSI Keywords at the bottom of every Google search result page.
Finding LSI Keywords this way obviously yields results. You can type in any keyword and come up with a list of related phrases to include in your content. There seem to be two problems with using Google this way though.
First off, actively having to search for LSI Keywords can be quite the time-consuming activity.
As you can see, the related keywords have a tendency to push your content in a particular direction.
Suggested phrases like 'review', 'Keysearch vs SEMrush' or 'Ahrefs' all point a certain way. They would be very helpful if I were to write a Keysearch review or a comparison of Keysearch with its competitors. However, their usefulness is rather limited if I choose to write a different kind of piece.
Furthermore, keeping track of whether you have used all these words can be quite the hassle. Constantly scanning your article for LSI Keywords is a pain, fair and simple.
However, Content Assistant makes this very simple.
Content Assistant As An SEO Tool
Let's revisit Content Assistant and go back to the main tab. In the bottom-right corner of the screen are the Must Words, or LSI Keywords. As you can see, Keysearch offers a lot more keywords than you would be able to find by using google Autocomplete.
Entering your text in the box on the left allows Keysearch to automatically keep track of which LSI Keywords you have already used. As you can see in the example above, I have typed in three keywords on the left. On the right, every permutation of those keywords has turned blue.
Keysearch For Beginners Final Thoughts
If I could give every new blogger a gift, it would be the gift of learning keyword research. And, 20% off of Keysearch every month, which you can get with the code KSDISC.
As a blogger, you simply cannot be effective without a keyword research tool and Keysearch meets all of your needs while over-delivering for the price.
What keywords will you be targeting first for your business? Go build your bridges.