/
Just In Case Travel Kit List (19 Essentials)
*This post may contain affiliate links, which means I may receive a small commission, at no cost to you, if you make a purchase through a link.*
Last Updated on May 17, 2023 by Bert-Jan Schilthuis-Ihrig
Most of the *ultimate travel packing lists* focus on the fun parts of travel. The bags, the gear; the stuff that's exciting to think about and buy. This travel kit list is full of the other stuff you need to take traveling. Consider this your just in case travel kit that everyone hopes they won't ever need.
But, that doesn't mean it can't be fun! Whether you're backpacking, on a road trip, city-hopping or traveling full-time, these are the essentials for your travel packing checklist.
This emergency travel packing list will help you to be more prepared, resilient and result in a more enjoyable trip. I affectionately call this just in case travel kit my travel "headquarters," and it has saved the day countless times. Pack the items on this travel kit list, and I'm sure it will bail you out, too.
Taking time for travel preparedness isn't just good common sense, but it's also an essential part of being a more sustainable traveler. Being able to repair a buckle or mend a shirt mid-trip will reduce your need to purchase new gear. If you have the means to fix things when they break, you save items from the landfill and also the resources and carbon footprint of buying a new product to replace it.
Extending the life of your gear stops you from having to send your old gear to the landfill, and also saves you money. Being prepared for traveling is a win all around!
This is my personal travel emergency kit list, and you'll probably be able to tell that I love being prepared. If you're thinking about the just-in-case items you need for a trip, use my travel kit list as a guide and take or leave items as they suit you.
Let's get right into the travel essential packing list that will help you be prepared for whatever travel throws at you.
Just In Case Personal Items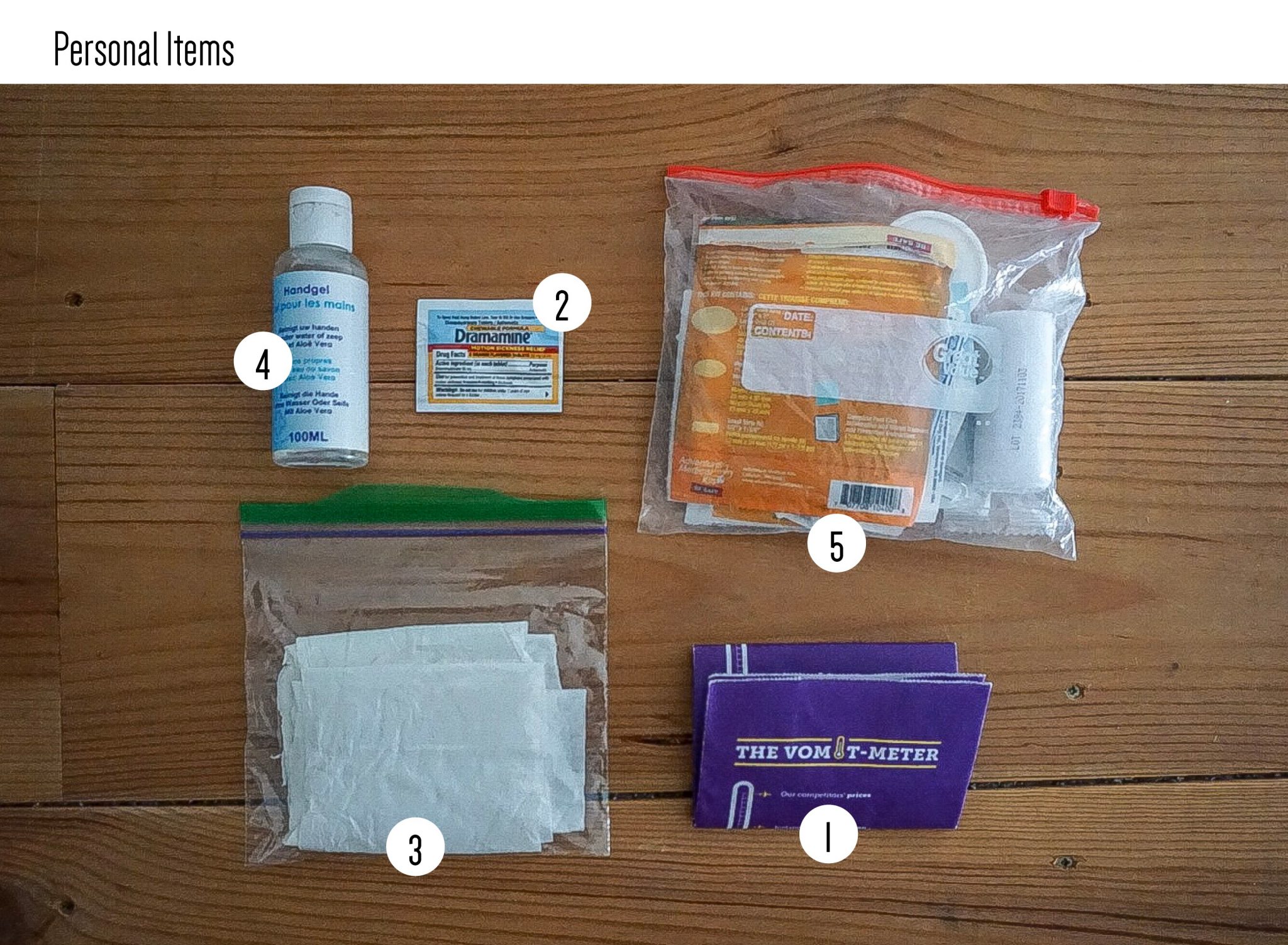 1. Vomit bag
I truly hope you'll never need this vomit bag, but if you feel even a little queasy you'll be so thankful to have on hand. No trip packing list is complete without this.
Just because you've never been motion sick doesn't mean that it will never happen. Personally, I've never been car sick in my entire life, until riding in a van up tiny hairpin roads through high elevation in Peru. The changing altitude got to me, and I've never felt that sick to my stomach in my life.
Remember that food is also a wild card – your stomach may not be used to the cuisine wherever you are, plus not every country has laws around food ("does this taste old to you?").
I met a Canadian man who had been vomited on while traveling – by people he didn't know – twice. TWICE! *shudders* Let's all agree to carry vomit bags so that if we cross paths somewhere in the world, we don't accidentally puke on each other.
Beyond your just in case travel kit, I actually recommend you sneak a vomit big into your messenger bag, bookbag, purse, etc. for daily emergencies. It takes up no space, but if it's needed, it will save the day.
Any paper bag will do. If you'll be flying for your next trip, take some from the plane. Vomit bags should be in the seat-back pockets or you can ask a flight attendant.
2. Dramamine
You need this item in your travel kit list for the same reasons as the vomit bag. Just remember to store it somewhere reachable, not in a bag that you'll be stowing away under the bus, train, or aircraft.
Anyone who is prone to motion sickness pack a bottle in their just in case travel kit. For the rest of us blessedly strong stomachs, just take a few tablets as a backup.
3. Toilet paper
Not all countries provide free toilet paper in bathrooms like a lot of us are used to.
Even in the US, I've seen some pretty ragged rest stops that weren't stocked (I'm looking at you, latrine on the southern border of Arizona that hadn't seen any love in an unseemly amount of time).
When you've gotta go, you've gotta go, toilet paper on hand or not, so be prepared.
If you're going on a long trip, I would take a whole roll (squish it flat and store it in a ziplock bag to keep it clean). For a smaller trip, enough for emergencies should be fine.
4. Hand sanitizer
It's not the norm everywhere to wash hands after using the bathroom. I've seen many bathrooms that don't provide soap or have running water.
If it's your personal norm to do so, then you're going to want hand sanitizer. Start every trip with a travel-size bottle and buy more along the way if you have to.
Also, if you're in the position to spend a little bit more money, choose a cruelty-free and vegan hand sanitizer to make a more conscious purchase.
Vegan, Cruelty-Free, Eco-Friendly Hand Sanitizer on Amazon
5. Liquid IV
It takes constant, intentional effort to stay hydrated when you travel. In my humble opinion, conscious hydration is one of those hidden-gem travel trips that can help you really improve your health and wellbeing. Bring a little help in the form of Liquid IV.
Liquid IV is an electrolyte powder that provides rapid hydration. It contains glucose, sodium and potassium that "delivers water and other key nutrients directly to your bloodstream, hydrating you faster and more efficiently than water alone." (more product specifics can be found here from the company themselves)
This is a miracle powder. Staying intentionally hydrated will make you enjoy traveling more. In particular, this will save you during long-haul bus rides or flights, while hiking, or emergencies like plain old dehydration.
Reflecting on my own travel memories, there are so many times when I know I would've felt better and enjoyed my surroundings more if I hadn't been so dehydrated.
The worst offender was a long bus ride from Lima to Cusco in Peru. It was supposed to be about 18 hours, and usually, buses make stops along the way. This bus, for whatever reason, didn't. And there had been a landslide which required the bus to slow down and carefully drive over the rubble, so instead of 18 hours, this bus ride took 27.
I only had one bottle of water on the trip, and I felt so deeply *wrong* by the time we arrived. I only peed once in 27 hours. Not drinking water or using the bathroom makes you feel terrible and has health implications.
Tuck a few Liquid IVs into your just in case travel kit and you'll be happy you have them.
6. First Aid Kit
There are two types of first aid kits you should have for traveling. The first is a small kit for shorter trips, or for traveling in places where you'll never be far from help. For example, it's probably overkill to pack a splint for just a weekend in Paris, where help could arrive very quickly if an accident were to occur.
I am not a certified first aid expert, so you should consult the American Red Cross's recommendations for further safety information.
First Aid Items For
Short

Trips

What I recommend: take a full first aid kit on long trips, but for a week or less, just take the basics (except for outdoors-focused trips, in which case you should always take a fully loaded first aid kit).

Here are some health-focused items for your travel kit:
Multiple sizes of bandaids

BleedStop

, a powder that you pour into cuts or wounds to stop bleeding

Benadryl

to treat allergies and itches

Moleskin

for blisters

Antibiotic ointment

for treating cuts, burns and reducing the risk of infection

Liquid IV

(for dehydration, diarrhea/food poisoning, etc.)

Wound closures

– this may sound intense, but they're so tiny and they work so well at closing cuts

Small scissors

– for cutting gauze, Moleskin, or (in extreme cases) clothes off
First Aid Items For
Long

Trips

Just so you know: this list does not include every single first aid item you should include on your travel kit list. My kit has more than 100 pieces in it, and this is just covering the highlights. You should refer to the American Red Cross for professional advice. Especially if you'll be in a scenario where help would be delayed (such as on a boat, in the backcountry, etc.).
Surgical mask

– you can buy these in the first aid section of most stores, or even get them for free during flu season. If you're going anywhere with volcanoes or a chance of earthquakes or wildfires, you should take one. Filling your lungs with ash or dust is painful and damaging. Individually-wrapped is best
A

Sam Splint

for stabilizing sprains and bone breaks
A Sharpie for extreme scenarios in the backcountry. In the event that two people are in the backcountry together and one of them incurs a life-threatening injury and is unable to move, their partner may have to leave them to seek out help. A Sharpie is used to write information on the injured person, in the event that they lose consciousness and are discovered by someone else. If you're going into the backcountry, you really must prepare by taking the

American Red Cross Wilderness And Remote First Aid Course

.
Personally, I love first aid and preparedness (am I the only one? Do you also get a kick out of being prepared??). But if this seems like too much work, you can buy a premade safety kit and add any additional pieces yourself to flesh it out.
Pro tip: if you assemble your emergency kit yourself, be sure to opt for travel-size first aid items. It's not as cost-effective, but larger volumes of liquids will become a hassle going through airport security. You can store everything easily in a small toiletry bag.
Just In Case Travel Kit: Practical Items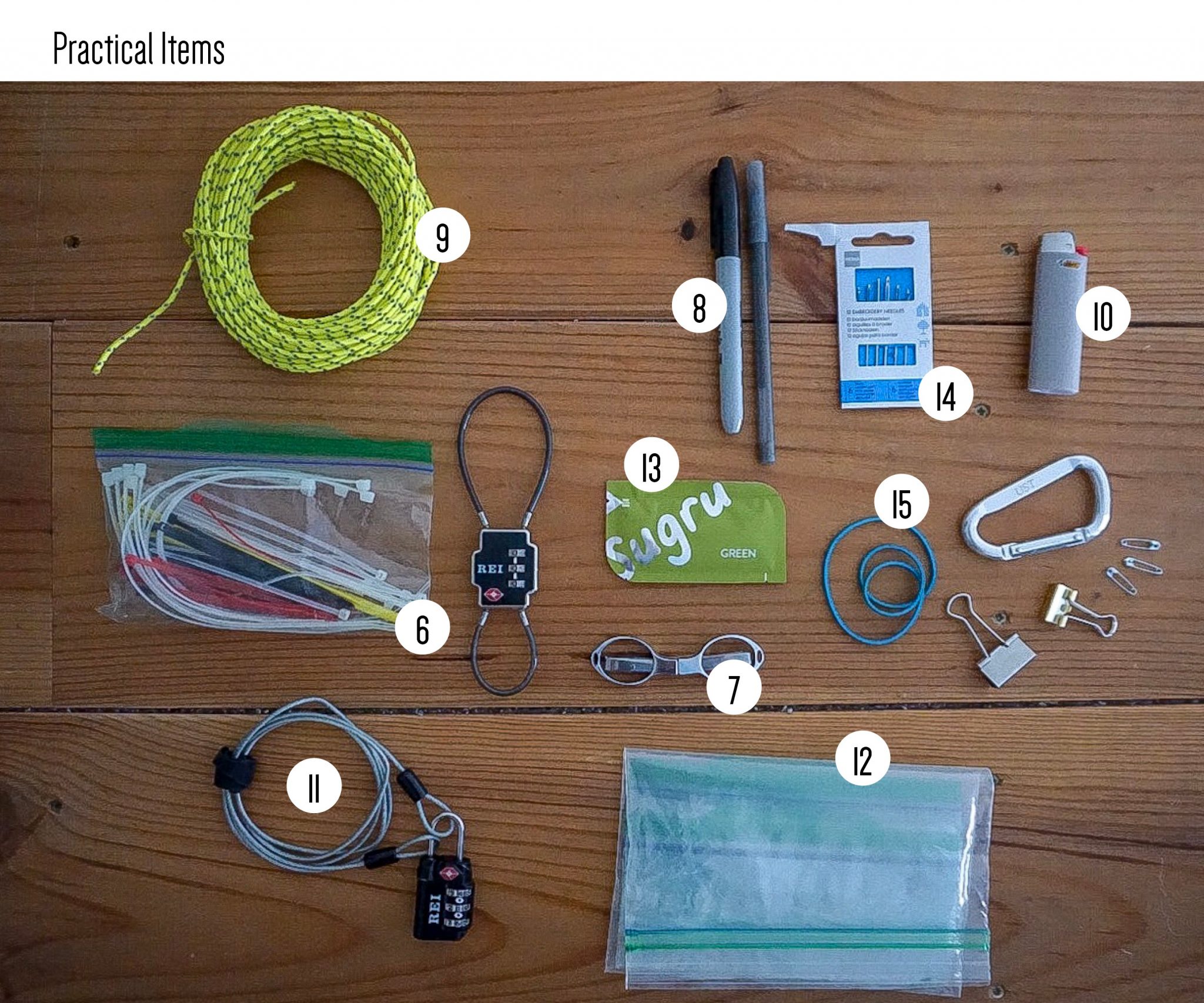 7. Zipties in an assortment of sizes
These are great for MacGyvering broken items.
A zip tie can become a makeshift shoelace, zipper pull, bag handle – you get it. Endlessly handy to have.
8. Small scissors
If you take scissors, you will find yourself using them. It's just one of those things! Personally, I like actual scissors over a pocket knife, but a knife will probably tick this box as well in many situations.
Plus, as I mentioned in #5, scissors are an essential part of a complete first aid kit, useful for cutting clothing, gauze, bandages or Moleskin.
9. Pen and marker
These might be items you don't think you'll need, but if you end up do needing to write something down and don't have anything, you're out of luck.
You'll need a pen to fill out any customs forms if you're going abroad. A marker is handy for labeling your food in a hostel kitchen.
10. Paracord
Paracord is handy in mending broken items, or making something new altogether – I have 2 friends that built a makeshift tent out of tarp and paracord when they couldn't find a hostel for the night. For bonus travel preparedness points, consider bringing a roll of reflective paracord. After a camping snafu where I tied up a bear bag in a tree and then couldn't find it, I now use the reflective paracord to help mark things.
That can be a bear bag, the entrance to the campsite, small items that are easily overlooked and left behind when packing.
When doing a lot of bus travel, it can also be handy to tie reflective paracord to backpack. This makes it easy to spot when unloading a bus in the middle of the night or trying to describe your bag to the person returning luggage.
11. Lighter
Even if you're not a smoker, it's just one of those basics that is good to have. If you do smoke or use a lighter often, consider getting an electric lighter and making it the last lighter you'll ever need.
12. Locks
That's right, locks plural! I recommend taking two locks on every trip.
Combination Lock and Cable
The first lock that you need in your just in case travel kit is a standard combination lock with a cable. Reduce your odds of being robbed by keeping your backpacks together. This is handy if you have to sleep somewhere public (like an airport) or if you, for some reason, have to leave your bags behind.
By tying bags together, you make it much more unlikely that an opportunist will come up and discretely walk off with your bag.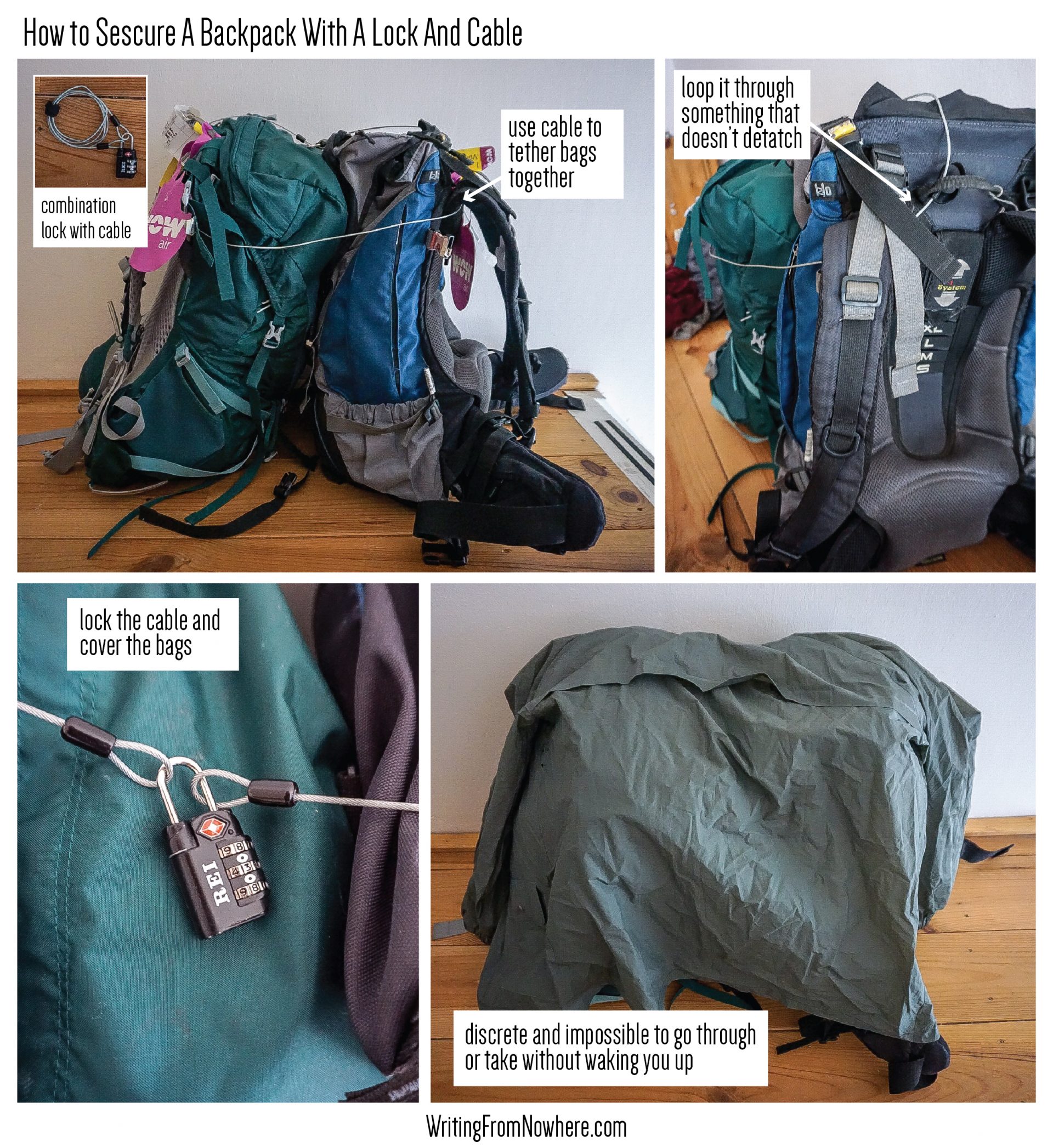 Take a cable lock around both packs, going through zipper pulls or handles to make sure it's actually connected, then put the ends of the cable on the lock and lock it.
Then, throw a raincoat over the top of the packs for discretion.
If someone came over while you were sleeping, just the sound of pulling the jacket off would probably wake you, but there'd be no way to quickly take off with huge packs tethered together.
This may sound intense to some travelers, but I've had my room rummaged through and robbed before so I've made it a habit to be proactive. That's a good quality for anyone who wants to travel long-term.
Double-Sided Cable Lock
The second lock you should always include in your just in case travel kit is a double-sided cable lock.
First, you lock your bag shut so no one can go through it. The cable is flexible, so if your bag doesn't have those luggage pulls with the lock holes in it, you can still get it through.
Next, you lock the longer loop through something else, like your seat or the overhead luggage rack, making it impossible to swipe. With this, no one can rummage through your bag or walk off with it.
With enough time and tools, a thief could still cut your bag, etc. but this is a great deterrence for opportunists.
You can find a double-sided cable lock here. If you'd like more on this topic, I have an entire blog piece on just securing your packs.
13. Ziplock bags in an assortment of sizes
In your day-to-day life, it's best to avoid Ziplock bags because of the plastic epidemic, but they're invaluable when on the road. Take an assortment of sizes.
Some of the best uses: water bag to seal off your electronics during a rainstorm, taking food to-go, "packing out" toilet paper if you're going to the bathroom in the woods, keeping your liquid toiletries separate from everything else in your bag in case something leaks. That list goes on and on.
14. Glue
You don't need anything fancy, just something that could maybe repair a broken plastic piece of your pack or reattach the bottom of your shoe.
It's an unusual travel accessory, but Sugru glue is the glue for the job. It's super versatile: it's flexible, mouldable, waterproof and small to carry with you.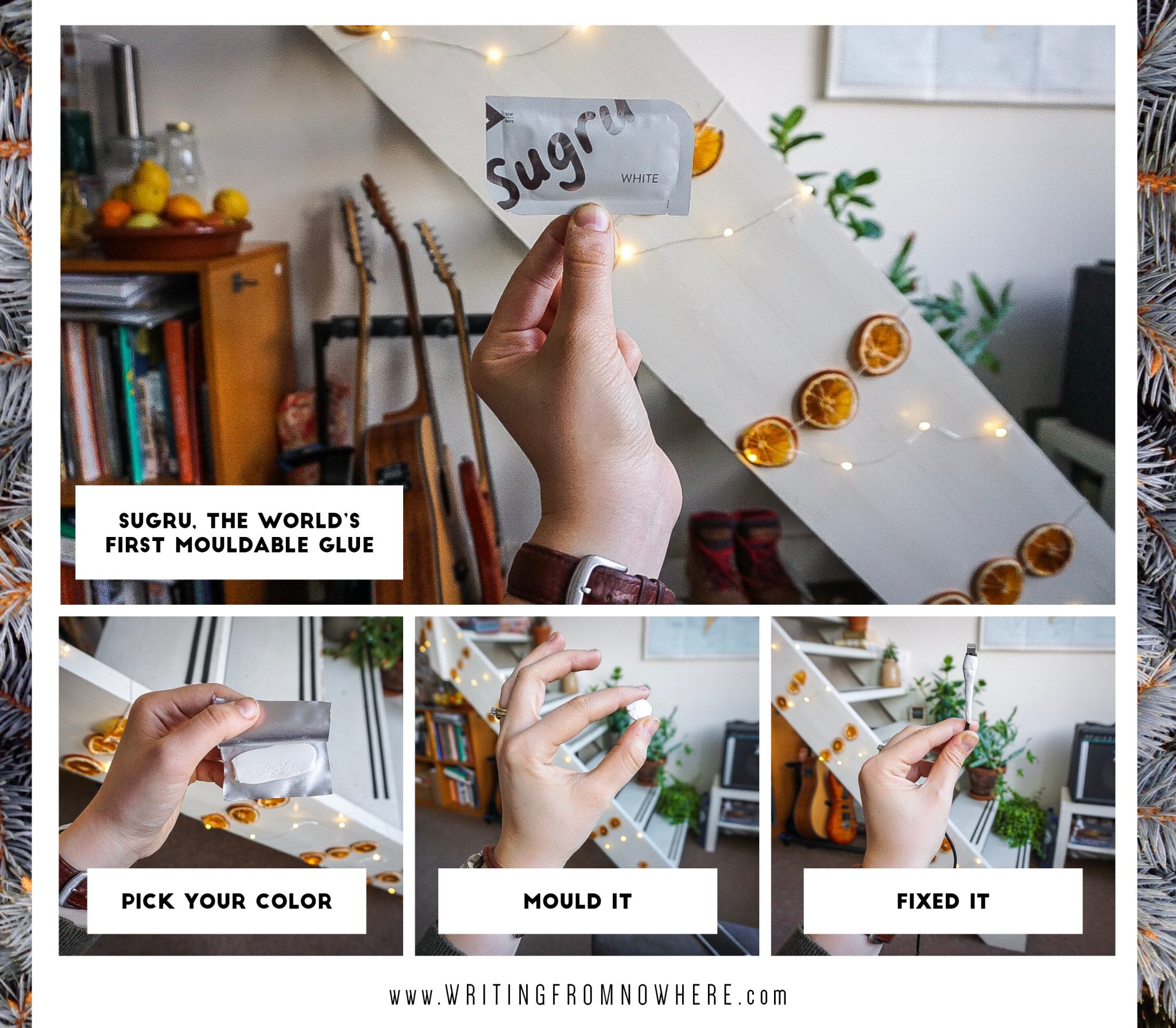 This glue is so amazing that I even included it on my holiday gift guide. Glue is a ~super cool~ gift when it does THIS much!
Sugru All-Purpose Adhesive on Amazon
Pro tip: if you add another type of glue to your travel kit list, be sure to store it in a little Ziplock bag. Sugru is individually wrapped, but a liquid glue that's just in a tube presents a leakage risk. That would be disastrous!
15. Mini sewing kit
This is worth its weight in gold if (when) you a tear in your clothes. You don't need to be a skilled seamstress, just being able to sew up a hole or reattach a button is immensely useful and can save you from needing to buy new clothes.
16. Rain Gear For You And Your Backpack
"What do weathermen and politicians have in common? They both get paid to lie." My grandfather told me that joke probably a thousand times while I was growing up.
There's a lesson to be learned in there though: never rely on the forecast to be accurate.
Your just in case travel kit isn't ready without some rain gear. It doesn't have to be bulky or heavy-duty. My rain suit is essentially just a glorified garbage bag, but it's been keeping me dry for years. I recommend something packable that folds into a little pouch and disappears into your bag until you need it.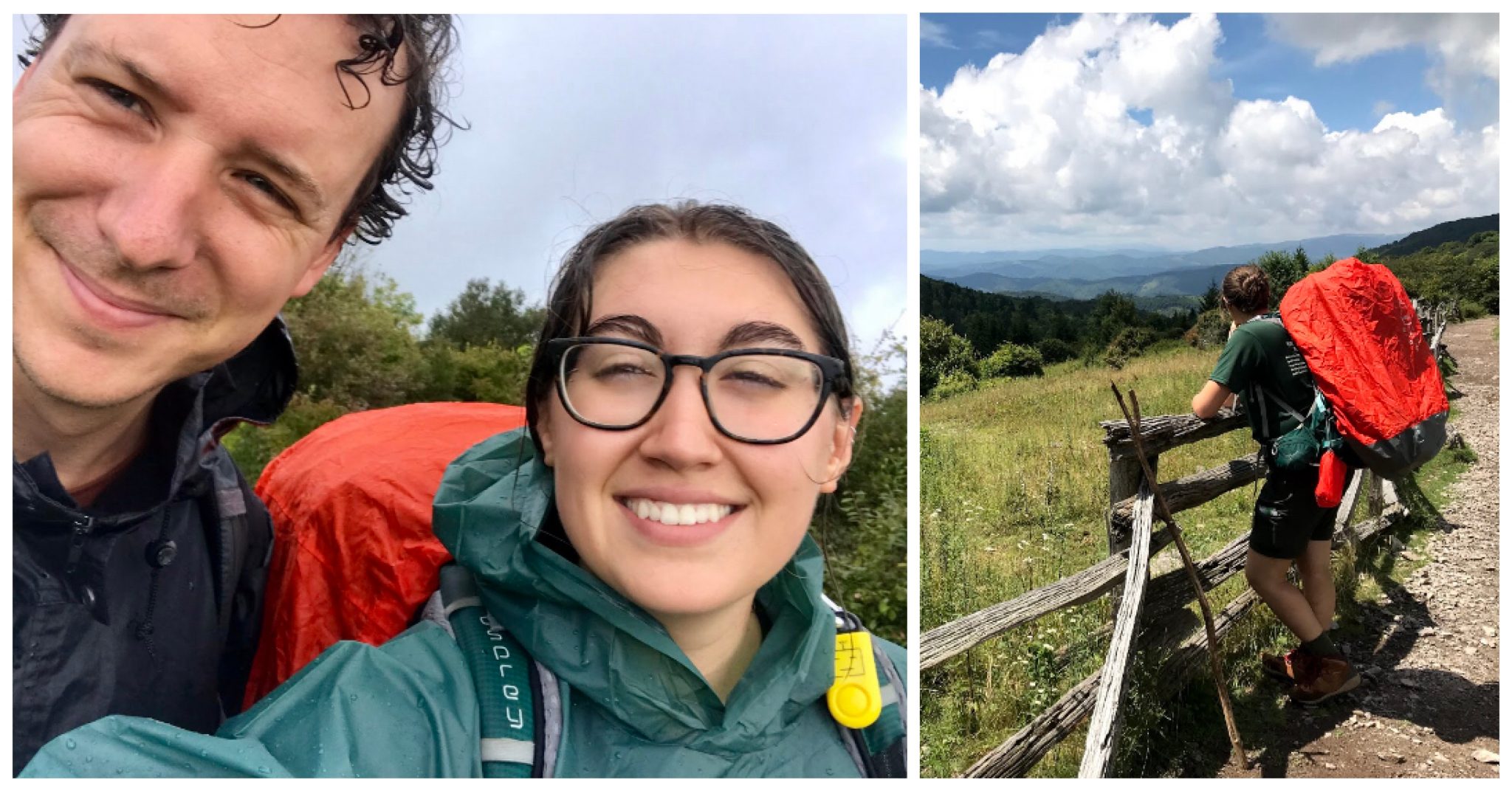 Now that you're covered, don't forget your bag! A wet bag is inconvenient, smelly and I reckon expensive if anything gets ruined and needs to be replaced. Your just in case travel kit isn't ready with a rain cover for your bag as well as your body.
Waterproof Backpack Rain Cover on Amazon
Pro tip: test your raincoat while you still have the opportunity to return it! Make sure it's truly waterproof, and not just water-resistant. This is particularly important if you're traveling during a country's rainy season.
17. Whistle
There are two primary travel and outdoor scenarios where a whistle is extremely valuable.
The first is situations where you're lost or injured and need to draw attention to yourself. You can blow on a whistle for hours without losing your voice or dehydrating yourself, unlike yelling for help. The internationally recognized distress call is 3 blows of a whistle. If you're hiking, attach this to the shoulder strap of your backpack so that if you're injured and unable to move, you can lean to your shoulder and blow the whistle even if you're trapped or badly injured.
The second is when faced with animal or criminal confrontations. A whistle is like a personal security alarm that will draw attention to your situation. This can potentially scare off criminal encounters or aggressive animals.
In addition to carrying a whistle on your backpacking shoulder strap, carry one in your purse, messenger bag or whatever you always keep on your person while traveling.
Emergency Whistle With Lanyard on Amazon
18. Cash
An exciting step of preparing for traveling is getting the local currency of your exciting destination. In addition to your day-to-day money, you'll also want to keep a reserve of extra money for emergencies and unexpected situations. Here are 3 steps to take to effectively prepare yourself.
Take a reserve of US dollars for most destinations (except in Europe – it's unlikely anyone will accept dollars). Not only is the US dollar accepted by many countries worldwide, but it's also required at some international checkpoints. I learned this the hard way when crossing the border from Honduras to Nicaragua. Neither country used the US dollar as their currency, yet it was the only accepted currency to pay the entry fee with.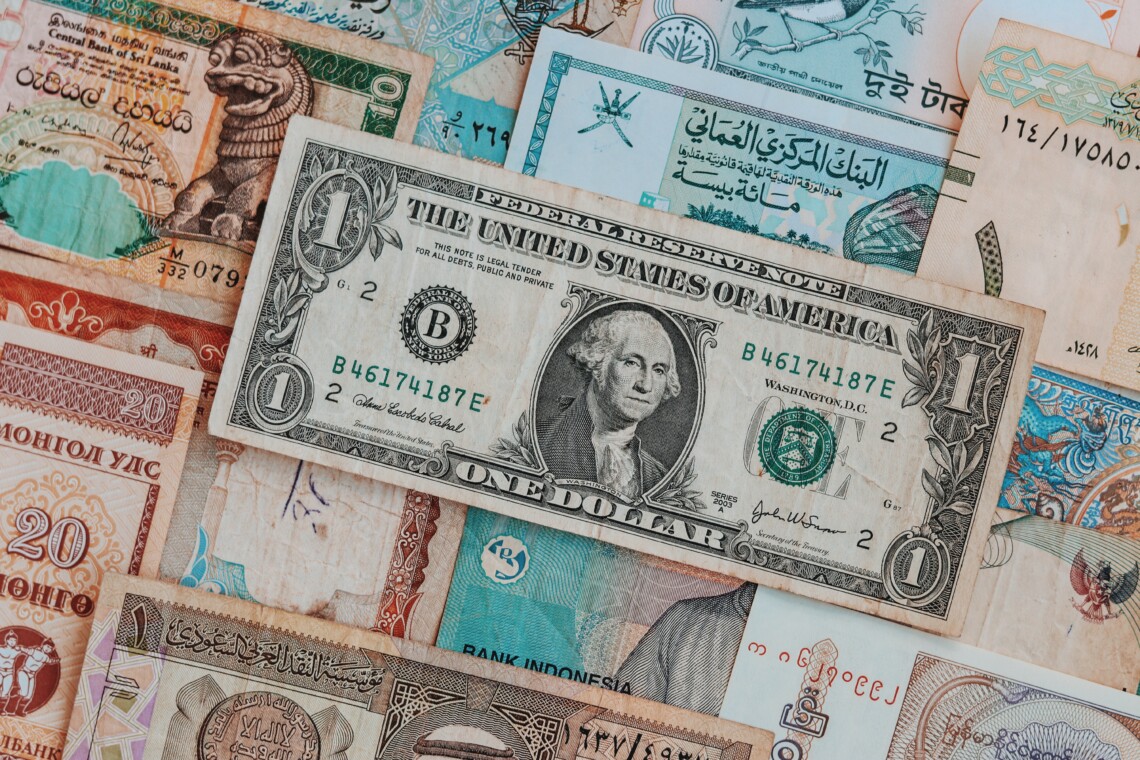 A proactive amount of money to take for 2 people is $300. Don't take big bills, because you might not be able to get change. Take a division of ones, fives and tens.
Only take clean bills. Bills with writing or tears may very well be rejected because they won't be accepted by the local banks. American banks will accept anything, but that's not the case abroad. Whoever is accepting your money also needs to feel confident that it's not counterfeit, and a dollar bill with a woman's phone number written on it doesn't exactly ooze that confidence.
Scatter the bills between your bags, and never carry this around in your day-to-day exploring. You tempt fate when you carry large amounts of cash on you will perusing the streets.
Most people who travel long enough have had their bags rummaged through by opportunists, so make it difficult for someone to find your cash reserve. Split up your money and store it any number of random places in your bag:
In the toe of your packed shoes, beneath socks and other stored items
Tucked into your first aid kit
Taped inside of a notebook
Pro tip: do *not* take big bills. Take an assortment of small bills instead. Getting change for small bills is a common problem in some countries, even for the local currency.
19. Miscellaneous Items For Your Just In Case Travel Kit
These are items that have just come in handy and are small enough to toss in.
Don't pack the whole container of these items, but rather take a few of each out and store them in a small Ziplock bag.
Putting Your Just In Case Travel Kit Together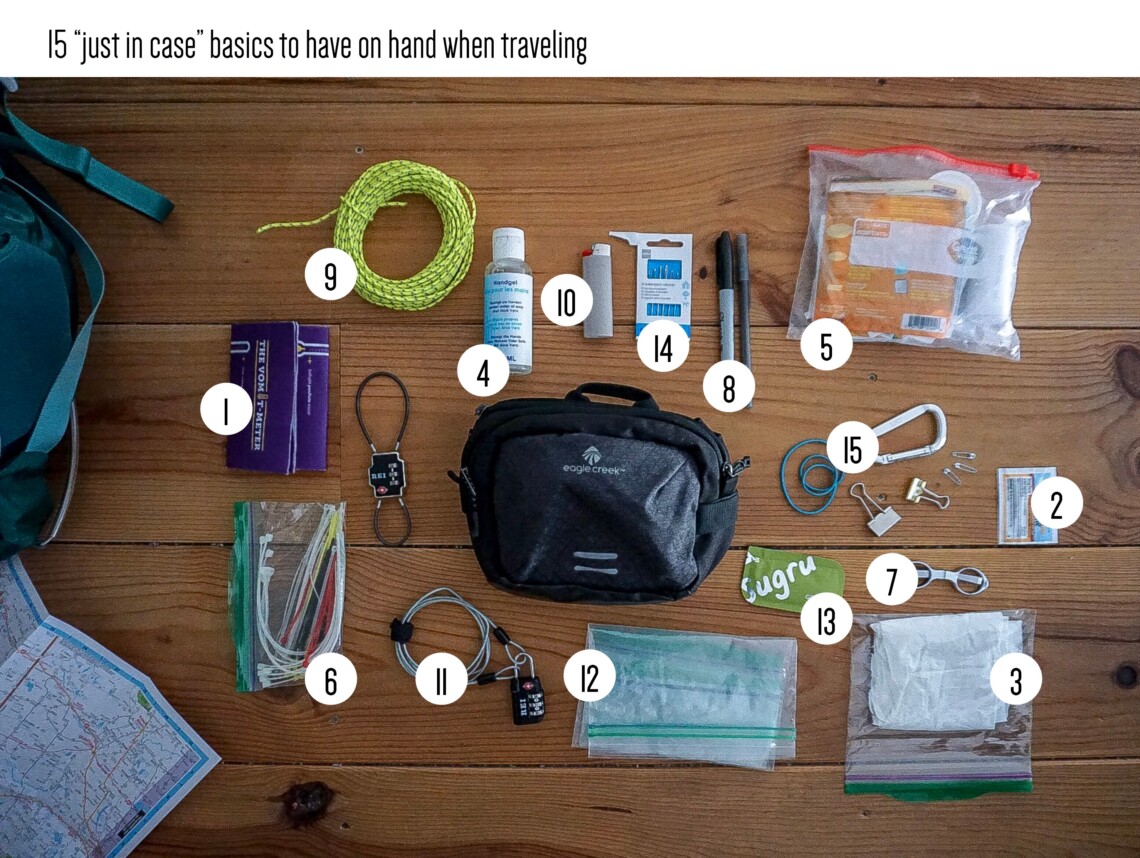 Your travel preparedness items should all be stored together in a pouch or a small packing cube and stored in an accessible area. If you're traveling with a backpack, keep it in the brain, or the topmost part of your pack, so that it can be easily reached.
On smaller trips with just a day bag, toss this into the abyss of your bag.
Travel Kit List Summary
Do you feel more prepared with this travel kit list in hand? This travel checklist will become your saving grace when you're on the road, and I'm so thrilled I was able to share it with you.
This list is about more than just providing you ultimate packing tips – it's about being savvy, staying safe and being resilient to what life on the road throws at you.
What items do you include on your backpacking or vacation packing list? I'd love to hear in the comments!