/
How To Write A Business Blog: Content Creation For New Entrepreneurs
*This post may contain affiliate links, which means I may receive a small commission, at no cost to you, if you make a purchase through a link.*
Last Updated on January 21, 2023 by Bert-Jan Schilthuis-Ihrig
One of the best ways to create awareness and interest in your new business is to write a business blog. Unlike other blogs you see online, a business blog is one that promotes your products or services, in a very subtle but compelling way. But how do you write a business blog with smart content creation strategies that convert readers into customers? I have answers to all of your questions about how to write a business blog.
It may seem a daunting activity. Just the process of coming up with content that will appeal to your key target audience can seem overwhelming.
When I started my blog coaching business with my new business site, I had to switch my style of content creation to be laser-focused on attracting clients.
Where do you start? How do you promote your products or services without it turning blog posts into blatant ads that turn potential customers off?
What happens when you run out of ideas?
The good news is that with a little bit of planning, you can create a content creation plan that will consistently provide you with fresh content to reach your potential customers. Let's do this!
Note from Kayla: This is a guest post by Margaret Bourne of MargaretBourne.com! Guest posts on Writing From Nowhere provide well-rounded advice, and Margaret has generously shared her top-notch advice with us in this blog post on "how to write a business blog."
Write A Business Blog With Your Customer In Mind
Before you sit down and start scribbling down ideas for blog post topics, take a step back and consider a few key things.
Why are you blogging?
How will you do it?
What will you be sharing?
The "why" should always link back to your customers. At the very least, every business that's blogging is doing it to promote their brand in a positive way with ideal customers.
For example, I blog regularly with blogging tips to build trust with potential clients. I want them to know that I can help them get past their blogging challenges. 
The first step is to define what your expected outcome will be from your blog:
Creating awareness for your business
Clicks and traffic to your products or services
An increase in sales or prospects
Growing your email newsletter list, where you CAN be more sales-y
All of these goals lead back to the need to understand your potential customer:
What are their challenges?
What kind of big questions do they have in regards to your niche?
How can you help them overcome these challenges?
When you're creating content for your business blog, always think about how you will provide value to your reader so you can turn them into a loyal follower and customer. You want to create a positive perception for your brand, and the amazing content that you create helps do this.
It's not always about new products or services you have on your site – although it's okay to include posts announcing a new collection or service once in a while.
It's also acceptable to occasionally link to your product pages in moderation if you're talking about a related topic. Just do this sparingly!
Bring value to your readers, and they're more likely to become customers.
Key Content Creation Tips For New Entrepreneurs
So you've decided you're going to start blogging to promote your business. You know your why for the blog. You've figured out what your customer's greatest challenges are and what they're most interested in learning from you. What kind of content should you be writing? 
You may also like: How To Develop An Online Business Idea
Before you even start your first blog post, do a bit of brainstorming to create a blog content calendar. I've found having a content calendar keeps me on track and super organized. I don't have blog post ideas in notes all over the place. 
Think about these general types of blog posts you can create:
The latest trends for your business niche
The biggest issues that customers are facing right now (and how can your business help them out?)
Seasonal topics (e.g. if your business is selling a product that can be included in gift guides, or your products help solve a common issue that comes up with a seasonal holiday or event)
Tips lists such as "10 Ways To…." that are easy to read and answer questions or inspire your readers
"How To" posts, that answer a common question
A blog post series on a key topic and then subsequent posts on sub-topics
New product/service announcements
Behind-the-scenes in your office or employee profiles which help create a positive perception about your brand
The way you present your content can vary too! You don't always have to write a blog post. You can also create videos or infographics.
Some business bloggers find it easier to create a weekly short podcast.
Coming up with a long list of blog post ideas and a content calendar will help you keep consistent with weekly blog posts.
And remember to optimize your blog posts so people find them! Here's a checklist to make the process simple: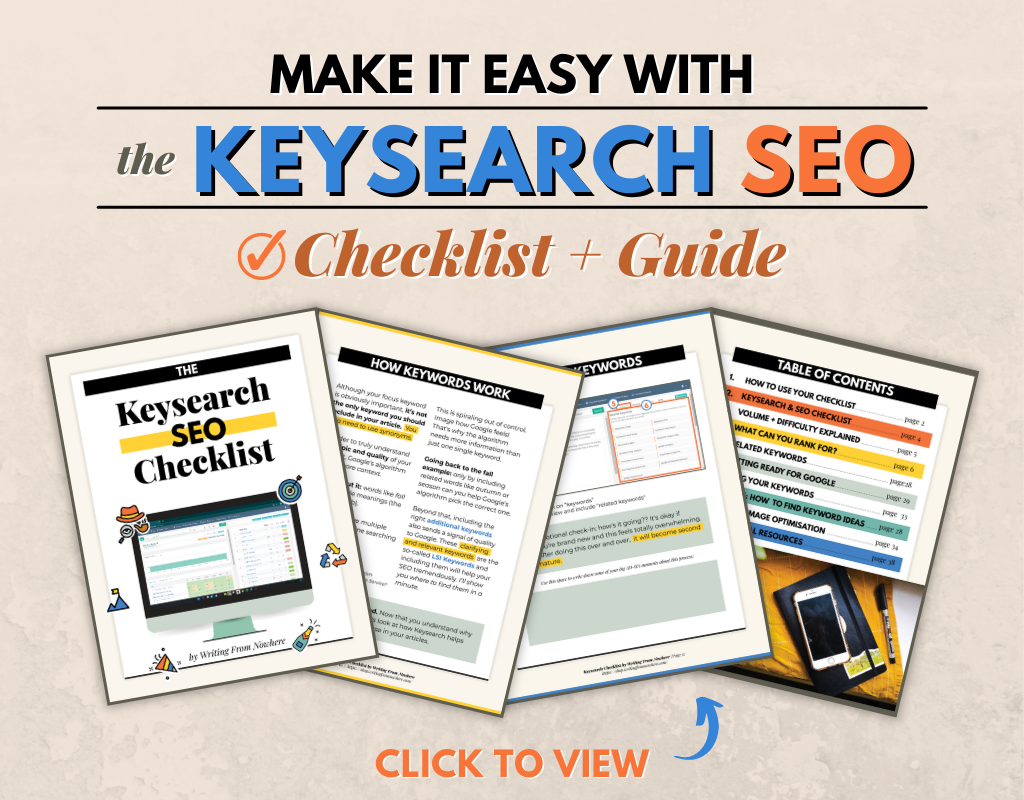 Blogging Consistency Is Key
As your blog followers start coming to your site regularly for the latest posts, you need to keep consistent.
They will be expecting fresh content. When you stop blogging for more than a couple of weeks, you may lose readers.
To get past this, consider writing posts in batches and scheduling them to publish once a week.
Some new business entrepreneurs take a day to focus only on blog post creation once a month. They automate publishing and only go back to the posts to promote them on social media accounts once they are live on their sites. This reduces all the time needed each week to create content.
Others outsource blog post creation to freelance bloggers that are hired on for this purpose. You can also hire a virtual assistant that has a blogging background to help create and manage blog content.
However, if you're doing it on your own, plan, organize and create a schedule that makes is super easy for you to consistently produce fresh blog content.
Don't Forget Promotion!
Once you've hit publish, the next big step is promoting your blog posts. For this, know where your key target audience spends their time online.
If they are on Facebook, use your Facebook page to promote your blog posts.
For customers that are heavy Pinterest users, focus on pinning your post pins daily. Many bloggers use Pinterest as that's where potential customers are seeking inspiration and information. 
Final Thoughts On Content Creation For New Entrepreneurs
To keep yourself from being overwhelmed in running a business blog for your new business, always remember:
Know your key target consumer (audience)
Know what your key goal is with the blog
Develop a list of blog post topics
Organize those blog topics into a content calendar
Batch your content creation to optimize your time
Keep consistent to keep readers coming back for more… and more opportunities to sell to them
Don't forget to promote your content
That's a long list, but it's one that will become very easy to apply over time. Content creation strategies that save you time and help you promote your brand or business are invaluable. Spend the time to plan things out and get started today!
About Margaret Bourne: Margaret Bourne is a blog coach, content creator and experienced PR and marketing professional. She helps new and aspiring bloggers transform their blogs into successful online businesses on MargaretBourne.com.
Note from Kayla: these tips on how to write a business blog will save you so much time and heartache of wasted energy. What blog post do you think you'll write first for your potential clients?