/
How To Use Pinterest For Beginners 2023
*This post may contain affiliate links, which means I may receive a small commission, at no cost to you, if you make a purchase through a link.*
Last Updated on February 4, 2023 by Bert-Jan Schilthuis-Ihrig
The process of beginning a website is a herculean task. You pick a name, research the best host, choose a theme and gather the gumption to hit publish when you still have no idea what you're doing. Pour the champagne! You did it! And then, like the inevitable hangover, comes the thought: who is going to find and read this? The answer is Pinterest. Let me show you exactly how to use Pinterest for beginners in 2023, and your headache will be gone soon (but a little aspirin can't hurt, too).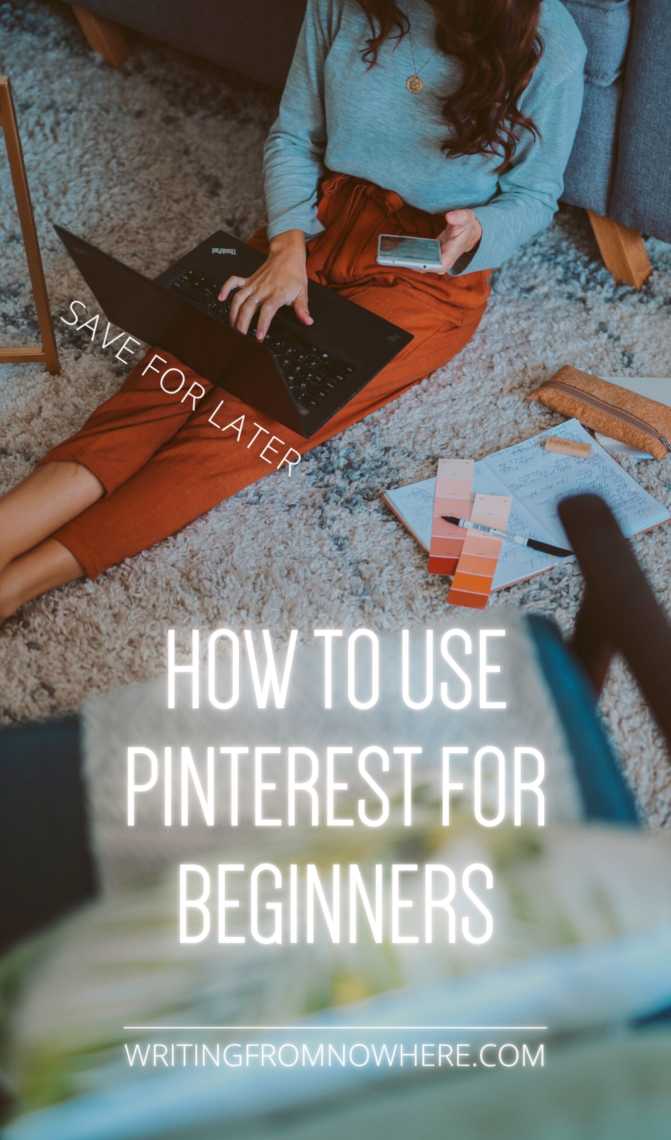 Intro To How To Use Pinterest For Beginners 2023
Pinterest has been there for you for years. It helped you plan your vacations, and make the perfect cream cheese igloo, complete with olive penguins, to impress your partner's family at the holidays. It was supportively there with suggestions when you thought haphazardly about getting bang. Again.
And now, it's going to be there to explode your brand reach and send traffic to your site while you sleep.
I mean, what a friend! It's good that you're taking your relationship to the next level by going from pinner to creator, but let's get you oriented in this new approach to the platform.
In order to bridge this gap without leaving anyone behind, let's cover the 4 Ws of using Pinterest as a creator.
Love this simple breakdown of Pinterest for beginners in 2023 #pinterestmarketing #bloggingtips
Click To Tweet
You may also like: 30 Easiest Pinterest Marketing Ideas
The 4 Ws Of How To Use Pinterest For Beginners
I could talk about Pinterest all day; frankly, some days of the week I do with my Pinterest coaching clients! If figuring out how to use Pinterest beginners is all a bit too much, send me a note and we can see if Pinterest coaching or management would help you get traffic sooner!
Who Should Use Pinterest
Pinterest drives website traffic. So, anyone who has a website that they want people to find and view would benefit from Pinterest for business.
There are a few general categories that most creators fall into:
Service-Based Entrepreneurs
… who generate free content to engage with their potential clients.
For example, someone who teaches virtual photography classes may write blog posts, create YouTube tutorials or have a podcast helping people with their content marketing. This is also known as content marketing. Good content marketing is highly informative and answers questions, so Pinterest is the perfect place for it!
You may also like: How To Contact Pinterest Help
Content Creators
Pinterest and content creators go hand-in-hand. Whether that content is a blog post, a podcast, a YouTube channel or so on, as long as the content offers value to the viewer, there's a place for it on Pinterest.
Pinterest is such a goldmine for creators because it's a place where users are excited to see the person behind the content. Much more so than Google, for example.
Google doesn't have the same personal warmth that Pinterest brings. Bloggers who SEO their content correctly thrive on both Pinterest and Google, but the user psychology is different. Pinners open the Pinterest app and are excited to connect with the individual creating the content they read. What an incredible meet-cute for creators and their audience!
You may also like: How To Post Instagram Content On Pinterest
Product Sellers
Pinterest is very much a platform where users go to make shopping decisions. Creators who dropship, make handmade goodies or sell digital products can thrive on Pinterest.
Many different types of creators and entrepreneurs can thrive on Pinterest, but a few exceptions are:
Service-based entrepreneurs who do not create content. Having just a services page or website homepage on a website is not enough to use Pinterest to drive traffic every day
Geographically-dependent businesses. There are exceptions to this, an example being a Miami-based tour company that helps people plan amazing Disney vacations. Many parents would love to read and save content from them while planning their family trip. However, a local cleaning service or notary business won't succeed on Pinterest without publishing information that appeals to a broader, non-geographic audience
Which category do you fit into? Are you unsure if your content will be enjoyed on Pinterest? Leave me a comment describing what you share, and I'll try to help.
You may also like: How To Avoid Getting Your Pinterest Account Suspended
What Does Pinterest Do For You?
Pinterest is a search engine. It feels like a social media platform because you can follow creators and build your OWN following on the platform, but it's much more like Google than Instagram.
This is the most fundamental takeaway from this guide on how to use Pinterest for beginners – misunderstanding Pinterest's structure will lead you to leave money on the table when you start publishing content.
As a search engine, Pinterest drives website traffic. You upload pins (the images that you see) and they are all linked back to a URL on your website, YouTube channel, etc.
Every pin that you see on Pinterest was made by a creator and uploaded. Users see these pins when they open their app (called the smart feed) or when they search a topic.
You may also like: How To NOT Get Flagged As Spam on Pinterest
When Should You Start Your Pinterest Strategy?
Brand new creators should start a Pinterest business account at the beginning of their journeys, even if they don't have published content yet. This will ensure that your brand username is secured, and will give you credit for any rogue saves of your content on Pinterest.
You know how on people's websites there's sometimes a "pin it" button or share buttons with the option to share on Pinterest? If your website has those buttons, a user can pin your content without you even uploading it yourself.
Setting up your account on Pinterest will ensure that all of those saves from your website are attributed to your Pinterest account, even if you didn't save them yourself.
Some Pinterest accounts are destined to fail because they're set up incorrectly. Want me to help you set up a perfect account? Get a Pinterest audit:
Why Use Pinterest Over Other Platforms?
Pinterest only stands second to Google for driving website traffic, but I know that many creators are hesitant to tackle yet another platform. Yet I see so many people pouring themselves into Instagram growth and getting frustrated that their blog isn't taking off. 
You may also like: Honest Disadvantages Of Pinterest
Spending time trying to build and bend Instagram into a source of website traffic is a new blogger mistake I see all of the time. Instagram has its gifts to creators, but driving website traffic isn't it.
I've seen so many creators yearning for the 10k Instagram milestone so that they can add the "swipe up" feature to their accounts.
Let this inspire you to give Pinterest a try.
I know Instagram offers immediate audience reach, while Pinterest serves up long-term term benefits, but I hope that this peak into my Instagram and Pinterest analytics helps dispel the myth that Instagram is always the go-to place online for instant audience reach:
You may also like: How To Troubleshoot Pinterest Problems
How To Use Pinterest In 4 Steps
Now that we've bridged the gap from being a pinner to being a Pinterest creator, it's time to set up your account!
Step 1: Set Up A Business Account
This is required for creators, but it's quick and painless. Pinterest walks you through the steps to create a business account here.
Convert To A Business Account From A Personal Account
If you already have a personal account, simply convert to a business account and then hide all of your boards that won't be relevant to your target audience.
And then toggle the boards that are irrelevant to your audience to be secret boards.
You can still view and save to secret boards yourself, but the pinners won't see them on your account. This helps reduce confusion. After all, a travel blogger with boards on "dinner ideas," "future tattoos?" and so on would immediately confuse pinners. If you confuse, you lose.
Go through all of the behind-the-scenes tasks that Pinterest will ask you to do. Once the set-up is done, it's done forever! Most notably, this includes claiming your website. Complete this step right away, or your account will never be able to reach as many pinners.
Step 2: Add Your Account (Profile) Details
Remember how Pinterest is a search engine that most users think is a social media platform? Lean into that by being welcoming on your account. Use a photo of your face instead of your logo if you're an individual-powered brand.
To do this, navigate to your account settings.
Insert your account information like so:
Name: Your Brand Name | What You Offer
Example: Best Travel Tips | Millennial Adventure and Budget Travel Tips
Description: Hi, I'm [name]! I help [audience] with [niche]. [Something engaging]
Important: your description can be up to 160 characters long. Use it to inform, engage and optimize. Every underlined word is a keyword that will help your profile be discovered in searches:
Unsure what to write here? I'll write this for you in a Pinterest audit.

Example: Hi friend, I'm Sam! I help millennials see more of the world using cheap travel tricks and the best adventure travel planning. Who's ready to see the world?
Those underlined words are keywords. Here's an easy way to find keywords on Pinterest:
Need more guidance? Learn more about how to do Pinterest keyword research here.
Try to imagine your account and brand from an outsider's perspective and offer the most important information.
After the basic pillars of your account are established, it's time to create boards for your account.
You may also like: How To Set Up Your Pinterest Business Account
Step 3: Create Boards That Match Your Content
We already talked about the importance of hiding irrelevant boards from your account, and now comes the important step of adding the relevant boards.
Boards on Pinterest are just ways to classify one's saved content. It also helps with optimization. Whenever someone creates a pin for a sweet potato recipe and saves it to "autumn recipes," Pinterest learns that this blog post is relevant to autumn. Then another user saves the same pin to "Thanksgiving dinner ideas," and Pinterest learns even more about it.
Board names help Pinterest understand your content, which will improve your pins' visibility in searches and on the smart feed (Pinterest's home feed).
Too time consuming? I'll write 10 optimized boards+descriptions for you in a Pinterest audit: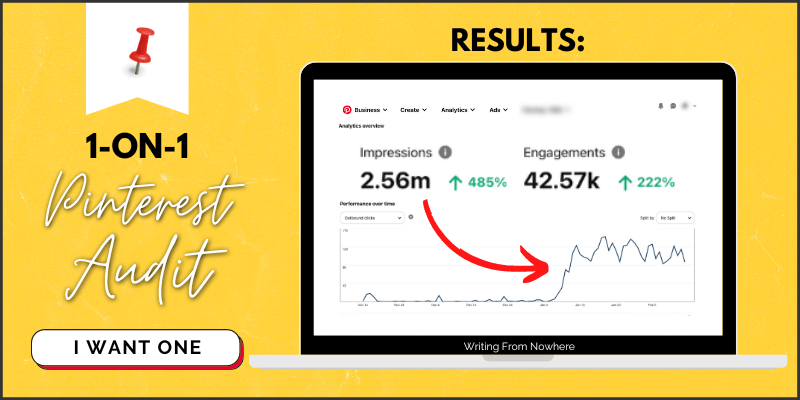 You may also like: How You Can Become A Pinterest Manager Yourself
What Boards To Add
The real question about what boards to add comes down to this: what describes your content? Keep it organized. Don't make a board knowing that you only have 1 blog post that could be saved to it.
Let's use the example of the travel blogger again and examine what boards might make sense for their account:
Best Travel Tips
Budget Travel Ideas
Asia Travel Inspiration
Remember to make complete, coherent names of your boards. Choose the board title "Travel Inspiration" over "I N S P O." A board title like that won't provide any optimization benefit. Also add a 1-2 sentence description to each board that further describes it. This will help even further with optimization.
Important note: Pinterest will invite you to pin other people's content onto these boards, but I don't recommend that you save content from anyone else. This all depends on what your Pinterest strategy is, which is a much deeper dive than explaining how to use Pinterest for beginners, but I recommend that you avoid this.
When a pinner comes to your account, you want them to get a sense of who you are and what you can offer them; don't confuse it by displaying content that will just lead them away to someone else's website.
I know I'm repeating myself, but remember: when you confuse, you lose!
Once you have boards on your account, you can start saving your content to them!
You may also like: Where You Should SHARE Your Pinterest Account
That brings us to step 4:
Step 4: Upload Your Content
While the technical steps to upload your content to Pinterest are quite straightforward, this is not a full deep-dive on Pinterest strategy.
Since this is an introductory post dedicated to how to use Pinterest for beginners, I'm not going to overcomplicate it with an entire discussion about the nuances of different Pinterest strategies that are popular at this moment.
To publish a pin, navigate to the "create pin" button:
Then, you're going to insert your information into these fields:
Drag and drop your pin image into the grey space
Add a title that includes keywords
Add a description that includes keywords
Paste in the destination link
Select your most relevant board to save this pin to
Let's walk through this piece by piece:
Create a pin, not an ad or an idea pin. A pin is the standard piece of Pinterest content that creators begin with before experimenting with different types of pins
Upload an image with an optimized file name. This means naming an image file "what-to-do-in-Peru" instead of "pin cover." This helps with optimization (for both Pinterest and Google! Name all of your image files)
Select the most relevant board (not "favorite ideas," "my blog")
Add a title with keywords. This does NOT have to be identical to your blog title
Also add a description with keywords that describe the content that this link leads to
Insert the link that this will lead to
Either publish immediately or schedule to publish during your audience's evening. That is when Pinterest has peak traffic
Here's what this looks like filled out, using this blog post as an example:
This doesn't have to feel like guesswork – get my SEO pin description templates: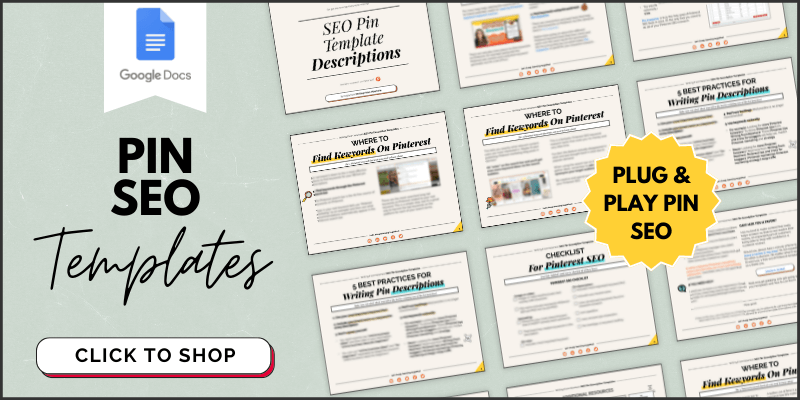 Conclusion
Does Pinterest feel more approachable or more confusing after this intro to how to use Pinterest for beginners??
Sometimes as we learn about the inner workings of our favorite platforms, the process feels even more out of focus than it did before. That's normal, and I know that as you start trying to master how to use Pinterest for beginners, it will all come into focus.
Let me help offer you more help with Pinterest here:
You can reach out to and ask me your Pinterest questions anytime at [email protected] – if I can answer them in an email, I will!
And if you're curious about hiring a Pinterest manager, read my advice before you pull the trigger.