/
How To Set Up A Winning Pinterest Account
*This post may contain affiliate links, which means I may receive a small commission, at no cost to you, if you make a purchase through a link.*
Last Updated on May 17, 2023 by Bert-Jan Schilthuis-Ihrig
When did you set up your Pinterest account? Did you know what you were doing? At the time, did you understand all of the opportunities to optimize your Pinterest account for search discoverability?
For a lot of creators on Pinterest, the answers to those questions are "years ago, and I had no idea what I was doing." I so hear you.
First things first: good for you for not getting stuck on that speed bump and not pursuing Pinterest for business altogether! You'd be surprised how many of my Pinterest coaching clients confess that they started a business account but were so overwhelmed by not knowing what to include on their profile that they shelved Pinterest altogether.
There's never a bad time to revisit your Pinterest account to see if you're missing any new account settings #pinterestmarketing #bloggingtips
Click To Tweet
Anytime you try something without complete certainty, you've grown. Cheers to that. Every online business (this one included) was built on the exact same uncertainty.
But, it's a fine day to go back to your Pinterest account and get all of those question marks squared away! Let me show you the 8 elements of a Pinterest account that funnels viewers into your brand and is optimized to be discovered in searches.
The 8 Elements Of A Winning And Optimized Pinterest Account
Let's start from the top-down, shall we!
Want your account to be set up for you by a pro? Let me audit your Pinterest account and do all of the work for you!
1. Account Cover Photo
The sole point of the cover photo on your Pinterest account is to welcome pinners to your brand. This is an opportunity to attract, connect and even sell.
There are a thousand right ways to do this, and one notably wrong way.
The wrong way to use your Pinterest account cover photo is to have it auto-pull pins that aren't yours from one of your boards (see image).
Pinterest used to allow users to select a board to pull pins from, and a collage of content was projected onto their account cover photo. Since this has been disabled, you can no longer edit which board is being used to generate your cover.
Pinterest wants creators to upload their own photo or graphic to their account cover photo.
Tip: Use Pexels free stock photos and Canva to create an on-brand Pinterest account cover that welcomes viewers to your brand.
Whatever you choose to upload to your account cover, make sure it meets these requirements:
The graphic matches the aesthesis/vibes of your brand (this is HUGE)
It uses text in a clear way to help the viewer identify whether or not your brand can help them
It's branded (include your brand name in a natural, unobtrusive way)
You might also like: How To Get More Pinterest Followers
2. Account Profile Picture
Most users think that Pinterest is a social media platform. It's really a search engine, but the misconception means that users expect a personal element.
Ultimately, this personal touch is just as important as optimizing your content for SEO. 
When choosing what profile picture to use on Pinterest, this boils down to showing your face! You will connect with pinners best if you narrow down your photo to meet these parameters:
Your Pinterest profile picture is of you, not your logo
It's close up enough to see your face and eyes (this is a huge point of connection)
It's colorful. Try playing around with the saturation on photos (example below) to see if you can jump out at pinners more
Bonus: add a band of your brand color around the outside of your photo to improve brand recognition
This is particularly important if you're making idea pins.
Pause: Static pins? Idea pins?? Is this advice all moving too fast? If you need to learn how to use Pinterest as a beginner, I recommend the course Pinterest Popular: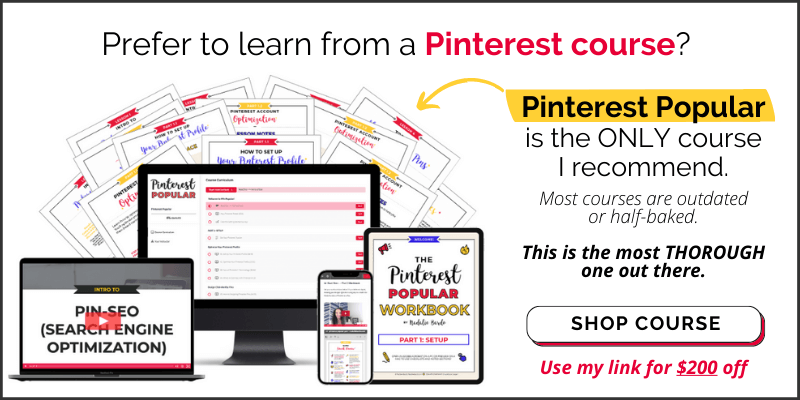 With the addition of idea pins, Pinterest integrated a floating top bar on the mobile app, enticing users to click and scroll through creators' idea pins.
It's the first time that Pinterest has centered around the creator specifically, and reflects what Pinterest said at the Pinterest Creators Festival in October 2020: "This is the first time creators can publish directly on Pinterest and build their audience on the platform. It's the start of a new Pinterest."
The only information that pinners have to decide whether or not they'll click on your profile picture.
Make it stand out.
Use a photo where users can see your face to help entice pinners to connect.
You may also like: How To Contact Pinterest Support
3. Your Name
Pinterest 2022 update: you USED to be able to put keywords in your "name" section, but now ONLY your brand name can be entered here.
If you have keywords in your name already, they can stay there, but you can't edit them.
The "name" section of your Pinterest is actually not for your name. This is for your brand name.
You may also like: Honest Disadvantages Of Pinterest Marketing
4. Name In Account Description
Remember how most people think Pinterest is a social media platform? That means that you need to lean into a friendly tone as much as possible.
After all, you haven't introduced yourself yet to viewers since your brand name went into the "name" part of your now-optimized Pinterest account.
Don't treat this like your LinkedIn company bio or your elevator pitch. The photo below shows you how that approach inspires less connection:
With the introductions out of the way, it's time to optimize your Pinterest account description.
5. Keywords And Tone In Account Description
You need to include keywords in your account description that are relevant to what you offer and what pinners search.
The easiest way to do this is to identify who you help (also known as your "I help" statement).
Want me to write this for you? Get a Pinterest audit: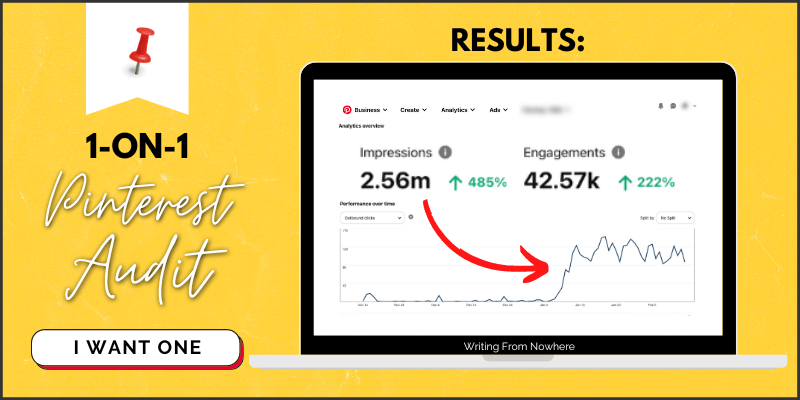 Your optimized "I help" statement for your Pinterest bio:
I help [audience] [problem you solve – make money from home, escape the 9-5, live healthier, invest more money]
If you haven't already done so, this is the time to think about who your target audience is.
Follow up with more keywords (in sentences, never just plopped in one right after another:
Your go-to for [Canva tips, easy vegan recipes, budget travel tips]
Do you know how to find the right keywords on Pinterest? Read my Pinterest keyword research guide or watch the process on YouTube:
This leads us right into the final element in a winning Pinterest account description.
6. Where To Go Next
A best practice for all marketing is to never leave the viewer wondering where to go. Lead the dance, and walk the viewer down a clear path. This can also be your funnel.
If you sell LinkedIn templates, send the viewer to your #1 LinkedIn resource first, and then that post will have a natural invitation to your email nurture sequence or template sales page.
You may also like: Instagram Reels To Pinterest
Pinterest marketing, just like all marketing, should be a journey for readers. You should lead a viewer down a path that helps them understand your brand and see what value you have to offer them.
This can be as simple as adding your best resource to your Pinterest bio.
Raise a question or have a call to action. See some ideas below:
When a pinner sees your content on Pinterest and heads to check out your account, they've already taken the first step down this path. Make the second step clear to them, and invite them along.
Remember: your Pinterest account can be up to 160 characters. Use them all to optimize, nurture, and engage.
7. Claimed Website
Claiming your website is a vital step in setting up an effective Pinterest account.
You can tell if your account is verified by looking for the globe and checkmark on your account (see image).
You would be *shook* if I told you how many accounts (even MAJOR companies) are missing this simple step. This is an oversight that affects your reach on Pinterest greatly.
Warning: sometimes your Pinterest account can randomly ghost your account and go unclaimed, too.
This is simply a bug in Pinterest's system. If it happens to you, you should submit to reclaim your website immediately. An account with an unclaimed website will not have its content distributed as widely on the platform.
I've seen clients claim their website and see their monthly views almost double on their own after making this change alone.
You may also like: How To Troubleshoot Pinterest Problems
8. Personal Pronouns
This is a new feature that was not announced when it was added on Pinterest, so many creators aren't even aware that they have this account setting (see image).
Most importantly, adding your pronouns helps make Pinterest a more inclusive environment for the LGBTQA2+ community. It also helps your audience know how to refer to you in conversation.
That is reason enough to add pronouns. But furthermore, it also lets pinners know that your brand values inclusion. This has never been more important to consumers, and this trend will only continue to pick up more momentum with time.
For information on why it's important for all individuals to identify their pronouns, click here.
Confession: I was not doing this across any of my platforms until a friend and fellow entrepreneur sent me this exact post linked above and told me that I should take the time. As awareness and education spread, it's important to accept moments when you need to educate yourself and make personal changes.
Setting Up Your Pinterest Account Conclusion
Now that you know the 8 opportunities for optimization and connection on your Pinterest account, how did you do?
The scorecard doesn't even matter; I'm proud of you for jumping into the unknown in the first place and taking the time now to do it up right!
Don't sleep on these edits to your account now that you know what needs to be done. You could be funneling more of your ideal readers into your website on autopilot. Take an afternoon, put on some good music, and do it.
You can borrow my #1 business mantra if it will help: do it and it will be done.
I'm rooting for you, always! Hugs,
Kayla