/
How To Remove Deodorant Stains From Shirts: Capsule Wardrobe Hack!
*This post may contain affiliate links, which means I may receive a small commission, at no cost to you, if you make a purchase through a link.*
Last Updated on May 11, 2021 by Kayla
Your favorite clothes protect you, give you confidence and make you like yourself. Show them some love! Don't let them get dingy with sweat stains. In this blog post, I'll show you the easiest capsule wardrobe hack: how to remove deodorant stains from shirts so your clothes can look good forever.
Prefer to watch instead of read? Here's a YouTube video showing you how to remove deodorant stains from shirts.
Intro To How To Remove Deodorant Stains From Shirts
Anyone reading this blog post on how to remove deodorant stains from shirts has intentionally decided to save a garment rather than buying a replacement. I think you're a perfect candidate for a capsule wardrobe.
The Intersection Of A Capsule Wardrobe And Clothing Upkeep
Maintaining articles of clothing is vital when you have a capsule wardrobe.
Are you familiar with the concept? For anyone who's new, in a nutshell: it's choosing fewer articles of clothing that can be worn many ways.
An ideal capsule wardrobe:
has quality, long-lasting items
is full of clothes you love and enjoy wearing
stands the test of time – not just physically, but also the style of clothing
A capsule wardrobe is with you for the long haul, and every piece is one of your favorites. What sweet harmony.
Warm summer nights. Outings with your best friend. The client meeting that you crushed. Your capsule wardrobe has seen you through all of it.
The shirts in your capsule wardrobe have been lived in (and sweat in). Removing armpit stains from shirts is a routine task for you to keep your capsule wardrobe in good shape.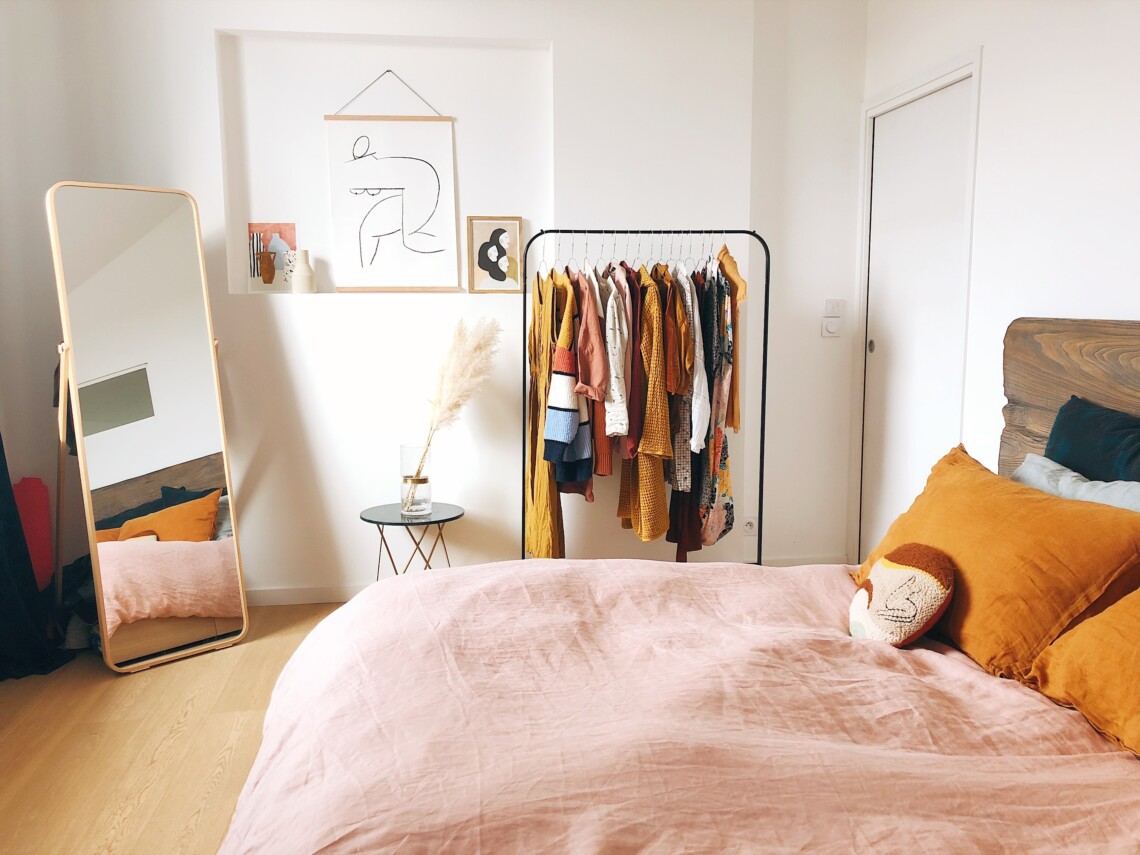 The Sustainability Of Upkeeping Your Clothes
The average American throws away 81 pounds of clothing each year, according to some estimates.
Think of the clothes you've discarded in the past year: on a scale of totally-worn-out to I-just-don't-want-it-anymore, where do you usually fall?
We've all looked in our closet and realized we need to purge; it's a good thing, but when it's the norm, it becomes costly and ultimately unsatisfying.
The big takeaway: choose well and take care of what you have. Let's get our hands dirty!
How To Remove Deodorant Stains From Shirts
Step 1: Gather Supplies
vinegar
baking soda
liquid dish soap
scrub brush – use your judgment to decide if the bristles of your brush are soft enough for your fabric
mixing bowl
cold water
hydrogen peroxide 3% – cheaper to buy at a drugstore, but here's the product for reference
Do this at your own discretion, and test a discrete patch of your garment if you're concerned about ruining it.
Step 2: Lift General Stains First
Now, this step is optional if you are chomping at the bit or crunched for time. However, soaking your clothes in vinegar and cold water first will help lift those general blemishes that accumulate on any well-loved garment.
Use about half a cup of vinegar and fill the bowl with cold water. This step is important: cold water lifts stains better than hot water. Soak t-shirts for about 30 minutes and then pull out to scrub out the pit stains.
Step 3: Scrub The Stained Area
Vinegar brought out the little blemishes, but it only put a dent in the armpit stains themselves so I broke out the baking soda and dish soap. I had to experiment a bit to figure out exactly how to remove deodorant stains from shirts, but I believe I've found the most straightforward way with household products.
Wet the armpits with cold water, apply liquid dish soap and sprinkle baking soda to the area. With a small scrub brush, scrub the area, both inside and out.
Scrubbing is important because the stain in the armpit of your shirt might not even be sweat. It might be residual deodorant stuck in the fibers of the shirt. Scrubbing knocks everything loose and really cleans the area.
On the brown shirt pictured about, I had to repeat the process twice. If a stain is still lingering after 2 times scrubbing, pull out the big guns: hydrogen peroxide 3%.
Step 4: Tackle Persistent Stains With Hydrogen Peroxide 3%
Warning: you should use gloves for this. Hydrogen peroxide 3% will make your nails paper thing (speaking from experience).
Some stains are stubborn and will require extra oomf. Dilute hydrogen peroxide 3% in equal parts water, and apply via a spray bottle or just dipping the armpit of your shirt into a bowl containing the mixture.
Once again, add dish soap and baking soda and scrub.
Now, this could result in an overall whitening of the armpit, as you can see on the salmon-colored shirt. Personally, I'm not bothered by a slightly whitened armpit compared to the thick, shiny deodorant marks, but do this at your own discretion.
How To Prevent Armpit Stains
Stop using chemical deodorants. It's very straightforward: what you put under your arms goes on your clothes. What you put on your skin also goes into your bloodstream. (source)
The answer to the question "how to remove deodorant stains from shirts" would be incomplete without addressing your choice of deodorant.
After trying homemade deodorant, baking soda deodorant and Thai salt block deodorant, I've finally discovered what I consider to be the absolute best natural deodorant: Nuud.
Nuud is vegan, plastic free, effective and has a brilliant design. It lasts for days on your pits, instead of hours, and doesn't contain chemicals.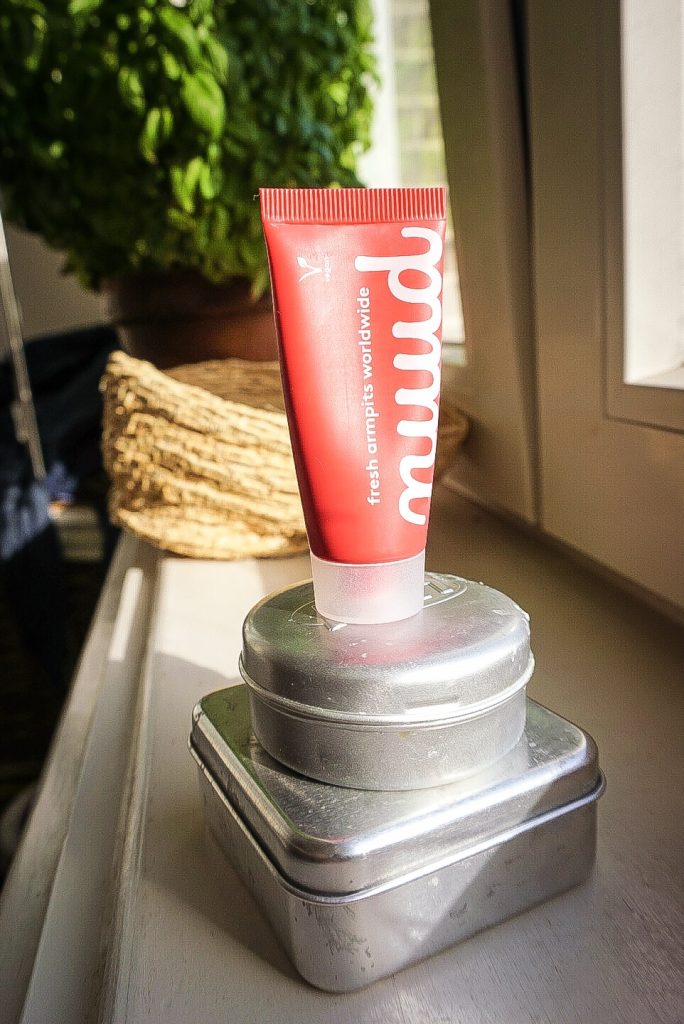 But, rather than convince you that Nuud is amazing, I'd rather we talk about chemical deodorant for a minute.
There are 5 common deodorant ingredients that have no business being in our armpits: aluminum, parabens, triclosan, phthalates and fragrance. (source)
Given that those ingredients are *completely unnecessary* for your quest of having a neutral armpit smell, get them out of your life (and t-shirt fabric). Purchase natural deodorant next time, and you won't need to revisit this blog post on how to remove deodorant stains from shirts as often.
Bonus: Experimenting Brightening Whites Naturally Without Bleach
Personally, whites aren't in my capsule wardrobe (confession: I'm too messy), but my kitchen dish towels were looking dingy so I started experimenting with natural ways to clean them and revive some life back into them.
A combination for the first two techniques brightened my kitchen towels significantly. First, soak in vinegar and cold water. I washed my towels after just soaking in vinegar and this alone brightened the whole towel, but left the stains behind.
A second time around, I wet with cold water and scrubbed with baking soda. This brought out stains as brightened even more. There's a lot more life brought back into them now.
How To Remove Deodorant Stains From Shirts Summary
I hope you enjoyed this blog post on how to remove deodorant stains from shirts! This is just one way to make your clothes last longer, and it's the most basic part of capsule wardrobe maintenance.
Beyond saving your favorite shirts and being better for the environment, over time, extending the life of your clothes will also help you deflate your lifestyle costs and save a lot of money.
How do you make your clothes last longer?