/
How To Plan Your First Workation
*This post may contain affiliate links, which means I may receive a small commission, at no cost to you, if you make a purchase through a link.*
Last Updated on August 24, 2022 by Kayla
A workation… isn't that just taking your work with you on those precious days off?? Not if you do it correctly.
Yes, it technically is just a working vacation, but it's more profound than that. Instead of logging in from your home computer, you can login from somewhere warm. Somewhere beautiful. Or at least, somewhere different.
Doesn't sound too shabby, does it?
We might tell ourselves that we'll go on vacation and *completely* unplug, but ninety percent of Americans admit to still checking work messages and emails while on vacation.
Turns out we don't actually fulfill our goals of detachment. But, then again, maybe that's not such a bad thing.
If you're able to work from anywhere, why not? For many digital nomads, this is one of the reasons they started their online businesses in the first place.
They saw the opportunities that exist online and believed that life would be better if you could work remotely. Furthermore, work during the hours that we set and from the place that we choose.
Before we dive in, let me make a quick disclaimer: I'm not going to pretend that you can just work from the beach for two hours a day and be on your merry way. This will not be one of *those* conversations.
Instead, I'm talking about working normal office hours but being able to spend your after office hours exploring a beautiful city, walking through the forest or, what I do after I'm done, just walking along the beach.
That's the true workation meaning (or workCation, depending on how you slice it).
If you can work from anywhere, why not work from somewhere beautiful and stimulating?
Working remotely from a different location has many tangible benefits. First of all, it can be incredibly motivating to do your work in an environment that is completely different from your normal office.
Plus, you will probably experience a surge in creativity (I always do!). If anything, the feeling of being disconnected from the routine alone is worth taking a working vacation.
In this blog post, let's examine how to plan your first workation. We'll talk about what to bring, where to go (and for how long), and everything else that comes with taking a break from it all and deciding to work away from home.
Prefer to absorb this information while watching sunsets over the Mediterranean? Watch the workation video instead:
Where To Go
Maybe the most obvious question is this one: where do I go?
But there's actually another question that you need to ask yourself in order to find that answer.
After you decide you're done for today and close your computer, what would you like to see? Would you like to see palm trees, snow-capped mountains, old cobblestone streets in a historic city?
Budget aside, pretty much anywhere safe and with WiFi is on the table here. Don't let companies selling pre-determined workation packages try to sway you into believe that there's a secret list of the best workation destinations.
You are in complete control of where you go and any workation destination will do. Portugal, Italy and Greece are popular workation destinations in Europe, but you can choose to be more adventurous.
When deciding on a location, consider choosing somewhere that is different from where you live. I know it sounds obvious but hear me out as to why.
Although it's easy to picture yourself lying on the beach all day or hiking some mountain trails but realistically, you won't have the time to do these things every day.
Choose a location where the fun doesn't depend on the things you get to do but instead comes from the fact that you're there.
After all, you're there to get work done! You are not on vacation; you're on a workcation.
So pick something that excites you but don't forget that you're there to work. You can go to Hawaii, Rome, New York or Venice and your budget is the only limit.
Just don't pick somewhere that is too tempting and stimulating as you will have a hard time spending time working!
Where To Stay
Any destination will do for your first workcation, but the same can't be said about picking your accommodation.
Not every type of accommodation is equally suited as a location for remote work. Choosing the right accommodation will play a large part in determining the success of your first work AWAY from home experiment.
In order to qualify for a workation, a location needs to offer certain essentials.
1. Your accommodation needs to have an actual workstation. Although many hotel rooms come with a small table and chair, as an 8-hour-per-day workstation, it needs to be comfortable.
If you work online, you need an actual table to fit your notes, your laptop, and the occasional cup of your preferred caffeine boost. The size of the table may sound like an insignificant detail but keep in mind that you'll be working here for 8 hours a day.
There are some workation
Tip: if the workspace at your accommodation isn't suitable, you can also find a local cafe, restaurant, bar (sometimes this works during the day) or coworking space, but this will add up in addition to paying for your accommodation.
2. Your workspace away from home also needs to be a quiet one in order to minimize distractions. Back in the day when I was still working as a high school teacher, I learned that working in the staffroom wasn't for me.
Grading papers is just not as interesting as, for example, overhearing students trying to come up with the best excuse for being late (again). The result was always the same: lots of coffee and small talk while sitting next to a stack of papers that after 2 hours somehow were still ungraded.
Your workation should leave you glowing, productivity-wise, so try to pick a place without distractions. Look out for accommodations above or adjacent bars, at street-level in bustling neighborhoods, or alongside 24-7 transit (things like above-ground subway lines).
Tip: read accommodation reviews on Airbnb and specifically look for comments on the noise level, and ask hosts if you're not sure. Ask about the day and night: noisy nights can wreck your days.
3. Book accommodation with a workable kitchen. Having access to your own kitchen is one of the best ways to lower the costs of staying somewhere long term. Ordering takeout or eating out for days on end will quickly add up!
It also becomes costly (time-wise) to go get food for every meal and snack. Meals should enhance your workation, not be a headache. Making mealtimes enjoyable is a really wonderful remote work habit to commit to.
4. Wifi is (remote work) life. Having a good and strong internet connection is an absolute necessity. It might be tempting to go off-grid in order to *really* focus, and if you can get away with that, cherish it!
But for everyone else who relies on WiFi: make sure it's good. It's a headache and destroys productivity (and the mood) if you can't work at your normal speed while on workation.
Tip: you can ask Airbnb hosts to verify their WiFi speed before you book. This is particularly important for anyone with frequent video calls or video uploads.
Roll call:
Actual work station
Quiet days and nights
Kitchen available
Strong WiFi
Based on these essentials, renting an apartment or housesitting is often the way to go. Hotels or hostels are built for people moving on after they spend the night and as a result aren't well suited for a workation. In my experience, hotels are too expensive and hostels need to be picked consciously or they're too distracting.
Renting (or housesitting) an apartment, studio, or even a villa through platforms such as Airbnb will give you the most flexibility.
When To Go
There really is no wrong time to go on a work vacation. There are, however, more expensive and crowded times to go.
The most obvious time to take a workation is the low season. Generally speaking, the low season coincides with a destination's off-summer season. Mind you, this varies based on hemisphere.
Note that I said off-summer instead of winter. In the northern hemisphere, off-summer includes September and October, which are decidedly not winter months and often just as enjoyable, weather-wise.
Something worth noting is whether or not a destination has a low season for locals as well as tourists. This may affect where the nearest open grocery store is. Don't trust Google Maps; ask your host before booking on Airbnb.
I've traveled in the off-season in North and South America and Europe. Here are some general rules of what you can expect in low-season travel:
Fewer people, both tourists and sometimes locals
Lower accommodation prices. Search for monthly prices on Airbnbs to see discounted prices (screenshot below)
Some closed tourist amenities, and even standard amenities, depending on the fluctuation in the year-round local population
Off-peak weather, however that looks for any specific destination. It can mean colder temperatures, rain, snow, fires – just research before you go.
To find monthly Airbnb discounts, put your destination into Airbnb and select "I'm flexible" for check-in dates. Then toggle "month," and select which months you're interested in traveling to.
Right now, I'm writing this workation blog post from Crete, Greece while sitting on a balcony overlooking the Mediterranean.
Thanks to low season prices, we were able to get a discount of almost $1,000 off and ended up paying a little over half of that for a month-long stay. That's less than rent at home.
This low ticket price isn't surprising after traveling for a while. If you crunch the numbers on your at-home life, you may be surprised to learn that it's cheaper to quit your apartment and travel full-time.
Let's say you make US dollars or Euros online – you can travel to many countries where that income goes incredibly far. That's known as geographic arbitrage, and it might be a sign that becoming a digital nomad could be right for you.
What To pack for a workation
Packing for a normal vacation isn't the same as packing for a workation. When I go traveling, I pack light. Only the basics: clothes, toiletries and a book for those long bus rides or layovers.
Normally, I'm unphased if I forget to pack something because I can always replace it. For a workation though, this doesn't work. You need to pay special mind to your packing list if you're going to have the best experience.
Working from anywhere obviously means that you need to pack all the things you need for work remotely. Depending on where you're going, planning for possible worst-case scenarios is also good practice. You don't want to spend your days trying to replace the broken charger for your laptop, like I had to do in Colombia.
And if you travel while working online long enough, your charger *will* break. It's a law of physics. Anyone who's going off the beaten path should see if they have room to pack a backup charger.
Good luck trying to explain in broken Spanish that you need the upgraded version of the gigahertz processor 2000… It's not pretty.
The thing that makes packing for a workation unique is that you pack for comfort. After a day on which you've worked 8 hours, you want to feel comfortable.
This is especially true when you're going away for longer periods of time.
So, bring the thing that gives you that warm glow, makes you smile, or does in any other way add to your feeling of comfort.
If, like me, you need good quality coffee, bring your coffeemaker (I never go anywhere without my trusted AeroPress). Bring that pair of sweatpants, that cozy sweater or even that mug if it brings you joy!
A few of my trusty remote work items are:
How Long Should Your Workation Be?
Make it a week. Maybe a month. Heck, why quit traveling at all?!
Okay, untamed enthusiasm for full-time traveling aside, finding the right length of your workation is a simple equation.
Start with your launch day: add 3 days of transition time before you need to be working.
The first few days will be spent on essentials, such as finding the nearest supermarket, exploring your new location, or just getting over any jet lag.
The same goes for the end of your trip. You need a day to pack everything, print travel documents, prepare for the journey home.
Plus, there's the settling-in process back home.
Picture it: you arrive, jetlagged, no food in the fridge, a pile of mail, tan already fading, having to work at 8 a.m. the next morning. No thanks.
Important: giving yourself these buffers on both ends of your workation also allows for canceled flights, train delays, etc.
The length of your trip is up to you but make sure that your workation is long enough. Going away for a weekend, for example, doesn't cut it.
A workation can be an amazing way to break free of routines and tap into that well of creativity and productivity but it takes time to get into that frame of mind.
Plus, you should plan some time to enjoy your new surroundings. You won't be travel-traveling, but that doesn't mean you won't see any of it.
On our way to Greece, Kayla and I took time 10 days off to just enjoy being on the road before settling on Crete for a month. We took the train across Europe and made sure we were free to explore some of the destinations on the way such as Rome and Venice. On the way back, we explored Athens.
Workation is a combination of two words, working and vacation. Make time for them both!
Why not try to go for a month? You'll have time to…
Get into a work routine
Explore the area
Reap the creative benefits
Plus, get the discounted rental rates
One month in your chosen destination, but 3 travel days at the beginning and the end makes for a great first workation.
What To Expect
A happy workation has the potential of being incredibly productive if you set your expectations correctly. With just a little planning and flexibility, it can also be a lot of fun!
There are some downsides, though. Don't underestimate the effect of being away from friends and family.
It can make the evenings a little lonely.
Once you're done for the day, feeling great, you close your laptop and look up at the empty walls of your rental.
… *crickets*
Now what? You have to make something happen, or spend the rest of your day watching Netflix. No shame there, but that usually has an expiration date of feeling fun.
This should sound familiar to anyone who's ever gone backpacking. I'm talking about those first few days when you've yet to find your people or a groove.
It's a dampener if you're not expecting it.
When Workations Go Awry
Plus, just like with all travel, there are those little unexpected blips.
Like getting the hang of a weird stove that doesn't work all the time, or all of a sudden not being able to drink the tap water and having to remember to go buy your own.
Or having a mold outbreak and having the sit with the windows open, even in winter.
Or getting food poisoning and spending days in bed feeling like this may very well be the end.
These diddlies have all been first-hand experiences, and when you're traveling, it's just another funny story for the books.
Remember that time our bus driver didn't understand our Spanish and we ended up on the entirely wrong side of the country? Ah, travel.
But on a workation, these little hicups can have real consequences. It can ruin your ability to be creative and productive, and ultimately your entire workation if you let them.
You can never completely stabilize the travel lifestyle, but prepare for speedbumps by making it a remote work habit to finish your work ahead of deadlines.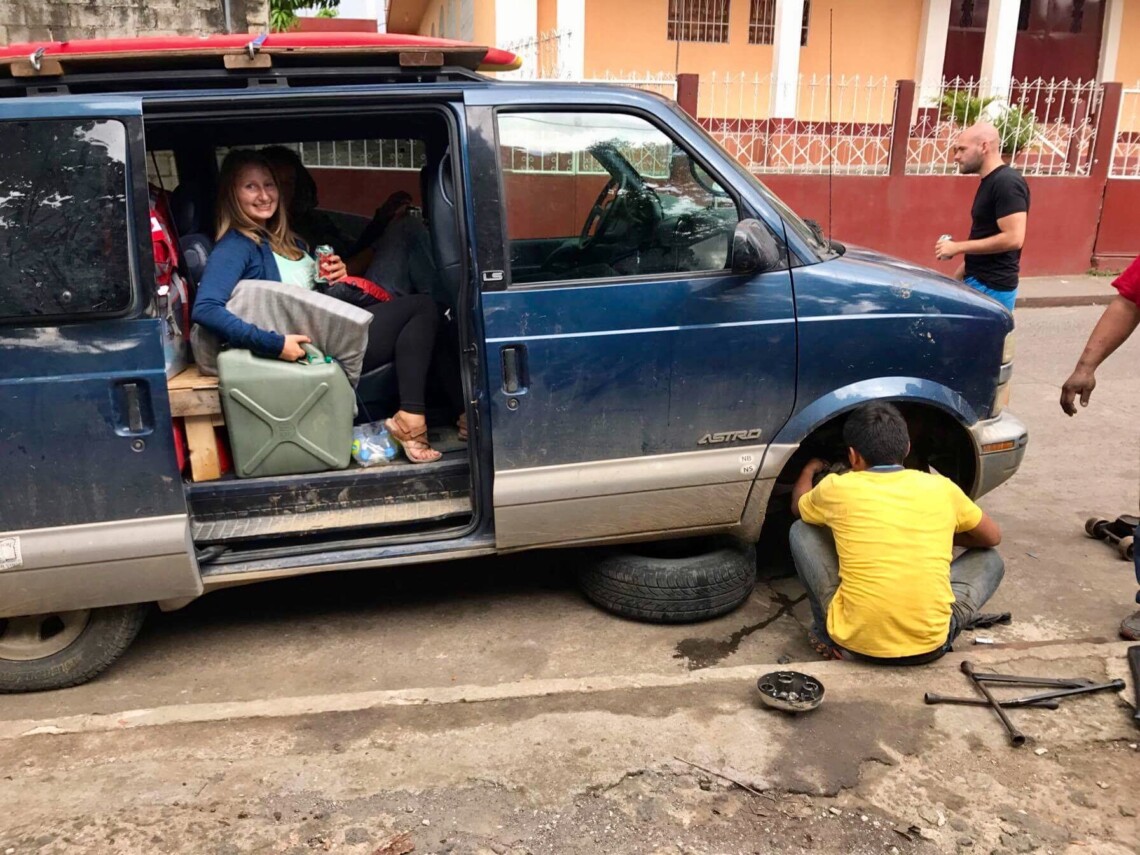 In order to minimize these effects, it is worth investing in comfort. Don't be stingy with what you spend on groceries for example, timewise or moneywise.
Putting healthy food on the table that tastes good, drinking good coffee and occasionally splurging on something a little indulgent are all things that go a long way to boost morale.
Something you can start doing right now is some research before you book.
This can save you a lot of headaches. Rental platforms and individual renters are beginning to cater more and more to people that want to travel while working. This is why Airbnb has implemented a new feature where you can check the internet speed before you book, and countries are scrambling to implement digital nomad visas.
The most important thing to think about is finding that work and life balance, between getting stuff done and enjoying the vacation part of your stay. After all, spending your days working until you're too tired to do anything isn't the reason you decided to plan a workation.
Set your workload at the beginning of the day so you know when you'll be done. Don't forget that setting your workload isn't just choosing what to work on, it is mostly about deciding what it will look like when you're done.
In other words, set specific tasks for the day. So, I will work on this article today becomes I will be done once I've written 1000 words.
The success of a workation is largely determined by how well you stay in control of your time.
So What Is A Workation Really Like?
Kayla and I have been in Greece for almost a month now and we have managed to get a lot of work done. More than usual.
We've gotten a lot done for our clients, come up with a content plan for the blog, and were able to breathe some fresh air into our YouTube channel. All of this while enjoying being on the Mediterranean.
To be honest, a large part of my day isn't that different from working from home. I get up, make breakfast and coffee, turn on my laptop and work my normal hours. At this moment, I have just poured my second cup of surprisingly good Greek coffee as I sit outside on the balcony writing this piece.
The true magic of this workation kicks in the moment I turn off my laptop. Every day after my work for the day is done, I go for a walk on the beach. With flip-flops in hand and my toes in the water, I make my way to the local supermarket.
Each day, I make sure to cook a good and healthy meal. Almost every day ends the same way, enjoying a glass of ouzo while watching the sun go down over the Mediterranean.
The fact that I get to do this in December makes it even more special to me. We live in the Netherlands and the Dutch winter is a terrible time of year. The days become short and dark and the weather is equally depressing; just cold, wet, and gray without any of the fun winter qualities like snow. I think a surprisingly large percentage of the Dutch would be Ok with skipping winter altogether.
Yet, here I am on a balcony in Greece. I'm not overselling it; it really is magic.
Final Thoughts
Working remotely is a gift, and the workation trend isn't going anywhere. Promise yourself that you won't spend all of it working from your robe on the couch. At first, going on a workation sounds like this big, super expensive thing, but now you see that it really isn't.
That is, as long as you plan ahead a little.
You can go anywhere in the world as long as you make sure it checks the boxes we talked about.
Plus, thinking a bit beforehand about what to expect can make all the difference.
So, do you feel inspired to go for it and temporarily change your normal desk for a more exotic one? Let me know in the comments! I hope you're inspired to take your first of many workations. Maybe we'll bump into each other on the beach someday.
– Bert-Jan
Wonder if you could do the workation thing for years? See about the full-time travel lifestyle is right for you.