/
How To Get Pinterest Followers On Autopilot
*This post may contain affiliate links, which means I may receive a small commission, at no cost to you, if you make a purchase through a link.*
Last Updated on February 4, 2023 by Bert-Jan Schilthuis-Ihrig
If you're reading this, then you've probably been researching how to get Pinterest followers and you've been sifting through some contradicting advice.
Followers on Pinterest aren't essential to success, yet everyone still wants them.
And with more than 400,000,000 monthly users, there's no reason that an effective Pinterest strategy SHOULDN'T be driving follower growth.
The annoying truth is: you'll get more Pinterest followers on autopilot by consistently publishing quality content that's optimized for Pinterest search results.
That's the honest formula behind a Pinterest marketing strategy that funnels followers to your account (also called your profile or Pinterest page). That's the simple equation to grow your Pinterest account.
Of course, I would never just leave you high and dry with that big-picture nonsense. So let's walk through the FAQs about how to increase your Pinterest followers and I'll tell you the 18 most actionable things you can do TODAY to see that number grow.
Can you buy Pinterest followers?
Yes, you can buy 1000 Pinterest followers. Heck, you can even buy 1000 Pinterest likes. But they won't help your account because those accounts are just bots. They won't turn into monthly Pinterest viewers that click or save your content, and they'll tank your engagement rate. Pinterest routinely removes bot and inactive accounts so you'll inevitably see those bot followers disappear.
A less sketchy way to buy real Pinterest followers is using a Pinterest growth service such as PinGrowth. While it's hard to say what the best Pinterest growth service looks like exactly, it's certain that this is another area where you want tread lightly.
There are many hacks out there and finding a top Pinterest growth service will take a little research on your end.
Do Pinterest followers matter?
The quick answer is no. The number of followers you have does NOT determine the distribution of your pins on Pinterest. An account with no followers can still have a decent Pinterest presence and have its pins shown on the home feed and in search results. However, your pins are shown to your followers on the home feed, so you do get extra exposure with the followers that you collect.
How many Pinterest followers is considered good?
This will vary from industry to industry. A general parenting blog will have a much higher number of potential followers than a blog for new mothers over 40 who breastfeed. An account hitting the 1,000-follower mark is a good sign, but there's no real "good" number of Pinterest followers.
How Do You Check Your Pinterest Followers?
To check your Pinterest follower count, navigate to your Pinterest account and look underneath of the "about" section. You'll see numbers for followers and following.
If you need more help finding your Pinterest follower count, this Pinterest help article can help.
What are some WRONG ways to gain followers?
Okay, no one ever actually asks this, but a LOT of articles on getting followers on Pinterest are outdated so I'm freestyling for a sec. Strategies that include pinning to group boards or using hashtags are outdated.
Group boards became much less popular in 2020, when Pinterest stopped encouraging creators to pin content from other creators (or to keep it to a minimum). Hashtags went out of style somewhere in the fog of the pandemic as well.
And while I'm on my soapbox, I don't recommend you try to buy your way to a higher follower count either. Buying Pinterest followers seems like a quick fix but getting a bunch of cheap Pinterest followers won't get you anywhere. Ads on Pinterest (AKA promoted pins) CAN bring you some follower growth, but it's not sustainable. You can gain targeted Pinterest followers for free by using the system the way it was designed to be used.
Half-baked tips, outdated information and flat-out bad advice about Pinterest marketing really creams my corn.
So I'm going to show you the money to prove that these tips on how to get more Pinterest followers aren't full of hot air:
I'm a Pinterest nut, and I've been on the platform consistently publishing for years. I write about Pinterest marketing for lots of publications.
Everything you've heard about Pinterest is true: you can make money, explode your blog post traffic, reach your target audience and get followers on Pinterest.
But shortcuts like promoted pins and chasing virality aren't going to get you there. These tips will.
Getting more Pinterest followers isn't as mysterious as it sounds. Here are 18 things you can do today to up that number! #pinterestmarketing #bloggingtips
Click To Tweet
18 Ways To Get Followers On Pinterest
If any of these Pinterest strategy tips leave your head spinning, go back to the basics with my beginner's guide to Pinterest.
And remember: if you want to get more followers and exeperience Pinterest growth, you'll need:
Optimized content
Consistency
Patience
Let's do this!! Tip #1…
1. Publish Quality Content For Years
It's not flashy or sexy, but it's the truth: the number one way to build your Pinterest following is to consistently publish high-quality content (for years). 
You may also like: Disadvantages Of Pinterest
I went viral in 2020, with my monthly views number hitting the 9,000,000 mark. I had about 600 Pinterest followers before that and the viral content amassed me about 2,000 new followers.
Viral content is fun, but it's never the answer to real growth because what goes up must come down.
Once my content settled down and the explosive reach was over, my spike in followers ended. My Pinterest followers have slowly grown by about 100 people a week ever since.
90% of the time, success on Pinterest is built slowly from consistency.
Although many guides on how to get followers on Pinterest will sell you shortcuts and share success stories from 2 viral pins, most of it's fluff.
I had about 60 pins from 2 different blog posts go viral, and I would NEVER sell that as the solution to get more followers on Pinterest.
One of the blog posts alone has been shared almost half a million times:
Stay true to the course of consistency and quality content (instead of shortcuts) and you'll find much more success on Pinterest.
You may also like: How To Publish Multiple Pins For The Same URL
2. Complete Your Pinterest Profile
When a pinner comes to your account, what do they see? They should be able to immediately identify if your brand can help them or not. After that step, they should be engaged.
Let's talk about what it looks like when a viewer visits a profile that's NOT complete.
They see:
A weird profile picture
No account cover image
A bio that's unclear
They have no idea if this content can help them or not
Instead, viewers should see an account that's:
Complete
Clear
Compelling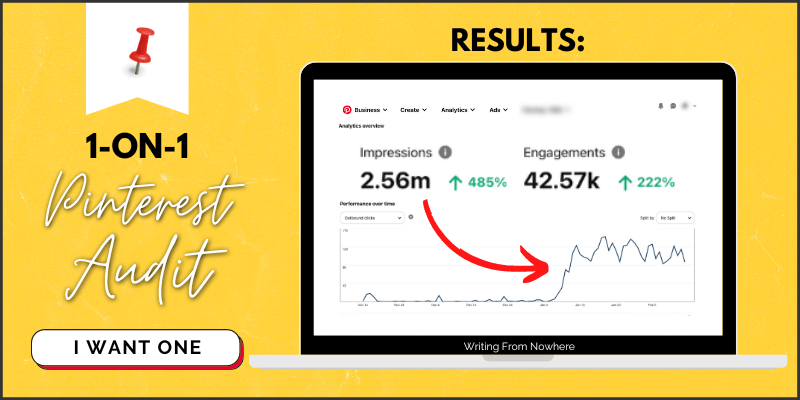 Do that by setting your Pinterest account up correctly. Cover your bases (creating a business account, claiming your website on Pinterest, setting up rich pins, etc.). Skipping these basic steps will greatly reduce your follower growth.
P.s. even if you set up your account correctly years ago, you should check that you're not missing NEW account settings that Pinterest rolled out without saying anything.
Your account also needs KEYWORDS in order to communicate clearly to viewers and the algorithm. You can read about Pinterest keyword research or watch a quick tutorial here:
3. Add Your Name To Your Bio
Most users mistakenly think that Pinterest is just another social media platform. In reality, it's a search engine, but that misconception means that users expect a personal experience with creators on the platform.
Introduce yourself with your first name, not your brand name (if you're an individual-owned business or brand) in your bio.
Here are examples of how this looks in practice:
Pinterest users appreciate this kind of personal touch.
Companies are unable to take advantage of this opportunity to connect with pinners. However, they can still use welcoming, spoken language. Remember, pinners don't want to hear an elevator pitch in a bio.
You may also like: How To Troubleshoot Pinterest Problems
4. Communicate Your Value
A best practice for all marketing is to tell the viewer right away what you can offer them. Accounts that fail to do this will miss out on followers and have a lower percentage of pinners click through to the website from their account.
This is simply and effectively done by offering an "I help" statement directly after your name on your account.
Here are some examples from Pinterest:
Don't make the viewer try to guess what's in it for them. Tell them explicitly or you'll miss out on 80% of your potential followers.
You may also like: 30 Easy Marketing Tips For Pinterest
5. List Pinterest Boards In Correct Order
When you create a new Pinterest board for your account, it's added to the front of your boards list on your account.
But, is that the most important board for pinners to see when they arrive at your account?
Remember: your account should clearly show pinners what kind of content you share so they can decide if your account can help them.
In the heat of the moment, it's very easy to create new boards and forget to go to your account and rearrange them. Only your most relevant, resource-packed boards should be added to the front of your account.
Revisit your board order and rearrange as necessary.
Record scratch: Is your head spinning? Even if this feels overwhelming, you CAN learn how to grow your account from scratch. If you want some help, the #1 resource I recommend is a Pinterest course called Pinterest Popular. It covers the absolute basics like what are pins and Pinterest boards, all the way to scaling your account.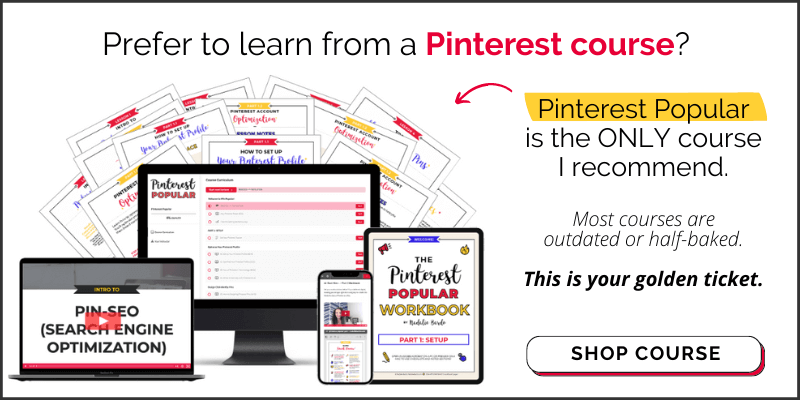 6. Add A Call To Action (CTA) To Your Bio
When a Pinterest user sees your content on Pinterest and heads to check out your account, they've already taken the first step down this path. Make the second step clear to them, and extend an invitation.
This is called your call to action, and it's not something to be overlooked.
A best practice for all marketing is to never leave the viewer wondering where to go.
Lead the dance, and walk the viewer down a clear path that helps them understand your brand and see what value you have to offer them. AKA, a Pinterest viewer funnel.
Pinterest content is no different. This can be as simple as telling users t follow your account for X tips.
If you sell LinkedIn templates, send pinners to your #1 LinkedIn resource first. That post will have a natural invitation to your email nurture sequence (help designing a nurture sequence linked in resources) or template sales page.
You may also like: Hiring A Pinterest Manager? Read This First
7. Invite Your Existing Audience
If your Pinterest strategy has been on the back burner, I bet you've either intentionally or subconsciously never encouraged your existing audience to follow you there.
Whether you have an audience on any social media platform or an email list, etc., tell them that you're providing new and exciting content specifically on Pinterest and that you'd love to share it with them.
Send your audience a link to your account and ask them to follow you.
Social media outreach ideas:
YouTube: Mention at the end of your videos that you'd love to connect with viewers on Pinterest. Include a link in the description
Twitter: Make a tweet asking who else is on Pinterest as a creator and say you'd like to connect there
Instagram: Talk about your Pinterest account on your stories, add link to bio
Facebook and LinkedIn: Make a post about scaling your business on a new platform and looking for connections there
Email list: Send out an email and ask to connect on Pinterest. Tell them what you share there
Personal accounts: Make a post about taking on a new platform and asking for support from friends and family
Get copy/paste scripts in my Pinterest sharing guide.
8. Be Different
This may sound like a cliche or empty sentiment, but part of attracting viewers means standing out from the crowd.
You want people to connect with you, so you have to show them who you are!
Here are easy ways to avoid being lost into the void of generic content.
Don't choose overused stock imagery.
I'd bet you $100 you've seen this image on Pinterest before:
While this is a lovely stock image, it's been used over and over again on Pinterest without any altering.
This image could've been customized easily by adding text, adding a filter or inserting this image into a template.
Instead it's been uploaded without customization onto Pinterest countless times, which this quick reverse image search shows:
This is the fast-track to NOT standing out on Pinterest. Here's another faux-pas to avoid:
Avoid the free Canva Pinterest templates. They've been used to death. Spending a little money on

pin templates

will help you stand out.
Alter everything to match your brand. That includes colors, fonts and imagery.
Showing brand personality is a massive part of your blogging success, and it's a huge asset on Pinterest as well.
9. Add A Follow Button To Your Website
Capture your reader's attention by adding a pop-up follow button to your website.
In order for this to be effective, you'll need to specify what you'll be sharing on Pinterest that the readers can't already get on your website.
That could be…
exclusive [topic] content
seasonal [topic] content
trending [topic] content
curated [topic] content
Just like all marketing: you must motivate viewers to take the desired steps by letting them know what they have to gain!
An easy option is the MiloTree Pinterest follow button, which can appear on both mobile and desktop:
You may also like: How To Avoid Being Permanently Suspended On Pinterest
10. Make Idea Pins Regularly
Idea pins are Pinterest's version of short-form, binge-worthy content.
They get a lot of attention on the home feed, and it's a huge opportunity for creators to make content outside of the blog posts and inspire Pinterest users in even more ways.
At the October 2020 Pinterest Creators Festival, Pinterest said the following things about idea pins:
"Idea pins are designed to help you build an audience across Pinterest."
"This is the first time ever that creators can publish content directly onto Pinterest and build their audiences on the platform. This is the start of a new Pinterest."
"Use content to drive awareness of you."
Pinterest is inviting you to use idea pins to build your followers on Pinterest. Accept their invitation!
You may also like: Complete Guide To Making Amazing Idea Pins
This is a low-hanging fruit to get more Pinterest followers. Especially since Pinterest allows you to see exactly how MANY Pinterest followers you got from each individual idea pin:
My idea pin templates have 20+ 5-star reviews. Shop now to get a bonus idea pin workbook.
11. Jump On Popular Content Trends
Pinterest is a trendy place. What to wear, the latest way to drink your coffee, this season's haircuts – there are opportunities for business there, too.
Create pins that tap into currently trending topics, and even try your hand at creating viral content.
The most viral pins (according to the Pinterest 2020 Creators Festival) fit into these categories:
Novelty. Fresh, imaginative, use your original photography, create a new trend, add value, give something a new spin.
Relevance. Leverage people's everyday interests, milestones and cultural moments, and seasonal trends. Also lean into planning moments, such as remodeling, weddings, etc.
Highly visual. Lead with compelling imagery, experiment with editing, color blocking and composition. Make it human.
Positive. Over 30 million people save quotes every month. Inspire viewers to make, try or do new ideas.
Actionable. Identify a clear subject. Compel and inspire people to act.
Also look for ideas of trending content in the Today tab:
Or use the Pinterest Trends Tool. Any business or brand on Pinterest should be referencing this to plan out and schedule their content calendar ahead of time.
12. Pin An 80/20 Ratio
…of your pins versus other creators' pins.
When a pinner comes to your account, what process will they go through?
Will they see your content, what value you provide, and immediately understand if your brand can help them?
Or will they see content from other people, with 10 different brands raising their hands yelling "pick me!" Will users end up wandering off onto another website?
You do not need to repin other creators' content on Pinterest. Pinterest has said this outright, and discourages creators from repinning (see image).
It doesn't do anything for your brand, and erodes the connection between you and your audience by creating confusion.
When you confuse, you lose (quote from marketing guru Donald Miller).
Your account is your domain.
Set your account up so that it funnels pinners into your brand and not someone else's.
This can also help keep you out of trouble with the Pinterest algorithm. This is a screenshot straight from the horse's mouth: when creators complained of low reach, Pinterest cited repinning as a problem.
Repinning isn't altogether bad, but it should be done at a minimum alongside much more of your OWN content (see tip 15).
You may also like: How To Avoid Being Caught In the Pinterest Spam Blocker
Not sure if your Pinterest strategy is helping or hurting? Get definitive answers with a Pinterest audit:
13. Add The Pinterest Icon On Your Website
Are you inviting your website viewers to connect with you on social media? Add the Pinterest icon with a link to your account along with your Instagram, YouTube, and whatever other social media platforms you have.
You should be displaying your Pinterest account in multiple locations on your website, such as:
the sidebar
the footer
about page
contact page
This will be found in your website settings, likely under "social profiles," or something similar. Make sure that Pinterest, as well as all other icons, opens in a new tab.
Resources:
14. Create Content That Attracts Followers
What's resonating most with your target audience? Don't guess – look at the stats.
In 2021, there was a new analytics update that offered creators the opportunity to see how many new followers each idea pin brought them.
This feature is limited to idea pins alone, but offers a unique opportunity for creators to hone in on the content that brings them followers.
Test out all of your blog posts as idea pins as a litmus test to see what pinners are loving the most.
This is also a great way to propagate your content and make your efforts go further.
You may also like: How To Turn Your Instagram Content Into Pins
15. Join Tailwind Communities
On the surface Tailwind is a platform that helps you schedule pins, but there's a very powerful feature tucked away that I recommend that you use: communities.
Tailwind Communities are groups of bloggers in similar niches who all share each other's content.
This is like the networking party of Pinterest, and you don't want to pass on this invitation.
Here are the steps:
Get a

free Tailwind account

Ask to join communities in your niche (you can join up to 5 for free)
Add yours pins into the community
Add pins from other creators to your schedule
Repin content from other creators at a very low ratio – not more than 3x per week. Once or twice a week is best to maintain a high proportion of your own content to a low proportion of other content.
16. Reply To Comments In Real-Time
Pinterest has started encouraging users and creators to engage with each other in the comments section of pins. This is an easy way to increase your account's engagement rate and connect more with pinners.
If you've been on Pinterest for a while, I wouldn't be surprised if you've ignored this section altogether. Pinterest comments are NOT like messages. Messages are filled with spam and can be largely ignored, but not replying to comments is leaving money on the table for your engagement score.
Raise your engagement and boost your content in the algorithm by replying to comments on your pins every day.
You may also like: 5 Opportunities Between Google And Pinterest
17. Use Relevant Keywords Everywhere
Pinterest is a search engine, and if you use keywords correctly then your pins will appear in search results (huzzah!).
This is how your Pinterest audience will find you, so don't skim over these keyword tips.
You should be using relevant keywords in your pins themselves, in the:
Image file name
Pin title
Pin descriptions
Website URL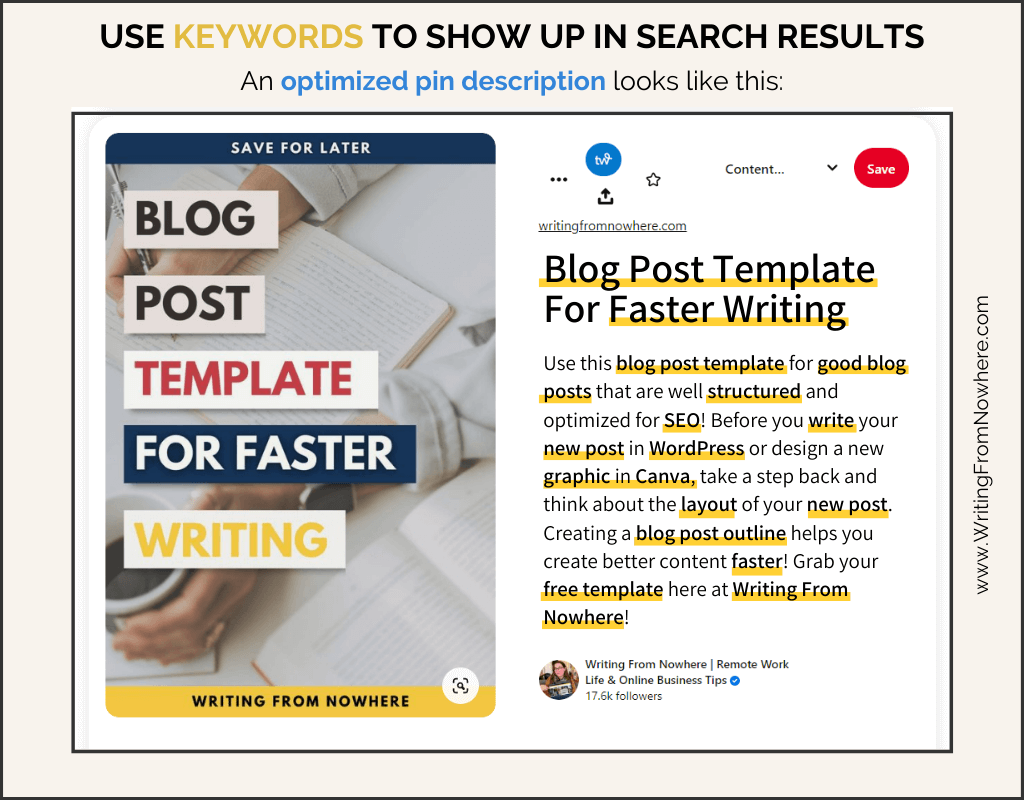 On your account, you should optimize your Pinterest account in these places:
Account name – this feature was taken away in August 2022
Account bio/description
Board names
Board descriptions
Ask yourself: what search terms and people typing in that should lead them to your content?
The fastest way to find keywords is to look in the search bar. Type a word into the search bar and look at the suggested keywords that Pinterest auto-populates.
Learn all of the keyword tricks in my Pinterest keyword research guide.
18. Hold A Giveaway
This can be extremely effective when combined with other types of engagement, AKA an engagement giveaway.
These are giveaways where viewers get extra entries for engagement. To enter for a chance to what your decided prize, viewers can:
Follow on Pinterest / Instagram / YouTube / etc. – all social media platforms
Share your content
Leave a comment or review
Generate followers on Pinterest by listing it as the top item on your engagement giveaway.
The most popular software for this type of giveaway is KingSumo.
Final Thoughts
Even though follower count doesn't matter, we all want to see that number go up, don't we?
It feels like an indication that we're doing a good job and reaching our people, and there's no shame in wanting to feel that love reciprocated.
These tips, matched with consistently creating new pins, will help you grow your Pinterest like never before.
I know most people don't want tips about rich pins, target audience and group boards when they read blog posts like this on how to get followers on Pinterest, but the basics are UNDERrated.
For the majority of creators, a huge following takes years to grow. Be in the pinning game for the long run and you'll see that success on Pinterest too.
Do you love Pinterest so much that you feel like you could do it for a living? Read my story of becoming a Pinterest manager and see if it could be your dream job.
You may also like: How To Contact Pinterest Help