/
Free Book Exchange: How To Organize A Community Book Swap
*This post may contain affiliate links, which means I may receive a small commission, at no cost to you, if you make a purchase through a link.*
Last Updated on May 11, 2021 by Kayla
Free book exchange, community building and reducing waste – does an event get any better than that?! A community book swap is a fantastic community event to attend and takes very little manpower to organize.
My lovely little city, Groningen, Netherlands, has a monthly community book swap that I inherited from a friend. I offered to take over when she became too busy and was shocked at simple it was to organize and made me wonder "why doesn't event city have a free book exchange?!"
I hope that this blog post will encourage just that – a book swap in every town. Organizing the community book swap quickly became a highlight of my month. Follow these steps and copy/paste my exact language to seamlessly organize your own book exchange.
The Enviornemental Perks Of A Book Exchange
Free stuff aside, hosting a community book swap is a wonderful low-waste community event.
Free stuff actually always is, per the Buyerachy of Needs by Sarah Lazarovic: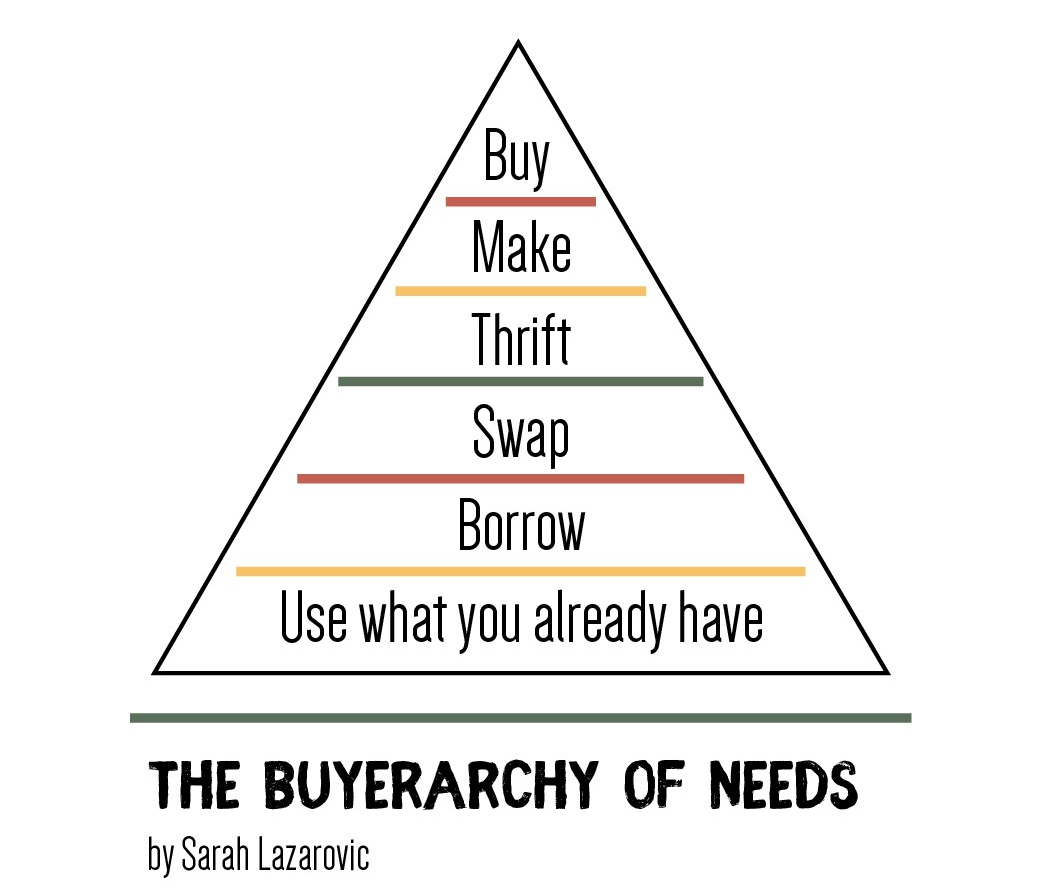 A book exchange is a very natural no-spend event because books also increase in value as they age: think collectibles, out-of-print books, first editions, etc.)
Books also make wonderful low-waste gifts and exchanging books instead of buying them new can fit right into your no-spend lifestyle.
Keeping Your Free Book Exchange Accessible
1. Keep It Free
Many people will naturally make a purchase at the venue, but I don't recommend taking a stance on this issue for your book exchange.
The cost of a cup of coffee will be prohibitive for some people. Simply "charge" 1 book and don't further the conversation beyond that.
The venue will make money from sales and will also benefit from the advertising you do for the event.
2. Avoid High-Top Tables
Many people will prefer the books on higher tables given the choice because they're closer to eye-level. However, this is an accessibility issue that was brought to my attention on Facebook.
High-top tables make the book swap inaccessible to people in wheelchairs or people of short stature. Also, to people with certain chronic health issues, standing for extended periods of time can present a barrier.
3. Ramps And Elevator Access
Be sure that a venue has ramp access and/or an elevator. If the ramp entrance is different than the normal venue entrance, then disclose that on the invite so that attendees can plan and know where to park accordingly.
3. Near Public Transit
To ensure that your book swap is accessible to those who rely on public transit, pick a location that is on or near a transit stop.
4. Disclose Accessibility On Community Book Swap Invite
Let book exchange attendees know in advance of the event what the access is like. This will signal to people who are affected that this event is accessible for them.
You can click here to learn more about hosting accessible events.
During my time hosting my local community book swap, I hadn't thought of or addressed all of these accessibility issues. I look back remorsefully knowing that my events were exclusive to certain mobility levels. I hope that all book exchanges hereafter are open to the entire community.
How To Host Your Own Free Book Exchange
Step 1: Pick The Location For Your Community Book Swap
The best locations are locally-owned (don't go corporate if you can avoid it), cover all of the accessibility standards addressed above and sell at least coffee.
You can reach out to your potential venue in a number of ways: via a phone call, an email, walk-in or social media.
Message To The Venue
If you're drafting a message online, you can say something like this:
Hi! My name is [ name ], and I'm wondering if I could use your venue to host a free used community book swap. The book exchange is an opportunity for community members to trade the books they've already read in for something new. Attendees bring one or more used books, and then can take as many books as they'd like.

We'd love to host at [ location name ] because it's a great local spot and attendees can also [ buy coffee, enjoy your great food menu, etc ]. The event is scheduled for [ date ] and we're expecting about [ X ] people. Is it possible for you to confirm today or tomorrow if this is possible? Thank you and hope to see you soon! [ name and phone number ] 
If they say yes, then you can also send them a link to the Facebook event and invite them to share in online. Good attendance is good for them too because it brings people into their business and establishes them as an active part of the community.
This is the message I send a few days before the event:
Hello again! I have a question, I'm not sure if this fits into your social media marketing but would you be interested in sharing the free book exchange event on your Facebook page? It's open to everyone in the community,  just wanted to mention it! Looking forward to seeing you on [ Sunday ].
Step 2: Attendance

 
The book swap in my city happens every month, and I can tell you with 100 percent certainty that sometimes attendance will be higher and lower than expected, and it's nothing to feel bad about. There are natural ebbs and flows to event attendance.
Maximize community groups that are already active to find attendees. Does your town have any groups, in real life or on Facebook? Maybe neighborhood groups, university groups, free stuff groups, local hobby groups, church groups, Mothers Of Preschoolers (MOPS), etc?
Invite these group leaders to attend and invite their community to the book exchange. Groups or organizations where you live are great because they're already invested in the community and have an audience.
You don't have to be nervous inviting people you don't know: you're not asking them to give money, sign up for something or do you a favor. If they don't share, don't feel bad; just keep spreading the word.
In a normal, non-covid time of life, flyering at local establishments can also be effective. If attendance looks like an issue, encourage everyone to bring one friend.
If you want to host a reoccurring community book swap, which I highly recommend, create a Facebook group dedicated to the book exchange.
Step 4: Communication
I highly recommend a Facebook group where you can directly communicate with swappers. Put a poll in and ask them to choose the date that works best.
Keep the poll open for 2 days and reach out to the venue first to confirm. I always host at the same location, but for your first time at a new venue, you may want to leave extra time to finalize details.
Then, make the Facebook event and start sharing it! No need to reinvent the wheel – keep the details consistent for every event:
It's time for another book-swap, our event for book lovers from all walks of life!
As usual, the rules below:
– All genres are welcome
– No moldy books
– Bring as many books as you like, take as many books as you like!
– All are welcome 🙂
We will be [ in the back room ] at [ venue name ], just come right on back and you'll see us!
You can make up your own rules and welcome message, just make it clear that this is a free event and open to everyone. 
Step 4: The Day Of The Free Book Exchange
Once you have the location details set in place, you just need to spread the word and show up. The day of the swap, your role as the host is simple:
Arriving
Show up early, maybe 20 minutes before the event. I like to chat with the barista, hostess, whoever will be the first point of contact for people coming in.
What To Bring
If you've had swaps before, bring the leftover books from the prior events and put them out. I usually have 2-3 bags of books leftover from the prior swap.
It's nice to set the books upright, like in a library. You can do this with cheap bookends or improvise.
Organization
The books can be organized or left out randomly. I opt to not organize them in any specific way for two reasons. It takes constant monitoring to put all the books where they're supposed to be. It also encourages more browsing to put everything in together.
The one exception for this is children's books: I put all kid's books aside so if anyone brings a whippersnapper, they'll be less bored with a kids section. 
Greeting
It's nice for someone to welcome people at the event, which you can do yourself or ask a friend to help you be a greeter. Just say welcome when people enter and explain how it works. 
How To Make Your Book Swap A Recurring Event
Hosting regularly is a fantastic way to build up attendance and momentum for your book swap. I've chosen a monthly frequency because it gives attendees time to read the books they've just gotten. 
Don't stress about the big commitment of taking of a reoccurring event. You can stop at any time, or ask someone to co-host (you can alternate swaps) or just ask someone to become the next organizer. I took over organizing from a friend, and whenever I'm ready for a break I'll ask someone else to help. Having a Facebook group is really valuable for this – the group of attendees is always in the same place and the admin can change as needed.
Hosting A Free Book Swap Final Thoughts
Putting on a free book exchange is a very easy community event to organize. The hardest part is transporting the books to and from the swap. Otherwise, putting this event together monthly is painless.
All of the organizing takes less than one hour to do (scheduling poll, messaging the venue, making the Facebook event, sharing the Facebook event in other Facebook community groups, re-sharing the weekend of the swap).