/
EcoEgg Review From A Laundry Lover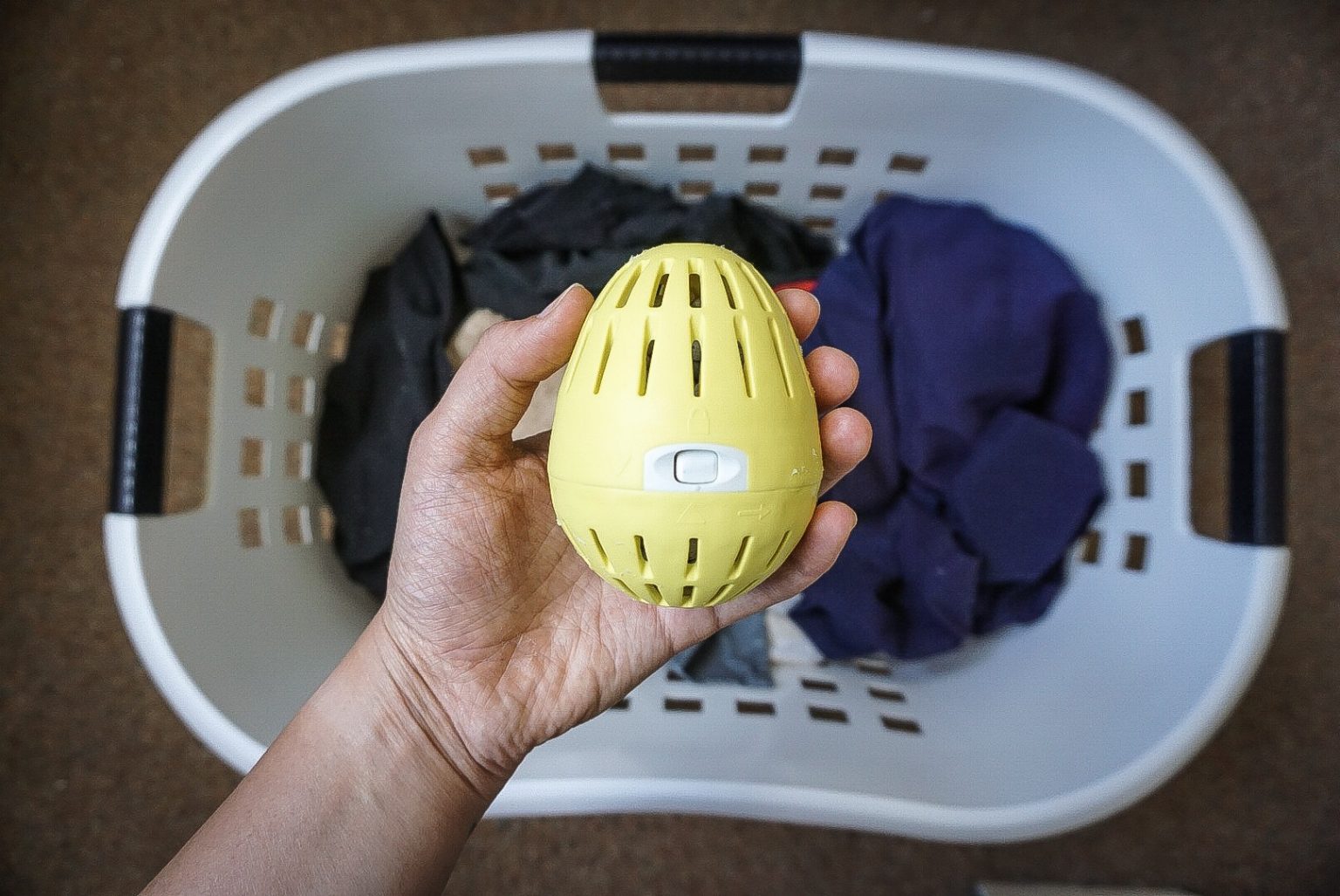 *This post may contain affiliate links, which means I may receive a small commission, at no cost to you, if you make a purchase through a link.*
Last Updated on November 8, 2022 by Kayla
There have been many new products, techniques and hacks I've tried on my conscious-living journey. There's been the good, bad and stupid, but a few rise above as game-changers that have become a permanent part of my life. The laundry soap product EcoEgg is one of those, which has prompted me to write this EcoEgg review.
Pause now and pin this so you can find it later!
If you've been a reader here on Writing From Nowhere or on my Instagram for any amount of time, then you've probably heard me talk about the EcoEgg before.
The EcoEgg may be the single waste-saving product that I recommend most frequently. I've answered many questions around that it feels like due time for an entire dedicated EcoEgg Review!
What's the deal with laundry anyway?
Laundry is a pain point for environmentally-conscious people. When you add up the water and electricity usage, plus the chemical soaps and plastic detergent bottles, the footprint for each load of laundry can be huge.
Personally, I love laundry: the process, the fresh smell, the opportunity to reduce waste. Doing laundry is a meditative process for me.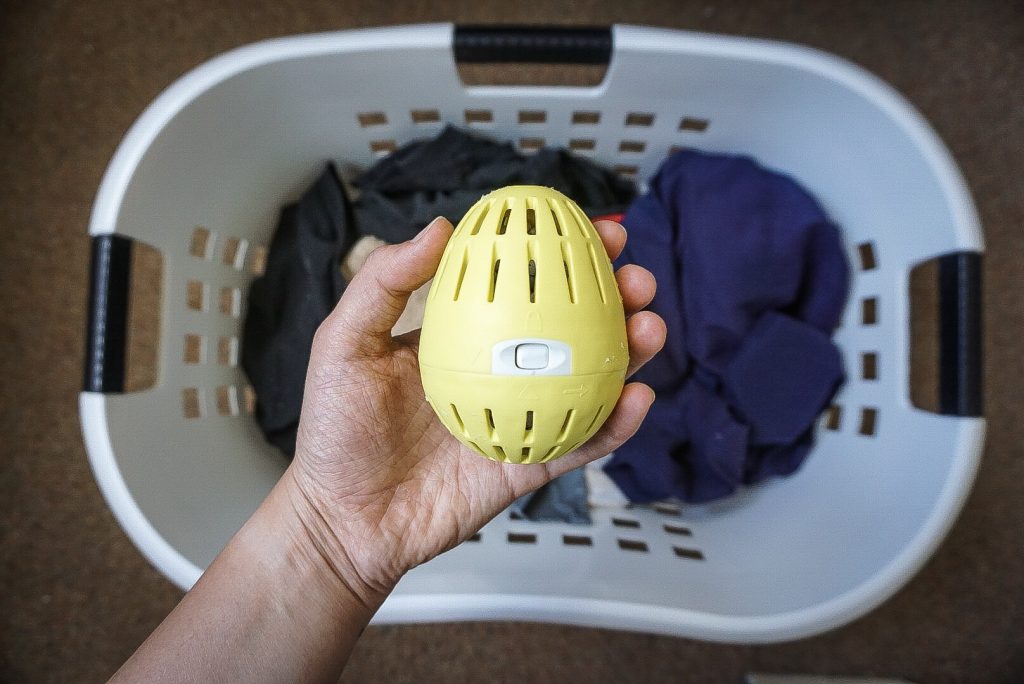 For years, I've been experimenting with different techniques, products and even washing my laundry by hand to reduce the waste around it (blog post on the successes and failures of washing clothes by hand coming soon!).
Before the EcoEgg, I was using my own homemade powder laundry detergent. It worked well, but buying and storing bulk ingredients was a bit of a chore. Commercially-made natural detergents were out of my price range, and I refuse to buy detergent in disposable plastic bottles.
The product
EcoEgg says that one product, costing $17.99, will clean 210 loads of laundry. It's an all-in-one detergent and softener product, streamlining the laundry process from several bottles into one egg.
If you do laundry 2 times a week, this would be your only laundry purchase for about 2 years.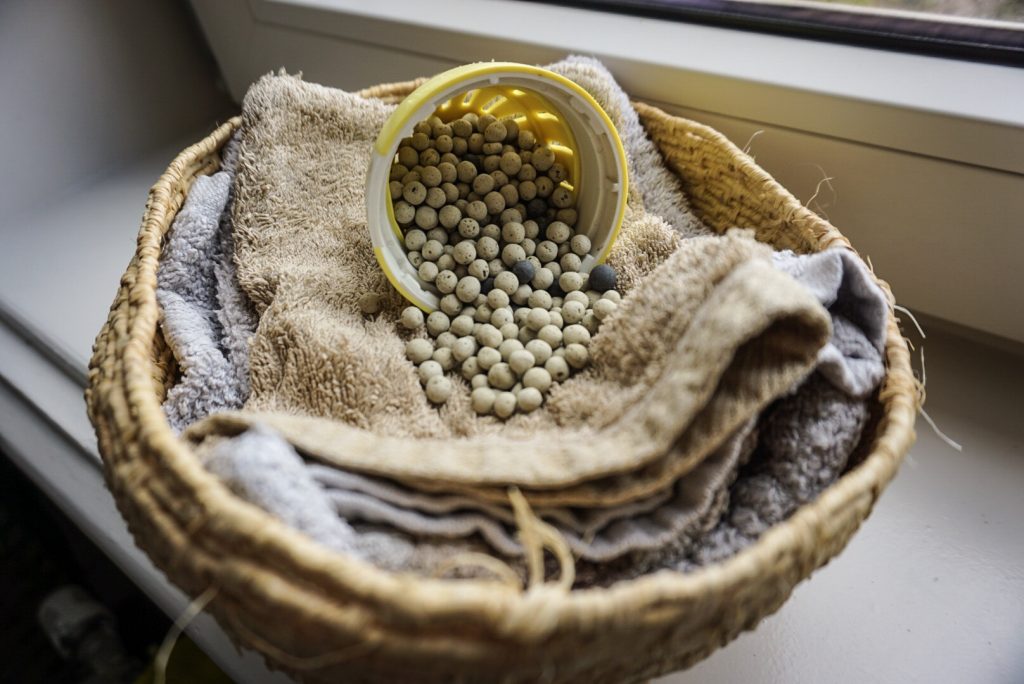 How The EcoEgg works
The EcoEgg is a hollow plastic egg (kind of like an Easter egg) that is filled with mineral pellets. There are little slits on the sides of the eggs that lets water flow in and out. The water dissolves the pellets and they clean your clothes.
The pellets are all natural, and the amount of pellets dissolved is a direct response to the amount of water, so only the amount that's needed is used.
When it's time to do laundry, you throw the whole egg into the washer, and you are done! It works with both front-loading and top-loading machines.
And in case you're wondering, this blog post is not being paid for by EcoEgg! The Amazon links in this article are affiliate links, meaning if you make a purchase I may make a commission, but the opinions are the same.
It's just a product that I'm happy using and think is doing something good for the world. Also, I love laundry. And I think by saving time, money and waste, you'll love laundry more too.
What made me buy an EcoEgg
I have a tedious list of boxes that need checked for me to feel good about using a laundry product. The EcoEgg checks everything off that list when it comes to consciously consuming laundry detergent.
Natural
Sensitive skin has been a problem my entire life, and at times I have had serious dermatological issues. The EcoEgg has tested to be kind to skin, and has received several allergy awards in the UK.
High value
For a reasonable price, you get a convenient and natural product that makes your life easier and prevents waste.
In addition to it being cost effective, I appreciate the minimalism of the design. Only what's needed is used, and nothing is wasted for the sake of getting consumers to spend more (I'm looking at you, liquid detergent).
Minimizes landfill contribution
The EcoEgg itself is made of plastic, but it's not disposable. You use it wash after wash for years, instead of using disposable plastic bottles of detergent.
Conscious company
The EcoEgg is not tested on animals. They also continue to reduce their landfill contributions.
From time-to-time, the company shares updates on Instagram with the latest ways they're cutting the footprint even more. As a consumer, I feel good supporting a company that actively tries to reduce their footprint.
EcoEgg compared to mainstream laundry detergents
Liquid laundry detergent
The measuring cup lids on liquid detergent are designed to cause the consumer to over pour and use more than necessary
Liquid detergent comes in wasteful plastic packaging. Every plastic detergent bottle ever made still exists
The main ingredient in liquid laundry detergent is water. This means that you're paying for something that's free
Liquid detergent is bulky and heavy to transport. This significantly adds to its carbon footprint
Laundry soap powder
Laundry powder takes up the most storage space in your tiny house, sailboat, RV, etc.
Having to scoop the amount of powder yourself each time easily results in overuse
Laundry Pods
Pods are convenient because they take away the step of measuring product out, but they're not responsive. One pod is used every load, whether you are washing one dress or a full load of clothing
They cost the most per load of laundry
Comes in a big ole plastic container
EcoEgg Review: 3 Pros
1. The EcoEgg saves time
Without any pouring or measuring, throwing in a load of laundry is faster with the EcoEgg. The laundry process is more efficient, but the time saved goes even further than that.
On their website, EcoEgg estimates that one 210 load egg is equivalent to 11 bottles of detergent. There are obvious financial savings in an individual only making 1 purchase rather than 11, but resources are saved the entire way through the production process:
Imagine that bottled detergent is being made in a factory in Arkansas. It is then loaded up on a truck and shipped to a Target near you to be sold. You arrive by car and purchase a of bottle of detergent. You drive home and when it runs out, you do it all again.
Multiply that journey times 11. That's 11 more times detergent is hauled from the factory to the store, 11 more times that you've realized you need to buy more detergent, and 11 more trips to the store to buy some, and 11 more drives home.
2. There's far less waste
The waste deterrence is massive. You use the egg wash after wash for years. When the pellets finally dissolve completely, refills come in minimal packaging and cost $12.99.
3. It really works
The ultimate detergent test: I spent a week hiking on the Appalachian Trail in 2018. One week, all sweaty and dirty, wearing the same bra, pants and 3 shirts. After 1 wash with the EcoEgg, they were fresh and clean again.
To me, that was the ultimate test and won my confidence that the EcoEgg is effective.
I do really, really recommend that you use vinegar in your wash cycle for best results.
EcoEgg Review: 4 Cons
1. The EcoEgg is not ideal for doing laundry at a laundromat
If you only have one egg, then you are not able to do more than one load at a time.
2. You can't wash clothes on super high heat
The EcoEgg is safe to use up to 140 degrees F. I tiptoed on this line (well, walked right over it) by washing my EcoEgg in 190 degree water. I wash all of my clothes in cold water, with the exception of my bathroom and kitchen softs, which I was on high heat. It warped the shape of the egg.
Washing your clothes in cold water is better for them anyway, but more on that in this blog post if you're interested in extending the life of your clothes.
3. Clothes don't have the same "fresh" smell they get from chemical detergent
I put the word fresh in quotes because clothes are not more fresh with softeners and perfumes. We're just used to smelling it on clean laundry, and we associate the smell with cleanliness.
Truth be told, completely clean clothes wouldn't smell like anything except the fabric they're made of. This doesn't bother me about the EcoEgg, but I've heard this feedback from people before. Essential oils could help add fragrance to clothing if it means a lot to you.
4. Some people feel it doesn't get clothes as clean as chemical detergent.
The EcoEgg is one of my favorite gifts to give environmentally-conscious people. Most people have loved it, but I have heard from 2 people that they didn't feel it got their clothes as clean.
Remember my story about my disgusting week in the mountains? I've only seen positive results with the EcoEgg. However, given the feedback I received, I felt I should include it.
Design: 5/5
Value: 5/5
Effectiveness: 4.5/5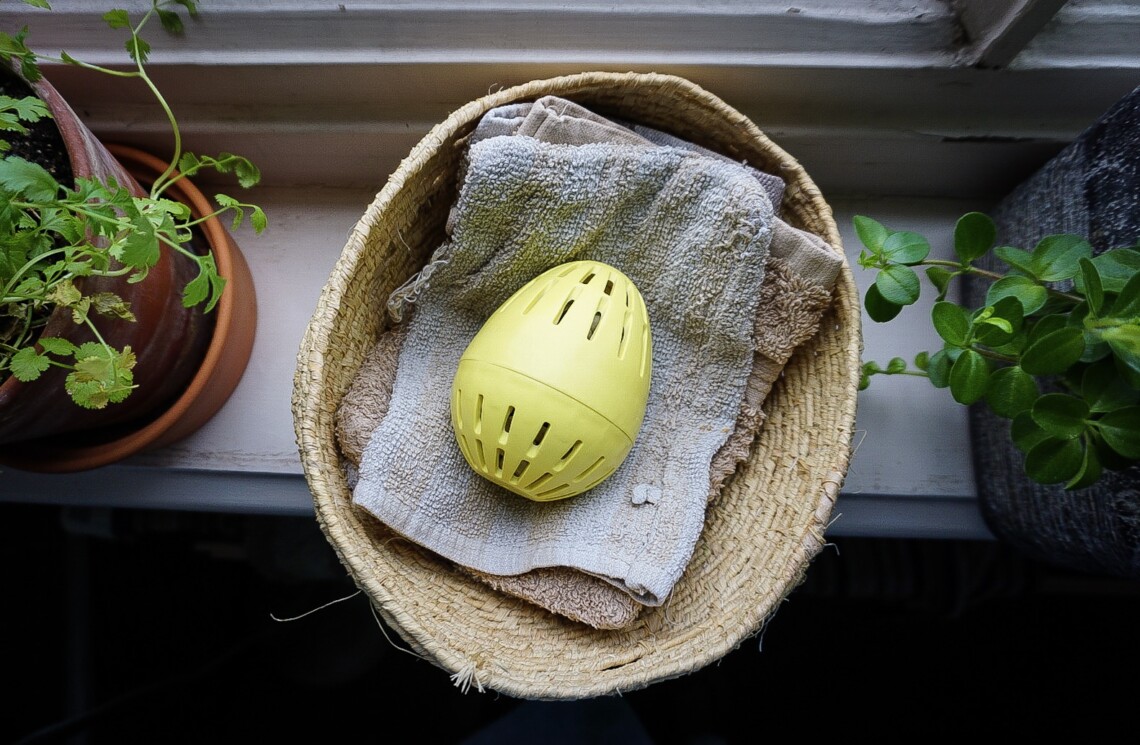 EcoEgg Review: Frequently Asked Questions
Does it really work?
Yes, it really does.
But I do have a tip for best use: add vinegar to the wash cycle. This will give it an extra boost. I add vinegar to every single cycle.
Does it really last for 210 loads?
I can't say that I've tallied up the exact number of washes the EcoEgg has been used for. But I can tell you that I've been using my egg for going on 2 years in my 2-person home and I still haven't had to buy more pellets.
What do clothes smell like without softener?
The hypoallergenic egg is the only type I've tried because of my sensitive skin, and it has no fragrance. I've given the blue (fresh linen) and pink (spring blossom) eggs as gifts. I've been told clothes have a light fragrance to them, but it's very mild and does not smell like softener. Clean clothes don't really smell like anything.
EcoEgg Review Summary
Of the many detergent alternatives I've tried, EcoEgg is my favorite. It works well, cuts waste, saves money, and the company continues to reduce its packaging and explore more sustainable production. It's a product I feel good using and recommending.
If you're looking to cut your waste and save time in your laundry routine, I hope that this EcoEgg review was helpful for you! Please ask any questions that you have in the comments and I'll try to help further.