/
Disadvantages Of Pinterest That May Just Deter You
*This post may contain affiliate links, which means I may receive a small commission, at no cost to you, if you make a purchase through a link.*
Last Updated on January 10, 2023 by Bert-Jan Schilthuis-Ihrig
Pinterest is not all tattoo ideas and sunshine. There are major headaches, speed bumps and disadvantages of Pinterest that all creators encounter.
Should these disadvantages deter you from even TRYING to build your brand on Pinterest?
Maybe.
I'll show you the lay of the land, and you can be the judge of that.
I've been on Pinterest as a creator since 2018. Since then, I've grown my Pinterest account to reach millions of viewers per month. Beyond my own account, I also manage accounts for clients as a Pinterest manager.
And I could complain about Pinterest with you alllll day.
But that's not (just) what this disadvantages of Pinterest convo is about. It's about:
Having an honest idea of what you're getting yourself into with Pinterest marketing
Knowing if your Pinterest pain points are normal or signs of problems
How to tell if your expectations are realistic
Break out the chocolate, Pringles or whatever else you eat when you get feisty and need to rant. Let's go!
P.s. These disadvantages to Pinterest are specific to CREATORS on Pinterest. If you're a Pinterest user you're still welcome to join in the conversation, but some of these points might be a little unfamiliar!
1. Pinterest Marketing Is Slow
Pinterest marketing isn't like shooting a paintball gun at a bullseye. It's like trying to paint a wall with a paintball gun.
You're going to have to fire away for a long while before you see results.
If you're reading up on the disadvantages of Pinterest because you're not sure if you're willing to commit, then this is an important moment.
Don't bother starting with Pinterest marketing unless you're prepared to commit to a year.
The truth is:
You'll see results sooner than a year
Impressions, rankings and followers will grow
BUT you'll never reach your potential on Pinterest in less than a year
You may also like: How To Get More Pinterest Followers
Want a little perspective? Go to a Pinterest account that you admire and click "saved pins:"
Look for the number of pins this account has saved:
This is a mix of pins that this account has saved from other creators as well as their original content, but that number is probably in the thousands?
Most accounts don't see tremendous results in the first year. It takes time to create pins that rank.
It took my account well over a year to hit the first the first million, and if you speak to a niche audience then it will take you even longer.
Takeaway: If you're not willing to commit for a year, don't even bother with Pinterest marketing.
How you also like: How To Avoid Getting Suspended On Pinterest
2. There's More Bad Advice Than Good Advice
Free advice about Pinterest is plentiful, but implementing all of it would kind of be like throwing ingredients from 20 different recipes all in one blender and drinking it.
All Pinterest marketing advice is NOT created equally.
The WORST Pinterest advice I've seen? Hands down it's been on TikTok, but bad advice can take the form of:
Outdated or thin (like tissue paper-thin) courses
Or, people outsourcing their account but still publishing blog posts about Pinterest marketing
People dishing out big Pinterest hacks but then their account is drunk in the gutter
These are all real-life examples that I've seen. And it can be hard to navigate as a newbie when so many bloggers remove the publish date from an article.
As a seasoned Pinterest user, I can easily see a few red flags that a piece of advice is really outdated (mentions of group boards and hashtags are 2 easy examples).
I'm transparent with my recommendations. All of my Pinterest advice comes from years on the platform managing my account as well as client accounts:
I also write about Pinterest marketing for sites like GoDaddy (still fangirling).
Which is why I only share advice that's tried and tested. No quick fixes or hacks here, no matter how viral they may be to write about.
Takeaway: Don't implement Pinterest strategy tips without checking out the source. How old is the post? How well is their account doing?
It's easy to get sucked into viral but walking-the-line strategies because…
3. Learning Can Feel Totally Aimless
Given the disadvantages of Pinterest #2, actually learning can feel totally aimless.
The question "should I be doing this?" ricochets around your head constantly.
Finally figuring out how to use Pinterest shouldn't be an undirected process or your odds of success are going to DWINDLE.
To maximize your success on Pinterest:
Be critical of the advice you take. Only choose a few sources
Ask questions in Facebook groups when you're unsure what to do
Take a reliable Pinterest course if you really want to build your brand on the platform
After taking lots of courses, the only one I recommend is Pinterest Popular by Nadalie Bardo. It's beyond thorough and takes you from zero all the way to years-long success and scaling your account.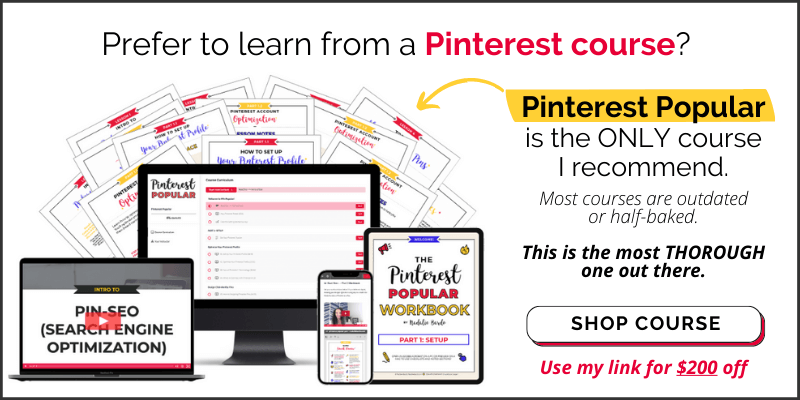 Takeaway: Be intentional about learning or your progress will stall.
You may also like: Where To Share Your Pinterest Account
4. You Need Multiple Skill Sets
Pinterest is an interdisciplinary type of marketing.
Meaning: you need completely different skill sets to do it well.
To successfully use Pinterest, you need to be able to design attractive images and optimize them for searches (AKA search engine optimization).
Now, you don't have to be naturally gifted to succeed.
You can:
…but if you don't actively work on improving your pin design and SEO, you won't see the growth you're capable of. 
Personally, I use the amazing Pin Inspector tool for finding keywords and optimizing my content.
Peek behind the curtain: It's easy to see people crushing in on social media and think that you're not cut out for marketing. Remember that absolutely everyone started out at zero and had to learn these skills.
But they might have learned them in college or through a job, or their partner or roommate does graphic design for a living and helps them out.
Struggling is how we ALL started. If you need help getting over this disadvantage of Pinterest, I talk about it more on my YouTube channel:
Takeaway: You'll have to focus on upskilling in multiple areas to grow and dominate on Pinterest (you're capable!).
5. It Can All Be For Nothing
This is an ugly truth, but it's the biggest disadvantage of Pinterest.
You could put in tons of effort and see no substantial growth or results from your Pinterest marketing.
When does this happen? When you…
The same is true of blogging.
Takeaway: Know that NOTHING is a given in marketing. Even paid ads can get you zero results. You're trying to earn something here, and it's not a given.
6. Pinterest Marketing Is Time Consuming
The workload to maintain an active Pinterest account is no joke.
In case you're new to the Pinterest game, some of those tasks include:
Optimizing your Pinterest account
Keeping it up to date with new changes and settings
Creating on-brand pins (all types: both static pins and

idea pins

)
Optimizing them for search (but hey, much faster with

templates

)
Scheduling pins consistently (whether it be daily or multiple times per week)
Following seasonal trends
Phew, I'm tired just typing that list! The exhaustive nature of Pinterest is precisely why people hire me to manage their accounts for them.
If you feel like you're drowning, then you probably just need better systems. Spreadsheets, schedulers, keyword research tools and templates make your life easier.
Takeaway: No, it's not just you. Pinterest is a LOT of work. Use tools to make it easier, but know that there's no dodging the leg work.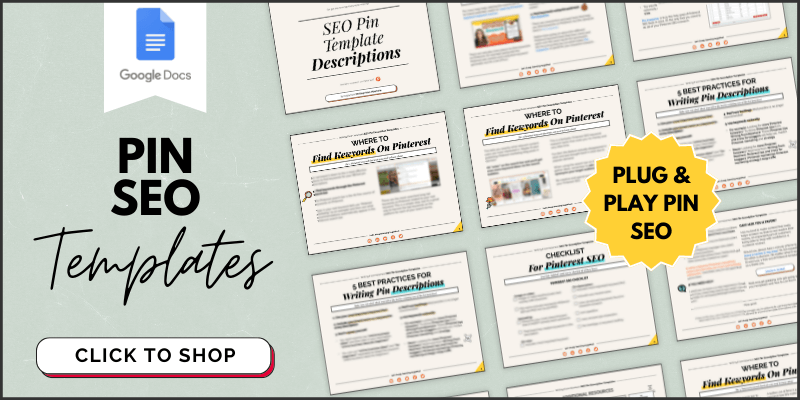 7. Pinterest Doesn't Treat Creators Equally
Depending on what country you live in, Pinterest gives your account different opportunities.
This list includes (but isn't limited to):
Idea pins

(still only available in 37 countries after more than 2 years)
LINKS in idea pins (only available for some accounts)
Creator Rewards – AKA monetized idea pins (only available to some accounts)
Pinterest TV (only available for some accounts)
This is endlessly frustrating, and there's no sugarcoating it. It just sucks and it doesn't appear to be going away.
However, some consoling:
Anyone's pins can rank in searches.
Anyone's account can hit it big.
The limitations are only to specific features, but your account can reach any level of success on Pinterest.
Takeaway: Pinterest gives different accounts different features, and it sucks. But no one's success is limited.
Not so fun fact: Pinterest offers different features to different accounts. Learn more #Pinterest #Pinterestmarketing
Click To Tweet
8. Pinterest Is Constantly Changing
From new account settings like providing your community information to new ways to do your Pinterest keyword research, Pinterest is a moving target.
But this isn't a totally fair disadvantage of Pinterest, because absolutely nothing stays the same.
Especially in digital marketing.
Every major digital and social media platform changes and evolves constantly, whether we notice the tweaks or not.
You may also like: Taking Content From Instagram To Pinterest
They have entire corporate headquarters filled with teams of engineers whose job it is to tinker and improve the platform constantly.
Some of the more recent changes on Pinterest have been:
No more claiming Etsy, YouTube or Instagram accounts
Video account covers are no longer supported
Idea pins can now have links (being rolled out slowly)
Changing tides are just one of those hard-to-swallow pills of being a digital entrepreneur.
On Pinterest, that means that you'll routinely have to audit your Pinterest account to stay up to date.
You can do this yourself or get effortless expert results in 7 days by purchasing a Pinterest audit in my shop:
Takeaway: Pinterest will change constantly below your feet. Expect it, don't resist it.
9. The Focus Is Shifting Away From Traffic
If you ask most seasoned Pinterest creators, this is the disadvantage of Pinterest that creams their corn the most.
With the addition of idea pins in 2020, Pinterest shifted the focus away from website traffic and toward keeping users on the platform.
Pinterest spins this as "another way to engage with your audience," but creators with websites see right through that.
As a recap in case you're new: with idea pins, Pinterest allows creators who DON'T have a website to publish content. This was a big first!
Idea pins were a grab for influencers. People who historically built their businesses on Instagram, TikTok or YouTube can now come to our stomping grounds and publish loads of easy and flimsy content, and the algorithm eats it up.
Did this create a fundamental shift in how users operated on Pinterest? Yes.
But it's not fair to say it's all bad.
Pinterest users STILL like clicking through to a website.
What I think: most users dislike idea pins, but you should still create one a week because of the account exposure.
Takeaway: Not every change on Pinterest will be to our advantage. If Pinterest thinks users prefer to stay on the platform instead of clicking through to your website, they're going to offer that.
You may also like: 30 Pinterest Marketing Ideas
10. Yet Another Platform To Maintain
Do we still have contact, even after all of these sour disadvantages of Pinterest?
If you're still here after all this ranting about Pinterest, this disadvantage shouldn't spook you.
At the end of the day, Pinterest is just yet another social media platform to maintain.
Actually, it's a search engine and not social media but that's beside the point.
And that's not really Pinterest's fault, is it?
Of course not, but it is a valid point. If you're already maintaining an active YouTube channel or LinkedIn account, then this is another plate to spin.
In case you need some encouragement to tackle Pinterest, this is my advice:
Pinterest content lasts in search results for years, not hours or days
It's still growing, unlike some platforms that seem to be dying (Instagram)
Pinterest is ignored by many brands, thinning out the competition and making it easier to drive traffic
Takeaway: No matter how great Pinterest could be for your brand, you still need to find the time amongst everything else.
You may also like: Google Versus Pinterest
11. Pinterest Has (Plenty Of) Glitches
Despite being a digital dinosaur, Pinterest is a buggy platform.
Some glitches include:
Scheduled pins buffering and needed scheduled twice
Pinterest analytics for your account disappearing for a day
Idea pins refusing to be published
On top of it all,

Pinterest support

ignoring all of your help emails
Most of these just require some troubleshooting, but the headaches are still real.
You may also like: Pinterest Troubleshooting Guide
Takeaway: Pinterest isn't perfect, and you'll encounter those imperfections after a few months of being active as a creator.
Final Thoughts
Do these disadvantages of Pinterest deter you from marketing your brand on the platform?
Whether you're a blog, brand or small business, there's massive opportunity waiting for you on this media site.
If you haven't been scared away, go build your empire! Make sure your Pinterest profile is set up correctly, nail your Pinterest SEO and be prepared to hustle at it for at least a year.
There are plenty of pros of Pinterest marketing, but it's not fair to discuss using Pinterest for business without honestly weighing both sides.
It may seem like a dark and scary jungle but stick to the basics:
Remember your target audience
Don't just repurpose your old social media marketing materials; make content specifically for Pinterest
Constantly challenge yourself to improve
There are a lot of social media platforms that could help you reach new audiences, but most of them can't hold a candle to the opportunity that Pinterest offers.
When you do it correctly, it's totally worth it.