/
Digital Nomad Packing List: All The Digital Nomad Gear You Need
*This post may contain affiliate links, which means I may receive a small commission, at no cost to you, if you make a purchase through a link.*
Last Updated on March 7, 2023 by Bert-Jan Schilthuis-Ihrig
The travel lifestyle is one that doesn't require much stuff – but if you're going to work remotely, it does require the right digital nomad gear. This ultimate digital nomad packing list will help you not forget anything vital.
Being a digital nomad is the dream for many travelers. It's also a lifestyle that many people don't know anything about, or how to prepare for it. Even after months of exhaustive research trying to finalize my digital nomad packing list, I still packed the wrong stuff and had to make tons of changes as I went.
Digital Nomad Travel Packing List: Tech And Gadgets
Still daydreaming about trading your workflats for flip flops and making the digital nomad lifestyle your reality? You can do these things right now.
---
1. Tech Repair Kit By Sugru To Upkeep Your Digital Nomad backpack And Gear
You may recall seeing Sugru on my gift guide for the eco-friendly people in your life. In case you're unfamiliar: Sugru is a silicone glue that's flexible and mouldable. It's essentially like a glue Play-Doh, and turns into rubber when it sets.
It's a priceless product, and the tech kit is the perfect first aid kit for your essential digital nomad gear.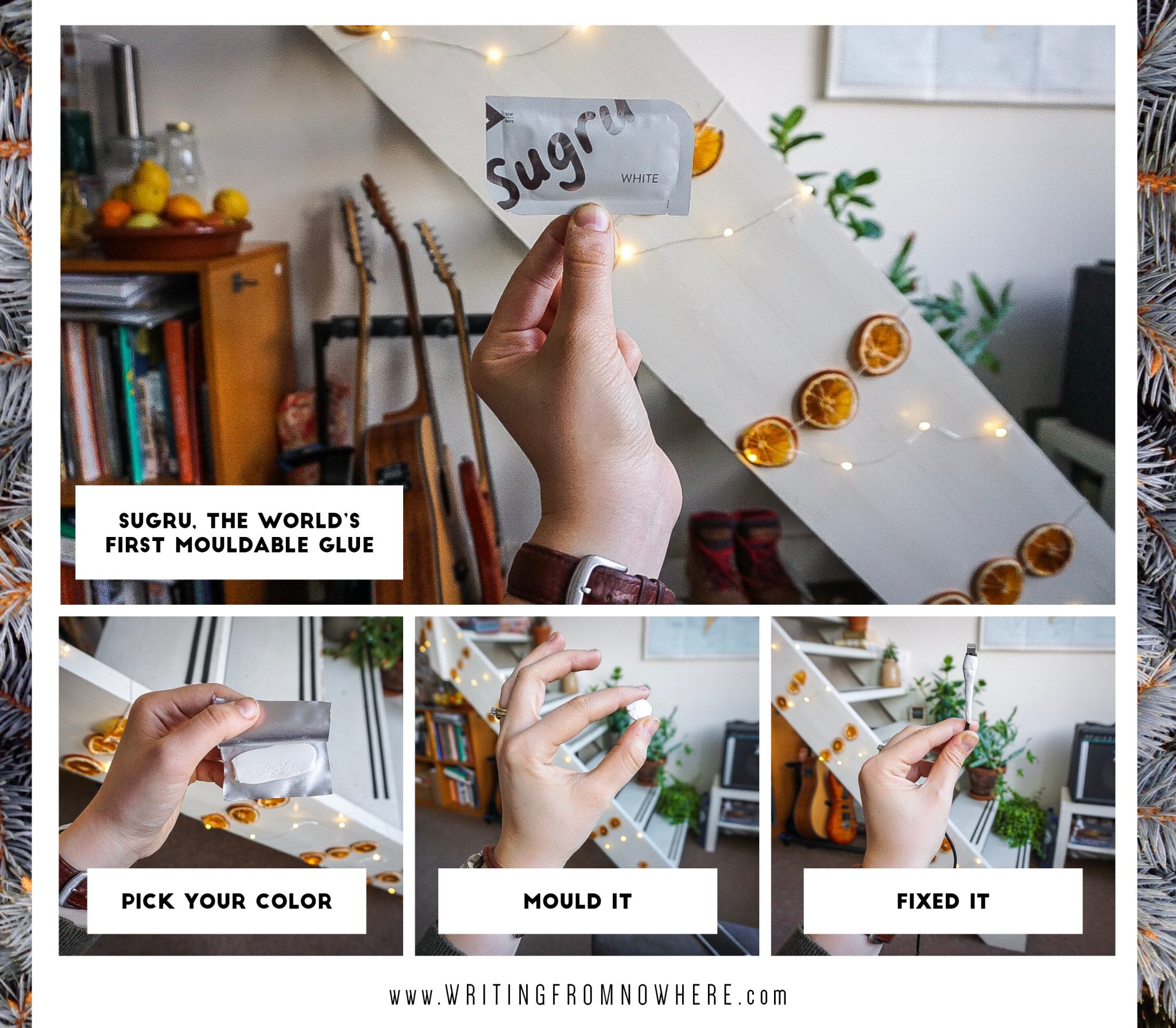 I recommend taking this on any trip, filed away in the just-in-case stuff (I have an entire blog post and a full review on the just-in-case stuff you should always stake traveling which is also essential to read before embarking on your travels). But for digital nomad life, some sort of first aid plan to fix your tech gear is a must.
Sugru Rebel Tech Repair Kit on Amazon
---
2. Travel-Ready Sun Lamp To Help Reduce Jet Lag and Improve Mood
This item shouldn't be put on just everyone's travel packing list. For minimalist digital nomads, this will certainly be overkill. A sun lamp could be perfect for you if:
you're frequently traveling between very different time zones
you're traveling somewhere during the rainy season or with a polar night (think Alaska or Norway's winters without sunlight)
you struggle with getting enough sleep or feeling energized when you travel
I recommend this specific lamp because of it's slim design. Similar to carrying an iPad or Kindle, this lamp can easily be stowed away in your bag or packing cubes, unlike bulkier lamps.
A sun lamp was one of the best investments I made in my remote work mental health. But, note: this lamp is not the right tool for lighting for video calls. It's extremely bright and concentrated.
Light Therapy Lamp – 10000 LUX with 4 Brightness Levels on Amazon
---
3. Collapsible Desk Lamp
The sun lamp is an optional digital nomad packing list item, but this lamp is more essential.
This is a very compact, collapsible LED desk lamp. It folds flat, is USB-charged and adjustable.
Use this lamp to…
Light up video calls in a poorly-lit hotel or hostel room (without a clunky and high-maintenance ring light)
Create a makeshift workspace just about anywhere
Dig up your waterbottle or even your external hard drive from your backpack
Get some work done while your partner is still sleeping
The nice thing about this digital nomad packing list item is that once you have it, it'll start coming in handy around your home too.
Foldable, Rechargeable LED Desk Lamp, on Amazon
---
In any job, and of course just life in general, it's important to never stop growing and evolving. It's especially true for the digital nomad lifestyle.
Continuing to sharpen our skills makes us more valuable, more relevant, and, ultimately, is non-negotiable for long-term success.
The good thing is that this type of growth is easy. I use and recommend Skillshare.
Skillshare is an online learning platform, where connoisseurs in their respective industries teach via videos that you watch at your own pace.
Some of the opportunities specific to the digital nomad life are (number 3 was a game changer for me):
Increase productivity and time management – less time on your computer is more time actually traveling
Learn a new language – getting more out of that travel experience
Continually build your skill set and become more valuable in your industry – this will be a game-changer for bloggers and freelancers
A Skillshare membership is a priceless piece of digital nomad gear and honestly just one of the best online business tools, whether it's for exploring passions, or at the very least, staying relevant in your industry.
Plans can be paid for monthly or annually, and the annual plan is the best deal. My readers can try it for free.
---
5. Portable Dual Monitors For Your Laptop
This piece of digital nomad gear isn't a necessity for everyone, but could be a game-changer depending on your line of work.
Before I changed industries and became a digital nomad, I was a graphic designer and I worked at half speed with just one monitor. This will be a game-changing digital nomad packing list item for some people.
Plug-In Portable Monitor For Laptops on Amazon
---
6. The Most Important Item Of All Your Digital Nomad Essentials: A *Reliable* Laptop
Now, a sad but true reality of the digital nomad lifestyle is that nothing is guaranteed to be kept safe.
You may get robbed, have your room ransacked while you're gone (this happened to me in Nicaragua), be in a scooter accident with your expensive camera in your bag. No piece of digital nomad gear will provide 100% assurance.
That being said, a preventative measure you can take ahead of time is packing reliable digital nomad gear. Besides general safekeeping of your computer, the best defense against laptop breakdowns is a reliable laptop.
Truth be told, I don't think how much money you spend, the brand, gigabytes, resolution, etc. really matters. In fact, if you're buying a computer specifically for your digital nomad endeavors, I recommend not going for the shiny brand names (translation: Mac) because they're seen as an item of status and attract attention.
If you're going to be traveling and working worldwide, think of your laptop sort of like a car: if you buy a rare, foreign car and take it across the world, do you think you'll be able to find parts?
This piece of advice was a lesson I learned the hard way. I accidentally left my laptop charging cable behind at a hostel in Colombia, and it took an entire day of going from computer store to computer store in Bogota to find a replacement.
I had a freelance deadline the next day, and I can vividly remember the frantic this-lifestyle-all-comes-crashing-down-without-my-laptop-working feeling.
Whatever computer you buy, just think ahead a bit. Buying something brand new off of Kickstarter might not serve you as much as a basic computer will.
This is the computer that's faithfully been running my blog and business since 2017. It's a little pricey, but I got mine used and haven't had a single problem.
---
7. A Plan B If Your Laptop DOES Break
The most important part of being a digital nomad is being able to do your work *digitally*. Your digital nomad packing list must include a plan b.
Having a safety net, whether it's a backup computer or just travel insurance, keeps the ~adventures going and the money flowing~ (that sounds like a good song title doesn't it?) to make it possible.
Say you're trekking in Nepal, or deep in the mountains in Montana, or on an island in Mexico (that's where I was working when my laptop wouldn't start one morning…).
Plan B #1: A Backup Laptop
There are two levels of Plan B that you should consider. The first is flat-out taking a backup computer.
Yes, for some people, this will be major overkill. But if your entire career and ability to travel rest on your ability to meet deadlines, it's not that unrealistic.
You can look at this as "taking two laptops." I see this more in the vein of a photographer or videographer, who takes camera equipment that they don't use every day but they pack for special scenarios.
This Google Chromebook is my backup computer of choice. It's a sweet little low-key laptop, with a long battery life and ruggedization against drops and spills. And it only costs $199.
11.6 in Ruggedized Chromebook on Amazon
Plan B #2: A Tablet
A more minimalist Plan B is using a tablet, such as the Amazon Fire Tablet, with a keyboard and maybe a wireless mouse.
If your laptop breaks, the Amazon Fire will fill the gaps. While you fix your computer, this will fill the void for sending emails, writing and staying online. A keyboard is more comfortable and practical for writing and sending emails than your phone.
It's a low-budget fix that will help you in a pinch. "Macbook Pros", "Mini laptops" or "pocket laptops" are expensive options. Waaay more expensive than a normal-sized laptop. The Amazon Fire Tablet is compact and comfortable to write on, checking the boxes of a mini laptop. Unlike a mini laptop, it's only $49.
The Amazon Fire Tablet is essentially just a Kindle that does more, and you were probably going to pack a Kindle anyway. This is a safety net that you can still enjoy without anything going wrong.
I already have a Kindle paperwhite, but before my next backpacking trip I'll sell it and replace it with this combo.
And a collapsible keyboard to accompany it:
Pocket Foldable Keyboard For Writers on Amazon
---
8. Laptop Riser
This digital nomad packing list item is specifically valuable to people who do a lot of video calls. Finding random items to prop your laptop up on isn't cute after a few months of traveling.
I'm looking at you, online English teachers: you know this pain.
This laptop riser is nothing special: just a compact, adjustable, low-key way to raise your laptop screen to eye level.
---
9. Solar Phone Charger
Realities about the digital nomad life that you will experience along the way:
Power outages will happen
Deadlines will also happen, despite the tropical storm that hit your island and took out power (this happened to me in the Caribbean)
Uncertainties are unavoidable, but HEY – that's why you left the normal world anyway! If you wanted the same routine day-in and day-out, then you would've never pursued this lifestyle in the first place.
The uncertainties are manageable with some preparation. And this specific solar phone charger is perfect for three reasons.
1. This is a super powerful portable charger.
It can fully charge and iPhone 10+ times. A portable charger is a non-negotiable packing item for long-term travel, and this battery capacity is hard to beat.
2. It's travel-proof.
Rain, dust, falling out of your day pack as you hop out of a tuk tuk – this charger can handle it. It's made for the outdoors, so you don't have to be worried about keeping it safe.
3. You don't need an outlet to charge with solar panel.
The solar panels are the big draw for this charger. For transporting, all of the panels collapse and are secured on top of the battery panel. For charging, unfold to reveal 4 times the solar charging surface.
Every digital nomad needs a portable charger. You might as well get one that does so much more for you.m
---
10. Cord Organizers
When your entire life and office are contained to a 65-liter bag, organization becomes a essential to the sustainability of lifestyle.
There are tons of travel organizers for sale on Amazon, you know the type: with a spot for SD cards, a hard drive, a dozen cords.
In my experience, those organizers are a poor fit with the digital nomad lifestyle. Their biggest flaw: They're trying to make it easy to keep all of your electronics gear together.
But most of them don't fit your most important electronic companion when traveling: your universal travel adaptor (aka outlet converter).
Instead of an overly-specific travel case, these colorful cord wraps are a much better piece of digital nomad gear:
They're small and weightless in your pack
Multipurpose, anyone? These come in different sizes and are a simple enough design that they can be used to organize a myriad of things, not just cords
You can use a bag that perfectly fits your gear needs, and these will keep the inside the way you want it
The colors will reduce the odds of someone accidentally walking off with your charging cord
---
11. Camera
Not everyone is going to understand your choice to pursue the digital nomad lifestyle. I talk about this a lot my blog post on becoming A Digital Nomad, and there's no piece of digital nomad gear you can buy that will make everyone understand.
But the closest you can get? A camera. Don't just tell people why you travel and are pursuing a life off the beaten path. Show them! You don't have to be a professional photographer to share the magic (although with a class on Skillshare, you can get a few steps closer).
Small, discrete and powerful – this camera is my favorite for hobby photography. I always get asked about my case too – you can buy it here.
12. WiFi Extender
This isn't an item for everyone's digital nomad packing list – and you won't know if you need this ahead of time. But, you may develop a "home base" or start renting apartments somewhat more long-term, and weak WiFi will be a location deal-breaker.
I learned about this digital nomad packing list item from traveling online English teachers Rachel and Sasha over at the Grateful Gypsies. They rent apartments long-term in Mexico and use this extender to help them have a strong connection during their teaching calls.
---
Non-Techy Digital Nomad Packing List Items
13. Notebook And Pen
Bursts of productivity and creativity can strike at any time, but those aren't always the ideal times to pull out a laptop or tablet and start working.
Many bus rides or nights in a terminal come to mind where I was too nervous about being robbed to pull out any electronics. To reduce your odds of being robbed even further, read more on backpacking security here.
Take any ole notebook and pen with you. My favorite notebook that I journal in every morning is from Moleskin.
---
Physical Wellness Packing Items
Being physically well is an essential part of continuing your digital nomad journey. You cannot perform your job to the best of your ability if you're always feeling bad or sick.
This isn't even about self-care: it's about keeping your house in order. These packing items are as important as anything else on this digital nomad packing list.
14. Multivitamins
The most basic maintenance you can do for your health is taking a multivitamin.
Some people will look at vitamins and say "if you eat well then you don't need vitamins!"
I am not a doctor and this is not medical advice. But consider this:
There are *zero* guarantees that you're going to be eating well as a digital nomad. Especially if you have any dietary restrictions.
As a vegetarian backpacking through Latin America, I ate terribly. I would've given anything for a plate of vegetables, but the only thing on the menu repeatedly was potatoes and cheese.
Keep your house in order. Take a vitamin every day. Combine this with the next packing item and you'll have laid a strong foundation for maintaining your health.
Packing tip: the bottle can be clunky, but throw these in a ziplock bag
Women's Multivitamin on Amazon
---
15. Reusable Water Bottle
This is actually a bit wider than just a bottle itself: it's vital that you take water into account on your digital nomad packing list.
If you go to a digital nomad city in the US, you'll have free water, but you won't always have potable water coming out of the tap when you go abroad. Buying bottled water is expensive, wasteful and ultimately means you'll be drinking less water than if you had easy access.
Pack a Nalgene and a Steripen to resolve this. A Nalgene is a fantastic 1-liter water bottle that's practically break-proof, and a Steripen is a UV-light sanitizer. I go into more details about the Steripen in my sustainable travel packing list.
I know this isn't a very sexy digital nomad packing list item, and it may seem more practical to focus on gadgets and accessories to improve productivity and whatnot, but remember this on your journeys:
Even mild dehydration can impair your memory, critical thinking, brain performance and mood. (source)
The faster your work is done, the faster you can get back to exploring. Stay hydrated, my friend.
---
16. First Aid Kit
This is a normal packing list item, and your digital nomad packing list is no different. This is one of the many just in case items you should take with you, but at the very least take a basic first aid kit.
Travel First Aid Kit on Amazon
---
17. Portable Laundry System (Scrubba Wash Bag)
How do digital nomads do laundry?
There's a number of options, all of which I personally find annoying:
handwashing in a hostel sink: this doesn't work very well and can be gross (depending on the sink)
laundromat: this is a time suck, becomes expensive and you may not be able to even get to a laundromat depending on where you're traveling
laundry service: this also becomes expensive and they will sometimes ruin your clothes
The solution to these inconveniences is to do laundry yourself. My favorite product for this is the Scrubba Bag.
The Scrubba is a plastic bag with a roll-top snap closure and a flexible washboard (plastic nubs) on the inside. You fill it with water, soap (my favorite for traveling is the Sea To Summit travel detergent) and your clothes.
Then, scrub! The wash cycle takes 1-3 minutes (of hand scrubbing) and then do the same for the rinse cycle (water only, no soap).
You can watch it in action here:
Whether you're traveling for a week or a month, you should pack a Scrubba bag. Being self-sufficient while traveling means everything when you're trying to travel as long as possible.
Putting All Your Digital Nomad Gear Together: Your Bags
Carrying everything that you need for living, working and traveling all on your back means that you need a smooth as red rum system to keep yourself from leaving things behind or getting frustrated.
18. Packing Cubes
You'll see packing cubes included on almost every digital nomad packing list, but don't buy just any cubes. I made the mistake of buying Eagle Creek packing cubes because I saw them recommended so many times, but they don't compress.
That's leaving half the money on the table! Packing cubes that compress are where the money's at.
After trying a handful of different brands, these are the absolute best packing cubes. They're expandable, water-resistant (a huge plus if you get caught in a downpour – smelly, wet clothes are the *worst*) and just save so much space.
Collapsible Packing Cubes on Amazon
---
19. Big Backpack
When you're traveling long-term and living the digital nomad lifestyle, your travel pack is like your home in the world.
Picking the right backpack is absolutely essential. In fact, it's so important that I've written a guide to help you find the pack that's right for you!
Now, I'm including the Amazon link here below so that you can look at the reviews and see pics (I know that's how I always so my research) but you'll want to go to REI to try these packs on IRL.
But I really recommend buying your pack from REI. REI has a one-year return period where you can return your bag if it's not the right fit for you and exchange it. And these returned bags aren't wasted – they're sold as a part of REI's garage sales and sold at a lower price.
This results in more sustainable shopping. Instead of buying a bag, it not working and tossing it for a new one, you can return it and it will be rehomed to another adventurer. You can purchase some of the same bags on Amazon, but they don't have this return window that's so important on backpacks.
20. Day Bag
After many tested and failed bags, my all-time FAVORITE day bag is the REI Co-Op Trail 40L Pack.
I love this travel bag so much that I could go on and on about what makes it so great. But I'll keep this love letter brief.
The 3 best features of this bag are:
The massive mouth of the bag helps keep you organized. This opening of this bag covers so much ground that it's almost like opening a carry-on suitcase. You can arrange your stuff so easily and fit sooo much in this 40L pack.
It comes fully loaded with features of a bigger pack. Some of these features being loops to store a sleeping bag, hydration pack (I never go anywhere without a full hydration pack –

this one's my favorite

), walking sticks, pack cover – this list goes on. They thought big while designing this compact day bag.
The discretion helps you fly under the radar. Some packs just look big, even when they're empty. This pack is 40L, but can easily slide by in an airport without being inspected and weighed. It can be used going to the library or coworking space, or taking a weekend trip on the train. You don't scream "tourist" carrying this pack, which can be a safety advantage sometimes.
21. Dry Bag
Protecting your digital nomad gear is a must. Even when it's not raining, this dry bag is handy just for groceries or any other bag-like responsibilities.
If you're going to take this bad boy out onto the water (a dry bag's normal purpose, for those who AREN'T walking around in monsoon season with thousands of dollars of electronics on their back). do not buy this in a neutral color!
Take it from a kayaking enthusiast – if your bag goes overboard and you can't spot it in the water, it doesn't matter how dry your phone is. She gone. My bag is a loud-and-proud yellow.
---
Digital Nomad Packing List Summary
What digital nomad gear are you packing for your adventures that's not on this list? Or are you still just toying around with the idea but you haven't taken the plunge yet??
If you're still on the fence about the digital nomad lifestyle in general, fellow blogger Kelsey at Sights Better Seen shares her insights about the digital nomad experience in her blog post Pros And Cons Of The Digital Nomad Lifestyle: Is It Worth It?
I would love to hear from you about your travel plans, and of course, your packing plans.
Doing some safety research before you launch into your travel plans? Here are tips from fellow blogger Arabela on taxi safety for female travelers.