/
Digital Nomad Destinations: How To Pick What's Right For YOU
*This post may contain affiliate links, which means I may receive a small commission, at no cost to you, if you make a purchase through a link.*
Last Updated on August 4, 2023 by Bert-Jan Schilthuis-Ihrig
There's an endless list of digital nomad destinations and picking the right one can be tricky. There's no shortage of gorgeous potential destinations (or advice online) but how do you know which one is right for YOU?
With the surge of people deciding to go remote during the pandemic, interest in working away from home has never been higher. According to experts, working remotely is the future with an expected 70% of jobs being remote in 2025.
And I'm here for it! I bet you are too, or we wouldn't be here talking about which flight to catch.
Being a digital nomad used to be considered a weird alternative lifestyle, but the number of people interested in the travel-work combination has exploded.
It's not surprising that dreamy Instagram posts of some proclaimed *perfect* digital nomad destinations are plastered all over the web.
While these posts are certainly inspiring (*insert drooling emoji*), you can't book a flight to a beautiful city in Costa Rica, Cape Town, Ho Chi Minh City or any of the other popular digital nomad hubs based on one off-handed recommendation.
There are important questions to be answered:
How do you decide which digital nomad destination is right for you?
Why are certain destinations better than others?
What are some of the things to look for in a good destination?
Just as important, what are some red flags to watch out for?
Today, let's talk about some of the features that turn an okay digital nomad destination into a shut-up-and-take-my-money one. 
Knowing where to go as a #digitalnomad isn't about finding the most popular spot. It's about knowing how to decide what's right for YOU and which questions to ask. Here's your roadmap #workfromanywhere
Click To Tweet
Were you hoping for a blog post telling you *exactly* where to go for a good time? It's unfortunate but you should never trust a blog post selling you a solution that's perfect for everyone.
This point is personal for me: I became a digital nomad in 2017 and have traveled while working online across 3 continents.
My first digital nomad destination was Mexico. These flights were worth every doubt and struggle.
So as you can imagine, cue my eye roll when I see bloggers and influencers touting silver-bullet digital nomad advice. Not every location is fun for everyone, let alone accessible and safe.
You may also like: 6 Secrets Of The Digital Nomad Lifestyle That Noone Tells You
Today I'm going to share something MUCH more valuable with you: a set of criteria for choosing the right destination for yourself.
Let's start at the beginning: the digital nomad daydream.
Visualize The Right Dream
When you think about working from anywhere, what does that look like? Painting a mental picture is the first step in finding the digital nomad destination that's right for you.
It may sound a little hippie-dippie but your feelings here are a compass.
You need to ask yourself:
What do you want to escape to?
What's your dream?
Where do you see yourself fulfilling this desired lifestyle?
Your answer can be "everywhere!" but you still need to know where to start. Your first digital nomad destination won't be the only place where you work remotely and travel. 
I hate to be *that* person but I do need to bring a dose of reality to the dream session.
Being a digital nomad isn't the same as being a tourist. If you already have a steady income, either through your own business or by working any number of digital nomad jobs, it's probably safe to say that your workload won't change once you find yourself in that dream destination.
Want to start your own business? You can start to develop an idea for a service-based business today.
You'll likely spend your days working normal hours and spending your downtown traveling.
This is important because the daydream is a slippery slope away from reality altogether. When looking at digital nomad destinations, it can be tempting to picture yourself doing all the touristy things that make you want to go there.
This was a big mistake that I made. When I launched my digital nomad lifestyle in 2017, I bought a one-way ticket to Mexico and pictured myself snorkeling, exploring lively colonial towns in Latin America, visiting Mayan ruins all day.
While all of that was indeed at my disposal, I worked (more or less) 9 to 5 from the hostel. . 
My days were still just as filled with maintaining client relationships and doing all my normal chores as they had been at home. I realized that life as a digital nomad is determined not by the things you can do but by whether you enjoy being in the country of your choosing.
You may also like: 6 Hard-To-Swallow Pills Of The Entrepreneur Lifestyle
It's good to realize that before you go.
If you don't want to worry about work, then you can choose an alternative type of travel:
Be a tourist. Save up money and travel on savings without working as you go.
Pursue the nomadic lifestyle and skip the digital part.
Wait until you retire. Ouch.
When it comes to traveling full-time, making money as you are is by the far most sustainable path. So let's zoom in on the income.
You may also like: Digital Entrepreneur FAQs: What's It Really Like?
The Dream Job
Think about it: what excites you about working from another part of the world?
Is it the prospect of ditching your commute and blazer for a scooter and a laptop?
The idea of meeting new people at coworking spaces or coffee shops?
Is it the networking opportunities that you get from working with like minded people?
You may also like: How To Live Your Dream Life In 6 Months
Go ahead and think about it, I'll wait! *sips coffee*
Okay that was enough reality, let's go back to daydreaming. 
The Dream Life
As a digital nomad, you work in a foreign part of the world but you also live there (at least for a day, week, month).
What excites you about life in a different place?
Is it buying amazing street food at a busy night market that's within walking distance?
Speaking and hearing a different language?
Maybe it's even the idea of being able to stretch your budget further in a country with a weaker currency?
Before you dive into researching a particular destination, make sure you understand what life as a digital nomad is actually like. The urge to just get away from it all is real, (believe me, I've felt it!) but it is a very fleeting feeling.
Instead of daydreaming about 4-hour workweeks or life on a beach, I like to dream about how different today could be if I were in a different country. Where could I be writing this blog post? What drink could replace the cup of coffee next to my laptop?
You may also like: What To Do NOW If You Want To Become A Digital Nomad
Once you have an idea of what you want your life to be like, it's time to do some actual research.
No matter what part of the world you want to go to, a destination needs a few essentials in order to be a great digital nomad destination.
Essentials For Working Online
All dreams aside, life in a digital nomad hub will only be good if you do your homework before you go!
Working remotely comes with certain things that you really can't do without. These are the first things to look for in a digital nomad destination when you pick your accomodation.
Reliable Wifi
The "digital" part of being a digital nomad is a fairly critical part of this lifestyle. A reliable Internet connection is the number one thing you simply can't do without if you want to be a successful digital nomad.
However fast internet speeds are far from common. While you probably won't encounter any problems in major cities, having reliable internet access can quickly change once you go off the beaten path.
Although you might be able to access the web with a basic connection or on free wifi, the internet needs to be fast and reliable for you to be able to work remotely. Being on a video call that keeps buffering can make you long for your cubicle if you're not careful.
Bad Wifi is more than just annoying when you're a digital nomad. If it's a persistent problem, you can expect:
Your work to take way longer than it needs to
The free time you have in a destination to be squandered
Relationships damaged (video calls are going to be the #1 way you maintain your relationships)
Fortunately, there are many ways to check the internet speed of a place before you go. The site bandwithplace.com allows you to check the average connection for almost any city in the world.
You may also like: How To Choose The Best Laptop For Travel
With the increased popularity of working online, even Airbnb has come up with an option for checking the internet speed before you book.
Record scratch: you WILL (mark my words) have internet problems if you travel long enough. I would literally bet you a thousand dollars, because Wifi blips even in the most developed countries. The goal isn't to avoid internet problems altogether, but to take basic precautions to protect yourself from a really slow connection. 
Beyond a good connection, you need to think about what structure you'll be doing this work from in the first place.
A Place To Work
Where will you work? If you don't want to work in the same place you live in, you need to be able to answer this question.
Since all you need is somewhere safe with easy access to Wifi, there are plenty of options available.
As a digital nomad, you can work from:
Your hostel or Airbnb
A hotel lobby
Co working spaces
The local library
A coffee shop or bar
A moving bus, train or plane that has Wifi
I've personally worked from all of these places and they all work in a pinch but they're not the working spaces you should necessarily aim for.
Hotel lobbies, for example, are designed as waiting rooms. While they might have internet access, they're not meant to be workspaces. It's not surprising that most online workers prefer to work from somewhere else.
It ultimately comes down to personal preference. Do you work best with other digital nomads? Then make sure your destination has coworking spaces. Are you looking for the hustle and bustle? Then book a hotel in the city center of a vibrant city!  
What To Do In A Crisis
This is actually more important than it may sound. You need to run through what a Plan B looks like in the event that something goes wrong (and if you travel long enough, it will).
Ask yourself questions like:
What will you do if my laptop stops working?
What if I lose my computer charger?
If someone steals a bunch of my money out of my room while I'm gone, what emergency funds will I pull from?
Those aren't outlandish considerations. I've personally had all of these things happen in foreign countries.
You may also like: How To Avoid Theft While Traveling
As long as you stick to the digital nomad hotspots, getting your laptop cleaned and repaired shouldn't be a problem.
But if you drift around and find yourself off the beaten path, simple things can become serious headaches.
That's what happened to me when I was backpacking in Colombia. After I accidentally left my laptop charger at a hostel (RIP), I thought it would just be a matter of swinging by the mall or shopping center and buying a new one. How wrong I was. *shakes head* how wrong I was….
For 2 whole days, I went to all kinds of computer shops only to find out that their selection consisted of older models that were incompatible with mine. They also kept telling me that the next shop would definitely have the model I needed…
You may also like: Just In Case Travel Gear For Emergencies
When it comes to laptops, not every country has the American obsession with the latest technology (or access to it). This is where thinking through your "what-ifs" beforehand can help you down the road.
Essentials For The Digital Nomad Lifestyle
Life as a digital nomad comes with certain challenges that are specific to life on the road. Anyone who has ever looked at the digital nomad movement on blogs or interviews will probably have come across some of the commonly listed drawbacks to the lifestyle, such as loneliness and lack of accountability.
Picking the wrong destination can make life a lot more difficult than it needs to be. Even if a location has all the essentials for online work in place, life can be very different from what you expected.
Here are some of the things you should consider or at least look into before you go.
Community
To some, a job that consists of you, a screen and a cup of coffee can be appealing, and rightfully so. I mean, wouldn't you like to be in control of how, when, and where you work?
While the digital nomad lifestyle certainly has its advantages, it comes at a price as it gets lonely pretty quickly. Finding yourself in paradise but without friends or colleagues can be a disappointing pill to swallow.
For example, I never expected it to be this hard to find like minded people that are in the same boat that I am. Although I had friends, I was the only one that was trying to escape the rat race. After a night at the bar, the topic of 'what is it you do again?' became a recurring conversation.
Working as a digital nomad means that you're the one that has to do everything. Every once in a while you may want to hang out with people that are on the same learning curve. Sustaining the travel lifestyle is just easier if you have people in your life that get it.
Here are some starting points for finding an active digital nomad community:
Google "digital nomad community [country]" and find specific hotspots
On Facebook, search "expats in [country]" to find the inside scoop of where the international or digital nomad hubs are. They'll be able to point you in the direction of the local digital nomad scene.
Digital digital nomad community groups like Location Indie (I used to be a member and loved this group!!). Also use groups like this one to get tips for the best digital nomad destinations. There's nothing digital nomads love more than sharing a sizzling hot insider tip.
You can even find a self-proclaimed digital nomad city on every continent where remote workers flock to for the community benefits.
You may also like: How To Pick The Right Digital Nomad Backpack
Easy To Get Around
If you're a new digital nomad and are nervous about where to go, pick a location that's just easy. Don't go for faraway places that are super remote and isolated as your first digital nomad trip out of the gate.
Save the countries without reliable infrastructure and normal tourist trade for later when you're a pro. Those countries are navigable, but much less predictable for planning purposes, and it just makes life harder than it needs to be in the beginning.
You may also like: Overnight Train And Bus Packing List
Finding information about things like public transport and getting around in general should not be hard to find. Consult travel forums, guide books, or even national tourism boards to find the answers you need.
While ease in itself isn't a reason to skip a particular digital nomad destination, it's definitely good to know what you're getting into!
Personal Safety
Different digital nomad destinations come with different cultures, some of which might not be compatible with what you're used to. It's well worth looking into this before you go.
Unfortunately, there are very few places in the world where all people are truly equal. It's important to research whether or a country treats travelers differently based on their ethnicity, gender, faith, or sexual orientation.
Conservative countries tend to be among the usual suspects when it comes to inequality. However, it would be a mistake to think that everything is peachy as long as you go somewhere that seems modern.
Something unexpected like the constant catcalling associated with macho culture can give you a sense of unease.
In many countries there is a sharp divide between rules on paper and behavior that is considered acceptable in the streets. While this is true for most countries, it can make it difficult to get a sense of what life will be like.
When you go somewhere for the first time, keep a sense of flexibility. Don't see your digital nomad destination as set in stone and remain malleable to changes in itinerary.
You may also like: Important Remote Work Habits For Digital Nomads
Unexpected Geographical Differences
When you're picking your next digital nomad destination, be aware of unexpected side effects of living in that particular part of the world. Living in a climate that's different from what you're used to is almost guaranteed to come with weird, unforeseen side effects.
Recently, I got a little obsessed with living on the Caribbean island of Grenada. After reading a little bit, I quickly came across the effects that salty sea air can have on your laptop and gear.
Although most of the damage can be prevented with preparation, it can turn your whole experience sour if you're not careful.
Likewise, living at a different latitude can have a severe effect on your happiness if you don't know what you're getting into. Being one half of a mixed American-Dutch marriage has taught me a valuable lesson…
At first sight, life in the Netherlands might not seem very different from life in the US. They're both western countries and people even speak English as a second language extremely well.
Apart from seeing the occasional windmill and getting used to and biking everywhere, how different can it be?
You may also like: How To Take Care Of Yourself While Traveling
Turns out that in winter, the Dutch lose more than 8 hours of daylight. This means that you leave for work before sunrise and come home after sunset. Furthermore, winter skies here are just gray.
Even the locals struggle with the bleakness of the Dutch winter.
We spend about 3 months without any blue sky whatsoever. No wonder this is what you see on Google…
Additional unforeseen differences such as moldy gear because of tropical humidity, omnipresent bugs, or the risk of diseases you're not used to all have the potential of taking some of the fun out of your digital nomad adventure.
Here are a couple of things to research:
How reliable is the power grid?
Is electricity routinely turned off to conserve power (called load sharing)
What extreme weather does your digital nomad destination have?
Does this region experience extreme changes in season, such as the polar night (24-hour darkness in norther regions such as Norway)?
While none of these differences in themselves are reasons not to go, taking them into account when making your choice can save you some nasty surprises down the road.
You may also like: Digital Nomad Gear You SHOULDN'T Buy
Let's Talk Money
Who doesn't dream of sipping a coconut drink supported by a business that's quietly running in the background? Not every nomad is equally close to their dreams of passive income, however, living somewhere can get you a step closer.
When you work online, you have the option of spending the local currency while being paid in dollars, euros, etc.
You may also like: How To Afford Your Dream Lifestyle
Anyone who's backpacked in South America will probably remember the shock of going from Bolivia to Chile. All of a sudden, basic things like groceries become so much more expensive. Now imagine being able to spend your Chile budget in Bolivia!
Living abroad comes with an exhausting amount of paperwork and while it's boring to read, this stuff is very important when it comes to life on the road. I'll try to keep this to a minimum!
Maybe even sip a piña colada while we talk.
Insurance, Taxes & Visas
There are a few boring but important things you should research before you leave for that dream life in the tropics.
You can stay in many countries for months on just a tourist visa (depending on your nationality). Thanks to the remote work surge, many countries have put in their bid to attract remote workers by coming up with special digital nomad visas.
If you're staying anywhere long-term, consult with a local tax expert to make sure you don't create a problem for yourself down the road.
You may also like: Digital Nomad Packing List
Finally, give yourself the gift of a stress-free trip by sorting out the necessary remote work insurance. You might think that some form of digital nomad health insuranceis all you need but there is a little more to it.
Some countries even require insurance as part of their tourist visas. As with any administrative stuff, don't postpone sorting it out.
These days, many countries are actively trying to attract digital nomads. After all, a lot of nomads make decent money and are therefore appealing to countries that depend on tourism. When you pick your destination, it's worth looking into what visa fits best with what you want!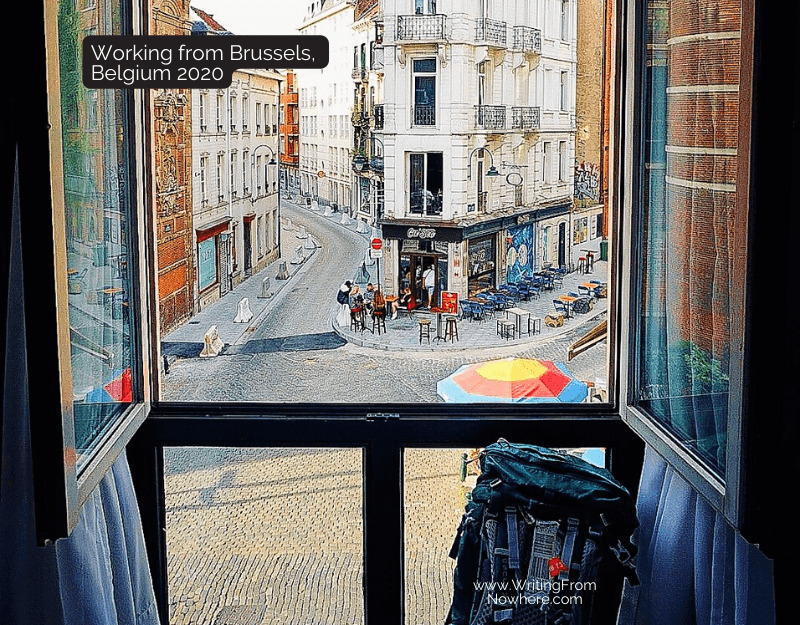 Popular Digital Nomad Destinations 2023
If you have trouble deciding where to go, why reinvent the wheel? Many people have already done what you're about to do so why not learn from them?
When it comes to lists of popular digital nomad destinations, there are a few that tend to stand out. Keep in mind, these are just a few popular countries to get you started.
So rather than just booking a ticket to Southeast Asia, take a moment to explore some of the other options. Who knows, you might find one that ticks all your boxes.
Get creative looking at remote work stimulus programs and you might even land a gig where you get paid to go work remotely from an up-and-coming digital nomad destination.
This is where the dreaming gets real. Can you see yourself living and working from any of these places?
Portugal
What's not to like about Portugal? It has everything you want in a digital nomad destination! It is safe, clean, and has nice weather all year round. The average cost of living is low, around $1200 a month, yet the quality of life is high.
Lisbon is often listed as one of the best digital nomad cities in the world. With a strong nomad community, excellent nightlife, and a rich culture and history, it's not hard to see why.
Portugal also has one of the easiest digital nomad visas in the world. While many dreamy digital nomad destinations have pretty steep income requirements, you only need to make €600 a month to qualify.
Easy to get in + low cost of living = SIGN ME UP!
You may also like: Why Start An Online Business
Mexico
Amazing weather, incredible food, a seemingly endless list of World Heritage sites, and anything from sleepy beach towns to one of the biggest cities in the world, Mexico just seems to have it all.
Mexico is a destination that is becoming increasingly popular among digital nomads. Common hotspots include Puerto Vallarta, Playa del Carmen, and Mexico City and as a result you won't struggle meeting fellow nomads in any of these places.
Although Mexico doesn't have a specific digital nomad visa, it does have a temporary residence visa. The temporary residency permit is good for up to 4 years. In order to qualify, you need proof that you make at least $1620 per month which puts it well within range!
Croatia
Croatia has only recently joined the bidding war to attract digital nomads but it's a serious contender!
Digital nomads are drawn to this country on the Mediterranean because of its pleasant climate, excellent cuisine, and beautiful historic cities. Places like Dubrovnik and Rovinj are on the Unesco World Heritage list for a reason. They are so beautiful that it almost feels unreal.
With a primary income requirement of €2250, the Croatian visa is a little more difficult to qualify for than the Mexican or Portuguese ones. Once you qualify, you're allowed to stay for 12 months though.
Final Thoughts On Picking Your Digital Nomad Destination
Lists with the best digital nomad destinations are popular and plentiful. However, finding a destination that's right for you isn't as straightforward as booking a one-way ticket to Bali.
When you're picking your digital nomad location, don't base your decision solely on the pretty pictures that you see online. Although they're fun for dreaming, they're not particularly helpful in deciding whether you could have a good life there.
Instead, decide on what you need for the life that you want. If you plan a little now, you're setting yourself up for an amazing time in the future!
Is this overwhelming? If you're laboring over all the decisions about digital nomad destinations, packing and so on (*insert spinning ceiling*) then maybe you should consider planning a workation first as a trial run. You can go away for a month as a trial run and then dive into the full-time travel lifestyle once you have everything in order.
No matter what path you take, a very exciting adventure awaits you, my friend! Send postcards.