/
How To Pick The Best Digital Nomad Backpack For You
*This post may contain affiliate links, which means I may receive a small commission, at no cost to you, if you make a purchase through a link.*
Last Updated on August 19, 2022 by Kayla
Picking the right backpack for your digital nomad journey is important. After all, your digital nomad backpack will be your home as you travel the world. There will be new food, challenges, languages and cultures, but your backpack should always be the same: comfortable, convenient and carrying everything you need.
In order to find your perfect turtle shell, you may have to think about what you'll specifically be doing as a digital nomad, where you'll be going and what is most important to you.
Don't let other gear lists try to fool you: there's no one digital nomad backpack that's the perfect fit for everyone. You have to weigh the non-negotiable qualities, see what adventures are on your horizon and find your travel style.
It's completely possible to buy a super cheap pack or borrow one and hit the road on your digital nomad journey. That's exactly what Bert-Jan did before his first backpacking trip when he was 19, and he's still using that same, cheapest-on-the-rack backpack (even though it's falling apart and was made with zero design considerations).
But if you're here on Writing From Nowhere looking for the best digital nomad backpack, I assume that you want to be picky. You're not looking to pull any ol' thing off the rack. I'm all about spending less money, but your digital nomad backpack is not the place to be frugal IMO.
This digital nomad backpack guide is written with the assumption that if you're researching and planning your backpack purchase, then functionality is going to trump the cheapest deal.
First Things First: You'll Need Two Bags
There are two primary bags that you'll need as a digital nomad. The first is a backpack, and the second is a day bag.
Quick Explanation Of Backpacks
When I use the term "backpack," I'm referring to the big kahuna: the big bag that goes on your back. That's the bag that will contain the lion's share of your belongings. A quality backpack will cost you between $150 and $300, and it's what the majority of this blog post is about.
Your backpack is accompanied by a day bag.
Quick Explanation Of Day Bags
The majority of this blog post will be about the big backpack itself because that's the biggest investment you'll make, but I want to lay out a few qualities of a good digital nomad day bag too:
Fits comfortably on your chest (backward from the way you'd normally wear it). The only real thing to avoid in regards to comfort is a bag with a metal frame, which will be no bueno on your boobs and stomach. Some bags, such as bag suggestion #1 below, actually come as a pair (backpack plus day bag in one)
It's durable. A tissue-thin ultralight bag or any other type of precious material is not the makings of a great digital nomad day bag. This bag will need to hold up to years of travel abuse. Also, remember to pack a rain cover for both of your bags
It's multifunctional. This bag will serve as your carry-on for flights, as your day-trip bag and any other in-between needs. It should be very versatile
Bonus points for a hydration pack slot. Hydration plays a huge role in your health while you travel, and you should be more proactive against dehydrations than just carrying a single water bottle. I personally prioritize hydration so much that I won't buy a day bag unless there's a designated spot built-in. A hydration pack with a removable straw and a wide mouth like this one will be easiest to clean
This is important: Since your day bag will also serve as your carry-on when you fly, it needs to fit your laptop, camera gear: all of the belongings that you'd never want to check in case your baggage is lost.
By the way, make sure these bags don't get stolen. You don't need a Pacsafe bag to minimize your risks. Read all about backpacking security before you go.
You'll often see the advertising point that a day bag is "ultralight," but it's not an important quality for your digital nomad day bag.
After trying many, many day bags, I think the absolute best is the REI Co-Op Trail 40 L Pack.
It's like Mary Poppins' bag that can fit a volume of contents that defies the laws of physics. Stuff it full (fuller than you'd ever imagine) or pack it light – this bag doesn't look or feel deflated when it's empty. It has straps at the bottom and top to attach a sleeping bag, sleeping pad, etc. on the outside of the bag. There's a compartment for a hydration pack and it already comes loaded with a rain pack.
The only con to this digital nomad day bag is that it doesn't pack flat, in the event that you want to stow this empty in your backpack. It's not bulky when in use, but it's certainly bulkier than ultralight options when being stored.
The 3 Primary Styles Of Digital Nomad Travel
There's no one-size-fits-all with choosing the best digital nomad backpack because the "best" pack will be a reaction to the type of traveling you're doing. Generally, a simple choice between the three most popular types of digital nomad travel will give you your answer.
1. Outdoor Focused / Trekking
Will you be trekking (hiking with all of your belongings on your back all day)? If the answer is yes, then comfort is your most important factor when choosing a digital nomad backpack.
Naturally, no digital nomad exclusively treks, because, where would the wifi come from? But there are certain adventures that many digital nomads take time away from their work to schedule days or weeks-long treks and hikes.
Depending on where you're traveling, a few common treks may include…
Ancient trails in Latin America, such as the popular Inca Trail
Europe's old pilgrimage trails
Trekking any of Nepal's popular routes
Discomfort will be trip-ruining, and potentially harmful to your body. Comfort should be your top priority when purchasing a digital nomad backpack with this intent.
Something to consider is that many major trekking tourist attractions will have options to rent the gear that you need to complete that specific trek. It's an additional expense, but it gives you more options.
Get the rest of your packing list here: digital nomad gear list.
The second popular type of digital nomad travel is…
2. Hostel/City Hopping
With this style of digital nomad travel, you'll wear your pack for bursts of time, such as going from train to hostel, or moving cities and hopping onto a still-moving chicken bus (the chicken buses of Central America don't stop for anyone!). I think the majority of digital nomads fit into this category.
Comfort is important, but durability is going to be a more important factor when choosing your digital nomad backpack.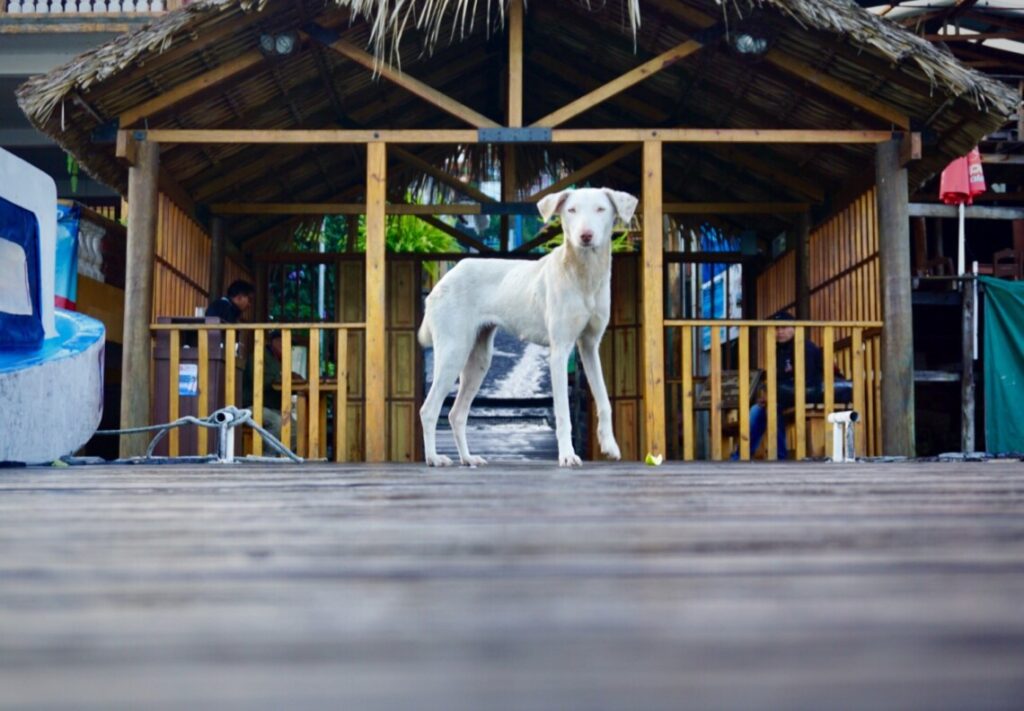 Pictured above, a typical digital nomad travel day. I woke up at the hostel, got some work done, checked out, caught a bus, then caught a boat, and then settled into the new town and explored on foot. All of this movement, yet I was never on foot carrying my bag for more than 30 minutes at a time. This is typical for many digital nomads.
3. Carry-On Only
This isn't in exact alignment with the city-hopping and trekking, but it feels like a good place to talk about this type of digital nomad travel: the carry-on-only philosophy.
A growing percentage of long-term travelers do so with fewer and fewer items, restricting themselves to exclusively using carry-on luggage. The primary perk of a carry-on only digital nomad backpack is the minimalism. No bags to check, no luggage to lug, less weight (both physically and figuratively).
Another appeal of this style is the reduced environmental impact. You'll naturally buy less because you can't take souvenirs with you. You'll also bring less weight onto planes, which will burn less fuel and reduce the carbon footprint of your plane voyages.
Don't Take Luggage
I don't even think this point belongs here, but I have to blurt it out somewhere: don't take luggage. Luggage is so limiting. It's clunky, impossible to actually carry if need be (and wheels don't help you everywhere). It's more fragile and is more vacation packing than packing for the full-time travel lifestyle.
I'll never forget seeing a woman wheel her luggage down an alley in Guatemala with a street dog hanging off of the back of it. The puppy (who we at the hostel nicknamed "Trouble," and boy did he earn it) was having a rousing good time pulling at her suitcase with all of his force.
I'm not saying this will happen to you, but the cosmo may very will send an equally clear sign that you should bring a backpack instead of a suitcase.
Since my digital nomad journey began in 2017, I've traveled each of these three ways. After testing many different bags, I'm sharing what I've found to be the absolute best packs for each style of nomad travel. But before we get to the recommendations, let's examine which features will be most important for your travels.
3 Things To Consider When Picking Out A Digital Nomad Backpack
I'll be sharing my digital nomad backpack recommendations below, but first let me break down what I think are the three biggest priorities for you to weigh when picking out your digital nomad backpack.
1. Durability
A digital nomad backpack that is flimsy and cheaply made is not one that's built to be traveled with for very long. This bag will be flung on roof racks, luggage carousels, tuk-tuks, boats.
Not only is this an important part of sustaining your digital nomad journey (broken gear needs replaced, and not everyone can afford that), but it's also important in terms of environmental sustainability.
A good pack can last you for more than a decade. Or, buy 5 cheap bags over the course of the same amount of time and 5x your environmental footprint.
This is a very small step to reduce the environmental footprint of your traveling. Take your efforts even further with this sustainable travel packing list.
2. Comfort
No digital nomad backpack should be uncomfortable, and this usually comes down to a matter of size and fitting.
Your solution is going to REI to pick out your digital nomad backpack. An enthusiast there will help you explore all of the options and show you how to adjust the bags to fit your build. REI also has a satisfaction guarantee, which for you translates to the ability to return a bag for an exchange or money back within one year of purchasing if it's not the right fit.
This is huge. Take advantage of this generous offer and buy from REI instead of Amazon if you're able. You'll have no guarantees of comfort with a bag that you don't personally try on.
3. Functionality
Beyond all of the bells and whistles, you have to ask yourself: does this digital nomad backpack function the way *I* need it to?
It's not enough to be the world's most multifunctional anything. Despite what Kickstarter will try to sell you (and the ads will come), more is not always better.
Assess your needs and choose a bag that fills the rolls you need it to.
How Many Liters Should Your Digital Nomad Backpack Be?
The answer to this question will be personal to you and can generally be found by assessing how much you like to pack, but digital nomads generally fall into one of two categories.
Carry-On Size
Most digital nomads will pack both a big pack and a day bag, which will serve as their carry-on. There's not a lot of decision-making to be done around your day bag's size, since you're limited in how big your carry-on bag can be.
45+ L Backpacks
It's calculated that the biggest bag you can take as a carry-on is a 45L backpack, so anything bigger than that will need to be checked on flights.
This would be what many people consider "normal" packing, and most digital nomad backpacks will fit into this category.
3 Of The Best Digital Nomad Backpacks To Consider Buying
Since I decided to live the travel lifestyle in 2017, I've tried all three mainstream types of digital nomad travel. After doing exhaustive research, then testing and tradiign in bags to find my perfect digital nomad backpack, I've arrived at 3 bags that I think are the absolute best for each type of digital nomad travel.
First Up: The Osprey Fairview
The Osprey Fairview is a longtime favorite digital nomad backpack because of its versatility. It comes in both women's and men's fittings and 4 different capacities.
A note on buying the "women's" size of this backpack: When they say "women's," they mean smaller. A well-intentioned but uninformed man at REI tried to convince me I needed the women's Fairview instead of the men's, but I'm 6 feet (1.8 meters) tall. I was significantly taller than the man I was talking to! Maybe he needed the women's size. That's not a rude remark – it should just be about sizing and getting the right fit, not some empty genderless label.
Pros Of The Osprey Fairview
Lockable zippers. This brings up a good point that locks (yes, plural!) are an important piece of digital nomad gear that you must take in your pack
Stowaway back panel, which zippers up the shoulder straps and hip belt for protection when checking. Straps can get caught in luggage carousels and damages bags
Large panel zip access. This bag unzips wide, giving you the ability to pack this bag like a suitcase instead of stuffing everything top-down
External compression straps to batten down the hatches and compact your load from the outside
Internal compression straps for organization and space-saving
Top and side handles for portability
External attachment points, which are those loops that you see on the outside of packs where you can attach gear
Is backed by the All-Mighty Guarantee, as are all Osprey bags
External straps at the bottom of the pack for carrying a sleeping bag or pad.
Day bag has a laptop sleeve, perfect for digital nomads
Attachable day bag. The center of the Osprey Fairview zippers off and is actually a detachable day bag. It's not shown in the pictures, but this backpack also comes with buckles so you have the option to chest-wear the day bag hands-free
The buckle-in day bag is a beautiful design element that you don't see in many digital nomad backpacks. This is what wearing a backpack and front day bag looks like without the buckle feature:
Cons of the Osprey Fairview:
This bag is not designed for hiking. There's no cage or skeleton to this bag, which is a sign that it's not designed for day-long wearing
No built-in hydration pack storage, which won't matter to everyone but should be factored in if this applies to you
The Osprey Fairview in a nutshell: hiking aside, you cannot go wrong with this bag. This digital nomad backpack will check most of your boxes and should hold up well over time while offering high functionality.
Where to buy the Osprey Fairview: You can purchase this on Amazon, but I highly recommend going to REI so that you can find the right size. They'll measure your back so that the frame fits correctly.
Second: The Osprey Aura 65L
Also a feature-heavy bag, the Aura opens up the great outdoors.
Pros Of The Osprey Aura 65L
External attachment points. Similar to the Fairview, those are loops that you see on the outside of packs where you can attach gear
External compression straps to batten down the hatches and compact your load from the outside
Internal hydration pack sleeve to store your water supply
Rich in pockets, offering ample built-in organization
Is backed by the All-Mighty Guarantee, as are all Osrepy bags
Comfortable all day. This bag is wonderful to carry around all day. You can adjust the straps as the bag moves to keep it snug on your body and reduce injury. It's the most comfortable bag I've ever carried, which leads us to the final pro…
Award-winning antigravity suspension system. This means superb comfort, fit and ventilation, explained below:
This is a bag that will tick every box in terms of digital nomad activity. This bag will handle both city-hopping and trekking, which means that you would never need to rent gear.
Cons Of The Osprey Aura 65L
You need a separate day bag, which adds an additional cost and lacks the hyper convenience of the built-in day bag that the Fairview offers
No laptop sleeve, which you'll have to get in your day bag
There's no way to protect the back panel, unlike the rest of the bags on this list. This is a sign of being a bag built for the outdoors
It packs top-down, so quickly grabbing an item from the middle of your bag requires unpacking and repacking. This is typical of all or most hiking backpacks, but the other 3 bags on this list all open like suitcases offering easier gear removal
The Osprey Aura in a nutshell: if you want a bag that will support your city-hopping and hiking, this is perfect.
Where to buy the Osprey Aura: You can purchase this digital nomad backpack on Amazon, but I highly recommend going to REI so that you can find the right size. They'll measure your back so that the frame fits correctly.
Third: The Cotopaxi Allpa 35
The best carry-on digital nomad backpack is the Cotopaxi Allpa 35.
Pros Of The Cotopaxi Allpa 35:
Anti-pickpocket zippers. This zipper design is genius, with a small lashing that the zipper pull gets pulled through. This bag may be pickpocket-proof
Removable waist belt, offering nice versatility
Stowaway back panel, where you can detach and slide shoulder straps into the padded back panel to protect the bag from damage in luggage carrousels, amongst other hazardous digital nomad backpack hang-outs
High-functionality carry-on.

They're committed to only making carry-on sized bags, and they've been perfecting the design and maximizing every square inch of the allowed carry-on allowance

Weight-distribution harness. This won't be anything near as robust as the Osprey Aura with its award-winning suspension, but it's impressive to find this is a carry-on bag that's not designed for hiking
Four external attachment points, to connect additional gear externally
Suitcase-style full-wrap zipper, opening like a suitcase and making it easy to pack versus a top-down pack
Rich in pockets, offering ample built-in organization and convenience
Stealthy laptop sleeve, keeping this separate from your clothes and personal items and letting you access your laptop without having to open your entire bag
Includes a rain cover, which is a must for every bag
Trade-in options. If you buy a Cotopaxi bag and it isn't right for any reason, you can trade it in used for store credit. This is similar to REI's policy, and shows that the company is really respecting customers and the environment
Cons Of The Allpa 35:
You need a separate day bag,

which adds an additional costs and lacks the hyper convenience of the built-in day bag that the Fairview offers

This bag is not designed for hiking. There's no cage or skeleton to this bag, which is a sign that it's not designed for day-long wearing
No built-in hydration pack storage, which won't matter to everyone but should be factored in if this applies to you
The Cotopaxi Allpa 35 in a nutshell: these cons are less so about this bag itself and more about the real limits of a carry-on-sized bag, which is why you should consider your needs and preferences carefully before committing to carry-on-only travel. This bag is impeccably designed and will incredibly versatile.
Where to buy the Allpa 35: You can purchase this digital nomad backpack on Cotopaxi's website.
2 Tips For Buying Your Digital Nomad Backpack Secondhand
Shopping secondhand is a great way to save money and reduce your environmental impact. Quality outdoors gear is built to last, and it's not uncommon for people to buy a piece of gear and realize it wasn't right for them or they just never used it, and then sell it.
First, see if the bag is still in production and look for a guide online. Many bags come with customization options that don't always meet the eye. Everyone knows how to tighten the shoulder straps on their bag, but did you know that a lot of packs have an adjustable back panel as well? Find a manual or guide to explain the bells and whistles to you.
Secondly and most importantly, look up the brand of pack and look for warranty information.
Osprey comes with the "All Mighty Guarantee," REI has their famous "REI Guarantee." Cotopaxi has a trade-in program. Heck, even JanSport backpacks come with a lifetime warranty (if you find one a thrift store, nab it).
You can buy a used digital nomad backpack directly from some companies, and otherwise, check Craigslist and Facebook Marketplace.
Digital Nomad Backpack Final Thoughts
Did you find your future digital nomad backpack today? Beyond just suggesting what I consider to be the best digital nomad backpacks, I hope that this blog post helps you make an informed decision in finding the best pack for you.
It's easy to get engulfed in the planning stage of the digital nomad lifestyle, but don't get overwhelmed and fail to enjoy the journey. The joys and challenges of the digital nomad lifestyle are plentiful, but you're not just in it for the sunsets and bold beers. You have to buckle up for the entire journey, ups and downs and alls.
I'm excited for you, friend! Send me an email if you need a friend to talk to or ask questions: [email protected].