/
Low-Waste On-The-Go Kit: 9 Tools To Help You Reduce Waste
*This post may contain affiliate links, which means I may receive a small commission, at no cost to you, if you make a purchase through a link.*
Last Updated on November 8, 2022 by Kayla
Your low-waste lifestyle shouldn't halt as soon as you're on-the-go or traveling. With a few simple tools, you can easily remain low-waste on-the-go! In this blog post, I'm sharing my favorite 9 tools that help me reduce waste on-the-go.
By gathering a few tools, you can create a low waste on-the-go kit that's affordable and effective at reducing your landfill contribution.
An added bonus: you'll probably also save money and eat healthier too.
Here's a peek inside my picnic bag where I use all of these low-waste on-the-go tools:
9 Tools for Being Low-Waste On-The-Go
The Never-Leave-The-House-Without-Em List
1. Tote bag
If you're new to trying to reduce your waste, I'd recommend making this swap the first habit you master.
Picking The Right Bag For You
The most sustainable bag is the one that you already own, as per the Buyerarchy Of Needs:
The solution that works best for me is having one big main bag, and a smaller foldable bag that's always in my purse for spontaneous trips or bigger grocery hauls.
Personally, my ideal always-with-me bag is packable. These bags here pack into convenient carrying units, and are made from cotton.
---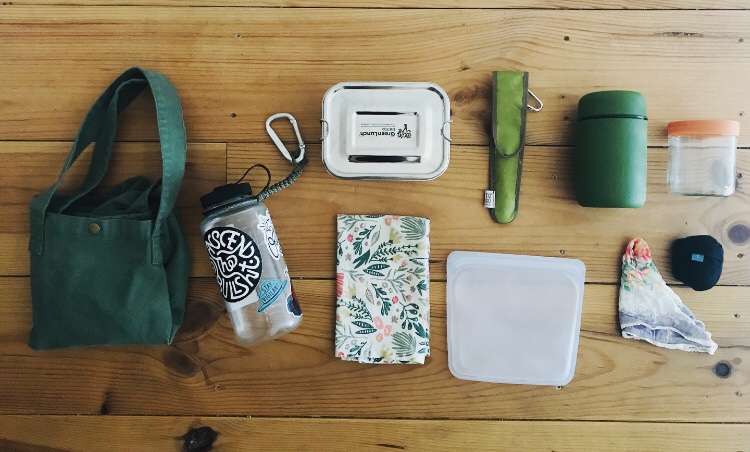 2. Hankie
Debunking the "gross" myth: Some people shy away from hankies because they think they're not sanitary, but I ask – in all of your bags, coat pockets and purses, is there not at least one old, balled-up, used tissue?
I'm pretty sure every woman I've ever met would answer yes to that question.
Don't write off hankies just yet. Put one in your bag and I bet you'll find yourself using it.
---
3. Cloth Napkin
You may be thinking: a disposable napkin is small and isn't made of plastic, so it's not a big waste to use.
Disposable napkins are pitifully ineffective at cleaning up messes. If anything is spilled, you have to take a whole handful to try to do the job.
Oftentimes, we even take a handful of napkins and just throw them away after the meal whether they're used or not.
The real opportunity using a cloth napkin creates, besides timeless class and elegance, is saying no to thoughtless waste.
A cloth napkin is a chance to rise above throw-away culture, and to use a product that actually works. They're also endless handy, and once you carry one, I guarantee you'll find yourself using it all the time.
A few handy uses for a cloth napkin:
Carrying food
Plate for hors d'oeuvres at a party
Towel for wiping off a wet chair or bike seat
Sleeve for a hot coffee cup
Taking baked goods to-go
Your life will be forever changed.
---
4. Water bottle
We all know that bringing our own bottle is important so we don't use disposable bottles, but I think there's another important point here that's often overlooked.
Carrying your own water bottle helps us actually drink enough water during the day.
By taking a bottle you take with you, you always have hydration at your fingertips. You can also easily track how much you've been drinking over the course of the day.
Water intake is forever burned into my daily routine after working as an outdoor guide. A habit I adopted back then: drink 1 liter of water (that's a full water bottle for me) before leaving the house for the in the morning. Then refill, and head out for the day hydrated and with a full bottle in hand.
---
The Long-Day List
The major waste culprit when you're on-the-go is food. You can save loads of waste by bringing meals and snacks from home.
These tools will save the day (and also save you money and help you eat better).
---
5. Utensils
Disposable utensils are simple to avoid: all you have to do is bring your own. I have a set of bamboo utensils that I like, but something as simple as this kit from Skip The Bag will do the job nicely.
Be aware that if you try to fly with metal silverware, TSA may confiscate it. That's why I have a bamboo set. I'm not sure what the official rules are, but I've heard stories of people having their metal sets taken, and other times it's allowed through.
---
6. Resealable bag
If you clean and reuse it, this could be as simple as a Ziplock bag. If you still have Ziplocks at home, I recommend finishing the box, making each bag last as long as you can and then purchasing a reusable product.
The resealable bag I prefer is the Stasher bag. Stasher bags are impeccably designed bags that are heat proof, leak proof and seemingly indestructible.
I never travel without my Stasher, and I use it around the house frequently as well.
---
7. Lunch box
Having a container on hand that can pack a full meal will make your life easier. Qualities of a good lunch box:
sturdy – not one with a lid that pops off half the time
accommodates the food you'll be taking – item #8 may be better for your needs depending on what your meals normally look like
My box of choice is a stainless steel bento box. It has 2 layers and can store 6 cups of food. Both layers can be used together together, or the top layer can be used on its own.
It's great for packing a meal to eat on the go, or taking food to an event. Below is a picture of my food prep for a Women Who Explore picnic that I hosted. Every time I bring my bento box to an event, it stirs up conversation and gets tons of compliments.
Pro tip: the bento box lid also doubles as a plate if you're at a picnic or cookout.
---
8. Container for liquids: thermos or to-go cup
A thermos goes a long way when you're trying to be low-waste on-the-go, for both food storage and beverage totting.
Thermos for food storage: heat up curry or soup at home and pack it to go. It can also replace disposable food containers like takeout containers when you buy food from a restaurant.
A thermos is also perfect for coffee: it's leak proof and keeps contents steaming hot. What more can you ask for?!
The one admitted drawback to a thermos is that you don't necessarily want to carry it around with you every day. That's where this collapsible silicone cup by Stojo comes in handy.
A Stojo cup collapses into an easy-to-carry unit, and can save the day with coffee, fountain drinks, beer, etc.
---
9. Putting it all together: lunch bag
View this post on Instagram
The bag I have is a plastic roll-top lunch sack. I like that it's spill proof (if it's rolled properly), cleans easily and virtually disappears when I fold it up.
A downside is that it's made from plastic. I bought my bag years ago from Target. Here is the same design from a company that uses recycled plastic bottles in the fabric:
A more informed choice may be a bag made from natural materials, such as this bag made partially from cotton.
---
---
From the video: Bottle Freaker
At the beginning of this blog post, I shared a picnic packin' video where I use most of these tools (I'll drop in it below too in case you missed it!).
An item featured in the video but not in this list is a Bottle Freaker. It's not related to sustainable living, and I'm not sure how sustainable it is. I couldn't find any information about what materials it was made from, and I'm waiting to get a response from the company.
But in the interest of being thorough, here is the product if you want to learn more:
---
My #1 tip for trying to be low waste on-the-go:
Find what works for you. Buying every specially-made product and then realizing they don't fit your needs is a waste. A set of bamboo utensils that you always forget and never use doesn't help anyone.
What tools do you use for being low waste on-the-go?