/
Capsule Wardrobe Upkeep: Make Clothes Last
*This post may contain affiliate links, which means I may receive a small commission, at no cost to you, if you make a purchase through a link.*
Last Updated on February 24, 2023 by Bert-Jan Schilthuis-Ihrig
Your clothes take care of you, so you should take care of them. These 6 capsule wardrobe upkeep steps are a part of a healthy closet (and a less wasteful closet!).
Complete these 6 capsule wardrobe upkeep tasks at their given frequency to make your clothes last longer.
Pause now to pin so you can find this later!
What's the deal with clothes anyway?
Cue the ba, ba-da-ta-dum transition bass line from Seinfeld
It's estimated that the average American throws 81 pounds (37 kilos) of clothing away each year. (source)
And you may be thinking.. how could a person ruin 81 pounds of clothes in a year? The answer is, those thrown-out clothes aren't all ruined.
They're unwanted.

That means that the solution to textile waste doesn't lie solely in maintaining clothes, but wanting what we actually have in the first place.
Cue, the capsule wardrobe.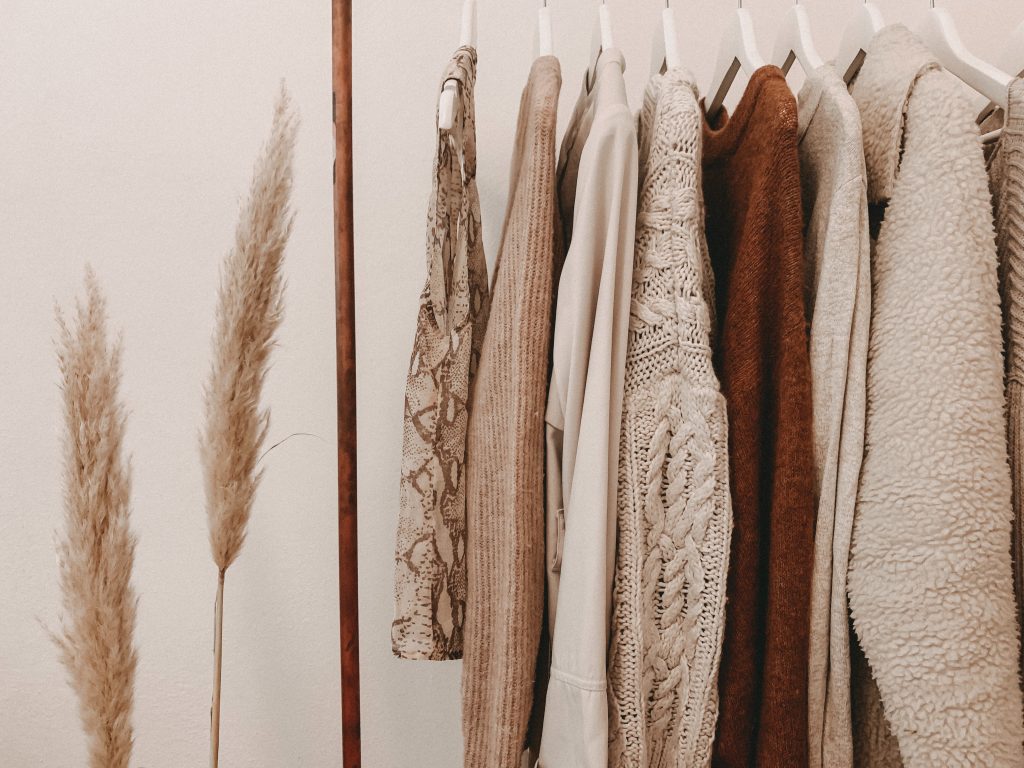 Why a capsule wardrobe?
For anyone who isn't familiar: a capsule wardrobe is an intentionally small wardrobe that considered of fewer items of clothing that are worn more ways.
In order for a capsule wardrobe to be most effective, it must contain long-lasting items. Clothing that you buy and use for years, not just a season.
And since you have fewer items of clothing, you'll be wearing them more often. That's where capsule wardrobe upkeep comes in.
Capsule Wardrobe Upkeep: 6 Ways To Make Your Clothes Last Longer
1. Scrub armpits to remove stains and discolorations
Bring your favorite summer shirt or go-to job interview top (ya know, the stuff that gets the sweatiest) back to its prime by scrubbing the pit stains right off.
Task: Take out all of your shirts, and make a pile of all of the tops with discoloration at the armpits.
Any discoloration should be pulled out, even if it's not omg-how-much-do-I-actually-sweat discolored yet.
Why wait for discolorations to become really noticeable?
These steps to maintain a capsule wardrobe are just that – maintenance. Maintaining the quality of your wardrobe will keep at bay the feeling of dissatisfaction with your clothes, and the urge to toss them and go shopping.
This hack to upkeep your capsule wardrobe is great because you see results immediately. Plus, you probably already have everything you need at home.
Scrub some new life into your clothes with just liquid dish soap, vinegar and baking soda.
If you follow along on Instagram, then you may recall that I actually don't use liquid dish soap in the kitchen. I use a dish soap block, because it comes plastic-free and lasts a lot longer than a bottle of liquid dish soap. But I do keep a stash on hand for cleaning projects. You can see the dish soap block here, in my a-z index of items that reduce waste and save money. 
Steps to remove armpit stains:
Soak clothes in cold water and vinegar so they're thoroughly wet
Apply liquid dish soap to the pits
Sprinkle baking soda on
Scrub!
All stains are not created equal. Some stains appear worse than others for a number of reasons:
Type of deodorant. I use a mineral stone deodorant, which is all natural. My husband uses Nivea deodorant, and the pits of his shirts and much more discolored than mine. Some shirts even collect a thick, wet looking callcale from the Nivea deodorant attaching to the fibers. (Curious?

Mineral Deodorant Stone on Amazon

) 
Type of fabric. Some fabrics just stain more easily
Thick, absorbed deodorant like these stains from the roll-on Nivea deodorant will likely need to be scrubbed more than once. I also suggest turning the shirt inside out and scrubbing from the stain from both sides.
But as you can see, armpit stains aren't a death sentence! I recovered even some pretty gnarly pits, and now the clothes look as good as new.
Wanna see the worst armpit I've ever saved!? It's from a blog post I wrote in 2019 that's entirely dedicated to armpit stain removal. You can read it here.


There was one case where this process alone didn't completely do the job, and I had to break out the big guns: homemade stain remover.
Frequency: Every 6 months
2. Remove stains with an effective homemade stain remover
For stubborn stains, break out the guns: hydrogen peroxide.
I borrowed this stain remover recipe from blogger Earth Friendly Tips, who uses 3 household ingredients to remove her son and husband's stains.  
Task: Pull out all of your clothes, and separate any items with stains or discolorations into a pile. Execute the following wine-stain-my-ass procedure.
Homemade stain remover:
2 parts 3% hydrogen peroxide
1 part liquid soap (I use liquid dish soap again, just like in #1)
Spray onto fabric, sprinkle on baking soda
Scrub!
None of my clothes have discolored from using hydrogen peroxide, but if you're concerned you should test it on a discrete piece to see how your specific garment reacts.
Something I love about this homemade stain remover is that you probably already have all of these ingredients laying around – which means this follows The Buyerarchy of Needs.
I've only test this homemade stain removers on armpit stains so far, but for more examples of it's raw power, check out the full blog post!
Frequency: Treat stains as they appear, and go through wardrobe and check for spots every 6 months
3. Skip The Dryer
Is the clothes dryer a staple where you live? Where I grew up in the US, it was the norm for every home to have a clothes dryer. But traveling and living abroad, I've seen that many cultures skip the dryer altogether.
And I have to say, it makes a lot of sense!
Task: Simply hang dry your clothes instead of machine drying.
If the dryer was on trial here, he'd be sweating through his cheap polyester suit because this case against machine drying is hotter than he is.
A clothes dryer hogs electricity
Is expensive to buy and repair
Shrinks and loosens fibers of clothes
Isn't necessary day-to-day washing
Heavy Duty Gullwing Drying Rack on Amazon
For your day-to-day laundry routine, line dry your clothes. Here a few tips for transitioning to line-drying clothes year-round:
Use a collapsible rack for indoor drying that will be unobtrusive when it's not in use
Place your drying rack near the heating source to speed up winter drying, whether that be adjacent to a radiator, above a heating vent, etc.
Place rack outdoors in warmer weather to speed up dry time and give clothes a wonderful fresh smell
If you do still want to heat things up from time to time, throw wool dryer balls in your clothes dryer to reduce dry time, fluff clothes and minimize static electricity.
These wool dryer balls are made from just wool, and also replace dryer sheets! Bahhh! (that's sheep for awesome).
Frequency: Weekly (your capsule wardrobe and electricity bill will thank you)
4. Fix Small Holes (without breaking out the needle and thread)
Small holes make clothes look old and are bound to spread. Tiny holes don't necessarily mend well with needle and thread because of size, a mending tape can do the trick.
Task: go through your capsule wardrobe and look for holes in clothing.
For a single garment, find the hole you want to mend. Cut the tape or patch to fit the area, and follow the instructions on your mending tape.
On Instagram, I shared a video of this process. Each hole took about 20 seconds to mend!
More serious holes and tears will require real mending. Mending is a nice technical skill to have, but it can also be very creative and colorful! Fellow blogger Izzy McLeod dives into visible mending and celebrating imperfections on her blog The Quirky Environmentalist.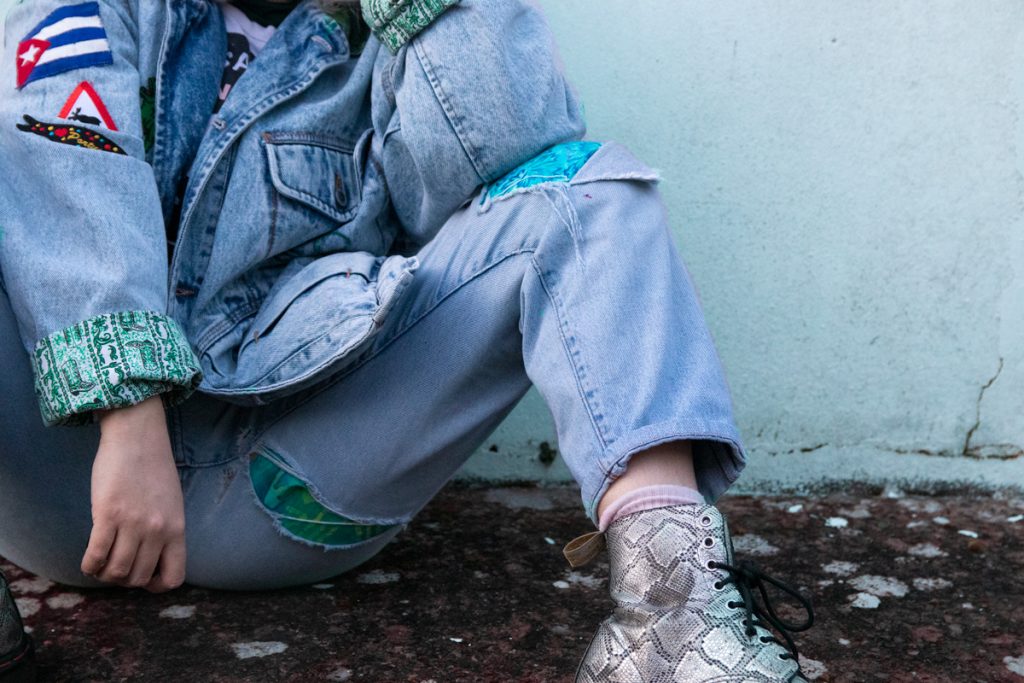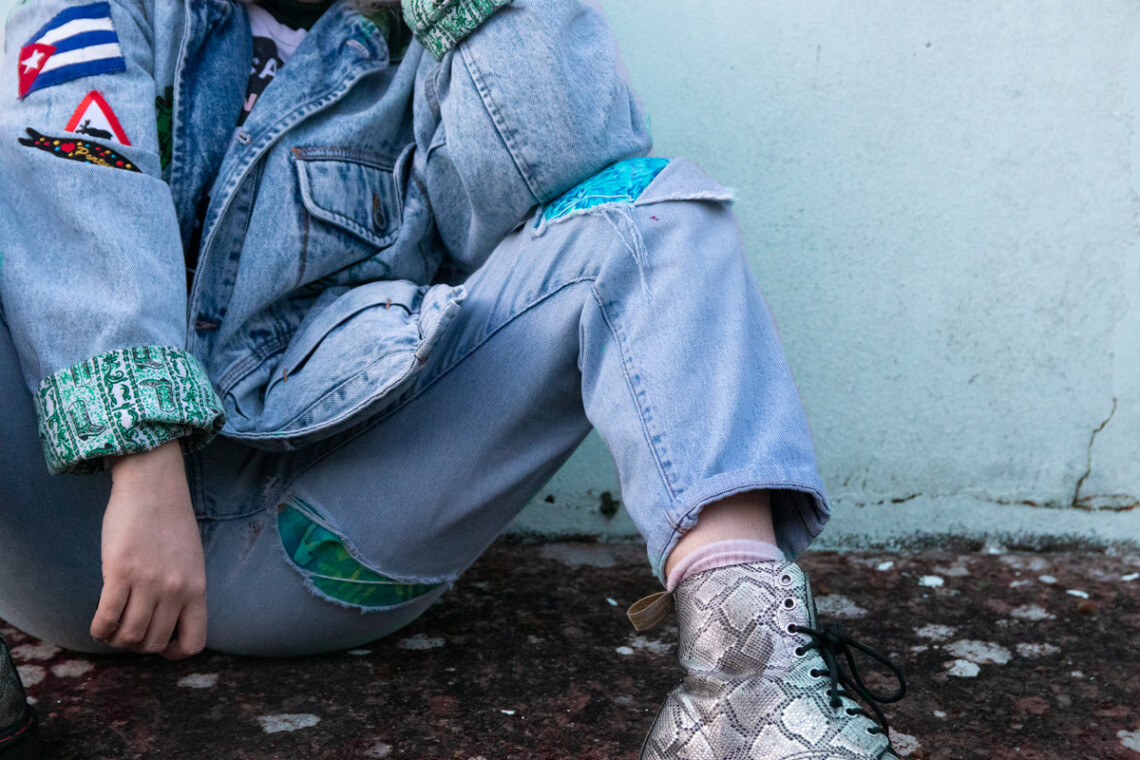 Frequency: Every 3 months
5. Maintain Bright Colors And Whites With An Occasional Oxygen Booster
If you've been hanging around Writing From Nowhere for any length of time, you know I'm a diehard EcoEgg fan. It's the eco-swap I recommend the most, and I will never use another laundry detergent probably for as long as I live. 
And why would I?! The EcoEgg is an all-in-one laundry detergent and softener that's all-natural, vegan, disposable-free and not tested on animals. It simplifies your entire laundry routine into one product.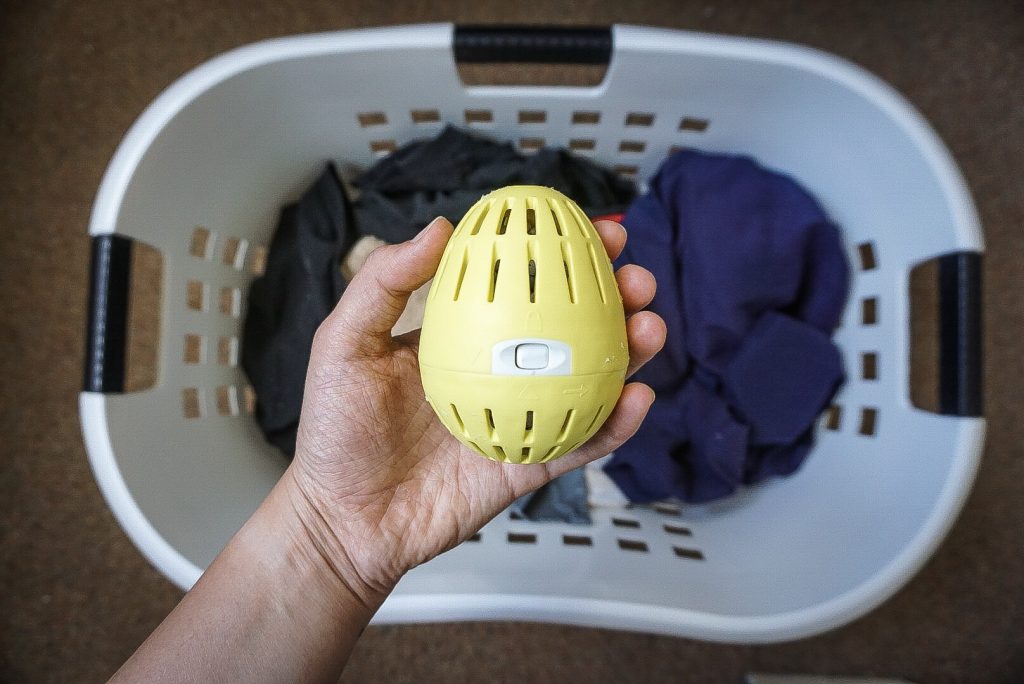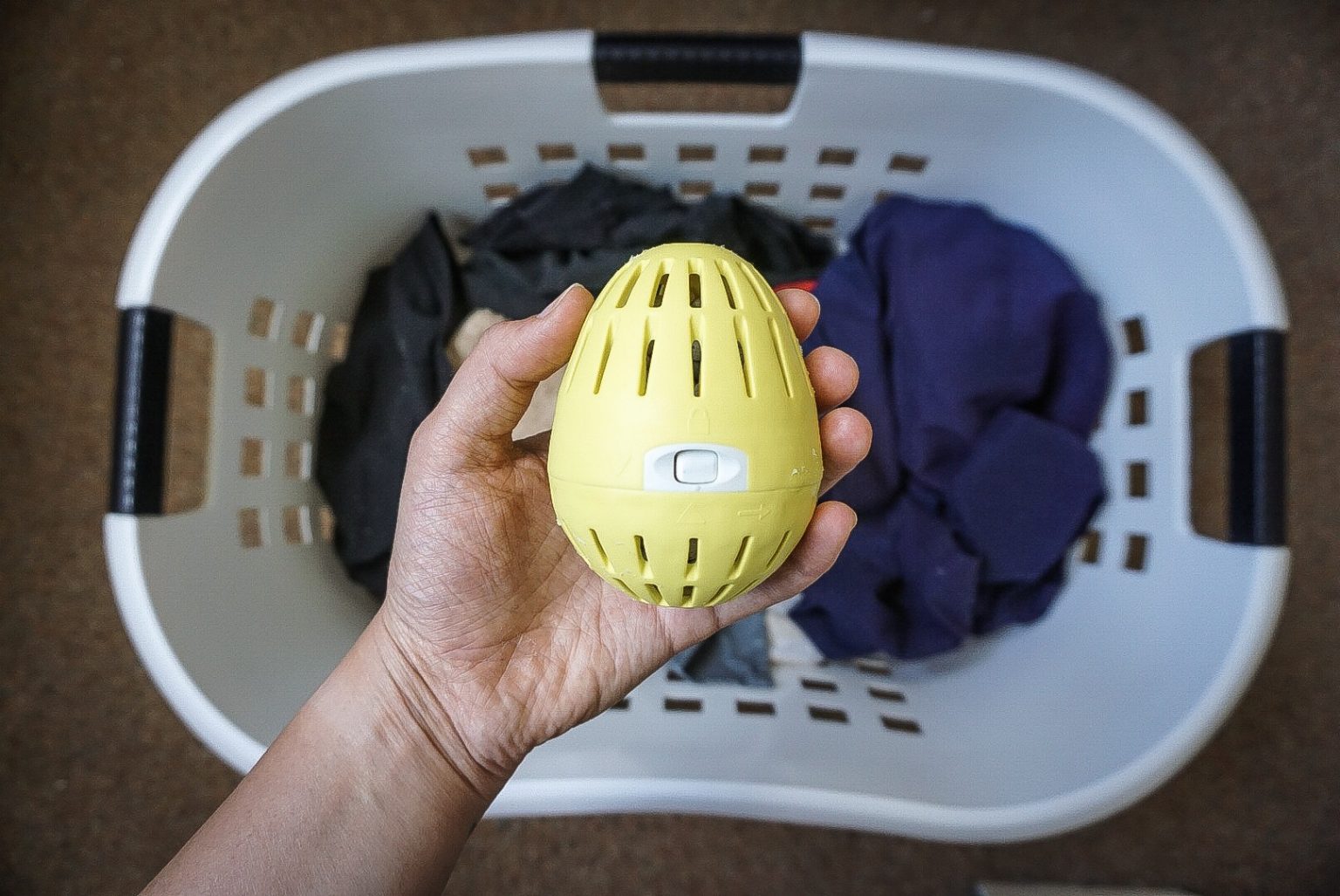 You throw the entire egg in the washing machine, the necessary amount of soap dissolves, and then you pull it out. No wasted product, measuring or additional products needed. I've had my egg for years and haven't had to buy refills yet (and the original egg costs about $20).
All that raving about the EcoEgg being said…
Adding an occasional oxygen booster to your laundry will help brighten colors and whites beyond what a normal detergent does, making your clothes look new for longer.
This brand of oxygen booster from the company Nellie's is biodegradable, comes without plastic packaging and is not tested on animals. (source) 
Frequency: Every month
6. Shave Pilling
Pilling makes clothes look old and unprofessional. Don't fall for any gimmicky electronic pilling-removing device. This capsule wardrobe upkeep is simple!
Task: Go through your capsule wardrobe and pull out garments with pilling (you know, those little balls sticking to your clothes that make them look tired)
In addition making your capsule wardrobe look better, shaving off the extraneous fibers also keeps these pieces from going down the drain in the wash.

These are known as microfibers. They're the pieces of plastic that shed off clothes, enter the waterways and ultimately we end up drinking them in our drinking water because they can't all be filtered out.
All this, because it's cheaper to make clothes from plastic instead of natural fibers (I won't go on a tangent here, but if you want to read more, here is an informative article: If your clothes aren't already made out of plastic, they will be, by Quartz).
Back to removing pilling, before we end up drinking it!
Use a disposable razor to save the pilling off if you still have disposable razors on hand. If you've forgone disposable razors for safety razors, electric razors or au-natural (that's my flavor of choice #fuzzclub), then a wooden lint and pilling remover may be the thing for you.
This wooden lint remover also removes pilling, pet hair and fuzz from furniture. You can spice up aaaaaall the fabrics in your life!
Frequency: Every 3 months
7. Breathe New Life Into Down Items
Do you have a down puffer, down sleeping bag or down pillows? If you're washing it in normal detergent, it's likely not looking as good as it could.
This special down detergent revives the volume in down products.
Both the before-and-after pictures and the reviews on this down product are amazing. One reviewer said that one wash with this product brought years-old down pillows completely back to life. How amazing is that for the environment, and for them?!
I don't use this for every wash of my down puffer, but it's a good once-a-season boost.
Frequency: Once a season
8. Wash Delicate Items In A Washing Bag
Washing your most fragile items in a delicates bag protects them from rough wear in the washing machine.
I got a delicates bag after my underwear kept coming out of the washing machine with mysterious little holes. I patched the existing holes so that they didn't spread, and prevent additional holes from starting by using the delicates bag.
A tip for parents: you can also use these bags to make your laundry routine with kids easier. Assign a bag to each of your children, embroider their name, and have them put all of their socks and underwear in. Then when you pull the laundry out, instead of sorting and matching, just give each child their bag back.
Frequency: Weekly
Capsule Wardrobe Upkeep Summary
Your clothes will look better, last longer, and you'll save money and waste less. Suffice it to say that your life will be better for this capsule wardrobe upkeep.
Do you take steps to keep your clothes alive and thriving longer? Which step in this article do you clothes need the most? I'd love to hear!
Happy cleaning, and as always, thank you for reading.